By Alan Feehely.
José Campaña's first senior appearance for the Spanish national team must have been a gratifying moment for the Andalusian.
Unlike some of his more gilded counterparts, Campaña's road to this point has been long and winding.
His success hasn't run in a straight line — it's been a path laden with disappointment, frustration and bad timing.
Campaña took to the field on an October evening in 2020 at Estádio José Alvalade in Lisbon, replacing Dani Ceballos in the second half. La Roja drew the game, a friendly with Iberian rivals Portugal, 0-0, but what would have been deemed an insignificant outing for most observers will have been treated with great reverence by Campaña.
He starred with the national team as a youth, winning the U19 European Championship in both 2011 and 2012, but was kept waiting until 27 for his senior bow.
Use your football knowledge to make bets on the football stock market – Football Index
"Campaña is an elegant and consistent midfield maestro, a player who dictates the tempo and controls matches," Seville-based scout Kevoni told WFi.
"He's a set-piece specialist with technical ability and skill on the ball, someone who loves to keep things simple and play one and two-touch."
In other words, Campaña is seemingly built to operate as a typical Spanish midfielder. The unfortunate thing for him in his career has been a lack of game-time and the opportunity to exhibit his talents on the right stage, coupled with a propensity to be in the wrong place at the wrong time.
Now, thriving with Levante in La Liga, and finally blessed with the senior international recognition he so desired, Campaña has the platform he's always needed to fulfil his once-vaunted potential.
Born in Seville and a Sevillista since birth, Campaña joined Sevilla's youth system at the age of seven. He was highly-rated as a youngster, rising through the ranks swiftly before making his B-team debut at just 16 and becoming a mainstay in the competitive and physical Segunda B.
His second season at that level saw him, alongside Luis Alberto, play a key role in helping Sevilla Atlético finish second in their Segunda B group before losing in the second round of the promotion playoffs.
He was then promoted to the senior side the following season aged 18 by Marcelino, but proved unable to establish himself in the starting lineup and found game time hard to come by. His progress was hampered further when he fractured his left foot to the degree that it required surgery, and in the summer of 2013 Sevilla accepted a fee in the region of €2m from Premier League side Crystal Palace for his services.
"The main reasons Campaña didn't succeed at Sevilla was bad timing and a lack of patience," Kevoni adds.
"Both he and Alberto appeared destined for stardom at Sevilla but were unfortunate enough to coincide with one of the worst Sevilla teams of the 21st Century.
"Finishing ninth in 2011-12 and 2012-13, there was simply no way Sevilla's coaches at that time — Marcelino, Míchel and Unai Emery, had the appetite to integrate young talent. They were in desperate need of experience and quality."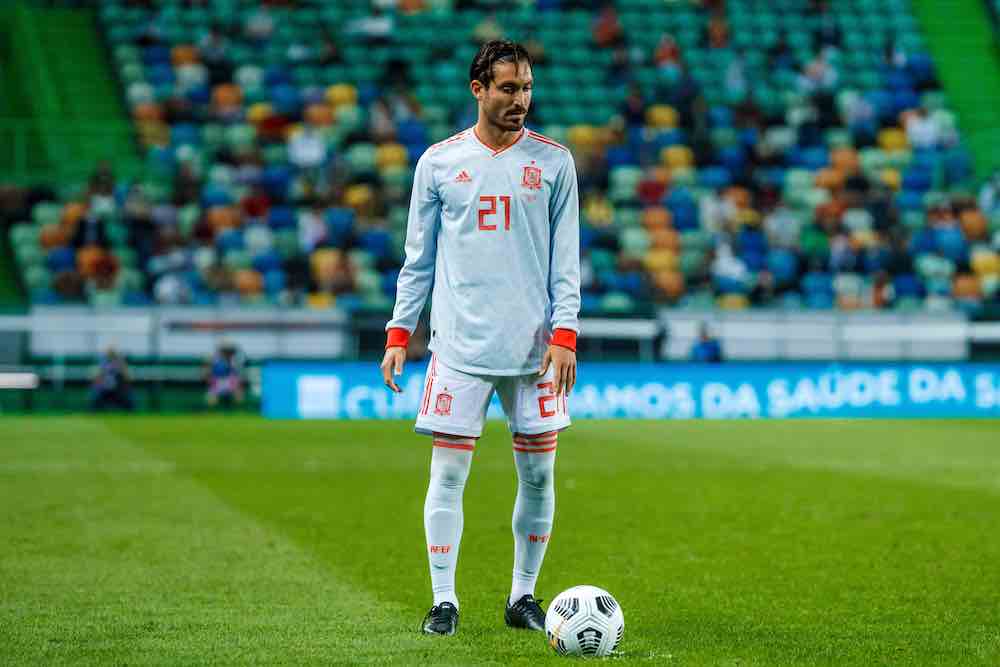 Campaña only made a handful of appearances in South London and struggled to adapt to the English game. He was loaned to Germany that winter transfer window, spending time with the soon-to-be relegated Nürnberg.
Upon his return to Selhurst Park he was sold to Italian side Sampdoria, before being loaned out again to a Porto side managed by current Sevilla boss Julen Lopetegui. He failed to make the grade in Portugal, though, and spent his second season at Sampdoria, 2015-16, on loan at Segunda side Alcorcón. That's when things changed for the Andalusian.
"Campaña arrived at Alcorcón with the difficult task of replacing club legend Sergio Mora, a player who had been the team's leader and chief creative midfielder since the 2009/10 season when the club beat Real Madrid 4-0 in the Copa del Rey, and earned promotion to the Segunda," Alcorcón supporter Sergio Pitel told WFi.
"He walked into a good project at Alcorcón, with several players from that era still playing at a high-level today, like Djené, Óscar Plano and Marko Dmitrović. Alcorcón had a very good season and came close to making the playoffs, ending the campaign level on points with Osasuna, who were promoted to the Primera that year.
"Campaña was one of our most important players that season. An undisputed starter, he brought balance to the midfield and was the one with the ability to initiate attacks. His year here enabled him to grow as a footballer and mentally recover after several years without many opportunities.
"He filled in ably for Mora, something no other midfielder has been able to do since, and it was a shame he didn't stay. [Juan] Muñiz, our coach that year, joined Levante and brought Campaña with him."
Levante had just been relegated from the Primera and sought to bounce straight back, and that's what they did. La Granota won the division as champions and have remained in Spanish football's top flight ever since, and a key element both to their promotion and their consistency in La Liga has been Campaña.
"When Levante were relegated to the Segunda they embarked on a total restructure of their sporting project, and Campaña was called upon to be one of their most important players," says Valencia-based journalist Eric Martín Gasulla.
"Muñiz knew him from the previous season at Alcorcón, a period where he developed notably as a midfielder. Over the years he's elevated his game even further, becoming essential – he has the second-highest assist tally in the history of Levante in La Liga, behind only José Luis Morales.
"As well as being strong creatively he has the ability to pick out a great final pass, paired with the ability to score goals and contribute from set-pieces. He's more than deserved to make his debut with La Roja."
Where Campaña goes next will be career-defining. Now a senior Spanish international, his stock is high. Leeds and Sevilla were both interested in him in the summer only to baulk at the hefty fee demanded by Levante.
The Valencia-based side have struggled this season and face a battle to avoid relegation, missing their star midfielder badly after he suffered an injury in early December.
The Andalusian is expected to return in February and will be instrumental in Levante's bid to secure their top-flight status for another season. Paradoxically, however, Campaña could find it easier to secure a summer move to a more high-profile side should his team be relegated.
Timing has been a challenge for him thus far in his career, but now, at 27, you'd think the time is just right for a new chapter at a bigger club.
Buy shares in José Campaña on Football Index – bet on the football stock exchange
---