By Martín O'Donnell.
Palmeiras defeated Santos 1-0 in the dramatic final minutes of the Copa Libertadores final to be crowned champions of the South American continent going into 2021.
Following performances from both sides that were far from convincing, Breno Lopes' 99th-minute header was enough for the Verdão to claim their second Libertadores title, and in doing so booked their ticket to 2021 Club World Cup.
🇧🇷⚽🏆 Breno comes off the bench to score a late header to win the #Libertadores for #Palmeiras! pic.twitter.com/9NRap7T5ZG

— CONMEBOL Libertadores (@TheLibertadores) January 30, 2021
Despite all the excitement surrounding this long-awaited final prior to kickoff, an actionless first half gave a disappointing start to the all-Brazilian clash, and set the tone for much of the rest of the game.
Many viewers around the world were expecting a game packed with incident and impressive attacking from star players such as Yeferson Soteldo, Gabriel Menino and Kaio Jorge, but it soon became apparent that it wouldn't be that type of match.
This Libertadores final had two teams more worried about not conceding than they were about scoring.
Santos may have edged the opening exchanges, but Palmeiras took the upper hand, even though there was no real danger in attack from either side. A Gustavo Gómez header and a Marcos Rocha miss were the few attacking actions of note in the first half.
Exciting Santos attackers Soteldo and Marinho couldn't conjure much in the final third as Marcos Rocha and Matías Viña managed to hold them off. Roni managed to find some space for Abel Ferreira's side, but couldn't make anything of it.
It was goalless a half time and showed no real signs that it would be anything different at full-time, with extra-time seeming inevitable.
The lack of creativity and ideas of led to a Copa Libertadores final that was not entertaining to watch but, nevertheless, a champion would still be crowned one way or another, and when the stakes are so high, there is always the potential for a memorable moment.
And all of a sudden, it came. South America's greatest competition had a massive plot twist just as the game was about to finish.
Breno gives an otherwise unremarkable #Libertadores final a dramatic, memorable ending for #Palmeiras 🇧🇷⚽️ pic.twitter.com/sdwMZHkBlc

— World Football Index (@WorldFootballi) January 30, 2021

The game had been delayed for a few minutes due to a quarrel involving Santos head coach Cuca and Palmeiras right-back Marcos Rocha. This led to around ten minutes of added time which, in the end, saved us from extra-time.
A well-hit but fairly hopeful-looking cross from Roni swung into the box in the 99th minute. It turned from hopeful into impressively accurate as it found Breno Lopes at the far post, and the substitute connected better than he could ever have hoped given the circumstances, almost in disbelief as he removed his shirt to celebrate.
Not only did it shock the Santos players, but also anyone watching the match, many of whom will already have been preparing for the extra-time slog.
This dramatic late winner secured Palmeiras the second Libertadores trophy in the club's history and meant Ferreira became the second Portuguese coach in as many years to guide a team to South America's biggest prize.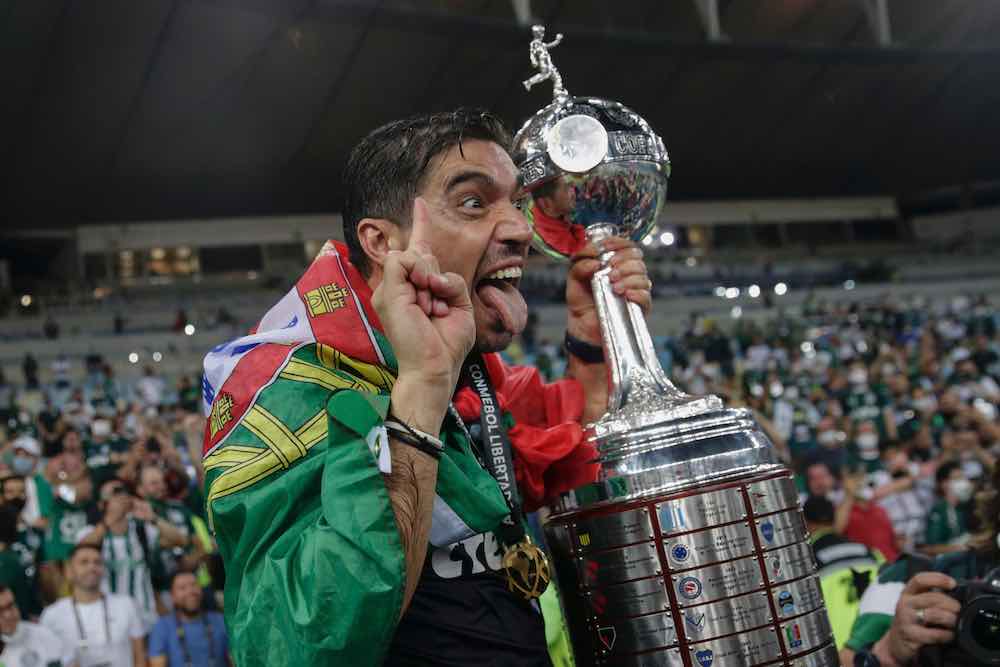 It's all happiness for the Verdão, who also clinch a spot in the upcoming Club World Cup in Qatar — a tournament they have never won.
Palmeiras' campaign included a great group stage run and strong progress through the knock-out rounds. They may have struggled in semi-final second-leg against River, but they did hold on to their 3-0 advantage from the first-leg.
And in the final, the win is all that matters — something the young coach Ferreira had already stated prior to the game. In the end, his team did enough to get over the line thanks to Breno's unforgettable last-gasp header.