By Cain Smith.
Paul Pogba's volley in the 71st minute at Turf Moor was enough to seal three points for Manchester United —  points which have propelled Ole Gunnar Solskjaer's side to the summit of the Premier League.
In the last couple of years at United, there has been a theme of being unable to take advantage when the teams around them lose. There has been chatter about a 'bottlers mentality' at the club after four semi-final exits in the last year under Solskjaer, and all of this made a match against 16th place Burnley a much more nervy affair than it might have been.
After initially believing Robbie Brady would be sent off for a reckless last-ditch tackle on Edinson Cavani, United fans emitted a sigh of relief that Luke Shaw was not sent off for a tackle earlier on the sequence of play — he only received a yellow card and the play was brought back for the earlier free-kick.
Shortly after, Shaw provided an excellent cross to the back post where Harry Maguire was on hand to head back across goal to put his side ahead — or so he initially thought.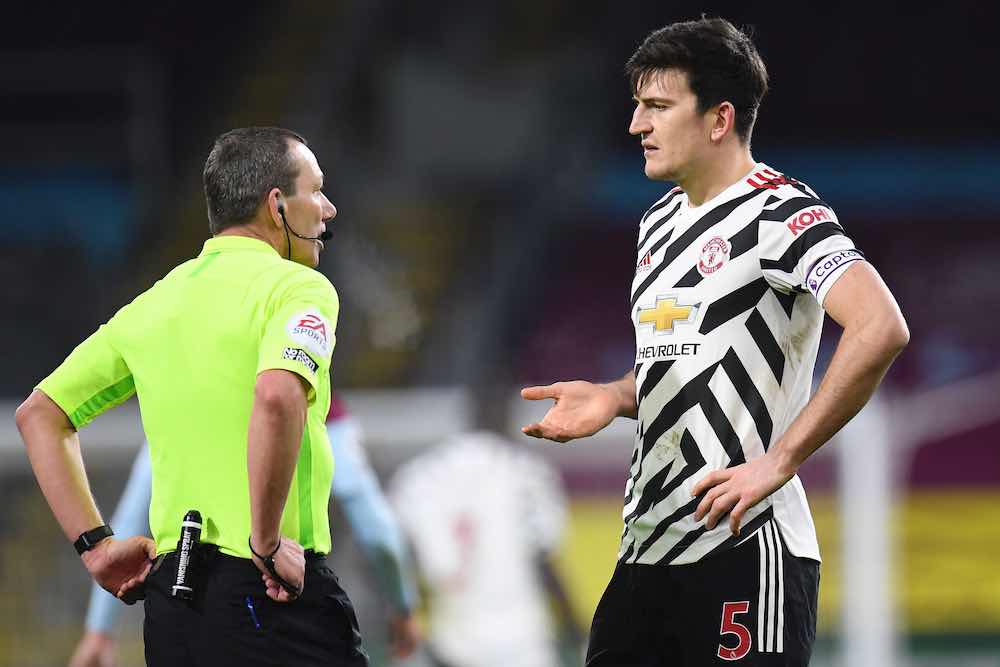 The goal was disallowed by Kevin Friend as Erik Pieters went down to the floor as Maguire jumped. It was a poor decision by the referee and it was upheld by the VAR, which left Solskjaer calling it "a load of f***ing nonsense."
A year ago, a draw or loss in this match would've been expected given the way the first half played out, but the second half in Burnley might have shown how far Solskjaer's side have come in that time.
Burnley sat in their low block and invited United onto them. The Reds had 60% possession in the second half and were pinning Burnley back in their own half. They had eight shots with five being on target.
For the first 20 minutes of the second half, United struggled to break that block. In the 52nd minute, a well-worked move ended with Anthony Martial feeding Cavani but the Uruguayan miss-kicked. At that point, it felt like it wasn't going to happen for United.
This is where a top side needs patience to go with its quality, and that is exactly what they had on this occasion.
United probed and probed until Marcus Rashford lifted a cross to the edge of the box where Pogba connected perfectly with a volley, and a deflection helped it reach the back of Nick Pope's goal.
Marcus Rashford completed more take-ons (4) than any other player on the pitch during their win against Burnley.

And he provided the assist for Paul Pogba. 🎯 pic.twitter.com/s1xfD2VsU2

— Squawka Football (@Squawka) January 12, 2021

After scoring, United then needed to ensure that they didn't concede as Burnley abandoned their low block and looked to attack United's defence.
Grit and determination were shown, especially by Eric Bailly who made several important blocks, and Luke Shaw who put his body on the line in the dying moments of the match.
A bit of luck also came into play in and around the box but ultimately Man United pulled through and got the result.
That is one statement that the fans at Old Trafford haven't heard enough in recent years — that United had pulled through of a tough, hard-fought result. And this meant something.
It doesn't mean that Manchester United will win the Premier League, but what it does mean is that United are progressing. They currently sit top of the pile and will be starting to believe that they might be able to do it.
There were many results last season alone which showed United didn't have what it takes to challenge for the title, let alone actually win it. At least now, Solskjaer and his side are showing the grit and fight they will need if they want to at least challenge at the top of the table.
Exiting the Carabao Cup and the Champions League were both reminders that United are still not there yet, but the progress in the league is clear to see.
Their next test is a tough fixture against Premier League Champions Liverpool. Let's see if Manchester United can swim with the sharks.