By Cain Smith.
Manchester United crashed out of the Carabao Cup at the semi-final stage last week, losing 2-0 to local rivals Manchester City.
This is the fourth semi-final defeat for The Red Devils under Ole Gunnar Solskjær and while they are well-placed in the Premier League at the moment, their inability to get to cup finals, despite being in a good position to do so, is worrying.
Despite this, there is little evidence to support the claim that there is a 'bottlers' mentality within the squad.
The main argument given is the four semi-final losses, but they have faced strong opposition each time.
Looking back at each semi-final loss, we can see how those matches were played out and whether the loss was deserved or unfortunate. This should help decide whether United have 'bottled' these important matches.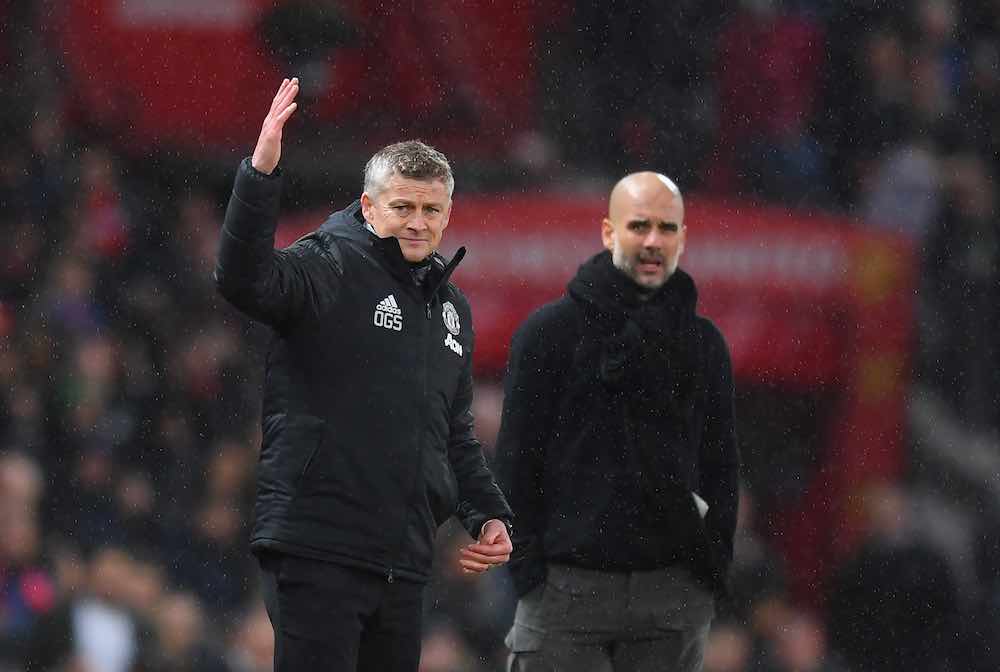 Manchester City (Carabao Cup – January 7, 2020)
The first semi-final under Solskjær came in last season's Carabao Cup and was another Manchester derby but was a two-legged tie on this occasion.
Ultimately, though, the tie was lost after the first half of the first-leg, during which City scored three times.
Looking at the two line-ups, City were totally clear of the Reds in terms of quality. Five players from that United team — Phil Jones, Brandon Williams, Andreas Pereira (now out on loan), Jesse Lingard and Daniel James — have had just nine starts combined for the first-team in the 2020-21 campaign, and other than James (5), none have started a Premier League game this season.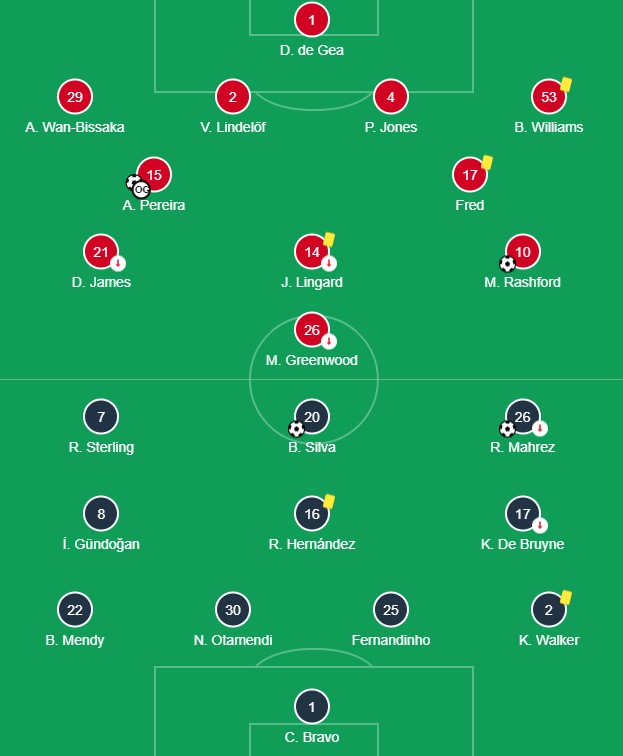 The performance was one which showed a clear difference in quality between the two sides and was not a case of United bottling the game.
They improved in the second-half with the introduction of Nemanja Matic, but City simply took their foot off the gas as they didn't need to score any more.
Why didn't Solskjær start Matic? We could've won if he started the game! — is an argument which might be made, but the Serbian had played a full 90 minutes just three days earlier and ended up starting and completing the next league fixture against Norwich four days later. This was his rest match but he had to come on for Pereira due to the poor job the Brazilian was doing in the middle.
So, a loss against a side much better than United. Disappointing? Yes. 'Bottling'? No.
Chelsea (FA Cup – July 19, 2020)
Six months later, United were playing their second semi-final in the 2019/20 campaign. Their opponents on this occasion were Chelsea.
The Reds had been in great form, with a 12 game unbeaten run in the league including eight wins.
But the injury of Luke Shaw a week before the semi-final was a considerable blow. Williams had to take his place and Chelsea pressed the right-footed left-back to great effect throughout the match, and it was his loose pass under pressure that led to their second goal.
You can definitely argue United were a stronger outfit on form and overall at this point in time, but credit must be given to Frank Lampard and his tactical approach to this game, as Chelsea limited United's build-up through pressing.
United were also very unfortunate three times in this match. Eric Bailly and Harry Maguire clashed heads, and Bailly had to be substituted. Maguire carried on but it was clear that the collision had effected the United captain who ended up scoring an own goal for Chelsea's third of the game.
Then, substitute Anthony Martial nicked the ball from Kurt Zouma on the edge of the Chelsea area before being kicked on the bottom his boot by his compatriot. Zouma was the last man, but nothing was given by referee Mike Dean. The United man would've been clean through on goal were it not for the foul, and it was quite staggering that VAR didn't interfere.
Chelsea also went through the match without a single yellow card even though they fouled United 21 times as part of their plan to limit United in transition. The lack of bookings made it much easier for Chelsea to continue with this approach.
Ultimately, Chelsea deserved to win, though. Their gameplan was impressive and worked according to plan throughout.
You can argue that United 'bottled' moments in the match, particularly when looking at mistakes made by Williams and David de Gea, but the loss of Shaw played into the tactics Chelsea implemented, and the inexperienced Williams was an easy pressing trigger for the opposition.
In all, this loss was more frustrating than the previous one against City because United were on a good run and had better quality in the side on this occasion.
Individual mistakes were costly, and United were limited through Chelsea's strong gameplan. While it is more disappointing than the City loss, it is still harsh to say that it was a 'bottled' performance, and that is dismissive to the good performance from Chelsea.
Sevilla (Europa League – August 16, 2020)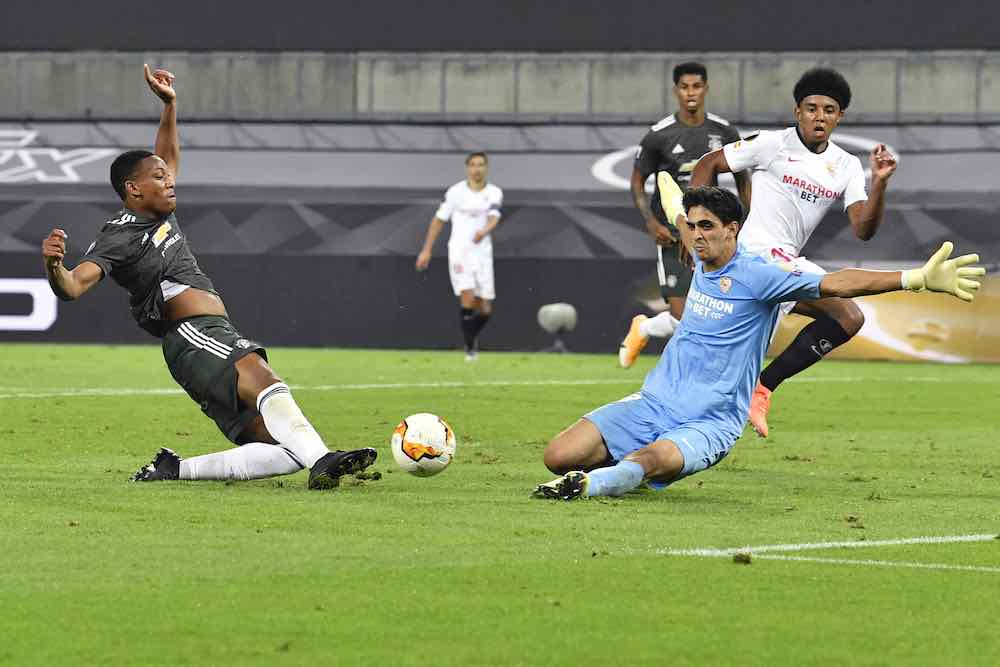 In this matchup, United faced a Sevilla side known for their strong performances in the Europa League. They went on to defeat Inter Milan in the final of the competition, lifting the trophy for a record sixth time.
The United performance this time was a good one. They created multiple chances and could have won the match if it wasn't for some below standard finishing from the forwards. United's xG for the game was 2.47 according to Infogol, but they only managed to score from the penalty spot.
This said, Solskjær's team were naive against Sevilla's strengths in the wide areas, and both of the Spanish side's goals ended up coming via the flanks.
Julen Lopetegui also changed his tactical approach in the second half by bringing on Luuk de Jong and Munir El Haddadi, who both helped Sevilla maintain a better defensive shape.
Solskjær did not have the luxury of quality attacking changes on the bench, especially in comparison to the current season where he often has the likes of Paul Pogba, Donny van de Beek and Edinson Cavani at his disposal.
This isn't to say that Solskjær was correct to wait until the 87th minute to make his first change, and his in-game management was a major issue last season. We've seen improvements in that department this season, though, and the improved depth might have helped in this regard.
United really should have emerged victorious in this semi-final and does show that the team is inexperienced. Martial, Rashford and Greenwood had an average age of 21.3 at the time of the game and they were unable to deliver the goods. However, the game plan was good enough to win the match and Sevilla's goalkeeper was outstanding — these things happen.
It does not mean that any of the three forwards are not good enough or that they bottle big opportunities. It simply means that they were not at their best finishing wise and it didn't help that they were up against a goalkeeper who put in a brilliant performance.
Manchester City (Carabao Cup – January 6, 2021)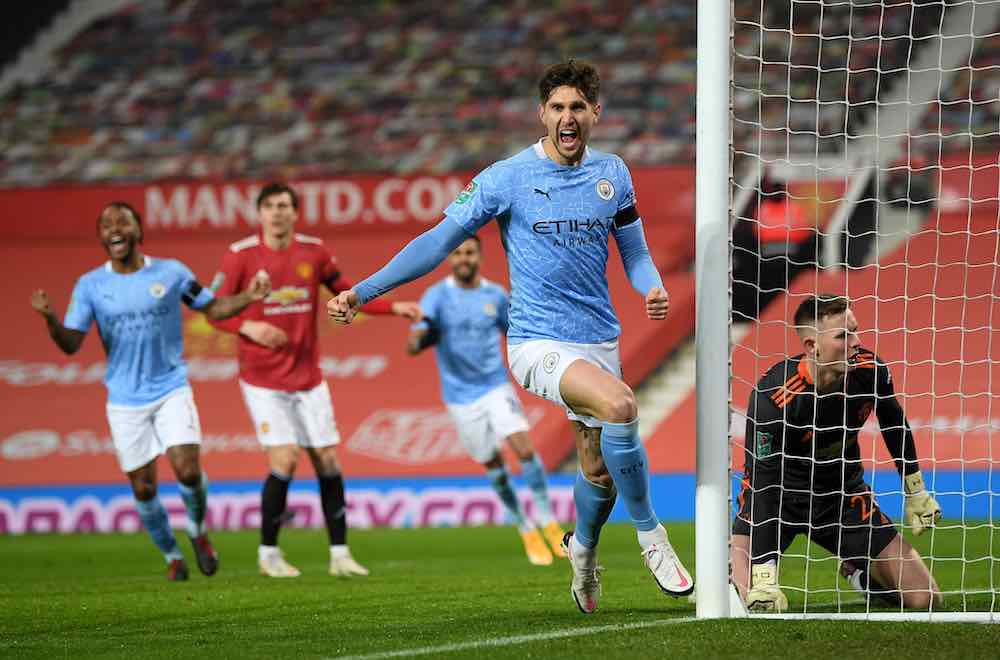 Ah, this isn't going to be fun… Still fresh in all of our memories, this match was probably the most difficult of the lot.
It was against a Man City side which has been going under the radar in the recent title discussions, but with two games in hand and recent improvements in both defence and attack, they are favourites to win the title.
While they might've not had the offensive firepower of the City teams United have previously faced, their strong defence and new midfield personnel limited the Reds' transitional threat. Even though United still created chances through transitions, it was not to the same extent as previous matchups between the two sides.
Pep Guardiola's midfield selection, with Ilkay Gundogan offering balance and stability in transitions, limited the effectiveness of the 'McFred' pivot for Solskjær.
Even if Man City were playing some great football, United's press and defensive play was impressive in the first half of the match and they also had opportunities to punish City. Against an in-form, resurgent City, there isn't much more you can ask for.
While there was a drop off in the second half, United were still playing okay and reacted pretty well to going down until the introduction of Rodri saw City take the sting out of the game and it petered out from there.
Set-pieces proved to be problematic for United, both goals coming from them, but this cannot be due to 'bottling' this important match, as United have been poor at defending set-pieces all season.
To Conclude
After going back through the four semi-final defeats, it can be argued that United are not bottling these matches. The defeats are disappointing, yes, but should not take our attention away from the progression being made at Old Trafford.
This said, football is a game where winning matters, and United will need to do so in a cup competition or the league to buy Solskjær more time at the helm.
They still have the chance to do so in the FA Cup, Europa League and the Premier League this season, even though the latter still seems like a dream rather than a reality for many Reds.