By Daniel Lucci.
After making his senior debut for Genoa at just 18 years old, Nicolò Rovella has now gone on to be a regular in Davide Ballardini's matchday squads, already making nine appearances this season.
Scouts around the league have taken notice of the youngster's talents, making him a highly-talked about prospect in Serie A circles.
The likes of Juventus and Inter, among others, are rumoured to be interested, but what have they seen in the Genoa starlet?
Rovella has come through Genoa youth system and featured in their U19 Primavera squad for the past couple of years before making his senior debut. Since featuring for the first team, the now 19-year-old midfielder has not looked out of place.
On top of this, he has represented Italy at youth level, featuring for Italy's U17, U18, U19 and U21 teams. It is clear he has the talent and determination to perform on the International stage, and if he continues to progress as many believe he will, he will represent the Azzurri at senior level sooner rather than later.
Mostly known for his work as a defensive midfielder, Rovella enjoys playing in a deep-lying playmaker role from where he can help build attacks.
The youngster has previously featured in more advanced positions, too, but his playmaking attributes mean he is probably best suited in the regista role. He has already been able to show his passing abilities along with his great vision when carrying out the ball from the back.
His aggressiveness and reasonable pace are great attributes to have when defending. The teenager has not looked out of place when asked to cover when his team don't have the ball.
With that said, he will not be perfect at all times on this side of the game, but those small errors are learning curves that come with being a young player.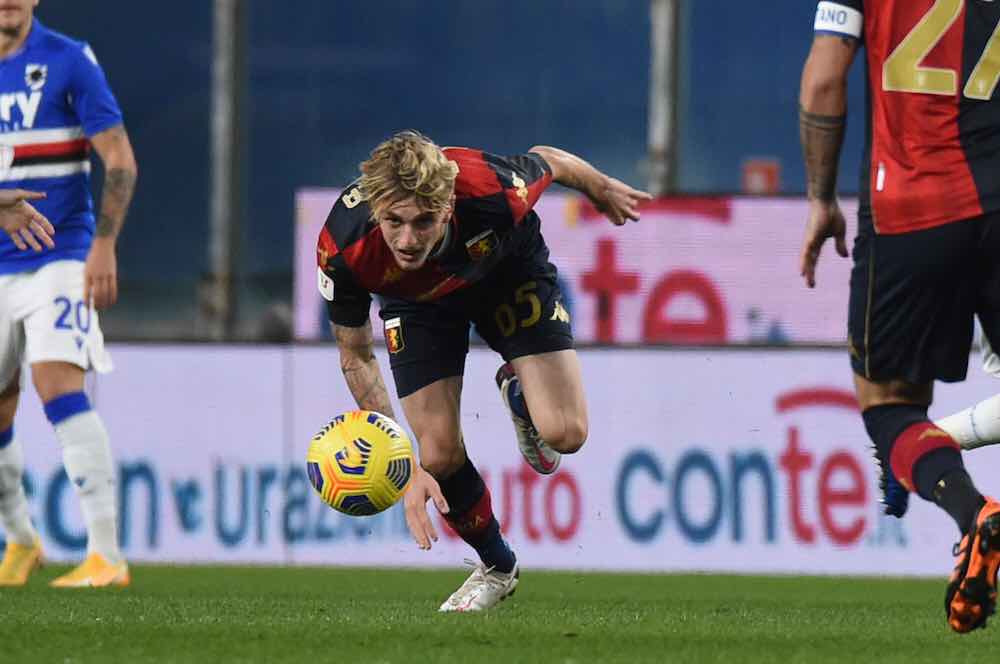 Although Genoa have struggled at the start of the 2020-21 season, Rovella has been one of their few bright spots. He is always looking to influence the game, and his ability to pass between the lines or see teammates making a run down the line is often evident. With more playing time and experience, he will only get better.
Clearly a talented midfielder, Juventus' interest in him makes sense. His profile is something their midfield has been missing for many years — a young Italian, with an aggressive edge, who works hard, is solid defensively and is a great passer of the ball.
But more importantly, he possesses grinta — an Italian word which can be translated as grit, aggression, determination and passion. These are characteristics often missing in the current Juve midfield.
The deal that would see the young midfielder move to the Bianconeri has not yet been confirmed, but according to transfer expert Romeo Agresti, Juventus are just "one step away" from an agreement with Genoa.
#Juventus are one step away from reaching agreements with Genoa for Nicolò #Rovella. Before signing for The Bianconeri, he'll extend his contract with #Genoa where he'll remain on loan. 🔜⚪️⚫️@goal

— Romeo Agresti (@romeoagresti) December 30, 2020
The deal would see Juve pay around €10m and potentially see Juventus youngster Manolo Portanova transfer in the other direction.
Before the deal can be completed, Rovella will sign a contract extension with Genoa. His current deal expires this summer, and Genoa sporting director Daniele Faggiano, understandably, doesn't want to see the talented midfielder leave for free.
This will also help maintain a good relationship good between the two clubs, and the Old Lady may want to do business with Genoa again in the future. As part of this relationship, part of the deal could mean that Rovella stays on loan at Genoa until at least the end of this campaign, and maybe even longer.
It remains to be seen if this deal will actually happen, and even if it does it does not necessarily mean Rovella will be playing for Juventus anytime soon. He could be sent out on loan again or used as a bargaining chip in other deals the club's management may want to make in the future.
Rovella would be a great young asset to have in the Juventus ranks. He undoubtedly possesses the talent and characteristics to be a solid midfielder for many years, and one who could represent Italy at senior level.