Unión Española will take a narrow advantage with them to Quito for the second leg as both clubs look to secure a place in the Copa Libertadores third qualifying phase and eventually the group stage of the 2021 edition. Adam Brandon reports on an interesting encounter in Santiago.
The last time these teams met in this stadium, in the group stages of the 2014 Libertadores, it finished 5-4 in favour of Independiente del Valle.
Despite that incredible and dramatic win, a late goal for San Lorenzo in Buenos Aires that night meant the Ecuadorians headed for the airport disappointed after finishing third in their group on goal difference behind the Argentines (while San Lorenzo themselves went on to win the whole thing that year).
Tonight, a very different set of IDV players left the Estadio Santa Laura feeling dejected once more as Unión Española managed the moments better in a tight encounter.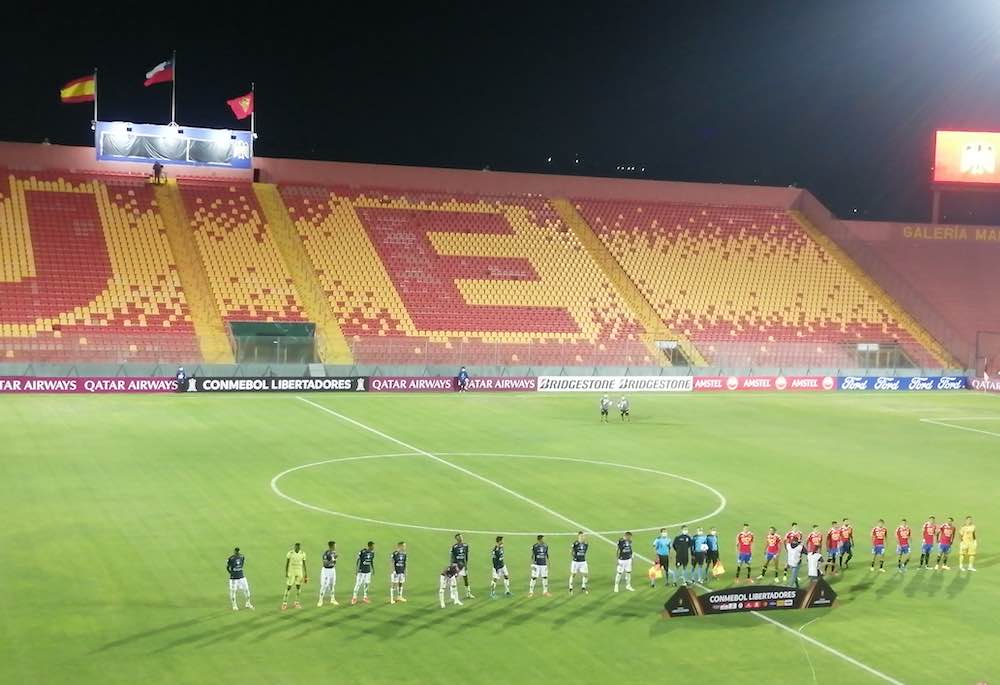 Aside from an early half-chance for debutant Ruben Farfan, who couldn't quite control a bouncing ball in the area, Unión Española posed little threat in the opening exchanges.
Independiente del Valle soon sought control of the match thanks in part to teenage centre-back William Pacho. With an elegant and imposing gait, he instigated moves from back to front with his progressive running and passing.
Pacho began the away side's first real venture forwards that resulted in Unión keeper Diego Sanchez having to smother out Cristian Ortiz who had got in behind the Chilean side's backline.
Shortly after, a poor kick out by Diego Sanchez led the IDV midfielders working the ball to striker Joffre Escobar whose shot went well wide of the target.
Veteran Unión Española holding midfielder and captain Gonzalo Villagra, who has recently rejoined the club at 39-years-old, was asking for calm while their young star Carlos Palacios cut a frustrated figure in opening the ten minutes.
The eventual Man of the Match, Unión goalkeeper Diego Sanchez, pulled off his first save of the game from Lorenzo Faravelli after a rapid transition borne from a poor giveaway by Unión striker Patricio Rubio.
Both sides have recently changed managers so this was always unlikely to be a fully cohesive affair. However, Independiente del Valle's very clear system and style was in contrast to UE's more rushed and off-the-cuff approach.
It would be easy to say this is reflected in the running of the two clubs, although this was also a reflection that the Ecuadorians came into this fixture with three matches already under their belt in their league while the Chilean side are currently in the middle of their pre-season.
It seemed clear that Unión were relying on moments to win this one, and a typical slaloming run from midfield by Palacios on 22 minutes created one. Palacios was wiped out, but the ball eventually was worked to Ignacio Lemmo who blazed over on his debut.
The talented Palacios was at the heart of most of what was good for the home side, even with his relatively limited involvement. His bursts of skill and pace from midfield were often brought to a halt with some roughhouse defending. This was far from a dominant display from the young Chilean nicknamed La Joya, but he was still the standout attacking player.
Just before half an hour, a Richard Schunke header from a set-piece was well saved by Sanchez and then moments later Escobar missed a great chance on the turn from 6 yards out — hitting it straight at Sanchez, who improvised by saving it between his legs.
🔴🟡🧤 @UEOficial GK Diego Sánchez shows us that there's more than one way to make a save! #Libertadores pic.twitter.com/hkyrxRXjZ8

— CONMEBOL Libertadores (@TheLibertadores) March 10, 2021
Just as it looked that Unión were on the ropes they almost created the clearest chance of the game, only for Lemmo to take the ball off the toes of his teammate Palacios.  Lemmo, who was offside anyway, shot wide much to the disgust of Palacios who was onside and better placed to shoot.
Minutes later, a Unión break saw IDV defender Luis Segovia forced into taking a yellow card for his team as he unceremoniously brought down the pacey Farfán who looked to burst through the middle.
Not long after came Unión's best chance of the half with the ever-dangerous Farfán crossing for Lemmo who headed it down into the ground and straight into the arms of IDV goalkeeper Moises Ramirez just before half-time.
As the teams headed down the tunnel, IDV went in knowing they had landed the bigger blows in the first half but Union Española had grown into it and had their moments too.
The Chileans could be accused of being too negative and not brave enough in their press in this home leg leaving the Ecuadorians to control proceedings for too long, but they'll argue they got their timings just right.
---
READ MORE ON THE NEXT WAVE OF SOUTH AMERICAN WONDERKIDS IN THE WFi FANZINE AVAILABLE TO ALL PATRONS
SIGN UP HERE TO RECEIVE YOUR COPY
---
Buoyed by the half-time team talk and pushed slightly higher up the field, Unión Española started the second half more eager in search of that much-needed goal to take with them to Ecuador next week.
First, Ramirez had to be quick off his line to stop Palacios from scoring. The young Chile international started the second half wide left and stayed there with Lemmo pushed inside.
Palacios was then booked after a late tackle following a dribble that he overran when he looked to cut in and shoot. Despite these moments of promise, it was Independiente del Valle who came close to opening the scoring.
Right-back Stefano Magnasco was done for pace down the left by Ecuador international Beder Caicedo, his cross was not dealt with and it was left to promising young centre back Thomas Galdames to somehow divert a Faravelli header onto the bar.
It was clearer in the second half that Unión were looking to exploit the IDV high line with balls over the top and one long pass from goalkeeper Sanchez to right-winger Farfan forced a corner that led to the opening goal of the game.
Lemmo delivered an inswinger that Caicedo diverted into his own net under little pressure to give Union the lead on 56 minutes.
Lemmo was then booked for a late challenge shortly afterwards and was predictably substituted for popular Bolivian international Alejandro Chumacero, who was making his much-anticipated debut in the red of Unión.
IDV struggled for a response and a magnificent pass from Palacios to Farfan wowed the few in attendance, Farfan worked the ball back to La Joya on the edge of the box, but his shot was blocked.
Moments later Sanchez had to be sharp at the other end to deny Independiente del Valle an equaliser as he smothered out another potential chance. The game then became bitty with a series of fouls, bookings and subs completely disrupting its rhythm, which more suited the home side who were keen not to concede an away goal.
Unión knew a second goal would give them a massive shot at qualification so they continued to look for the odd opening as well in transitions.
Palacios played a lovely filtered pass into the path of Chumacero who was dumped on the ground. The resulting inswinging free-kick from Palacios was tipped wide by Ramirez, but the corner came to nothing this time.
Minutes later, the insuppressible Palacios went down after another heavy challenge.
🇨🇱🎞🇪🇨 @UEOficial claimed a 1-0 first leg win against @IDV_EC tonight, leaving the tie finely poised ahead of next week's return leg in Quito!

📌 Highlights brought to you by @FTBSantander pic.twitter.com/UEvZ8Xdi06

— CONMEBOL Libertadores (@TheLibertadores) March 10, 2021

Chile's brightest young prospect is set for a big-money move to Brazilian side Internacional in the coming days so this caused some anxious glances. The move fell through last week, but the word in the stadium was that it was now back on — they'll either need him or the money in the coming weeks.
Meanwhile Independiente del Valle boss Renato Paiva looked to alter things with various attacking changes, but they had little impact. Galdames and his centre back partner for the night Juan Pablo Gomez were comfortable, despite the latter playing out of position for the home side.
With the game petering out, IDV created their last big chance of the ninety when substitute Johao Chavez was released on the left after a swift move, but the young winger could only blaze over.
Five minutes of injury time was signalled and Chumacero clumsily gave away a free-kick right on the edge of the box. Unión delayed the taking of it by pointing out to the ref that the ball had been moved, wasting time in the process. The free-kick was fired straight into the wall and it was all smiles for the Chilean side at full-time.
Despite winning and not conceding an away goal, the task in the altitude of Quito next week remains a difficult one for the Chileans. Independiente del Valle would have seen enough in Santiago for them to be confident of turning it around in the second leg.
Yet the Chileans will take heart from this night too. Despite seeing much less of the ball, they still managed to cause the Ecuadorians problems.
The tie is perfectly poised.