By Mike Rice.
At the start of the 2021 season, Peruvian sides Cesar Vallejo and Ayacucho were knocked out in phase one of Copa Libertadores qualifying by Caracas FC and Gremio respectively.
Ayacucho's defeat was especially disappointing. They lost 6-1 in the first leg against Gremio and then lost 2-1 to a reserve side fielded by the Brazilians in the second leg.
This meant both Peruvian clubs competing for a place in the Libertadores via qualifying were eliminated, leaving just Universitario and champions Sporting Cristal — who both qualified for the group stage via their 2020 Liga 1 positions —  as the country's representatives in South America's premier continental competition.
Ayacucho bounced back from this disappointing performance, winning 3-0 against a Sport Huancayo side who won both of their previous league matches. Cesar Vallejo also won 4-0 against Deportivo Municipal in their last fixture. Does this just show that Cesar Vallejo and Ayacucho are a level below the top two and a level above the rest?
Even before the start of this season, there has been a clear frontrunner in Peru. Sporting Cristal have won all three of their games, scored eight goals and conceded none. They cruised to a 3-0 win over Alianza Universidad with one of their poorest performances for some time — a deflected goal and goalkeeper errors gifted them their win.
So it's perhaps no surprise that Sporting Cristal go into the Copa Libertadores as the most fancied Peruvian side. Universitario, on the other hand, have had a stuttering start to the season and are yet to win in two games, losing one and drawing the other.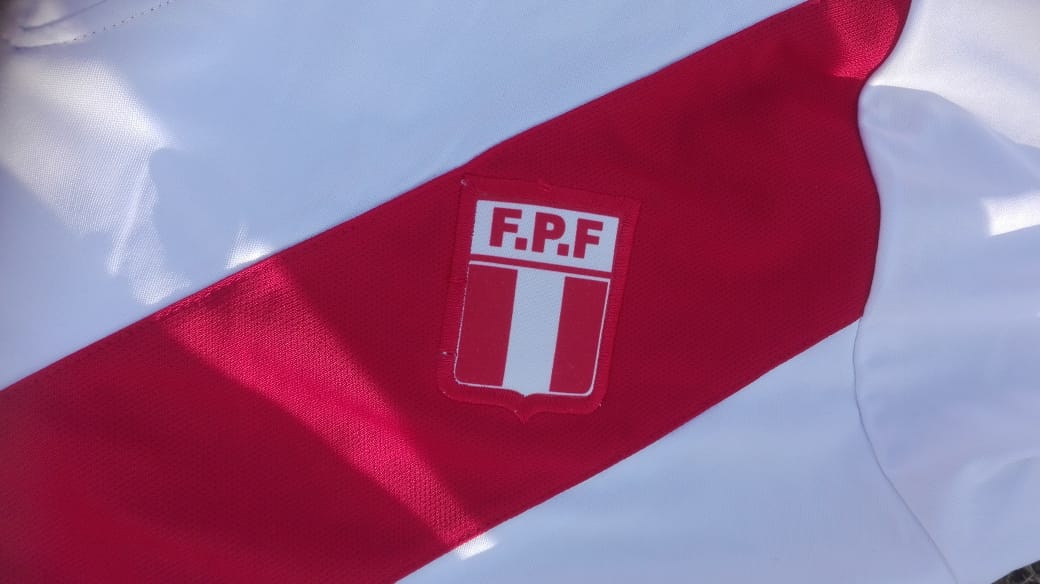 The Peruvian league is, on reputation, a lower standard than other leagues in South America. It is too far behind the Brazilian and Argentine domestic leagues to be considering comparisons.
The leagues where comparisons can be made are Chile and Uruguay. These are leagues of higher stature, all with sides performing better in continental competitions, but could also be seen as a level to strive for. They are not massively wealthier, either, unlike the top sides from Brazil and Argentina.
The website www.kickalgor.com graded the league sides competing in Copa Libertadores and Copa Sudamericana and graded each league from this. Below are the final league standings updated on March 21, 2021.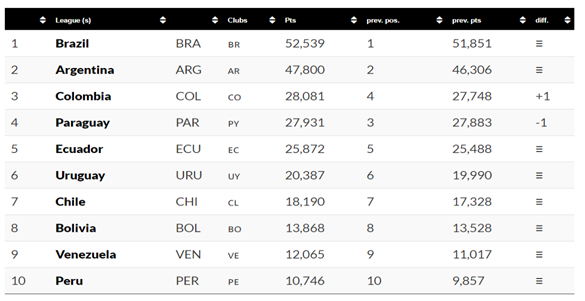 Peru is ranked lowest in the continent. It could be considered that they are on a similar level to Venezuela and Bolivia, though their performances in the continental competitions have been poor — as mentioned Caracas of Venezuela knocked out Cesar Vallejo this season.
So why are Peruvian clubs so far behind other countries on the continent when the national team are ranked 25th in the World and are the sixth-highest Conmebol nation?
Finances have a big impact on player development as well as club structure and organisation. The Peruvian league is a long way behind in these aspects, as highlighted with the drama of Carlos Stein's relegation to Liga 2 after already playing one game in Liga 1.
Peru's National Institute for the Defence of Free Competition and the Protection of Intellectual Property (Indecopi) recently found that a total of around $2,500,000 had not been declared by creditors at Universitario, which could have been used to reduce their current debt.
Universitario will be playing Copa Libertadores football again this year and are one of Peru's biggest clubs, but have been operating with significant debt for many years.
Many Peruvian sides have been managed poorly and laws have been introduced over the past two decades to work with Indecopi and create better-run organisations that would benefit the clubs and the league.
Jefferson Farfan returns as Alianza Lima are reinstated to Peru's Liga 1 for 2021 🇵🇪⚽️

✍️ @MikeRice76 https://t.co/eSENrIJ03f

— World Football Index (@WorldFootballi) April 5, 2021
Competing with the richest clubs in Argentina and Brazil is not something that will be realistic. Peruvian sides will always go into continental tournaments as underdogs while continuing to look to improve and develop.
While clubs have their own financial issues, the FPF itself has been accused of poor practice and the development of the league and clubs found quality players almost emerging by accident more than development.
In a move to improve and modernise, the FPF recently announced a partnership with Genius Sports Group — a sports data and technology company — as they look to build their appeal as well as identify how to connect with audiences across multiple platforms. The FPF is looking to take steps to bring parity with competing nations.
With a lack of funds and a poor standard of league, this means those with futures at a higher level will often leave at a young age.
Two such players recently left Deportivo Municipal — Rodrigo Vilca (22) moved to Newcastle United after only 29 appearances and Matias Succar (22) left for LASK.
Kluiverth Aguilar (17) of Alianza Lima will also leave Peru once he turns 18, having been signed by Manchester City.
With quality players leaving at a young age it can make it difficult for clubs to create continuity in their starting XI as well as in their style of play.
Coaches are required to adapt to the players they have, season upon season. There are often a lot of changes between sides with contracts expiring of domestic players. This can be due to players receiving season-long contracts due to financial instability at clubs that are unable or unwilling to commit to players long-term.
With a lack of funds available, it can be difficult to attract younger players with potential to the league from abroad. Experienced players over 30, such as Marcos Riquelme (31) who joined Sporting Cristal this season, are often signed on free transfers.
The strongest young players this season will likely be moved abroad in search of better development and to challenge for a place in the national side. Peru's most recent World Cup squad had only three outfield players who played in the domestic league, and players such as Martin Tavara of Sporting Cristal and Yuriel Celi of Academia Cantolao will unlikely still be in the league in 2022.
Along with the continual movement and loss of young talent, players who do leave for stronger leagues often take some time to adapt physically. The aforementioned Rodrigo Vilca and Matias Succar are still to make first-team appearances for their new clubs as they acclimatise to the new style of play.
Players are often smaller in stature and the physical training provided by clubs is not of a high enough quality to help the player reach his potential.
Vilca has shown recently his transformation from a slim skilful playmaker in Peru to a player who has increased muscle mass in order to compete and perform in a more demanding league physically when given the opportunity.
The way the game is played in Liga 1 is also behind other leagues in general. This is not to say there hasn't been some quality in coaching. Juan Reynoso is currently managing Cruz Azul in Mexico's Liga MX, topping the table and have recently been on an 11-game winning run. Reynoso had successful managerial roles in Peru with Melgar and took Real Garcilaso to second in 2017, qualifying for the Copa Libertadores group stages.
Current managers in the league often benefit from setting up counter-attacking sides. Club Sport Huancayo have qualified for the Copa Sudamericana, breezing past fellow Peruvians Cajamarca. They set up deep and compact, limiting space for the opposition and looked to exploit the pace of their wide players and the strong passing abilities of Marcos Lliuya.
This is how Peruvian sides will have to compete when going into these continental competitions, being compact and organised out of possession and find ways to transition quickly and effectively. This can be difficult at times for the top sides in the league who often dominate possession in their domestic games. They will need to adapt to a different style on the continent, which can be difficult to manage.
With a history of poor performances, Peruvian sides — the eternal underdogs — often can appear underprepared or even overwhelmed during continental competitions.
Cesar Vallejo had opportunities against Caracas in the first leg, missing clear cut chances and a penalty. Psychologically, it seems players need more support when it comes to preparing themselves for these games.
Ayacucho, who have been organised and defensively strong in domestic football, lost their shape and composure in their Copa Libertadores outing, albeit playing a superior Gremio side. They lost the away leg 6-1 having had 84 open play possessions, 49 of which were under ten seconds, and without creating a single counter-attack.
The two side's performances have shown the inability to compete and be tactically organised and disciplined throughout 90 minutes against superior opposition, as well as a lack of composure control against sides of a similar level.
Here are the groups for the #CopaLibertadores2021 and #CopaSudamericana involving peruvian sides. pic.twitter.com/Sb4pUDiW7l

— Mike Rice (@MikeRice76) April 10, 2021

Universitario have been handed an incredibly tough group in the 2021 Copa Libertadores, facing last years winner Palmeiras, Defensa y Justicia, and the winner of Independiente del Valle and Gremio.
Sporting Cristal might be the best hope Peru have of progress on the continent. They have a settled defensive line and a creative defensive midfielder in Martin Tavara who has the ability to change the speed and direction of attack creatively with an impressive range of passing.
The club will need Marcos Riquelme to get up to speed following his move from Bolivia, but as a squad, they are the most prepared. This is a rare sight for a Peruvian side, to be mostly well run with a strong academy.
Sporting Cristal go into a group with Sao Paulo, Racing and Rentistas, and will be the more competitive of the two sides. They will have hopes of progressing in this competition or at least dropping into the latter rounds of the Copa Sudamericana.
Peruvian sides will continue to struggle if things continue to run as they are. Even though they are a selling league, financial mismanagement does not see them investing this money back into the club development. Instead, it goes to paying back debts.
We will see how the FPF and the clubs can improve the organisational and management side of the running of their league. Sights need to be set on developing the way clubs operate, creating a sense of continuity and security in their futures.