Interview with Lincoln Red Imps forward Lee Casciaro, by Callum McFadden for WFi.
---
You've played at Lincoln Red Imps for the last 23 years. You've been at the club for the entirety of your career. What does the club mean to you?

"I've been at the club since I was eight years old so my association with the club dates back 31 years overall and 23 years in a first-team capacity, as you say.
"The club means a lot to me because it's been an important part of my life. We are one of the most successful clubs in Gibraltar and everything I do revolves around the club.
"The club means a lot to my family, too, as my two younger brothers have also played for the club. Ryan left in 2018 for St Joseph's after playing here for many years, and Kyle is now back at the club following a brief spell away. The club is literally a part of the family."
---
You gained a lot of media attention following your winning goal against Celtic in Brendan Rodgers' first competitive game in charge of the club. What are your memories of the match itself and the media coverage that followed?

"It was probably the biggest match that Lincoln have ever played in. Playing teams with a European history like Celtic has been a great joy for me in my career.
"The home match in Gibraltar was incredibly special and to score the winner was a moment I'll always cherish.
"However, I have to say that having the opportunity to play at Celtic Park in front of the Celtic fans was a truly important and unique moment for me and my teammates. It is one of the big highlights of my career.
"When I look back at it with hindsight it's an incredible feeling to be able to say that we were able to beat Celtic in a match because they are a massive football club across the world.
"Nobody could have imagined that we would have such a result against a team like Celtic, so the media coverage was overwhelming in that sense because we aren't used to that level of exposure at club or international level.
"It was covered by media outlets all over the world and reached 200 countries worldwide, which was unbelievable. It was a surreal experience but also a very positive one.
"
GOAL! Lincoln Red Imps 1 (Lee Casciaro, 47) Celtic 0 pic.twitter.com/UaM8xoEN4U

— BBC Sportsound (@BBCSportsound) July 12, 2016
---
Your time with the club has been one of consistent success with 17 league titles and 25 domestic cups. What makes the club so successful in your opinion?

"The club has always looked to produce talented young players and takes youth development seriously.
"Our success has made many young kids here in Gibraltar want to play for Lincoln. This has led to the structure of the club being very strong which enables us to have a strong squad to pick from each year.
"Nurturing young talent is key in football and as a club, it's something we have always taken pride in to ensure that we produce players to play in our national league and represent our national team."
---
As well as being a successful player for the Red Imps, you are also a policeman. What has it been like combining those careers?

"Locally, it is very normal because my career with the club and the national team started before we played in UEFA competition and as such gained more exposure. We always trained three or four times per week so not much has changed in that sense for me.
"What has changed is the professional nature and development of the league and being able to play in matches abroad at club and international level.
"I have had to take more time off duty since we joined UEFA, but my job is still the same as it was when I started in that regard."
---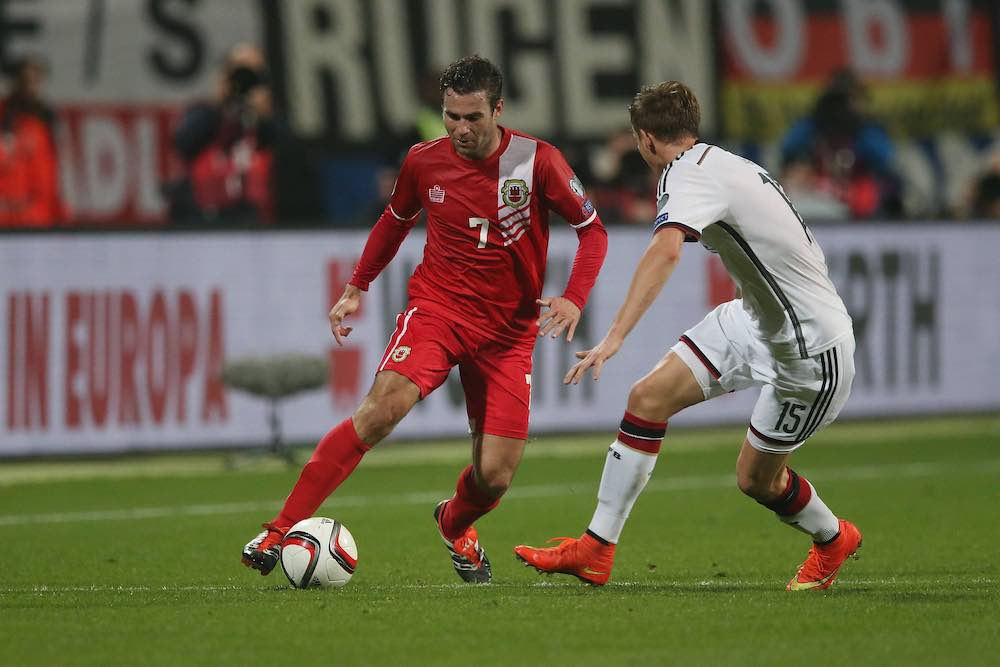 From an international perspective, how proud are you to have represented your country on many occasions and also captain the side?

"It makes me very proud as it's a dream come for our nation to play international football against Germany, Scotland and many major nations.
"We are due to play the Netherlands in the coming months and if you had told me that ten years ago, I'd have said no way and laughed it off.
"It's great for our youngsters as it gives them a platform to play at the elite level of football and hopefully will see many of them be able to play in the major leagues in years to come."
---
You scored the first-ever competitive goal for the Gibraltar national team. How proud are you of having that historic achievement to your name?

"It's always very nice to have your name written into the history of your nation. I am very proud of it, but we lost that game against Scotland 6-1 and a result like that is never nice is a footballer.
"We were learning international football at the stage, and we've come a long way since then. Hopefully, in the next generation, we can start to see the national team get some positive results against bigger nations as we develop."
---
Who would you say is the best player you've played against during your career so far? 

"Without a doubt, I would have to say, Robert Lewandowski. The way he glides through matches is on another level to most professionals in world football."
---
Have you swapped shirts with any of the top players like Lewandowski over the years?

"Yes, I have swapped shirts with Toni Kroos for example. However, I do not live in a mansion, I live in a flat, so I have to think carefully about where I put the shirts.
"Realistically, I don't have the room to put the shirts all over the house, so I give the shirts to young Gibraltarians because inspiring the next generation to be footballers is key.
"Hopefully, when we have the new national stadium in Gibraltar, I will be able to display the shirts that I have swapped there. That would be nice."
---
You've talked about the development of football in Gibraltar. How far can the national team and the national league develop?

"I would hope that we can stay in the Nations League C Division. Of course, that will be hard but that has to be the aim.
"We've only been in UEFA for seven years so we must ensure that we continue to develop every aspect of our game in the country to ensure we can slowly but surely progress year in year out.
"