By Callum McFadden speaking to Les Reed. This part of the wide-ranging interview for WFi looks at Reed's time with the FA and the England national team set up.
---
You worked as Director of Technical Development at the FA and then worked alongside Kevin Keegan with the senior England team.
How do you reflect on that era and the sheer size and interest that comes with working with England?
"After three years of great success and incredible experiences at the Valley culminating in promotion to the Premier League I had a really difficult decision to make. I was out of contract at Charlton and Howard Wilkinson had just taken up the technical director role at the FA and invited me to join him as an assistant.
"My role was to take responsibility for all of the national teams below the senior team and the Player Development Pathway.
"That involved winding down the FA National School at Lilleshall and revamping the Centres Of Excellence Programme to create the academy system so that more players could benefit from what had been learned at Lilleshall over 15 years.
"The fact that I would be responsible for the future direction of the England teams and be coaching some of the best players in England was too much of a pull.
"Despite Alan's efforts to keep me at Charlton, I left amicably after the Play-Off final and will be forever grateful for the experience there.
"My first task at the FA was to go straight to the World Cup finals in France (1998). I would tap into Glenn Hoddle's scouting reports and deliver a post-World Cup technical report to be the foundation of our research into international football and what it takes to win at that level.
"I watched England's games on TV when I couldn't see them live and travelled around France watching all of the other groups, attending training where I could, and meeting the likes of Gerard Houllier, Arsene Wenger, Josef Venglos, Andy Roxburgh, Roy Hodgson and a significant number of other experienced coaches, as well as bumping into club coaches from different countries and many scouts.
"After this, I commissioned my new staff (a new group of national coaches) to begin a research programme to find out what we had to do to develop winning international teams and players.
"Further research into clubs and youth development was spearheaded by my colleagues Robin Russell, Colin Murphy, Martin Hunter, Craig Simmons and the national coaches.
"We developed three major programmes which I believe are still at the root of recent successes and a formidable group of national team players. The support from Howard Wilkinson and Adam Crozier, the then recently appointed CEO, was excellent and we were able to build a very strong technical department.
"During this time some excellent coaches were recruited including Nigel Pearson, Paul Bracewell, Stuart Baxter, Mike Pejic, Chris Ramsay, Dick Bate and John McDermott — the current Technical Director who succeeded me in January. They joined Kenny Swayne and Steve Rutter.
"The first new programme was the Player To Coach programme for ex-international elite players. We recruited a team of professional development coaches who were taking their coaching qualifications on a special scheme for elite ex-players who were moving into coaching and working towards their Pro Licence.
"They would work on every camp with the national teams and give a unique insight as to what it meant to be an international player, a top Premier League player, and the demands and sacrifices needed to aspire to this level.
"That group included Peter Beardsley, David Platt, Glen Roeder, Nigel Spackman, Stuart Pearce, and Clive Allen, and their programme had input and contributions from Sir Bobby Robson, Sir Alex Fergusson, Gerard Houllier, Howard and others.
"The second programme was the Charter for Quality, which was the forerunner of Elite Player Performance Plan [EPPP] and was designed to create more and better coaches for all levels of the game, better facilities and better players through better technical development.
"It was the start of the academy system. We produced a detailed document much of which is still in place in other forms today.
"The charter created benchmarking and standards for coaching, improved coaching course delivery and content in line with the UEFA Convention and introduced the Pro Licence.
"It also set criteria for clubs in terms of youth development, including investment in better facilities and a wider range of support services that are commonplace now, but were non-existent back then.
"It also recognised and started the work towards building a National Football Centre as the hub of England teams and the technical department, and continued research and development, in Howard's words: 'The University of Football.'
"The third programme was the Strategy for the Development of International Teams and Players. 
"This strategy created the Technical Development Script for the England Teams Development Pathway, recently labelled England DNA.
"The content was developed from study visits to more tournaments around the world at all age ranges and in all continents.
"All tournament planning for our own teams included the requirement to carry out a technical review after each camp or competition, which included what we had learned from other teams in the group or our direct opponents.
"The 'script', as it was fondly referred to, also embedded what it meant to be an England player and even an England coach.
"We developed a mantra from studying the [New Zealand] All Blacks [rugby union team] and other successful non-football International teams. 'Once a Lion always a Lion!'
"Two of the many key staff I had then were Hope Powell and Kelly Simmonds. They have been the most significant contributors to the women's game throughout its development and evolution.
"They were the pathfinders and I couldn't be more proud that the Charter for Quality and the International Development Programme included and initiated the evolution of the women's game.
"Everything described above applied to the England national women's team and the newly initiated development programme for the women's game.
"Hope took women's coaching to a new level and continues to do so, and Kelly has done more for the structure, governance and growth of women's football in England than any other single person. 'Once Lioness always a Lioness!'
"In February 1999, Glenn Hoddle departed from the FA and we were left with no national team manager. Howard Wilkinson was drafted across from the under 21s to the seniors and took me with him as an assistant coach.
"We had an imminent friendly to prepare for against current world champions France at Wembley. We were soundly beaten on the night but I remember a few incidents that would have challenged VAR today.
"After that, the FA persuaded Mohammed Al Fayed to 'lend' us [Fulham manager] Kevin Keegan for four games whilst we searched for a new head coach.
"As Kevin was to be part-time and manage Fulham at the same time, he wanted some consistency amongst the staff so asked that I stay on as assistant coach and manage the day to day workings around the national team.
"This was a great experience for me, as now I was responsible for the International Programme from under 15 to the seniors, and I am still the only person to have coached England at every age group.
"Kevin got to like the job during his interim period and to his chairman's dismay, asked to leave Fulham and go full time with England for the Euro 2000 campaign.
"This was sorted and Kevin also asked me to stay on in my role with the seniors and work in tandem with Derek Fazakerley and Arthur Cox. I combined this with my role as head coach of England under 20s and Director of Technical Development.
"Arthur described working with Kevin as a 'rollercoaster ride' and it certainly was. Kevin was a popular manager and great fun to work with but he was unpredictable, which was part of his persona, you might say predictably unpredictable.
"We had a really good squad and qualified pretty easily. We should have done better at Euro 2000. Our defeat after leading Portugal 2-0 at half-time in our first game meant that we went into the last game needing a draw against Romania.
"We were about three minutes from the quarterfinal when Romania broke from one of our attacks and we conceded a penalty and lost 3-2. I'll never forget that feeling and learned a lot from that game.
"Following defeat at home to Germany in the last game at Wembley the following season in our first game of the World Cup campaign, Kevin resigned. His staff also left and two days later it was down to Howard and I to go to Finland with a wounded squad, several drop outs, no preparation and secure a draw and a point which was to be so important the following year when we qualified for the 2002 World Cup finals under Sven [Goran Eriksson] by one point!
"By then Howard had gone to Sunderland and Adam Crozier asked me to step up as Technical Director. It was in this role that I supported Sven much as I have done recently with Gareth Southgate who was of course one of our players then.
"My third World Cup Finals in Japan and Korea was to come as well as European Championships with England under 21s and a World Cup Finals with England Under 20's.
"These were to be my last international experiences until I joined up with Lawrie Sanchez and the 'Green Army' in Northern Ireland but that's another story!"
---
You went back to the FA as Technical Director, and during your time there from 2018 to 2021 you were responsible for all elite England men's sides from development teams through to the seniors.
How do you reflect upon your work there and the work of Gareth Southgate whom you worked alongside?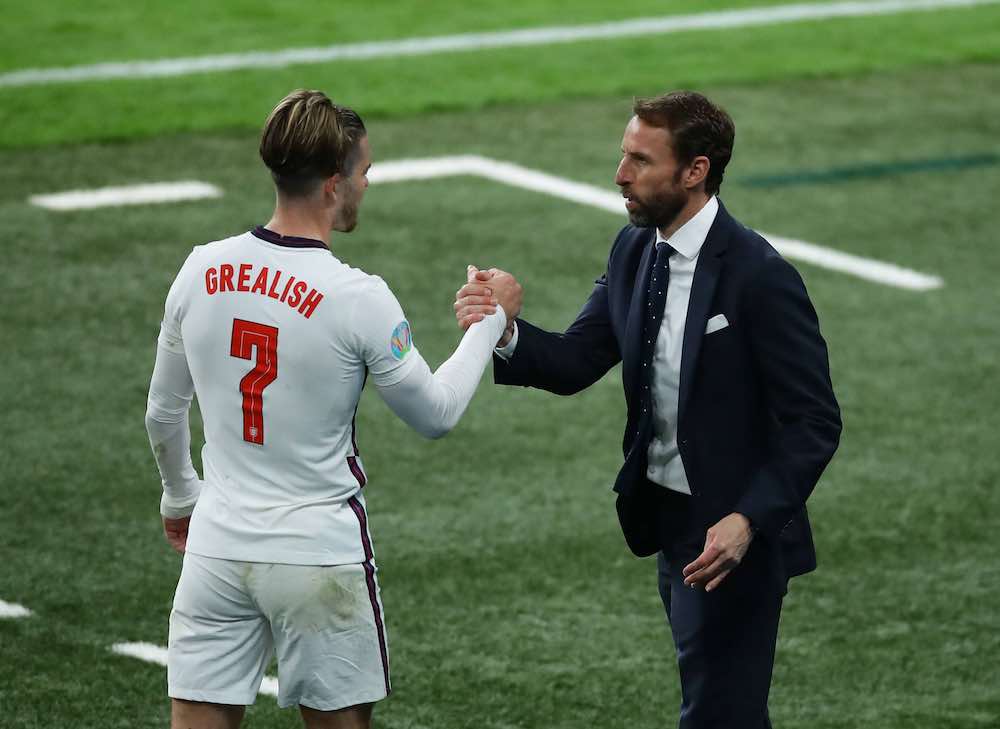 "I am really pleased with what I achieved in those two years but it was not what I was expecting. I accepted the job from Martin Glenn prior to Covid and lockdown. I was excited by the prospect of continuing the good work by my predecessor Dan Ashworth, and finally getting to work at the National Football Centre St Georges Park, which was my project before it was cancelled by a previous FA regime along with the Player Development pathway and England Development programme.
"Dan and the team had reignited elite player development and developed the player pathway on the back of the success of EPPP and the academy system now managed by the Premier League.
"As I had previously coached Gareth and stayed in touch during his transition from player to coach, it was particularly attractive for me to become his boss and mentor along with Aidy Boothroyd and the other national coaches.
"I had also coached and had a great relationship with Phil Neville, so I was looking forward to the Women's World Cup, the under 21 Euros and the Nations League in my first year.
"I had been tasked with reviewing the football division by the board and to make proposals for taking the next steps towards winning a major championship at men's and women's level by 2024.
"When three major staff left early in my tenure I was able to restructure the Football Leadership Team and the way it worked including how decisions were made. I built a really motivated and talented leadership group and we set about developing a working culture around collaboration, empowerment of staff, diversity in thinking and creativity.
"We started work on what we called the North Star project and then Covid hit and the impact on the FA's finances has been well documented.
"So rather than winning the Euros at senior and under 21 level, and more youth trophies and the girls winning the Olympics, it was all postponed, at best, or cancelled.
"So what I am proud of is I managed to oversee a cost-cutting and staff reduction programme which had been forced by the pandemic and still protect the great majority of programmes, the teams, the player development pathways, and restructure the staff so that the future can still deliver the targets we had been set.
"With everything being pushed back another one or two years I decided that it was a good starting point for my successor, John McDermott, when the tough decisions had been made and the ugly work had been done.
"I left a great management team and the foundations intact for success in both men's and women's games and enjoyed working with some great people.
"I still represent the FA as vice-chair of the UEFA Development and Technical Assistance Committee, and as Board member of the Professional Game Academy Audit which is the independent company that regulates and oversees academies, and also the Integrated Coaching Strategy Steering Committee which is reviewing coach and manager education, so hopefully I am still influencing the future of the game and maintaining my FA relationship."