By Alan Feehely.
It's been an eventful week for João Félix, one that shows the two faces of football.
On Sunday evening he was jubilant. Atlético Madrid welcomed high-flying Real Betis to a rain-soaked Wanda Metropolitano and played them off the park, delivering a performance worthy of champions.
Félix scored Atlético's third goal in a 3-0 win, striking in the 80th minute. Yannick Carrasco released the Portuguese with a smart through ball that Félix collected after timing his run to perfection. He then steadied himself before beating Claudio Bravo with his left foot.
Diego Simeone, banished to the stands after his red card against Levante a few days earlier, celebrated the goal wildly even though the game was already won. It was Félix's first in La Liga this season, and Simeone knew it could prove a launchpad for him.
Three days later, however, it was a different story. Atlético went to England to take on Liverpool in an important Champions League tie. A controversial red card notwithstanding, they were humbled by their opponents in a hot Anfield atmosphere, beaten at a canter 2-0.
Félix, without Antoine Griezmann beside him behind Luis Suárez, looked lost and ineffectual. Angel Correa was called into central midfield more than he would have liked as a ragged Atlético were overrun by their far superior hosts.
Félix looked dejected at the final whistle, his wiry frame wrapped in a heavy jacket and his long, unkempt hair framing a frown that betrayed his discontent. So far, his Atlético career has been characterised by brief moments of elation dominated by disappointment.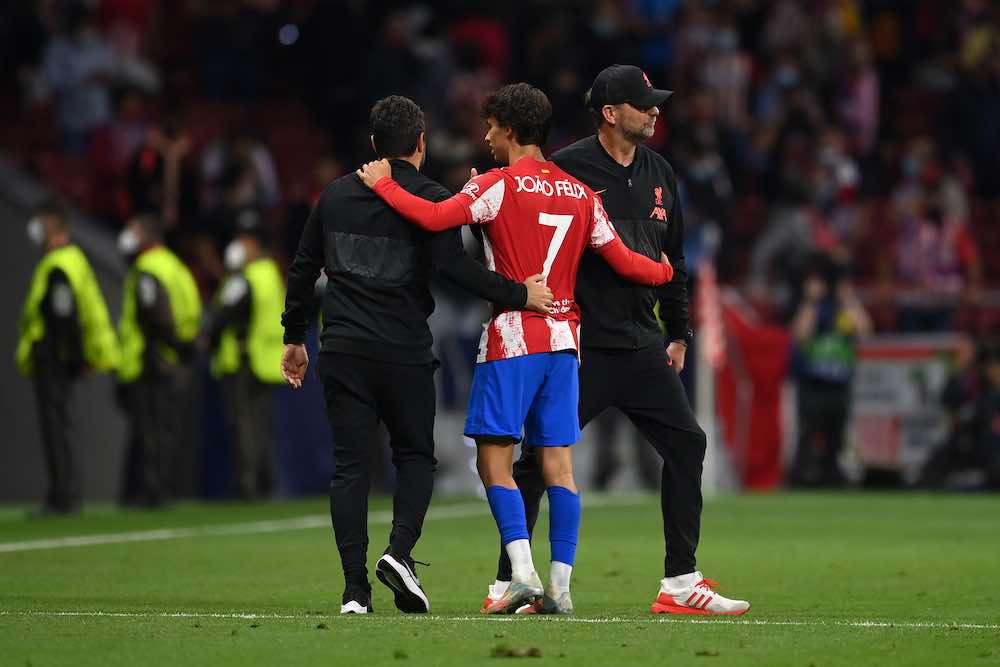 "I think injuries have been the primary thing holding him back over the last 18 months," Spanish football expert Michael told WFi.
"When he's been fit, he's generally been great. Even sensational much of the time. He can take over matches, which speaks to his calibre as a player. Especially at a club like Atlético."
Félix, still just 21, joined Atlético amid much fanfare for €120m in the summer of 2019. He had made just 43 senior appearances for Benfica by that point, although he had managed to deliver 20 goals and eleven assists in that timeframe. Playing without fear and a healthy lack of respect, those who know Portuguese football well had high hopes for him.
"Where to start with Félix? He looked an absolute world-beater that first season at Benfica, arguably the most exciting Portuguese talent since [Cristiano] Ronaldo," Portuguese football expert Tom Kundert told WFi.
"It's fair to say that things haven't really worked out for him since moving to Atlético, although he has shown in flashes that he can do things only absolutely elite footballers are capable of.
"It's not terribly original, but I agree with many people's opinion that he joined the wrong club in terms of playing style and coach. At Benfica, he was the main focus of an ultra-attacking team and he thrived given that responsibility and freedom."
It's true that most hold this opinion. Many who believe in Félix's potential long for him to move to Manchester City and work with Pep Guardiola, a man seemingly ideal to shape his raw potential into true, world-class talent.
Three compatriots of Félix's — Rúben Dias, João Cancelo and Bernardo Silva — have come on leaps and bounds since coming under the Catalan's tutelage. On the other hand, others argue that the famed discipline Diego Simeone — Félix's coach at Atlético — demands could work wonders for him.
"Of course I'd love to see him in a more attacking system or club," Portuguese football expert Aaron Barton told WFi. "But I think Simeone and Atlético don't get enough credit for just how much they're developing João.
"Under Simeone, he's learned a lot defensively and tactically — learning how to do more with less. As he develops in Madrid, he's adding new things to his repertoire.
"He's becoming a more refined player than he was when he first left Benfica as a raw talent. I think if he does leave Atlético in the future, he will leave a better and more dynamic player because of what he learned under Cholo."
Aside from the work Simeone is doing on João as both a player and a person, many fail to realise or grasp the depth of change the Argentine has implemented upon his Atlético team.
Gone is the rigid 4-4-2 shape with which they made their name as one of the most feared and competitive sides in the European game. In its place is a far more fluid, three-at-the-back system that's much more attack-oriented than they're given credit for.
"I think the whole new system Simeone has built, with a lot more attacking flair and freedom, has been designed with the long-term in mind and the ambition of building a team around João," Spanish football expert Sam Leveridge told WFi.
"Cholo loves him and I think we saw glimpses of how good he could be last season before the ankle injury that plagued him for pretty much two-thirds of the campaign.
"He's started this year incredibly brightly, and is building a really strong relationship with Griezmann both on and off the field that's looking very promising."
Portugal squad announced for Portugal's crunch World Cup qualifiers v Ireland and Serbia. João Félix and Renato Sanches recalled. Two debutants in U21 squad => https://t.co/HOwa91GvAN pic.twitter.com/goZH0dqh2C

— Tom Kundert (@PortuGoal1) November 4, 2021
The relationship with Griezmann is a salient point. The Frenchman — at the other end of his career now at the age of 30 — is often criticised for his off-field persona but is a model professional when it comes to actually approaching his game.
Playing a similar role to Félix throughout his career — not quite an out-and-out centre forward but certainly an attacking lynchpin — will help him coach the Portuguese and get the best out of him.
It's already evident in the on-pitch relationship they've developed. Often playing as two inside-forwards behind Suárez, Griezmann can help Félix in reading triggers relating to when to press as well as contribute to attacking moves.
They also clearly get on socially, evident when Griezmann jokingly mistook the Portuguese as a mascot recently.
Griezmann wanted to walk out with Felix as his mascot 😅 pic.twitter.com/8assoZIDWs

— ESPN FC (@ESPNFC) November 1, 2021

This relationship really bore fruit when Atlético faced Liverpool in their previous Champions League group game at the Wanda Metropolitano, a tie they lost 3-2. Félix assisted Griezmann for the goal that made it 2-2; he came in off the left flank, shrugging off a challenge from Naby Keïta before playing a simple ball to Griezmann, who scored. Had Griezmann not seen red shortly after, they could have gone on to win the game.
Now entering his third season at Atlético and having shrugged off the injury problems that have dogged his career in Spain, Félix is entering a pivotal period in his development. To date, he's provided exactly 20 goals and eleven assists with both Benfica and Atlético, despite playing precisely twice as many games with the latter (86) as with the former (43).
Watching him, it's easy to believe that he's on the cusp of hitting the levels many believed was inevitable when he first lit up the Lisbon night as a fearless enfant terrible. He certainly still has the tools to do exactly that, and is operating within a structure built to maximise his talents alongside a fine role model.
Time will tell if he can seize his chance.