An interview with Australian-born Macedonian full-back Daniel Georgievski, by Callum McFadden for WFi.
---
You won two Romanian league titles and a domestic cup while at Steaua Bucharest. What are your memories from your time playing for such a historic club?
"It was a great achievement to be involved with Steaua and win the domestic titles which the club hadn't won in eight seasons prior, and personally in my career until then.
"It was a massive change as I had been relegated three times before that while playing in the Croatian League.
"There were a lot of great memories as I had so much fun with the team that we had and especially with the fans.
"The last game of the season, where we lifted the title, was something that I will never forget with a stadium packed and the celebrations after the match in a double-decker bus driving around Bucharest is something I will cherish forever."
---
You moved to Australia in 2014 with Melbourne Victory. You won the A-League with the club in the 2014-15 season. Can you sum up what that season was like from your perspective?
"Moving to Australia and winning the title there in very similar circumstances as it was in Steaua — where Melbourne Victory hadn't won the title in eight seasons prior — felt like I was just continuing my career in a different country but having the same benefits with winning titles.
"The season was pretty much the same as it was in my first year in Steaua where we were just a team above from the rest with our playing style and winning mentality.
"We did the treble that year as well with winning the Minor Premiership, Grand Final and FFA Cup."
---
You moved to Newcastle Jets in 2017. How would you reflect on your time at the club?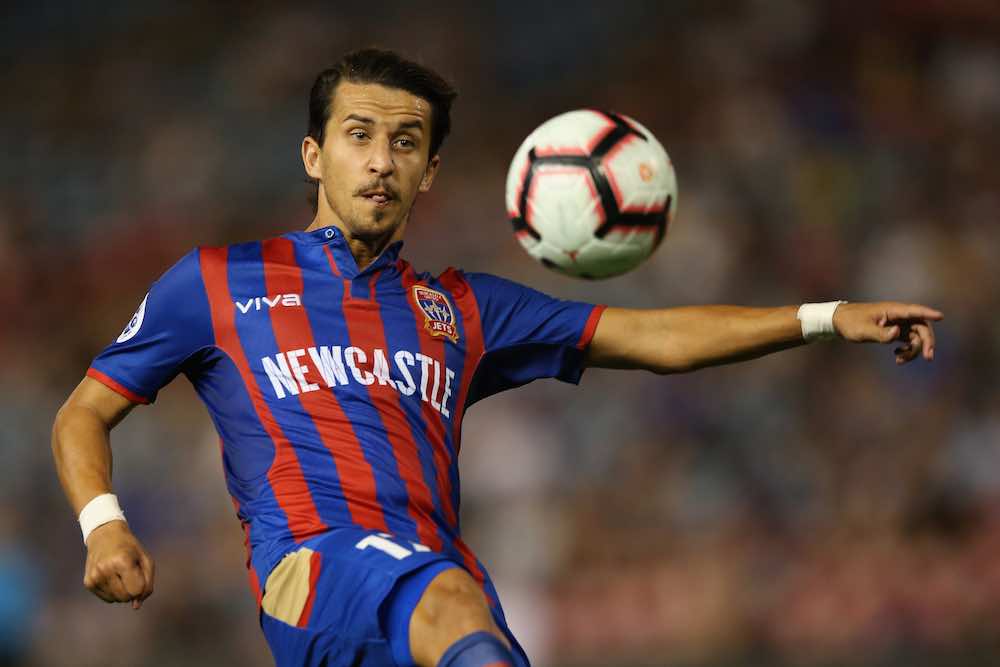 "Moving to Newcastle was a change I wanted to give to myself as the team finished last the season before, where the club had a new owner, new coach and a lot of changes to the squad.
"We finished second in the table and lost the Grand Final due to an error from the VAR — awarding the goal while the player that scored was a mile offside.
"However, overall, the season was very enjoyable as we had a free-flowing style of football and scored a lot of goals and didn't concede many thanks to our experience in our defence."
---
You have played for Western Syndey Wanderers and Melbourne City in the last two years. How would you sum up your time at both clubs?
"The first year at Western Sydney Wanderers, for me personally, was a very successful season for me where I played very consistently and made the most assists in a single season in my career.
"Unfortunately we didn't make the finals and finished mid-table, but on a personal note it was very good.
"'I was very involved in the media part for the club with promotions and interviews, which I enjoyed, and everything was going well that first season.
"The second season we had a change of coach which I thought was great and didn't think that it was a threat to me as I had a great season the year before, but I guess the coach thought differently. He would restrict me to the bench and mainly out of the game-day squad which frustrated me as I was never told why this was happening.
"Midway in the season my wife gave birth to our first child, Lucas, and Melbourne City approached me to join their team as they were first in the table and wanted some more experience to finish off the season.
"As I was very unhappy at Western Sydney Wanderers and want to leave, the club released me and I was able to find the fun and joy I had in my career to finish off the season with Melbourne City as champions of the A-League — funny how football works, isn't it!"
---
You have represented Macedonia at international level on 22 occasions. How does international football compare to club football and what is it like to train and play with a legend like Goran Pandev?
"Representing Macedonia helped put me on the map in the football world and helped me accomplish the achievements I did at club level.
"So I owe everything to Macedonia for giving me the opportunity to do so and I'm honoured to have represented them every time I received the call-up.
"Training and playing alongside the legend Goran Pandev taught me a lot of things on and off the field, through his humble nature in his personal life and how hungry he was to win."
---
Last but not least, you have played with and against many top players in your career so far. Who would you pinpoint as being your most talented teammates and your toughest opponents?
"There were quite a lot of talented teammates I played alongside but the players that stood out from the rest were definitely Ciprian Tatarusanu and Vlad Chiriches.
"They just had this X factor about them that wherever their next transfers are going to be they would succeed and play constantly as they still do today in their respective clubs.
"The toughest opponent for me would have been when we played Chelsea, where I probably had the worst game in my career.
"I had to mark Andre Schurrle who had an amazing game and managed to get around me on numerous occasions through my eagerness to always try to win the ball and not stick to the basics to just defend him. But I guess you just live and you learn and move on."