By Jordan Florit.
The finalists of Liga FUTVE 2021 were not decided until the last day of the regular season, and only penalties could separate eventual victors Deportivo Táchira from Caracas Fútbol Club after a goalless 120 minutes.
It was their first title in six years and made sweeter by the fact it was won in their opponent's own backyard.
While Caracas were considered by many to have the best XI in the league (and they also have the youngest average age) Táchira had built the best squad — one that only narrowly missed out on the knockout stages of the Copa Libertadores and were then eliminated from the Copa Sudamericana 3-2 on aggregate by Rosario Central in the Round of 16.
Ultimately, they were both deserved finalists and Táchira were worthy winners, perfectly balancing some world-recognised wonderkids with wizened veterans.
Credit must also be given to Monagas SC who chased both down until the final day and who only missed out on the final by a single point. Along with Deportivo Lara, they will begin their Libertadores campaign in the qualifying rounds.
Further down the table Metropolitanos qualified for the Sudamericana for the second consecutive season alongside 2020 league champions Deportivo La Guaira, Andean side Estudiantes de Mérida and, most impressively, newly promoted Hermanos Colmenarez.
Boosted by the ever-present juvenile rule that states all teams must field at least one U20 player, not only did established young names continue to build their stock but talented teens new to the scene made immediate impacts.
Below, in no particular order, we look at ten of the best.
Eduardo Fereira (21) – Caracas Fútbol Club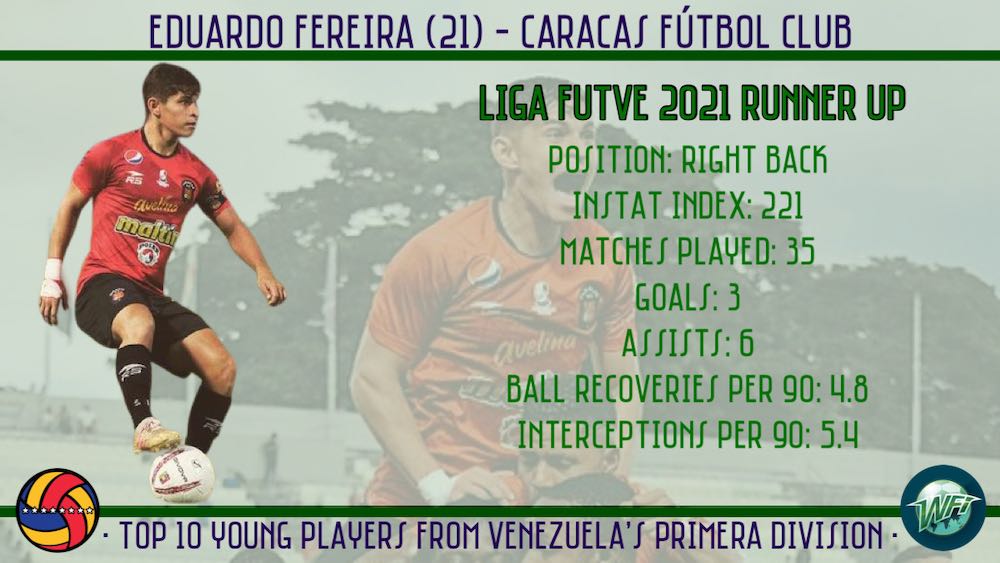 Despite his tender age, Fereira is already five seasons deep as a first team starter with over 10,000 minutes and 126 league games to his name.
His 2021 performances saw him chosen in the official Team of the Year by both the league and the Venezuelan Players' Union.
His InStat Index Rating of 222 ranked him the second highest performing right back in the league, contributing with three goals and six assists in 34 games.
Pipo Vivas (19) – Deportivo Táchira
Vivas' season was cut short in October when he suffered a broken arm in the 0-7 defeat of Trujillanos, but not before he was named in the CIES Football Observatory's Top 100 Teenagers List in August.
His resolute performances had him ranked by InStat as the best U20 player in the league at the season midpoint, and as the joint-third best centre back.
Special mention can rightly go to his almost equally youthful replacement Jesus Quintero (20) who was essential in shutting out Caracas' frontline across their 1-0 defeat of them towards the end of the season and for the full 120 minutes of the goalless final.
José Riasco (17) – Deportivo La Guaira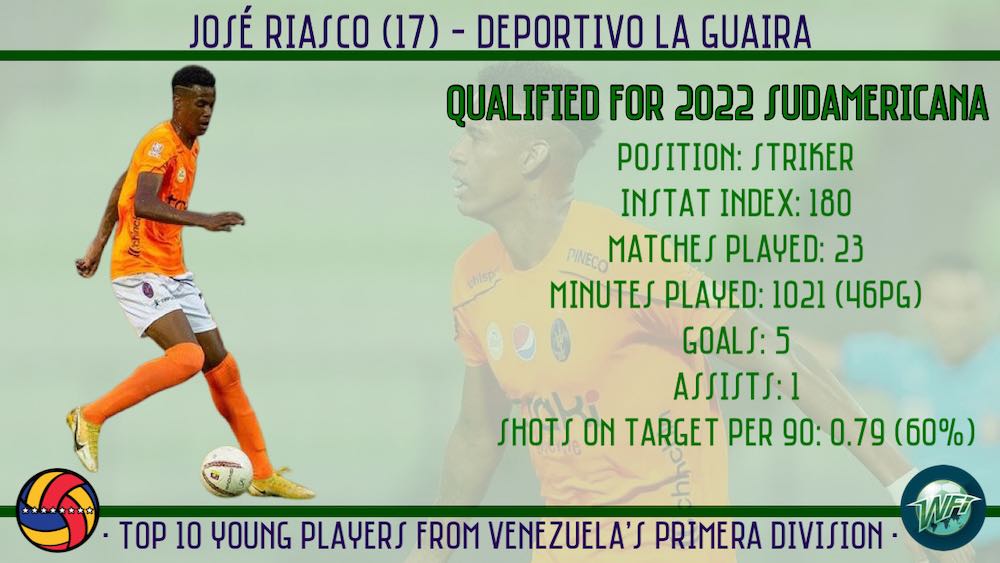 This 187cm striker is the youngest player on our list and if anyone in Venezuela deserves the tag of 'the next Salomón Rondón', it's Riasco.
He's tall, powerful, and already proving himself as an adept marksman with five goals and one assist in 1,045 minutes of action — a goal involvement every 1.94 games.
If you compare that to Dani Pérez who joined Club Brugge for $250k in January 2021, days after his 19th birthday, the future looks bright. The former Metropolitanos man returned 6 goals in 649 minutes — a goal involvement every 1.2 games.
Jon Aramburu (19) – Deportivo La Guaira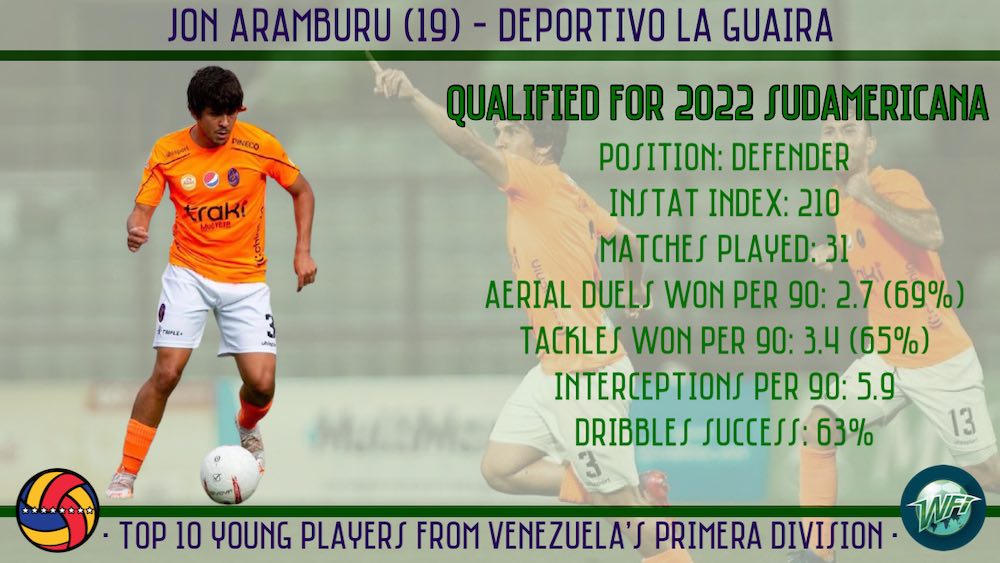 A veteran of the 2020 League Champions, Aramburu continued to prove a league mainstay in an otherwise ever-changing Daniel Farías side.
With 2,515 minutes played, only fellow fullback Kendrys Silva featured more for La Naranja and Yerson Chacón was the only U20 in the league to earn more gametime.
The versatile defender featured most prominently at left back, but the right-footed player can adeptly slot in anywhere across a back five thanks to his high game intelligence, strong physique, and never-ending energy. Only height is missing from an otherwise full package.
Abraham Bahachille (20) – Metropolitanos Fútbol Club
Gifted Metropolitanos head coach José María Morr had no qualms about rotating Bahachille's position throughout the season.
The giant midfielder looked equally comfortable at the base of the midfield as he did the base of a five-man defence.
It would be lazy to say the EU passport holder 'has a good touch for a big man' but not inaccurate.
He has an elegance that belies his stature, and an assertiveness that may match his physique but isn't always easy to find in a player of his age.
Jorge Echeverría (21) – Caracas Fútbol Club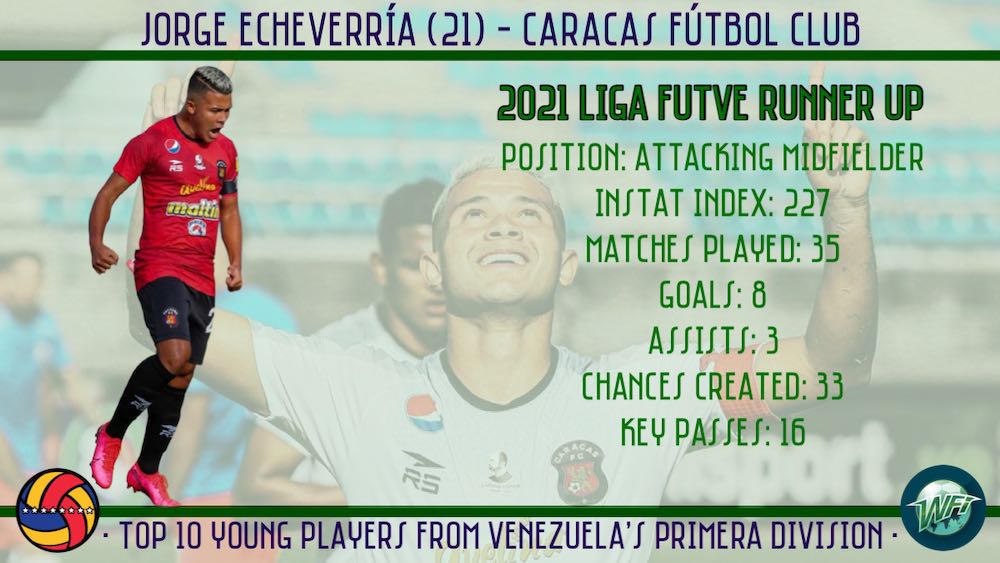 Made captain at the start of the season, Echeverría enjoyed a fantastic start, clocking in at the midway point as the third-most prolific dribbler in the league (3.4 completed per 90, with a 71% success rate), and finishing the campaign with seven goals and three assists in 33 appearances (22 starts).
Yet, he actually lost his starting berth for the final 10 games of the season due to the very rule that once would have benefitted him.
With one U20 needing to start for Caracas, it was Echeverría as the No. 10 that was sacrificed for Manuel Sulbarán (18). He was very much a victim of circumstance, not poor performance.
Kwaku Osei Bonsu (21) – Caracas Fútbol Club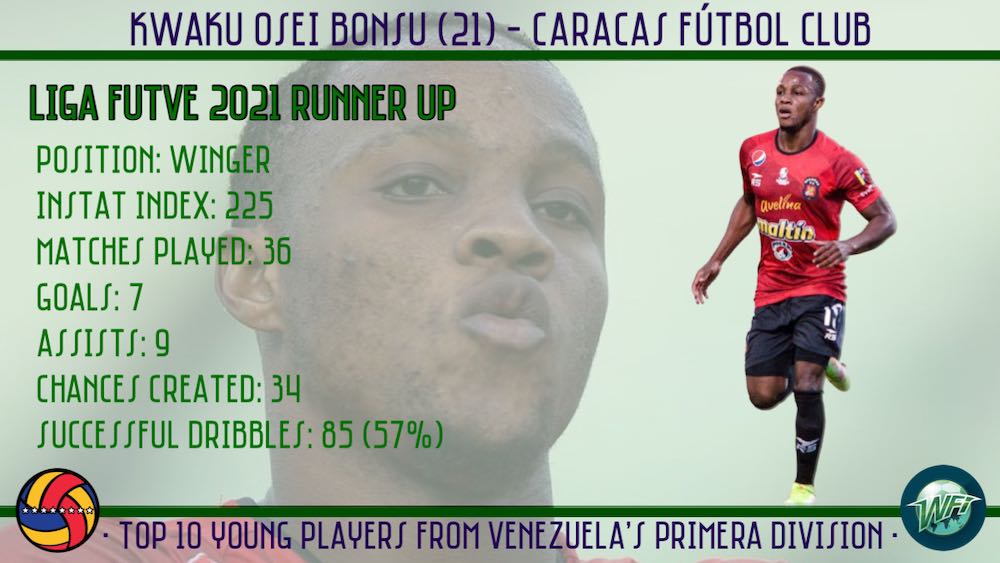 One of two non-Venezuelans to make this top ten, Bonsu spent much of the year unfairly going under the radar due to the equally impressive performances of fellow African import Samson Akinyoola.
In his second season in Venezuela, the Ghanaian rose to prominence with each passing stage, finishing the season with four goals and five assists in the final nine games.
His direct dribbling, unpredictability, and predilection to create ensured he was an invaluable component of Caracas' attacking trident along with Richard Celis and the aforementioned Akinyoola.
Yerson Chacón (18) – Deportivo Táchira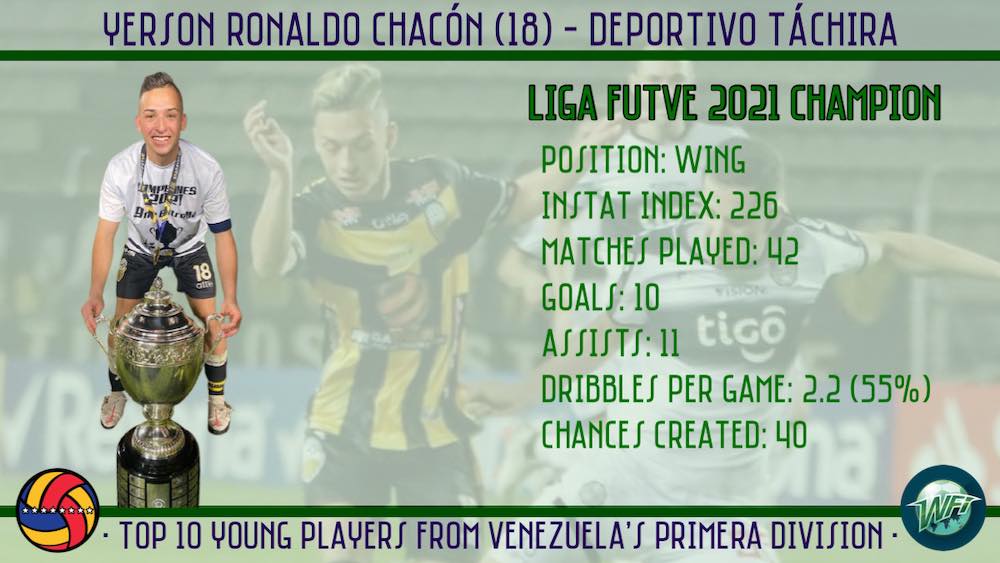 One of three Venezuelan youngsters to feature in this year's CIES top 100 teenagers lists, Chacón continued his fine debut season of 2020 with an even better 2021, lifting the league title with Deportivo Táchira and finishing with the highest goal involvement in his team (18) and the most assists (nine).
Despite only turning 18 in June, veteran defender Pablo Camacho was the only outfielder to play more minutes than Chacón, further illustrating the talismanic role the wonderkid took on this season.
Telasco Segovia (18) – Deportivo Lara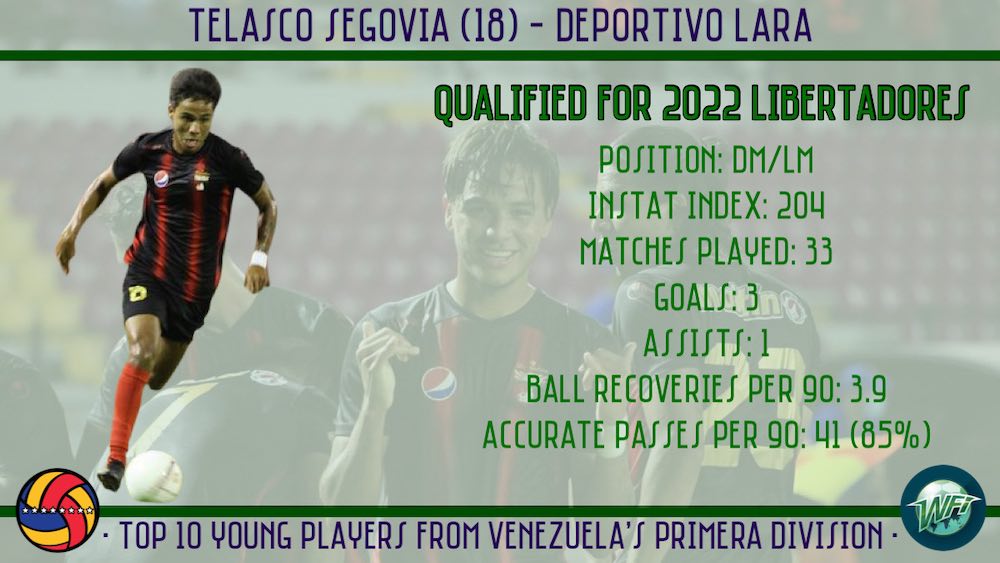 Along with Chacón, Segovia was just one of two teenagers to feature in the official Team of the Year of both the league and the players' union.
The midfielder only grew in importance throughout 2021 as his side first lost Freddy Vargas on a season long loan to FC Dallas and then captain Jesus Bueno on a permanent transfer to Philadelphia Union.
With mature, all-rounded performances becoming the norm, expect Segovia to follow the path to MLS sooner rather than later. What the American league has come to expect of Venezuelan midfielders is what he offers in abundance.
Samson Akinyoola (21) – Caracas Fútbol Club
The impact Caracas' Beninese-Nigerian striker made in his debut season in Venezuelan football cannot be understated: Golden Boot winner and recipient of both the Player of the Year and Foreign Player of the Year awards at the end of season gala hosted by El Mundo Es Un Balon.
Akinyoola's 18 goal-return made him the first foreign player to finish top of the scoring charts in their first season in over 10 years, and the first player from outside of the Americas in 29 years.
In fact, in the 64 years the league has been professional, there have been just four winners from outside South and Central America, two of which came in the first four seasons.
---