An interview with former Hearts, Wolves, Ipswich, and current Raith Rovers defender Christophe Berra, by Callum McFadden for WFi.
---
You joined Raith Rovers in the summer of 2021, teaming up with John McGlynn again. How would you sum up the season so far?
"It's been a good season for us so far. We had a strong showing in the League Cup by getting to the League Cup where we faced Celtic.
"We equipped ourselves well in the game at Celtic Park against a formidable front line but unfortunately they were just too strong on the night.
"The league campaign has been a positive one so far as we are competing at the top of the league with Partick, Inverness, Arbroath and Kilmarnock. We are progressing in every game and we have no fear factor against any of the sides in the league.
"We still have room for improvement and the games will come thick and fast between now and the end of the season but everyone at the club is motivated to work as hard as we can to be successful."
---
You are synonymous with Heart of Midlothian having played and captained the club during two spells in Edinburgh. What does Hearts mean to you and which memories stand out for you?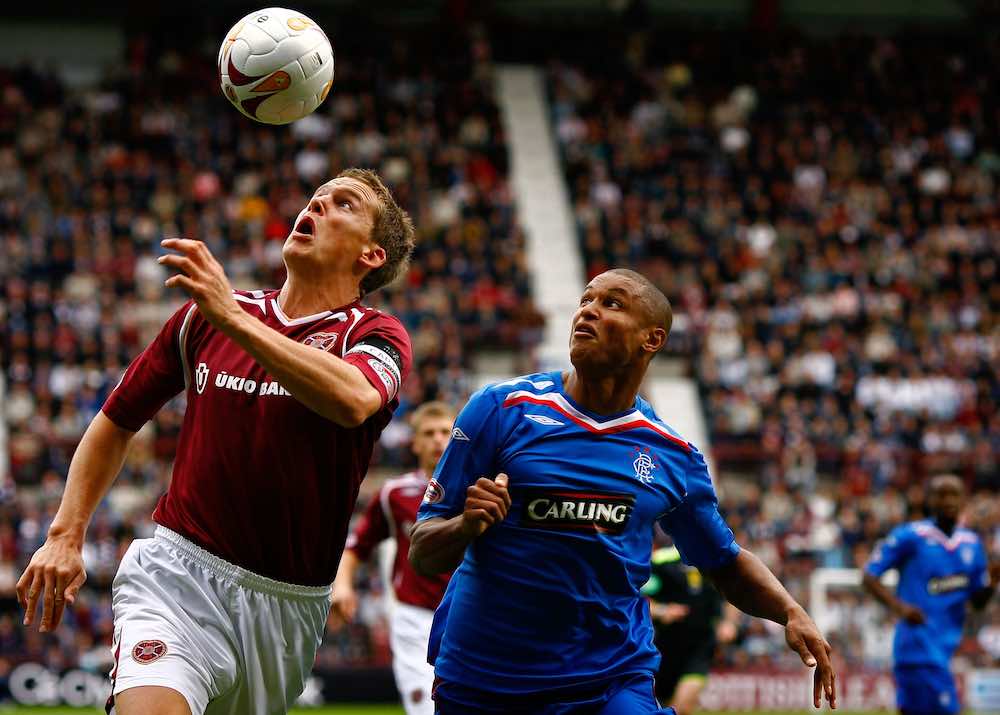 "It is the club that gave me my chance in football from developing me in the academy to playing me in the first team. I was a late developer but the club showed great faith in me and came me a platform to play football which I am thankful for.
"I enjoyed my first spell at the club as I felt good as I was developing year upon year which led me to move to Wolves and go on to play in the Premier League in England.
"My second spell was also enjoyable. I am born and bred in Edinburgh so I always wanted to return one day which I did. There were ups and downs during my second spell as the club was going through a rebuilding phase with the turnover of players being high under a few different managers.
"My big highs at Hearts would be when we beat Hibs in the Scottish Cup at Easter Road in my first spell. I captained the team that day and Steven Fletcher was sent off after being involved in a tackle with me.
"I remember Mixu Paatelainen (Hibs manager at the time) saying that I leapt like a Salmon which made me laugh.
"Getting to two cup finals in my second spell was also a huge high for me and the club. It was just unfortunate that we were up against a Celtic side that has won everything in their sigh for almost half a decade.
"They were a very good side so I would also pinpoint the 4-0 win over them that stopped them reaching seventy matches unbeaten when Brendan Rodgers was the manager of Celtic.
"That was a huge day for us as they were by far the best team in Scotland at that time. It is hard to beat any Celtic or Rangers team and that Celtic team are one of the best that they've had for decades so to beat them convincingly was a great memory."
---
Mick McCarthy took you to Wolves in 2009. You won promotion to the Premier League in your first six months at the club. Can you sum up what it is like to be involved in a championship-winning team?
"I joined in January when there were around thirty games gone so the core of the team had done most of the hard work.
"However, I came into the team for the last fifteen games of the season and after a slow start to my time at Wolves, we quickly gathered our momentum again and won the title by seven points.
"The Championship is a tough league with many former Premier League teams in it who are desperate to get back to the top flight.
"Even League One has some massive teams in it at this moment with Ipswich and Sunderland. I think the Championship is one of the hardest leagues in European football."
---
You played in the Premier League for a number of seasons. Many high profile players and managers have described the league as being the best in world football. What was your experience of playing in the Premier League like?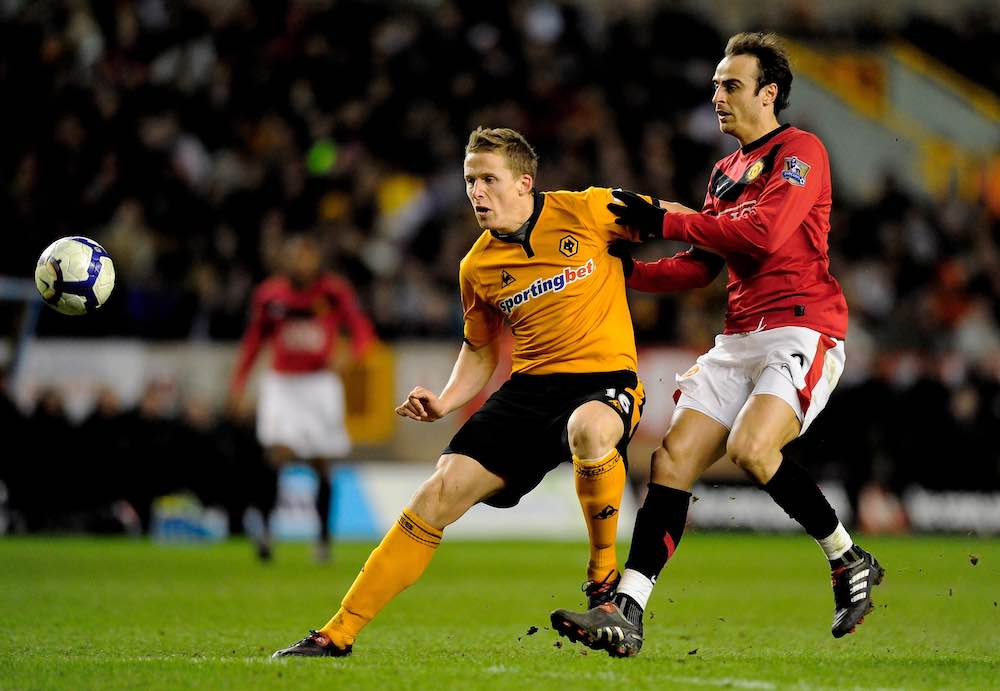 "When I look back, it was phenomenal. You appreciate it more when you look back than you did at the time because when you are in that moment, you are only focused on your game and your team rather than the quality throughout the league.
"The Premier League is an unbelievable league to play in for any footballer. You are playing in some of the best stadiums in the world against superstar players.
"I played against [Didier] Drogba, [Luis] Suarez, [Steven] Gerrard and [Paul] Scholes to name just a few. That was the quality that you were up against each week.
"I have no qualms in saying that it was a dream come true for me to play in the Premier League. I think most young kids in the U.K. would say the same.
"Wolves did not have the biggest budget so we were on the end of some thumpings but over the piece, we were competitive and Molineux was a tough ground that not many teams wanted to visit.
"We beat Manchester United, Manchester City at home and beat Liverpool at Anfield on Monday Night Football. Those were great memories and what you want to do when you play in the Premier League.
"My toughest opponents during my time in the league would not always necessarily be the top teams. The bigger sides tend to pop the ball about a lot and as a defender, you need to always be switched on and maintain concentration at all times, whereas against sides like Burnley or Stoke, you would be in for a physical battle with a lot of long balls. Those games were tougher for a centre back in my opinion."
---
You left Wolves in 2013 to join up with Mick McCarthy again at Ipswich Town. What was it about yourself and Mick McCarthy that was a good fit?
"Mick is a very honest man who expects the maximum from all of his players. I probably reflected him as a player in the sense that I was brave and enjoyed a physical battle which he appreciated.
"I was robust and rarely missed training or games which he liked. I made mistakes along the way too, like any footballer does, but over the piece I was reliable and I played regularly for him."
---
Ipswich are a club with a rich history in domestic and European football. You reached the playoffs with the club. What was your time with the club like overall?
"I absolutely loved my time at the club. It was one of my most enjoyable experiences in the game. We had a great changing room led by the captain, Luke Chambers. Ipswich is a little out of the way and I think that helped bring the group closer together.
"We never had the biggest wage bill but always completed under Mick. To get to the playoffs was great and it was just unfortunate that we couldn't get back to the Premier League as that is where the club should be.
"I also played with some quality players like Aaron Cresswell, Tyrone Mings and Adam Webster who have gone on to play in the Premier League. It was a good place for players to develop."
---
Staying on the subject of managers. I have to ask you about Craig Levein. You worked with him at Hearts and is a big character within Scottish football. How was your relationship with him?
"He was a strong character. In my first spell, he was a young manager making his way in the game and that was shown as he went on to manage Leicester and Scotland.
"Whereas, in my second spell, he was director of football and then manager. He was honest with players and mellowed in the second spell. Well, either he mellowed or I was no longer as scared of him like I was in my first spell (laughs).
"Most managers mellow as they get older and I think that comes with experience. I have found that as a player too.
"Craig expects high standards and he makes it clear where the boundaries are."
---
As well as working together at Hearts, you worked under Craig with Scotland as well as working under George Burley and Gordon Strachan. How much did it mean to you to represent Scotland on over forty occasions?
"My debut was against the Netherlands. I was up against Robben and co at the Johan Cruyff arena which was a baptism of fire for me.
"It was a dream come true to play for my country. To be able to pull on the jersey forty-one times and score four goals means so much to me and my family. No one can ever take those memories away from me.
"I loved playing for Scotland and there were more highs than lows for me."
---
What is your view on the current team under Steve Clarke, as you played with many of the current side?
"They've had a steady progression since Steve Clarke took charge. He was a very effective manager at Kilmarnock by providing the team with a strong defensive base to build from.
"He has done the same with Scotland and for us to reach the Euros was brilliant. He was steadily adapted his tactics to become more expansive over time which shows you how good a manager he is.
"He recognises that we have very good creative players who play at a high level such as John McGinn, Billy Gilmour and Callum McGregor who can flourish with freedom on the ball.
"He complements that well with defensive quality in Kieran Tierney, Scott McTominay, Grant Hanley and Andy Robertson.
"We have a very good group who are not too old and will progress together and continue to improve in the coming years."
---
Finally, Christophe, you have played hundreds of games at the top level, captained sides and are now doing punditry on games in Scotland. Do you see yourself as a manager in the future?
"Yes, I think I see myself becoming a manager. It is a very tough job and I realise that even now as an experienced player.
"I've done my badges and when the time comes for me to hang up my boots, it is something that I will consider.
"I love watching football and I am interested in the tactical side of the game. I like watching teams who play on the front foot with intensity and that is a style that I would like to implement if I was a manager.
"Of course, that would depend on the players at my disposal if I enter management but the challenge of picking a team and getting the best from them appeals to me. You need to be careful when choosing a club and that is something that I know is important.
"Fans want to be entertained and that is something that any modern coach has to take seriously because the level of football on TV is immense.
"Fans vote with their feet if they do not like the product on show, and attacking, front-foot football is definitely the way I would go if I ever go into management.
"Who knows what the next chapter will hold for me but for now, I am fully focused on giving my all on the pitch while I can play at a high level."