By Alan Feehely.
Canadian soccer is living an incredible moment. They beat Mexico for the first time in over 20 years back in November to claim first place in the CONCACAF qualifying table, a giant step toward their ambition of making it to the 2022 World Cup in Qatar.
Canada haven't played in the World Cup since 1986, back when a certain Diego Maradona dazzled in a summer bathed in warm Mexican light to lead Argentina to an iconic victory. But now, with four wins and four draws to their name, they're unbeaten in the final qualification stage with six games to go, many online sports betting sites in Canada are tipping them to progress.
Much has been made of the success of several of their players in Europe. Alphonso Davies is the most notable example – the 21-year-old is one of the best full-backs in world football right now, a lightning-quick, fleet-footed individual with the brightest of futures ahead. He's won three Bundesliga titles and the Champions League with Bayern Munich.
Jonathan David is another impressive export. Also just 21, he provided 13 goals and three assists last season as Lille remarkably beat Paris Saint-Germain to win Ligue 1. He's hit new heights this season, scoring 12 goals in 19 appearances for a Lille side who have regressed significantly and now sit eighth in the league table. Several of Europe's elite are keeping a close eye on a player who's become one of the most exciting talents around.
Stephen Eustáquio isn't as glamorous a figure as Davies or David. But there are similarities. Like both of the aforementioned, Eustáquio is an immigrant. Both of his parents are Portuguese, and while he was born in Ontario he returned to Portugal at the age of seven. Davies, for reference, was born in Ghana to Liberian parents while David was born in Brooklyn to Haitian parents.
But Eustáquio doesn't quite have the same ceiling as either Davies or David. He's four years older than both of them, for one thing, and plays a far less explosive role on the pitch. He's not winning titles just yet, either – he plays at the centre of Paços de Ferreira's midfield, a modest Portuguese club currently sitting 12th in the Primeira Liga.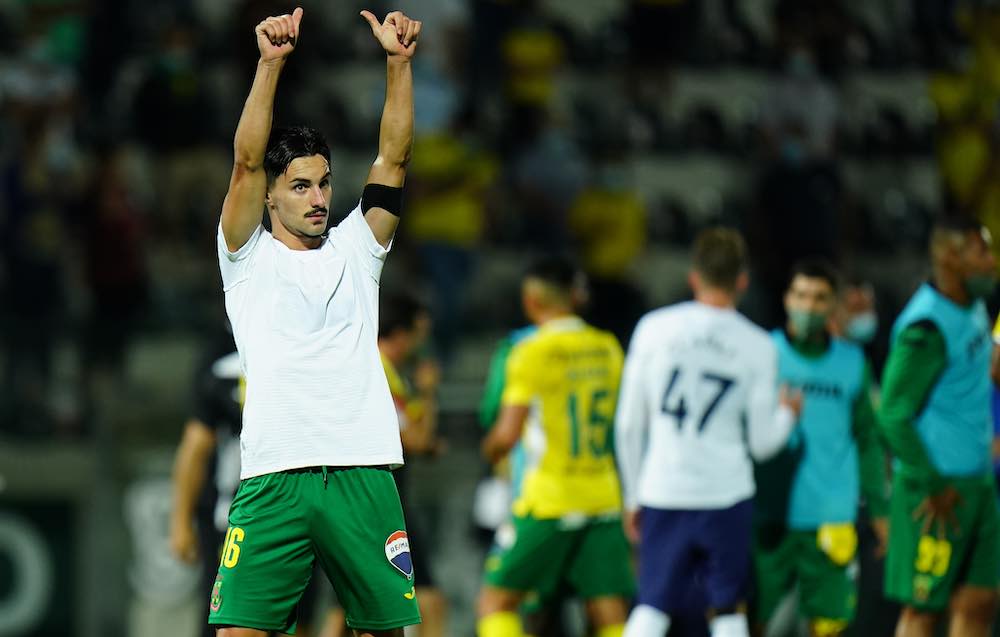 But he certainly has something about him. Standing at 178 centimetres tall and weighing 77 kilograms, this right-footed central midfielder is, on paper, the perfect build for a footballer. He's not too short to be outmuscled in the middle of the park, and nor is he so tall that more nimble opponents can outsmart him.
His average build offers a blank canvas that he's built on through sheer determination. A student of the game since childhood, Eustáquio learned at an early age the importance of being able to read the game and consciously cultivated an ability to do just that. He's watched his diet since he was a teenager, and was always the first to retire from parties.
This fastidiousness and seriousness reflects the way Eustáquio plays the game. He stands out due to his intelligence and aggression, that ability to know when to make a challenge coupled with the bite to successfully execute it. That's an essential quality that every football team prizes, and is much rarer than one would think.
"He's a lovely player," Portuguese football expert Tom Kundert told WFi.
"Not too eye-catching but everything he does, he does well. At his best, he can really control a game. And he has a very high footballing IQ.
"It's surprising he's still at Paços, but I'm sure he'll move on to a bigger club soon, maybe even one of Portugal's big three."
Stephen Eustaquio with a cheeky assist 🍁

It might not have been intentional, but Eustaquio picked up his 1st goal contribution of the 🇵🇹 league season today, setting up the 1st of 2 PdF goals in a 2-1 comeback

Here it is. Great to see#CanMNTpic.twitter.com/ZNm98rt0QK

— Alexandre Gangué-Ruzic (@AlexGangueRuzic) December 30, 2021
Eustáquio's path has been intriguing, to say the least. He began his senior career with Portuguese side Nazarenos before leaving them to join Torreense and then Leixões. He stepped up to the Primeira Liga for the first time in 2018 when he signed for Chaves, earning a move to Mexican side Cruz Azul the following year.
But his time in Mexico City was an unmitigated disaster. He was sent off minutes into his Liga MX debut, only for VAR to rescind the decision and instead change his red card to a yellow.
Shortly after, however, he was stretchered off with an injury that was to keep him out of action for the next eight months. He never played for Cruz Azul again and was loaned to Paços when he returned, joining them permanently soon after.
Eustáquio has thrived since returning to Portugal, however, and has displayed form that's helped him become a key player for Canada.
He committed to play for the country of his birth at the beginning of 2019, after featuring for Portugal throughout their youth system. Now, his eyes are firmly on helping Canada make it through the final stretch of qualifying and to their first World Cup in 36 years.
"Eustáquio has blossomed with the Canadian Men's National Team this year, becoming their midfield orchestrator throughout 2021 virtually out of nowhere," Canadian football expert Emily Wilson told WFi.
"He's ever-present on the pitch, positioning himself in the proper positions at the correct times thanks to his ability to read the game and adjust his next step appropriately.
"Whether it's driving the team forward or regaining possession in the middle of the park, he's the type of player who can set the team's tempo across the 90 minutes.
"Not only thinking of his next move, but also his team's next move. And that's on top of having the ability to score, assist and deliver passes on a platter in real-time or dead-ball situations.
"Yet his most important characteristic is his dependability – especially for the national team. Despite only having a handful of caps to his name, Eustáquio's ability to be consistent in his game has allowed him to carve himself out an important role in a short amount of time. And that makes him almost irreplaceable."