An interview with former Arsenal and Leicester City forward Alan Smith, by Callum McFadden for WFi.
---
You started your career in Non-League football with Alvechurch FC How do you reflect on your early experiences of playing football at that level?
"I went to university and studied modern languages which was set to be a four-year course. During my studies, I was playing for Alvechurch in the Midland Southern League.
"I was enjoying my football and scouts started to come and watch me play. That led to me being offered a four-year contract by Leicester.
"It came at a good time for me to be honest because I was not enjoying my degree course too much. I had not really settled and I had always dreamed of being a footballer so I jumped at the chance to sign for Leicester.
"I knew that if things did not work out then I could always go back to the degree course so I signed the contract with no fear or worry."
---
You signed for Leicester in 1982. What was the step up in standard like when you joined the club?
"There was a big jump in quality but the main difference for me was training full time. I had never experienced that before while at Alvechurch because our training was a couple of hours on a Tuesday and Thursday evening. So I had to get used to that right away.
"Funnily enough, I actually never relocated to Leicester because I would carpool with a few teammates from Birmingham, which is where I lived before I joined Leicester and where I lived during my five years at the club.
"The physical aspect of the game was something I had to work on and I knew that I had to raise my game. I had just been bought by the club and everyone naturally wants to know who this fella is that they have bought.
"I wanted to prove that I could play at that level especially early on to win over any doubters who were not sure of me."
---
You won promotion to the top flight of English football with Leicester and scored plenty of goals along the way. You had a strong partnership with Gary Lineker. Younger generations of fans may only know Gary as a host on Match of the Day. What was he like as a player and how much did you enjoy playing alongside him?
"We clicked straight away. It was not a partnership that needed too much work on the training ground. It was natural. Our respective styles gelled.
"My role was to lead the line, show for the ball and win flick-ons; and Gary's role was to feed off those flicks, play on the last line of defence and showcase his unique finishing ability.
"We forged a successful partnership which went from strength to strength. Gary scored the majority of the goals but I got a few as well. It is fair to say that the team was never short of goals."
---
You were impacting games and scoring goals for Leicester which led to interest from Arsenal. You signed for the Gunners in the spring of 1987 but were loaned back to Leicester until the end of the season. How did you handle that situation mentally? Were you already thinking about life at Highbury or were you able to fully focus on your last few months with the Foxes?
"In hindsight, I should not have agreed to go back on loan but both clubs were getting the best of both worlds.
"Arsenal had secured my signature without it going to the end of my contract, while Leicester were able to keep me on to help them try and stay up.
"Unfortunately it did not work out in the end for Leicester, and going to play [against Arsenal] for Leicester as an Arsenal player was a nightmare.
"I tried my best to get out of that situation as it was an awkward one for all involved. However, my manager at Leicester, Gordon Milne emphasised that we needed the points and that he needed me for that game.
"Looking back, it was one of the strangest days of my professional football career because both sets of fans were singing my name and I found myself waving to both ends of the ground which was very unusual.
"Leicester were soundly beaten and, in hindsight, I should have refused to go back on loan to Leicester or waited until the end of the season to sign for Arsenal.
"It was easier said than done though as I had real loyalty to Leicester. I was young and I wanted things to work out for everyone but, unfortunately, that was not to be the case."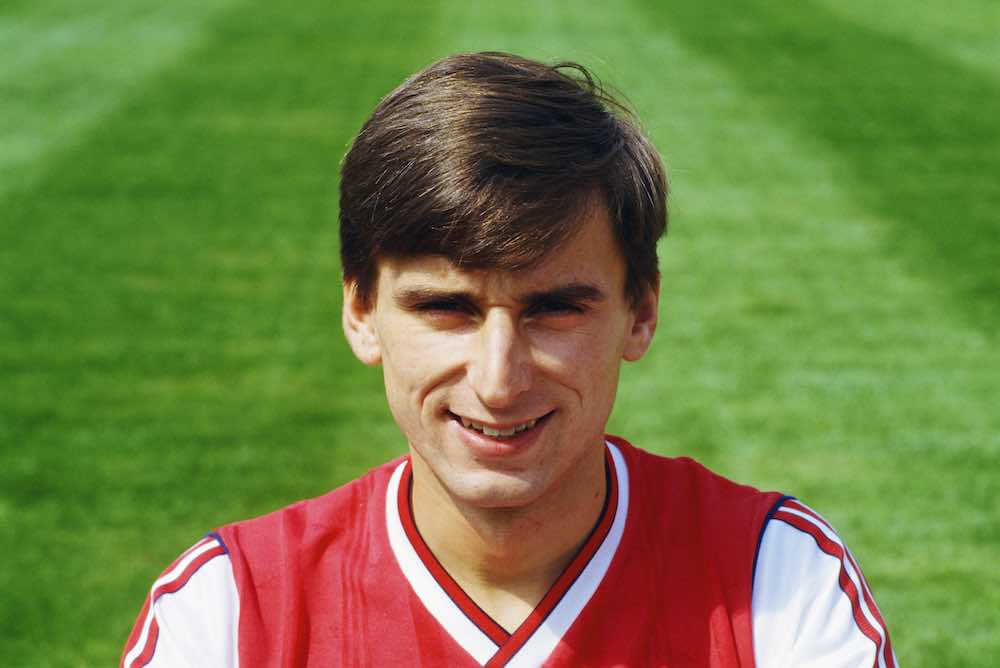 ---
You finally arrived at Highbury in the summer of 1987 as an Arsenal player. What was it like to walk into such an iconic stadium and play for a renowned manager like George Graham?
"It was another jump in standards moving to Arsenal. Quite a big jump to be honest. All of a sudden, you are up against players such as David O'Leary in training which makes you a better player.
"He was such a hard player to get past because he was a canny defender who rarely dived into tackles. He led you down a blind alley and cut off any opportunities quickly.
"The whole 1-0 to the Arsenal thing was never around in the early years of George's tenure at Arsenal. We played some great football under him which people sometimes forget.
"For example, we were the highest goal-scoring side in both of our title-winning campaigns under George.
"It was only in the mid-90s that such a tag could be aimed at the team as we would grind out results if we had to. The standards that he set and demanded were very high and you always had to make sure that you lived up to them or you would not be involved under him for long."
---
I have to ask you about the title success of 1989. You faced title rivals, Liverpool, at Anfield in a winner takes all encounter, the likes of which has not been seen since. Can you talk me through your memories of that day and that match from your perspective?
"It will never be allowed to happen again. It was a one-off to have the two sides that were vying for the title face-off after everyone else's seasons were at an end. The eyes of the country and beyond were on us in that game.
"It was live on television on a Friday night and I think it was viewed by around 18 million viewers in the U.K. It was a really big deal at the time.
"It was not the best game when you look back. The pace of the game was ferocious and it never really settled down. There was not a lot of good football played that night.
"That suited us though as we turned the game into a scrap and were so fired up to make sure that we brought the title back to Highbury.
"When I scored the first goal, it was the first time that I think we all believed that this was possible because we had to win by two clear goals to secure the title.
"The volume of the stadium was incredible as the Liverpool fans were urging their team on and for the game to be decided in the last seconds was unbelievable.
"My main memory of Mickey's goal was that it seemed to be in slow motion. No one could get forward quickly enough to support him. He did everything at his own pace when he played. He was a stubborn character and he was determined for Bruce Grobbelaar to make his move before he hit the ball home into the back of the net.
"We are all so proud to have been involved in that occasion and with all due respect to Manchester City and the Aguero moment, that doesn't hold a candle to our game.
"You are talking about us facing four-time European Cup winners on their own patch whereas Manchester City were up against QPR who were fighting relegation. It was brilliant and it will never be surpassed in my opinion."
---
During your Arsenal career, you won two league titles, an FA Cup, a League Cup and the European Cup Winners' Cup in addition to winning the Golden Boot twice. I want to focus on the European Cup Winners' Cup success of 1994. Can you put into words what it was like to win a European title with Arsenal and score the winning goal in the final?
"We got knocked out of the European Cup in 1991 and George felt that we were punished tactically in that game so he changed his set up for European games after that.
"We would line up in a 4-3-3 formation in European games whereas we would play 4-4-2 in the Premier League.
"He would work us hard in shape and he wanted an extra body in midfield when we faced European opposition. It worked really well for me and the lads on either side of me to shuttle up and down the pitch.
"We were the underdogs in the final due to injuries and suspensions so to win a European title in those circumstances was special.
"We rode our luck and Parma were formidable opponents. They hit the post and the bar. David Seaman also made some very good saves but our back four was at its peak back then and they helped us massively. It was the perfect example of 1-0 to the Arsenal in practice.
"Arsenal have only won two European trophies in their history so to be involved in one of them means a lot to me. The club have had a few chances to add to that even in recent years but haven't as of yet."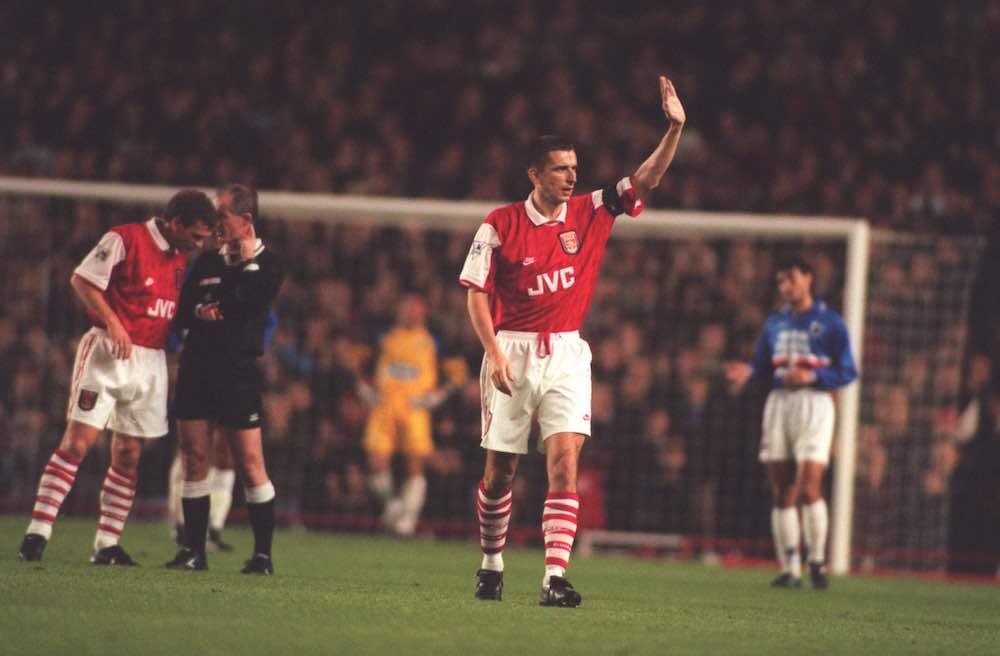 ---
Last but not least, Alan, you played for England on 13 occasions and scored two goals. Many pundits and fans point out the fact that you came on for Gary Lineker in his last ever game for England when your England career is mentioned. Does that irk you and how do you reflect on your England experiences as a whole?
"Not really, no (laughs). I did not make many headlines playing for England. I scored a couple of goals but I never made an impression in the way that Gary and other players of that era did.
"It was one of those moments that people remember as Euro 92 was not a great tournament for us at all.
"However, even to this day, I am still stunned that the late Graham Taylor took Gary off as I honestly thought that I would be going on to partner him.
"It is just one of those things and it did not work out but it is better to be remembered for something than nothing at all. That is just the way football goes."