By Louis Smith.
Felipe Azevedo will take part in his first Copa Libertadores game this week when his América Mineiro side host Guarani in the second qualifying round. He will be hoping it will be the first of many games in the competition this season.
His professional football journey began in 2006 with América de Rio Preto and his young career saw him join up with six Brazilian clubs before the 2009-10 season. In that season, he first ventured out of Brazil, joining Slovak club FC Petržalka on loan.
It would be two more loan moves before Azevedo found his first true footballing home at Sport Recife in 2012.
During his three years at the northeastern club, he racked up 174 appearances, scored 34 times and helped the club to the Copa do Nordeste and Campeonato Pernambucano titles in 2014.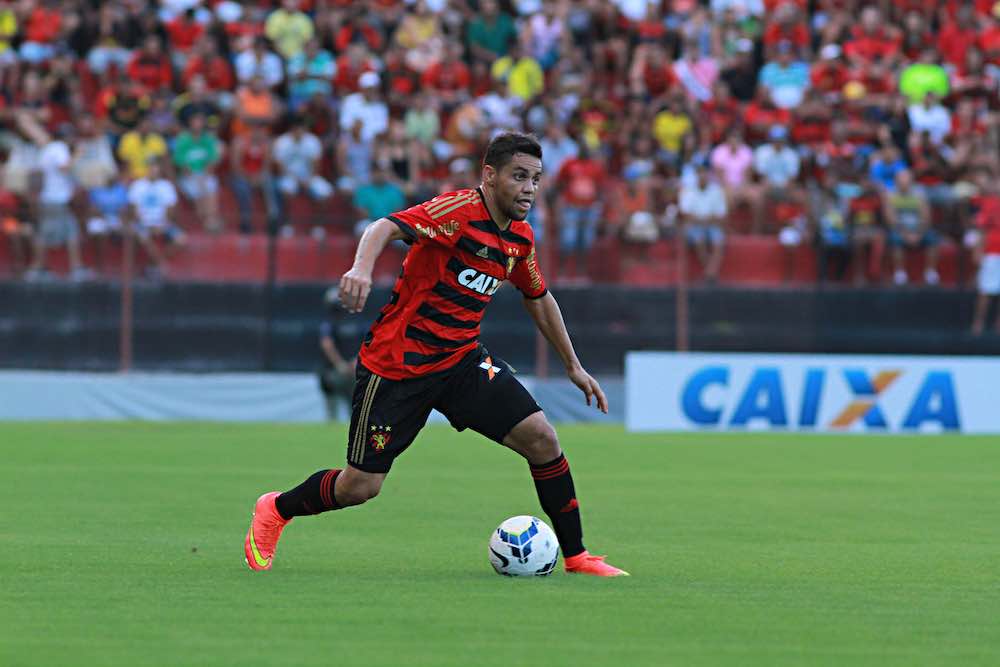 In 2017, after two seasons at Ponte Preta,  the Brazilian once again opted to move abroad, this time on a permanent deal by joining Thai outfit Chiangrai United.
"I went to play for a Thai club, after the invitation from a Brazilian coach who was there at the time, Alexandre Gama, and I always heard good things about the country and the clubs in the championship," Felipe Azevedo tells WFi.
"Chiangrai United was a club that was looking to grow in the country and it was an invitation that was made, and I saw it with good eyes, and we had a very good year there."
During his time there, Azevedo had a phenomenal season, helping the club lift the Thai FA Cup where he scored six goals in the competition.
He represented Chiangrai a total of 30 times, scoring 18 goals — an amazing record for someone who had to adapt to a new style of football in a new country.
"Asian football has a big difference from Brazilian football," Azevedo adds. "Brazilian football is more competitive, it is football with a wider range of quality players.
"Thai football surprised me a lot, it is a football that has good players, but with a little less intensity in comparison to Brazilian football.
"A little similar to Brazilian football is Korean football. Korean football is fast, pacy, transition football. I had the opportunity to play in South Korea too and I saw this difference.
"But Thai football is evolving, they are evolving every year, trying to improve their local teams, taking more quality players to improve the league. I believe that soon Thailand will reach a better level in international competitions.
"When I arrived in 2017 the club's objective, was to have a better campaign in the national league. We managed to finish in fourth place — an unprecedented feat for the club at that time.
"We reached the finals of the two cups that exist in the country — the Cup of Thailand and the Toyota cup.
"Unfortunately, we lost in the Toyota Cup final, but we managed to become champions of the Thailand Cup [Thai FA Cup] that gave the team a spot the following year's Asian champions league.
"You can see how in 2017 we managed to change the level of the club in the country and it was a very cool year in which I was the top scorer in the competition with six goals and we got this unprecedented title for the team."
After his stint in Asia, Azevedo opted for home comforts once again signing for Ceará in 2018 who had just earned promotion to the Brasileirão. Azevedo and Ceará enjoyed a solid campaign as they managed to avoid relegation.
América Mineiro came calling in 2019 and Azevedo signed the dotted line. In his first season, América narrowly missed out on promotion to Serie A on the final day of the season in heart-breaking circumstances.
A year later, lightning wouldn't strike twice as América finished in second place, 15 points clear of fifth-placed CSA (the top four teams are promoted).
Coelho were expected to be in the relegation battle for the 2021 season but upset the odds, not only avoiding relegation but also earning a place in Brazil's top eight on the final day of the 2021 season thanks to a 2-0 victory over 2005 World Champions Sao Paulo. This saw them qualify for the Copa Libertadores, South America's most prestigious continental competition.
"The club's main objective was to stay in Serie A, that was something we talked about a lot," Azevedo adds.
"We were working hard to keep the team in Serie A — something the club had never achieved — and we went beyond that. We have now an opportunity in the Libertadores.
"We made a beautiful story here last year — a very successful year for the club — and now we have the opportunity in 2022 to do even more. We will work to achieve the club's goals this year, too."
When the referee called their 2021 season to a close, Azevedo explains his feelings at full-time.
"Happy, I felt very happy. It was a unique joy to have qualified the team for Libertadores.
"We earned an unprecedented opportunity for the club. Now we need to work to do even more here within the club."
🟢⚪🇧🇷 @AmericaMG have qualified for the 2⃣0⃣2⃣2⃣ CONMEBOL #Libertadores, their first ever appearance in the competition! pic.twitter.com/73TYgy5WD8

— CONMEBOL Libertadores (@TheLibertadores) December 10, 2021
Azevedo played a key part in helping the side qualify for the 2021 Libertadores, not only did he provide five goals and three assists, he played in all but one match of a challenging 38 game league season packed into six months. Not bad for a 35-year old.
"It was a spectacular season for me," he says of those achievements. "It's something very important, considering my age too.
"I've always been a player who had this physical paramount, this is something essential for me to be able to play at a high level.
"I'm a guy who takes great care of myself. I train at high intensity every day and my off the field life is very quiet — it is family, there's no drink, there are no cigarettes, there's nothing that interferes with my physical conditioning.
"I'm very happy to be able to play a season with so many games, but I think the main thing is to take care of yourself.
"Now this year has even more challenges than last year, with more competitions to be played, so we have to prepare well once again."
America MG will begin their Libertadores campaign against a Guarani side who have been regulars in the competition.
For America, it will be a historic occasion, not just for the club but also for Azevedo who will achieve one of his lifetime goals.
"I think that when I go to the Libertadores game and get on the pitch in the warm-up and see those signs around the field 'Libertadores', I think it will hit me in relation to this feat and achieving this within my career at the age of 35," Azevedo says.
"There are things that only God does and in his time. It is not in our time. Sometimes we want to fight against time, but God has a lot of power for things to happen in our lives.
"I've had the opportunity to play in the Copa Sudamericana but not in a Libertadores, but it's like I said, we have to prepare, don't be deceived, don't get excited, because if you don't do things right, we are going to exit at the first phase, leaving this dream behind.
"So we have to prepare very well to be able to play two good games against Guarani of Paraguay and progress to the next round."
As well as the Libertadores, Azevedo and América Mineiro have the Campeonato Mineiro, Copa do Brasil and Brasileirão to battle for and they will hope for another historical campaign domestically, too.
"This year there are several things that we want and we will fight for all of them," adds Azevedo.
"I think, individually, it's trying to play as many games as possible, trying to help teammates in most games by scoring and assisting, that's what an attacker needs to do.
"We have ambitions to seek the Minas Gerais title [Campeonato Mineiro], qualifying for the Libertadores group stage would be something spectacular for us. Another stay in the Serie A and another goal of making it to a continental championship in the year 2023.
"I think anything is possible. We have the chance so we will pursue all this with a lot of dedication and training."