By Adam Pate.
If Carlsberg did transfer windows, they were in Ukraine this winter. Ever since news broke in mid-December of Vitaliy Mykolenko's transfer from Dynamo Kyiv to Everton, January 2022 had the potential to be the most exciting transfer window that the Ukrainian League had ever seen.
And boy it did not let us down. From the megadeal to near hits and managerial sagas, it has been a whirlwind month. Now the European windows have closed, it's a great time to sit back and take stock.
The Mykolenko transfer raised heads among the Premier League-oriented media, and his seamless move into Evertonian life has seen other clubs cast admiring glances towards Ukraine.
Brentford took it a step further forward in early January when news broke of their interest in Shakhtar Donetsk's highly-rated winger Mykhailo Mudryk. The bidding went as high as €18m in early January, with Brentford raising their bids on more than one occasion.
Sadly for the Ukrainian, the Londoners' interest drifted elsewhere and they made the heart-warming signing of Christian Eriksen just before the window closed. Without a shadow of a doubt, Mudryk will move to a top league in the near future.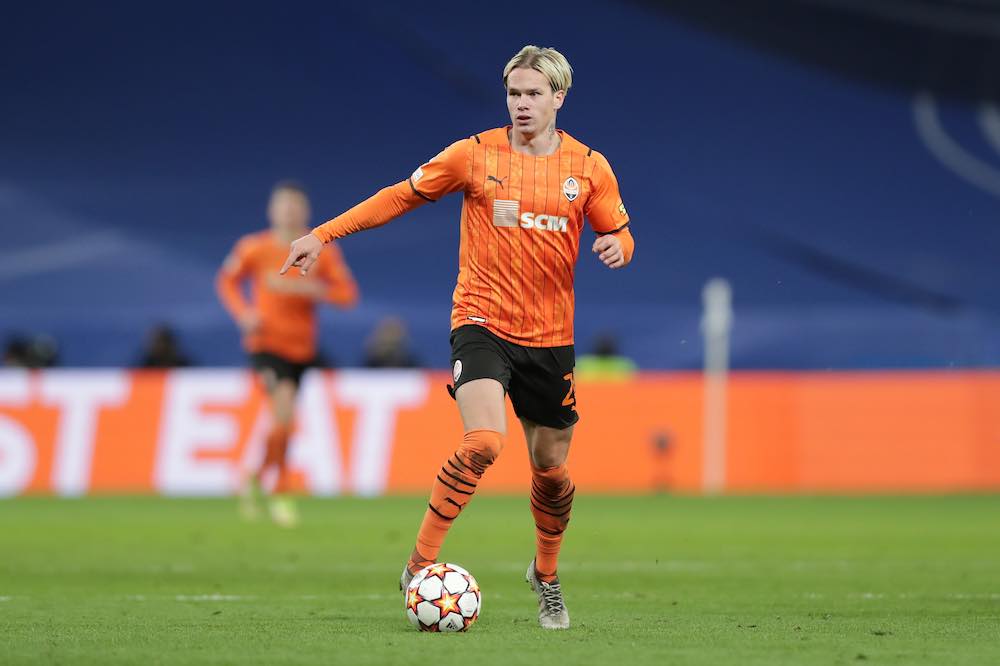 On the managerial front, the disappointment of national icon Andriy Shevchenko losing his position at Serie A club Genoa was slightly tempered with a strong discussion about him moving to Poland to take over as manager of the national team.
Many news outlets reported that he had agreed terms and conditions. However, there was one overlooked glitch. He was still employed by Genoa and would need releasing from his contract, with the vast payoff that would encompass.
Traditionally in Ukraine, talented youngsters are gain experience at nursery clubs such as Mariupol or Chornomorets, with very few venturing out into foreign leagues. However, we are happy to report that this has taken a turn for the better during January.
Slightly too old to be called a youngster, 24-year-old Danylo Ignantenko has continued his nomadic experience by moving to France and joining relegation-threatened Bordeaux. The historic club faces a surprising fight against the drop this season, with a porous defence conceding a record high number of goals.
Hopes are high in France, with the defensive midfielder hoping to shore up these gaps. He joins on a loan till the end of the season with a fee agreed if the French team decide to take up the option this summer.
Also heading out on loan from Shakhtar Donetsk is talented young striker Danylo Sikan. The 20-year-old has been on the edge of the first team for a few seasons now, but with Lassina Traore and Junior Moraes blocking his route, he has been desperately short of game time.
The transfer to 2. Bundesliga side Hansa Rostock seems a match made in heaven. The north German team are desperately short of goals, with summer signings Munsy and Mamba both failing to fire. They need help and have reached out to Ukraine for it.
Providing Sikan hits the ground running, he should get some good game time to help his development. However, he will have to see off the challenge of another loanee Thomas Meissner who joined on the same day.
Italy has not missed out on the increased attention on the Ukrainian league this month. The long-running transfer saga involving Vladyslav Supryaha finally resolved itself with a loan and an option to transfer to Serie A side Sampdoria.
Following his breakout season at Dnipro-1 during the 2019-20 season, the young striker has struggled in the following years. His return to Dynamo Kyiv saw him thrust into a team that does not suit his style and the advanced forward failed to find the space he needs to show off his undoubted skill. Serie A could provide such an opportunity.
He was linked with an untold number of Italian clubs over the last 18 months and it had a clear unsettling impact on him.
With the added move of Bohdan Lednev to the Hungarian side Fehérvár, it has been a great reversal in recent trends.
It is quite clear that top-level players need to look beyond Dynamo Kyiv and Shakhtar Donetsk if they want to maximise their potential in the modern game. We can only hope that more of the talented youngsters in Ukraine will follow suit.