By Mike Rice.
At the beginning of February 2022, Greece announced that Gus Poyet would be the replacement for John van 't Schip as coach of its national team.
Van 't Schip resigned from his role after 26 games after failing to secure a place in the Qatar 2022 World Cup.
In their eight group games, Greece could only come away with two wins, beating Sweden and Georgia. Unfortunately, too many draws, four in total, meant they were too far off Sweden to reach the playoff stages
The Dutchman only lost six of his 26 games, winning 11 and drawing nine, though it seems he reached his ceiling with the side and a new era is to be undertaken.
The controversial appointment on Poyet at the beginning of this month sees him needing to transform the 2004 European Champions into a stronger and more clinical outfit going into Euro 2024.
But why is Poyet considered to be a controversial choice?
🚨 OFFICIAL: Gus Poyet is the new head coach of the Ethniki Omada! ✍️#Ethniki | #Greece pic.twitter.com/pTB4VZeCau

— Hellas Football (@HellasFooty) February 3, 2022

He is no stranger to Greek football having spent time as AEK Athens coach in the 2015/16 season. He arrived in October and had some successes with the side, beating their rivals Olympiacos and Panathinaikos while finishing third in the league.
Poyet, though, was fired before his side played their semi-final match in the Greek Cup for comments made to the press regarding the board. AEK Athens owner, Dimitris Melissanidis labelled the Uruguayan immoral after he spoke with media about leaving the club at the end of the season and of details from private meetings.
Prior to taking his new role, the last managerial tenure he served was in Chile with Universidad Catolica. UC had won the three previous league titles and they went on to make it four-in-a-row despite some real dislike for the style of Poyet's coaching and tactics.
Chilean football expert Adam Brandon gave his thoughts, saying Poyet's side were too often passive, players became increasingly unhappy as time went by, and he and his backroom staff were involved in far too many arguments with officials, fans, opposition players and coaches on a weekly basis.
Poyet finally sacked. Absolute horror appointment by UC that may set them back years if they don't get his replacement right, if they do, they can still win the league.

It was typical Poyet – talks a good game, no idea how to implement any of them as I said when he was appointed https://t.co/rM0TdZxUtk

— Adam Brandon (@AdamBrandon84) August 30, 2021
Poyet's side were deemed to have lost their identity after three seasons of dominance. The football was reduced to its minimum of expression and the players looked constrained by the tactics used by the Uruguayan coach.
Both players and fans found his style distant, and similar to his style at smaller clubs in Europe. UC are a big, forward-thinking club and it was clear his style was outdated and players refused to follow his instructions as a result.
The change was evident when Poyet was relieved of his duties in August 2021. Following his departure, the side went on a six-game winning streak which ended up helping them retain the title and make it four championships in a row.
We are yet to find an instance where Poyet has left a club amicably. There have often been issues with either fans, players, or the board. His best run as a manager was possibly his first where he managed Brighton & Hove Albion from 2009 to 2013.
Although, after years of good work Poyet was suspended three days after losing in the Championship playoff final in 2013 to Crystal Palace, reportedly following a clash with the owners. He, his assistant manager, and first-team coach all received suspensions. Poyet said he was unhappy with the situation the club was in and what it was preparing for — claiming the lack of investment for the board was holding him back.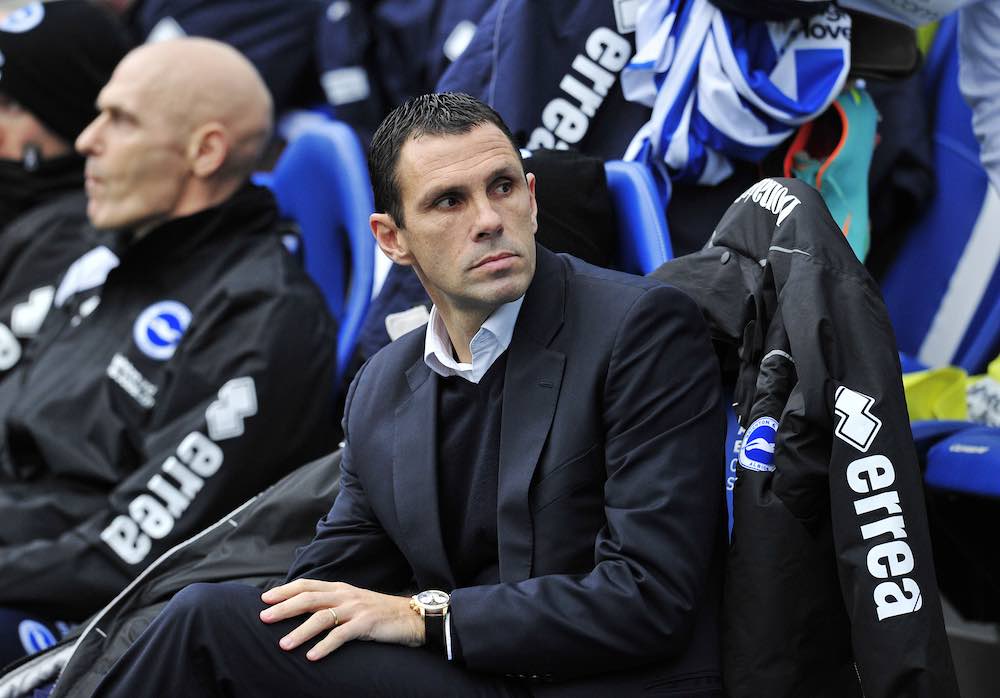 He ultimately was sacked from his role with many fans saying his ego got the better of him, ruining a managerial period where he had previously been able to do no wrong.
Since having a year and a half as manager of Sunderland after his dismissal from Brighton, Poyet has struggled to see out a full season as a manager.
His role with UC was his first in three years after leaving Bordeaux in 2018 where he was suspended by the club for criticising the sale of Gaetan Laborde to Montpellier. He was subsequently fired from his position due to this issue.
He signed a two-year deal with Real Betis in Spain in May 2016 after being released by AEK Athens, though he only remained in the role until November 2016 due to poor performances.
Poyet's other role as manager came in the Chinese Super League with Shanghai Shenhua where he resigned after just under a year with the club. He was publicly blamed for poor performances on the field from a side that included the likes of Carlos Tevez.
Issues and confrontations follow Poyet's managerial career, and it is not just centred on one specific place. The players, fans, board, and the media are all fair game to the Uruguayan.
Greece themselves have a history of being a side centred on defensive stability which may at first suit the style Poyet has looked to introduce into his sides when he has taken on new roles.
But Greece needs something more to help them over the disappointments of missing out on the World Cup 2022 in Qatar.
A more offensive philosophy will be required against some of the traditionally weaker sides as well as more creativity when competing against the top sides. Does Poyet's CV suggest this could be possible under his leadership? Many would say no.
The Greek FA themselves are taking a gamble knowing the controversy which follows the Uruguayan and his backroom staff. They will need to manage him well and ensure what they see as the future of Greek football is something Poyet will a) work towards and b) is in his skill set to achieve.
He has a year to get himself and his side ready for the 2024 European Championship qualifiers, and if he is in the dugout for game one, it will be his longest stint as manager for almost eight years.