An interview with Patrik Andersson, by Callum McFadden for WFi.
---
You started your career at Malmö in your native Sweden before moving to the Premier League with Blackburn Rovers. How do you reflect on your early years within the game?
"I was playing in the youth national teams from a young age and Roy Hodgson was the manager who brought me to Malmö at 17.
"My father was a footballer at Malmö for sixteen years and for the Sweden national team also. He advised me all the way and encouraged me to grasp my opportunity at Malmö.
"Roy had great confidence in me and played me regularly as a teenager which helped me develop my game.
"He was a good role model who had won league titles in Sweden prior to joining Malmö. He is very well respected in Swedish football.
"His contribution to the game was vital. He also kept his distance from his players but could teach you too. He expected the best in every training session and had strong knowledge of football.
"I played well at Malmö under him and I played well at the 1992 European Championship which led to interest in me from a few British clubs including Manchester United and Leeds as well as Blackburn.
"However, once I met Kenny Dalglish, I wanted to join Blackburn Rovers and work with him. I grew up watching British football and it was the start of the Premier League era.
"It was an exciting time and something new for football in the U.K. I enjoyed my time in English football. The crowds were passionate and you could sense the direction that the Premier League was starting to head in."
---
You moved to Borussia Mönchengladbach in 1993. What led to you moving to German football?
"I was originally a midfielder in Sweden whereas, in the national team, I played at centre half. I did not have regular opportunities to play in that position at Blackburn.
"So for me, it was important to play every week and Borussia Mönchengladbach offered me that opportunity."
---
Within 18 months of arriving in Germany, you won the German Cup. What was that cup run like and what are your memories of the final in Berlin against Wolfsburg, as well as your time at the club as a whole?
"When I signed for Borussia Mönchengladbach, they were struggling at the wrong end of the table. We then won five games in a row and went on a great run.
"We were a team with lots of potential with quality players such as our forwards Stefan Effenberg, Martin Dahlin and Heiko Herrlich.
"Over 34 games we were not consistent enough in the league but in the cup we were very good and defeated strong opposition on our way to winning the cup.
"Winning the German cup meant a lot to me. You can compare it with winning the English FA Cup because Germany is a football-mad nation just like England. Playing at the Olympiastadion in Berlin was also special.
"I only have great memories of that day.
"Following the cup final, we went on to play two consecutive seasons in Europe. We had some great years at the club.
"Unfortunately, the Bosman ruling was not in the favour of a club like Borussia Mönchengladbach because it became more difficult to compete. We did not have the same assets as the traditional big clubs and the gap to the top became vast.
"I signed a long term deal with Gladbach in 1995 which lasted until 2000. I actually could have joined Real Madrid in the summer of 1997 under Jupp Heynckes but the club would not allow me to leave and I reluctantly chose to stay at the club following discussions with them.
"However, when we were relegated in 1999, that changed everything and I had to move on."
---
You joined Bayern Munich in 1999. How did it feel to join such a historic and well-known football club?
"It was an exciting time. Bayern is a club that all players in Germany want to join. It is the main destination.
"I won two Bundesliga titles, another German Cup and two League Cups at Bayern.
"I'll always remember my first conversation with Bayern coach Ottmar Hitzfeld. He told me that he could not promise me anything and that I would only play if I earned my place.
"I came to the team when they had just won the domestic title by 14 points and lost the Champions League final in 1999 to Manchester United in Camp Nou. That game on paper should have been 3-0 to Bayern rather than 2-1 to Manchester United but it shows you how unpredictable football can be.
"I joined Bayern to compete for major trophies and to prove myself against the best in training and also in games. That was my motivation for joining the club. I always backed myself to succeed.
"The mentality and the tradition of the club is ruthless. It is you against the rest of Germany. That is how it feels."
---
In addition to multiple domestic honours, you also won the Champions League in 2001 against Valencia at San Siro. Can you put into words what it is like to win European football's premier competition?
"The whole run was superb. We played against Arsenal in the group phase, beat Manchester United in both legs during the knockout phase and defeated Real Madrid in both legs to reach the final against Valencia.
"Valencia had a strong team at that time under the leadership of Héctor Cúper. It was a game all about playing with your mind.
"It was a pretty quiet game against a strong opponent which only penalties could decide. Winning the tournament was a great joy.
"It was a dream come true for me. The Champions League is the biggest title in the world. Some might argue the World Cup is bigger but for me, that is only four weeks whereas the Champions League is over the course of a season against the very best teams, players and coaches.
"After 1999, Bayern had a strong aim to make sure that we won the Champions League as quickly as possible. It was a relief to make history for the fans."
---
As a central defender, what was it like to play in front of Oliver Kahn? He must have given you a lot of confidence as a defence as a safety net.
"He was a decider as a player. The shots that you thought were already going in, he would save those. He was great in our Champions League campaign and showed his class in the final in the penalty shoot-out. He was a player for the pressurised moments."
---
Following the tournament, you were named in the UEFA Team of the Year and swapped Bayern for Barcelona. Was it always an ambition for you to play in Spanish football, especially given Madrid's interest in you in the past?
"Well, I had played in Germany for eight years and Madrid and Barcelona are clubs that as a Swede you don't normally reach.
"The club was following me closely that year and I knew of their interest. Every player at Bayern Munich in that era would have gone to Barcelona too.
"I had won seven titles in Munich and it was time for a new challenge.
"It was not an easy move because after the Champions League final, I returned to Sweden and the deal was in doubt. I called Ottar Hitzfeld and asked him if I could leave for Barcelona.
"He said no but leave it with me. I may change my mind if we can source a replacement. A week or so later; I called him again and he repeated that he would not allow me to leave.
"After that, I had to call Uli Hoeneß and ask him if I could leave for Barcelona. He stated that Ottmar's decision was final. However, that changed a couple of hours later when they called back and said that Franz Beckenbauer and Karl-Heinz Rummenigge would approve the transfer if they received a certain fee.
"That fee was matched and I was able to make the move."
---
Do you look back on your time at Barcelona with frustration due to your battles with injury while at the club?
"I started well. The first half season went well but after my first injury in February 2002, it became harder.
"The World Cup was coming up and I pushed myself to be fit for it. Unfortunately, I broke down the night before the opening game against England and lost eight months with injury.
"Overall, I am not happy that I did not have the opportunity to play as much as I wanted to but I made friends for life and I loved the experience of playing for the club."
---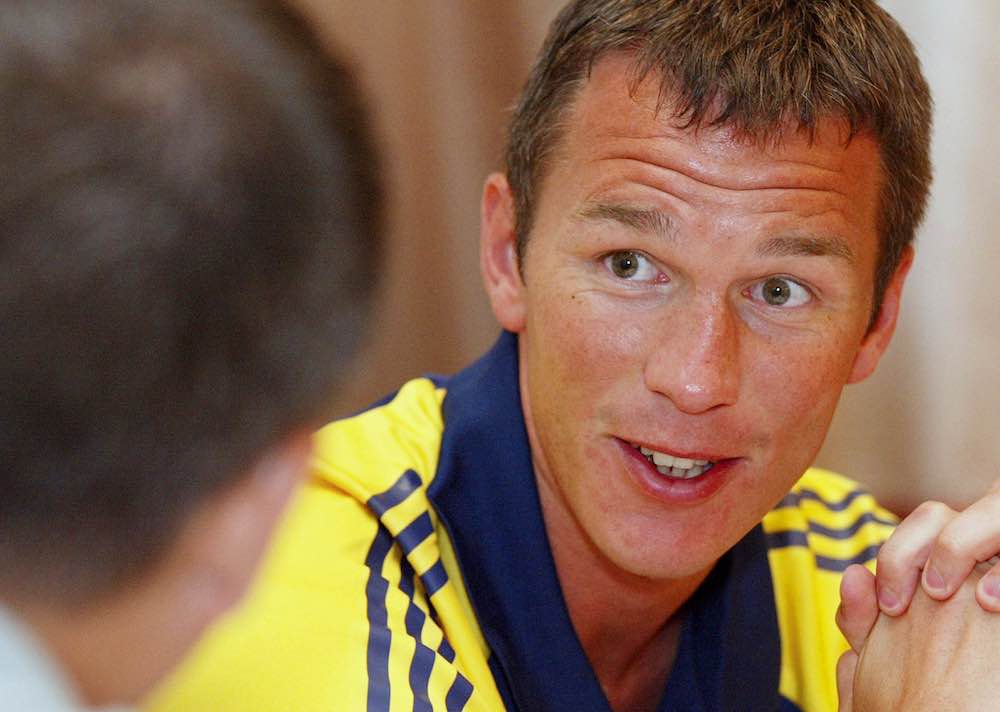 You represented Sweden on 96 occasions and played in the team that finished 3rd at the 1994 World Cup. How much did it mean to you to represent your country?
"Our team started our journey in 1988 and many of us played together at the European Championship in 1992. We had unity and many of us were successful at club level.
"On our good days, we knew that we could beat any team in the world but unfortunately, we had to play Brazil twice in 1994. Once in the group stage and once in the semi-final.
"They had another level to their game and they deserved to go through on the day. We won the bronze medal at the tournament which filled us with pride as we wanted to win something together for our nation.
"After the success in 1994, we got a lot more respect and attention from fans and the media. For me, it worked out well personally and enabled me to kick on in club football."
---
Finally, Patrik, who were your toughest opponents in your career and the best coaches that you worked with?
"My toughest opponent was Romario in the 1994 World Cup. His movement was excellent. He was quick but also very physical.
"As a defender, you want to have contact with your opponent to keep them in check but he has not easy to keep off the ball. It was tough to control him with your body such was his timing of reading the games. His timing was second to none.
"In terms of coaches, first of all, I would say that Roy Hodgson and Bob Houghton. Two British coaches who were a great help to me in Malmö.
"They gave me the encouragement and the tools to succeed in any game.
"Latterly, Ottmar Hitzfeld was another great coach. He could control a team no matter the characters that were in the dressing room. He was a great reader of the game who always seemed to know which substitutes to make and when. Ottmar was also able to pick the best starting eleven for any given opposition."