An interview with Steve McClaren, by Callum McFadden for WFi.
---
You started your journey in coaching towards the end of your playing career alongside the legendary Jim Smith. You won promotion to the Premier League together. What was Jim like to work with?
"We complemented each other very well. I was the young apprentice and he was the old master. He was old school, very tough and demanded discipline. However, he was also very professional and driven.
"I brought different qualities to the role such as analysis, psychology and sports science. Jim embraced modern thinking and what I was bringing to the table.
"As a result, we worked very well and got on very well personally. He was tough but fair and loved his staff and his players. We recruited well together and we created a culture that served Derby County well."
---
When did you become aware of Sir Alex Ferguson's interest in taking you to Manchester United as his assistant manager?
"I was out at a Football Writer's dinner and the late Bob Cass was sitting at my table. He told me that I was in line to go to Manchester United as assistant which was a surprise because my name has not been mentioned in relation to the role.
"He told me that Sir Alex wanted a new assistant due to Brian Kidd leaving and that it was between myself and David Moyes.
"Then, a couple of weeks later, I got a call from Sir Alex himself just before we played Manchester United. We played that game and then Jim Smith pulled me aside after it and told me that I better get in my car tomorrow and drive to Manchester and join up with Sir Alex.
"He was right behind the move and wished me all the best, such was the mark of the man."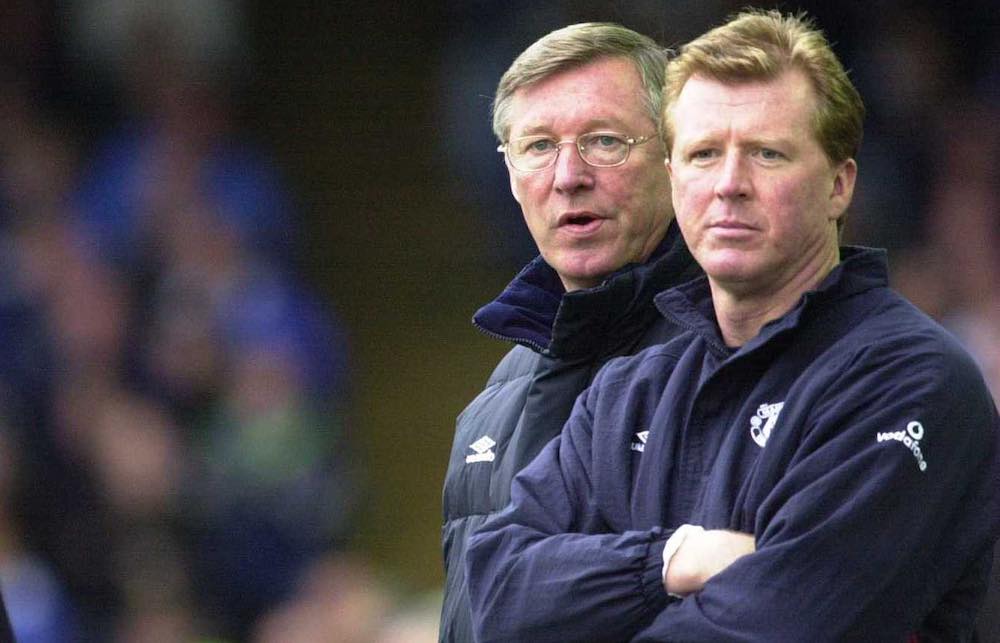 ---
In your first six months at Manchester United, you worked first-hand with the players and Sir Alex Ferguson as the club won the Treble.  Can you put into words what that period of time was like for you and the team as history beckoned with games coming thick and fast towards the end of the season?
"I still state to this day that it was the hardest six months of my career. First of all, becoming established with the players and the staff at the club because I was an unknown. I had to prove myself every day and gain the trust of the group. I worked very hard to do that.
"Secondly, I had to make sure that every session of mine was well prepared and that my sessions were as good as they could be.
"Thirdly, I had to also make sure that I brought enthusiasm and passion to my work because the players at Manchester United expect the best and I had to ensure that I delivered.
"However, eventually I gained the respect and we had an unbelievable dressing room. The atmosphere was incredible. The group had a never say die attitude and we did not have many days off in those six months. Everyone was driven to give their absolute all.
"It was challenging both physically and mentally for all of us but we got our rewards as a club at the end of the season by winning the three major trophies on offer and securing the treble for the first time in the club's history."
---
What was it like to work alongside Sir Alex Ferguson and how did it feel to be trusted by him to lead coaching sessions at the highest level under his management?
"Sir Alex was fantastic. If anyone asks me what his biggest strength in management is then I always say it is his trust. He put his trust in everyone that he works with.
"He has high standards and he expects you to consistently deliver at those standards but he gives you the trust and the space to be able to do so.
"If you did not reach those standards then you were soon gone.
"On my first day, I asked him, what do you want me to do with the players? What would you like me to coach?
"He said, 'what did you do at Derby?', and before I had the chance to answer, he followed up the previous sentence by saying that whatever I did at Derby was working and that is what I was to do at Manchester United.
"That was it. He kept the instructions simple and he gave me a clean slate to integrate myself into the United way and give the players what he and the players wanted."
---
Manchester United won the league title during each of your three seasons with the club. You took your first step into management at Middlesbrough in 2001. What was it like to go into Boro and replace a popular figure in Bryan Robson?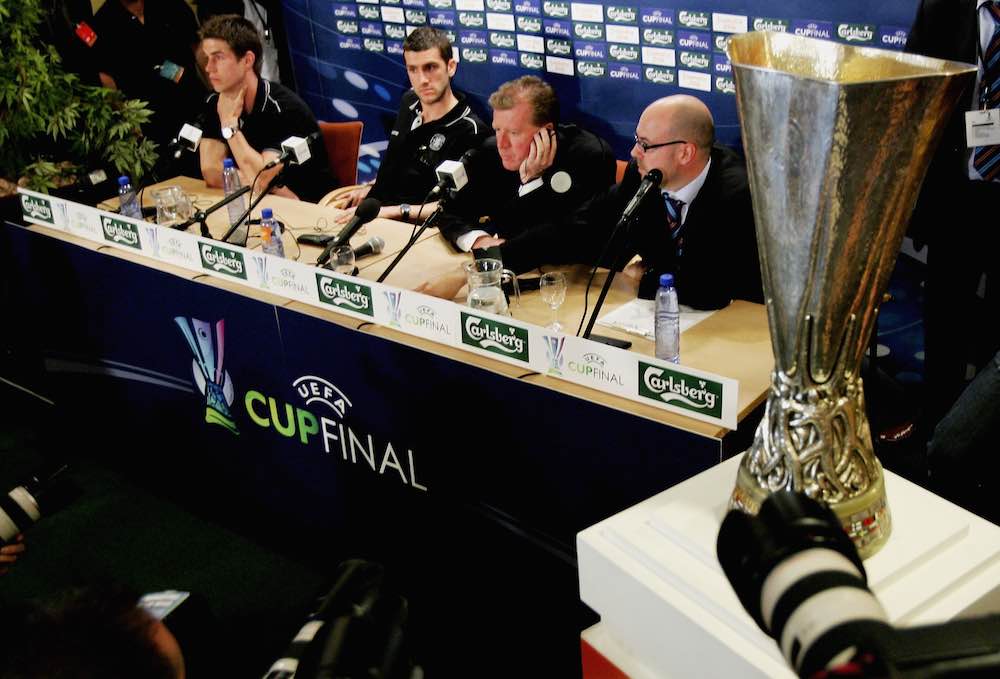 "That was a tough start as well. Speaking to Steve Gibson helped me make my mind up.
"The first six months – just like in any job – were hard as I had to build relationships again throughout the club with players, staff and the owner.
"We did not start well in the Premier League and I could easily have been gone in the first six months.
"Credit to Steve Gibson for having faith in me as we got through that tough start and we survived the first year and consolidated in year two before improving year on year after that.
"In the third year, we won the League Cup against Bolton and that led to us playing in Europe in year four which led us to the UEFA Cup final. It was the culmination of years of hard work and looking back, we had huge success."
---
Can you talk me through the League Cup success because you beat clubs such as Arsenal and Tottenham along the way, as well as Bolton in the final. What are your memories of the final itself and how you prepared for it?
"I believed in my players and felt that we could win the cup final. We had shown great resilience by beating Tottenham on penalties, beating Arsenal away 1-0 and then beating them again over the second leg. That gave us great confidence.
"Sam Allardyce had built a very good Bolton side and his sides are always tough to play against so it was not going to be easy.
"On the day, we played our game and we ended 128 years of hurt for the Boro fans by winning the clubs first major trophy. That was who we did it for."
---
When you win a major trophy with Middlesbrough, do you allow yourself to enjoy it as a coach or are you immediately planning ahead for next season?
"Unfortunately, I did not have time to enjoy it due to the League Cup final being played in March so my full focus went back to finishing the season well.
"We had a game three days after the final so we weren't able to celebrate too much. Of course, we enjoyed the night of the final itself but the next day, we prepared for Birmingham on the Tuesday.
"I would not have allowed the team to dwell on the success either because the reason Manchester United were so successful year upon year was their desire to go again.
"You never over celebrated under Sir Alex. Your feet were always firmly on the ground.
"It was more for the fans. It was great to see them celebrate and to see the city itself celebrate. As coaches, our eyes were on the European campaign that was to follow in the next season."
---
I want to ask you about your recruitment at Middlesbrough. You always seemed to have a nice blend of youth and experience. Was that always part of the plan?
"Again, I would liken that back to my experience at Manchester United. A top team always needs to have a blend and a balance with a mixture of youth and experience.
"It is also vital that you recruit the right kind of experience. You need to make sure that you have good senior pros who will willingly help improve the young players as well as take responsibility for their own game.
"The academy at Middlesbrough was very good and that was evident from when I arrived at the club. I knew the start would be tough but I thought that the future could be bright.
"We had good kids and we just needed to surround them with good professionals and that's what we did. Our first signing was Gareth Southgate who epitomised what a role model was. That was the basis for our recruitment going forward."
---
Reaching the UEFA Cup final with Middlesbrough was a remarkable achievement. On the way to the final, you defeated Stuttgart, Roma, Basel and Steaua Bucharest – all clubs with European heritage. How did you handle the challenges that European football brought and succeed in such a way to reach the final against Sevilla?
"It was remarkable. At the time, it was normal to us or at least it seemed that way as we were improving with each year. We did not appreciate the stature of the achievement at the time.
"It is only when you reflect on the run, the opponents and the magnitude of what we did, do you think about how incredible it really was.
"We were initially just pleased to be in Europe and get out of the group. Then, once we got to the knockouts, we set the team up with Viduka and Hasselbaink up front.
"Those two players were crucial with their experience up front as were the likes of Mendieta and Boateng in the midfield and Southgate and Ehiogu in the heart of defence.
"I loved European nights as a coach and as a manager. The fans loved those nights too and those memories will always be with me.
"The final itself was tough. We conceded three goals in the last fifteen minutes. It felt like one game too many for us.
"We had given so much to get to the final and had also reached the FA Cup semi-final that year. By the time we reached the final, we were on our knees.
"Sevilla were a top side who had players such as Dani Alves, Javier Saviola and other top players in their starting eleven. They also were able to bring a top striker at the time in Freddy Kanoute off the bench.
"We gave our all but unfortunately, our luck ran out in the last fifteen minutes as we threw caution to the wind. That lack of caution turned into us conceding three late goals.
"Despite that, I am incredibly proud of what we achieved in Europe that season and at Middlesbrough as a whole in the five years that we had there. It was the right time to move on after that."
---
You moved on from Middlesbrough to the England national team job. How did you feel about taking that job on after Sven Göran Eriksson?
"I had worked with Sven for five years so I knew the squad well, as well as the history and tradition of the England national team.
"I believe that was the best versed Englishman to take the job on at that time due to my Premier League experience as a manager and my experience of working with the squad at major tournaments in the past.
"I felt that I was ready. It is a tough job but it is the most prestigious job that an Englishman can be offered. When I was offered it, I was never going to turn it down.
"I do take risks and I enjoy a challenge and I backed myself at that time to succeed.
"Unfortunately, circumstances went against me and I felt that I got a good handle on the job after the first year. We started getting results but ultimately, we failed at the last hurdle.
"That is football. You are 90 minutes away from being the hero and the same 90 minutes away from getting the sack. That was how it worked out for me after Croatia at Wembley and the defeat that night."
---
After the England job, you decided to move abroad to coach with FC Twente in the Eredivisie. You delivered the club a league title which was an extraordinary achievement in a league with historic European sides such as Ajax, PSV and Feyenoord. In hindsight, how proud are you of your time at Twente and the legacy that you created at the club?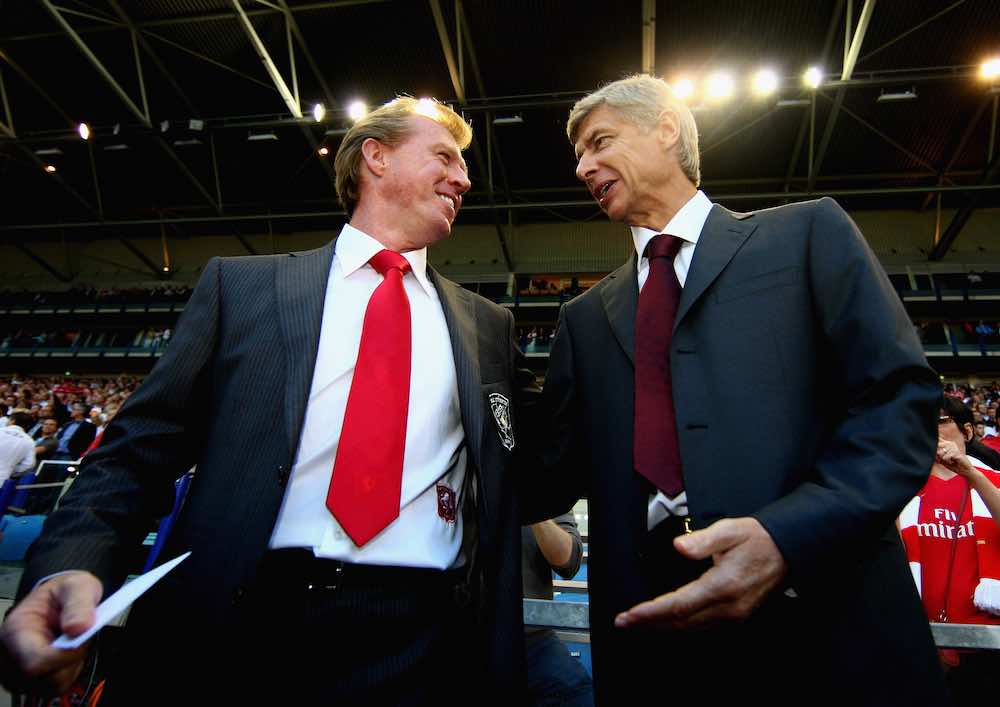 "The history and traditions of Dutch football show you that Ajax, PSV and Feyenoord tend to dominate the footballing landscape apart from AZ Alkmaar who first broke those traditions in the modern era with Louis Van Gaal.
"I was the second coach to be able to do it with FC Twente. It was remarkable and a fantastic experience. We had a great owner with great fans who helped us along the way.
"I worked closely with Erik ten Hag who was one of my assistants. He is at Ajax now doing very well and being routed for the Manchester United job and rightly so. I learned from him and, vice versa, he learned from me.
"We had to win football matches and we did just that. Those two years were remarkable and it was well worth it and helped me bounce back from England."
---
I also want to ask you about two other jobs in particular: your first spell in charge of Derby County as manager and your time in charge of Newcastle United. Your team played attractive football that reached the play-off final, whereas at Newcastle United you endured a difficult time due to circumstances out of your control.  How did those jobs compare and how did you handle each of them as a coach?
"After my time in Germany with Wolfsburg, I had a couple of experiences in management and coached at QPR with Harry Redknapp.
"It was great to work with Harry but when Derby came calling, I had to take the job because I wanted to try and transfer the Dutch 4-3-3 style of play that worked well for me at Twente into my next club in England.
"Once we sorted out the recruitment, we had quality players who could play the system well and play attractive, attacking football. It was a dream to manage that group with our attacking full backs and our centre backs who were comfortable on the ball and enjoying bringing it out.
"We also had a great trio in midfield of Hendrick, Hughes and Bryson who could run and control games. Tom Ince and Jonny Russell were also great on the wings and could supply Chris Martin up front with plenty of chances.
"The group was together and we played some incredible football. I enjoyed watching them and I enjoyed coaching them. I could probably say that I enjoyed coaching that side the most because we played a brand of football that the Championship was not renowned for at that time.
"Newcastle on the other hand was a tough club to manage at the time but many managers found the job to be the same as I did."
---
Last but not least, Steve, do you have any ambition to return to coaching or management in future?
"I would consider international management because I don't think that I would go back into day to day management unless I could work at the level that I wanted to which isn't available at the moment.
"I certainly think that I can give plenty of enthusiasm and energy to a job in addition to the knowledge and experience that I have gained over the years.
"At the present moment, I am continuing to learn by working with FIFA alongside Arsene Wenger on a global report on football and the development of the game.
"I hope that by learning different skills, it can help me find a new direction and role that will fulfil me just as my managerial career did."