An interview with Dominic Ball, by Callum McFadden for WFi.
---
You've just published your first book — 'From Winning Teams to Broken Dreams: The story of six friends and their journey to make to the Premier League' — what was the inspiration for you writing the book?
"I wanted to raise awareness of what it is really like to try and make it as a footballer. The stats showcase just how tough it is. Fewer than 1% of those who play the game will make it as top-flight footballers.
"That shows you the reality that is facing many young boys and girls who dream of making it and are doing everything that they can to make it happen.
"I started writing the book during a tough time in my career a few years ago. I wanted to bring my close friends on board within the book too because we are close friends despite our lives going in differing directions.
"We all dreamed of being footballers and some of us made it and some of us didn't but we are still close regardless.
"In terms of the process of writing the book, I started around five years ago. I would take time when I got home from training or before I went to document my thoughts on what would be in the book.
"Lockdown came and then gave me a real purpose to get it done because I knew that I would have more free time than usual."
---
In terms of lockdown, how did you cope with it as someone who is used to going to the training ground or a stadium every day?
"It was tough for everyone. It was alien to all of us.
"I try to see the positive in any situation so my fiancée and I moved back in with my parents just before the first lockdown was announced so that we could have the company of others.
"They were all working from home for long parts of the day so the book gave me a real purpose in addition to making sure that I was keeping fit for the resumption of the season.
"We never knew when we would get back to playing football so we built a makeshift gym in the garden and I used that in addition to going for a run each day to keep in good shape."
---
It's shaping up to be quite a week for young defender Dominic Ball… http://t.co/e2PxZyznVO pic.twitter.com/GRe94NvRi8

— Tottenham Hotspur (@SpursOfficial) September 11, 2014
You started your career at Tottenham Hotspur, what was it like coming through the youth system at such a big club?
"It was the best place for me to learn at the time. The quality of the coaching and the facilities at the club was superb.
"I was being coached by Alex Ingelthorpe who is now the academy director at Liverpool and John McDermott who is now in a high profile role at the Football Association.
"They were great with me and they taught me what was required to make it at the highest level possible. You were always challenged to be better at Tottenham.
"Mauricio Pochettino then came in and brought me into the first-team training sessions for a while which showed me just how hard the standard was at elite Premier League level.
"I worked as hard as I could to make it but I just was not ready for first-team football at Spurs. That is all part of the journey and led to me going out on loan."
---
You joined Glasgow Rangers on loan under Mark Warburton during a transitional phase at the club when they were playing in the Scottish Championship. How do you reflect on your loan spell at the club?
"It was an incredible experience. It was the best season that I've had in my career to date.
"The fans and their passion was unbelievable. Winning two trophies was great too, as was beating Celtic in a Scottish Cup semi-final at Hampden. That was one of the best days of my life because I had so many family members there to see it.
"The atmosphere at Ibrox was great. It was so good. I was a young player gaining experience and to do it in front of 50,000 fans every week was something that I will never forget."
---
You returned to Scottish football with Aberdeen on loan from Rotherham who you joined permanently after departing Tottenham. What was it like to work under Derek McInnes who is highly regarded in Scottish football?
"I absolutely loved my time at Aberdeen. There was a transitional time for me in the first six months because I had to adapt to living so far away from home on my own.
"I had to get back to enjoying my football and Derek McInnes was great for me. He instilled a winning mentality into me and the group at Aberdeen.
"He was great to work with and Aberdeen is a massive club. It was a well-run club that strives to be the best they could be."
---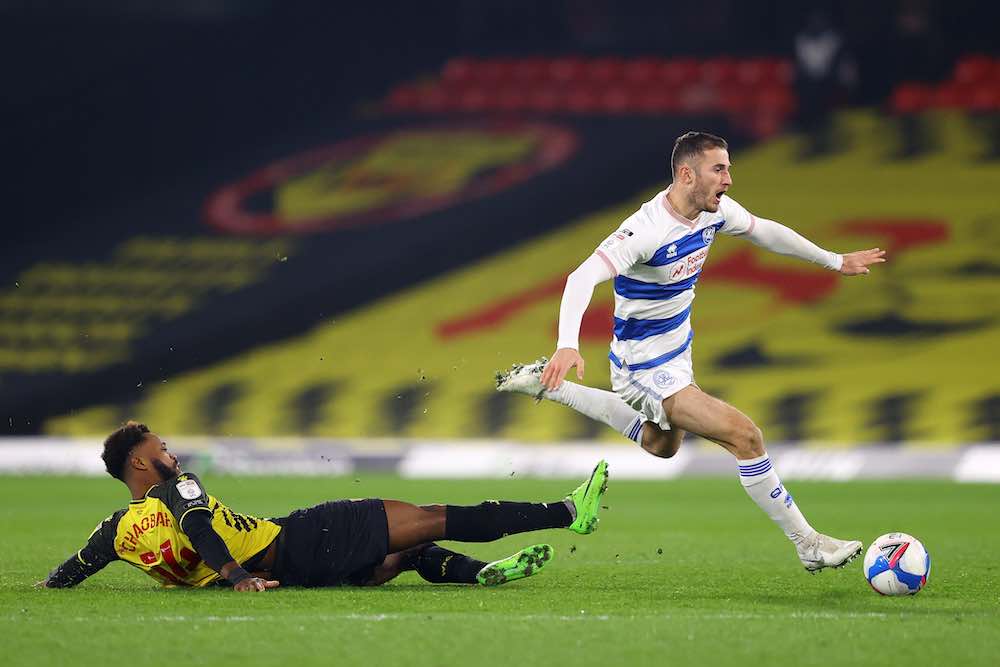 You have just left QPR, as has manager Mark Warburton. How do you reflect on your time at QPR and working with Mark again?
"When Mark called me to join him at QPR, it was a no brainer. I wanted to challenge myself in the Championship under a manager who trusted me and Mark always had faith in me.
"I played my 100th game on the last day of the season and it was a great way to bow out at the club.
"I want to go on and play regularly at my next club because it is frustrating being out of the team at any level."
---
You have also represented England up until under 20 level. How proud were you when you pulled on the Three Lions shirt?
"I look back at those moments with great pride because you are playing among the best players in the country at your age.
"To pull on that shirt and represent your country is unbelievable. It is one of the highlights of my career."
---
Finally, Dom, what advice would you give to any young footballer who wants to succeed in the game?
"I've learned that you need to enjoy it. If you do not enjoy what you do then you'll never perform to the level that you want to.
"Work as hard as you can and try to learn as much as you can from others. Seek out the experience of those around you at the club and do all that you can to continue learning and developing to give yourself the best chance possible."