An interview with Willie Kirk, by Callum McFadden for WFi.
---
You joined Hibs in 2009 initially to work with the club's under 17 side before then taking charge of Hibernian Women. How did that transition to women's football occur?
"Hibs started a partnership with Telford college so half of the under 17 side would be full-time while at college and the other half were finishing their last year of secondary school.
"James McDonaugh was the head coach at the time and he worked with the full-time players while I had a group of seven or eight players to work with.
"It was not as enjoyable as I anticipated. It was the right thing for the club and the players but as a coach, I was only working with the players on a Tuesday and Thursday.
"I then offered to help with the Women's team one night per week during the summer as the players that I worked with were off on holiday.
"When I went in initially, the training was not of a great standard. Things have come a long way since then let me assure you.
"My first impression from training was not great, however, when I attended my first game my opinion swiftly changed.
"The players came alive on a matchday and I was very impressed. The club reached the League Cup final and lost to Glasgow City which annoyed me. I wanted to see the players win and within a year, I was then put in charge of the team in 2010.
"I had the desire and motivation to develop a winning team and that is what made my mind up to go into the women's game as a head coach."
---
You won the Scottish Cup in your first season. Talk about an instant impact. Can you talk me through that debut season as a head coach?
"It was a tough start. My way of working as a head coach was not what the players were used to.
"The senior players were telling me which players were going to sign for the team. I was baffled by this. I did not know the players that they were talking about so how could they be signing for us?
"It turned out that before I arrived, that is how it worked at the club. The girls signed players that they knew to come and play for the team.
"That caused friction when I arrived because I made it clear that I would not be working in this way. Despite that, we won our first couple of games in the league before going on a bad run.
"During that run, I was tested to the extreme because one of the senior players tried to get me sacked. The player in question sat across from me in a meeting and the player told the chairperson of the club that I had to go.
"Thankfully, the chairperson backed me and told the player that she could go but that I would be staying. That was huge for me looking back because I could have ended up back in the youth academy coaching and never went ventured much further in the women's game.
"Thankfully, I got through that tough period after being backed by the club which enabled me to make more changes behind the scenes. We had a trophy at the end of the season to show for it too. That was important for me."
---
"You built on that success by winning the League Cup, reaching another Scottish Cup final and challenging at the top end of the league. You also won the manager of the year award during that period. Was your time at Hibs overall a positive experience for you?
"It was positive in terms of winning trophies and giving me the desire to want to work in the senior game at the highest level possible.
"I was exposed to a high level of football because we had international players in the league and it was growing year on year.
"I believe that I could have won more trophies but Glasgow City were able to sign our best players which was frustrating as a coach because you want a settled squad.
"What gives me the most satisfaction from that time is the number of young players that we developed who now play in the WSL or abroad at a high level."
---
You had your first experience of the WSL at Bristol City in 2015 following some time working with the SFA after leaving Hibs. Was it always an ambition of yours to work in England?
"It was, as the game was growing in England. My first experience of English football was bizarre. There was a high profile around the move at the time.
"I applied for the job the year before and did not get it but to be fair to the club, they came back to me and asked if I was still interested. That's how the move happened.
"I arrived at the club and I went to watch the first game against Birmingham which we drew. It was a good start or so I thought. I then found out that we would only be training three nights per week which was less than my Hibs team were.
"We were bottom of the league and I was shocked by this given the fact that most teams within the league were already full time.
"I had to change that and began the transition of moving the club into becoming full time which I was not expecting to have to do.
"I drew with Arsenal in my first game which was a great result but we did not have enough to stay up in the end and were relegated at the end of the season.
"Relegation turned out to be a blessing in disguise as it allowed me to take the team full time by bringing in young, hungry players who wanted to be full-time footballers.
"I lost good players such as Christie Murray and Caroline Weir who are established Scotland internationals. They did not want to play in the second tier which I agreed with and understood.
"We then went back up to the WSL at the first time of asking and established the club in the WSL. I left the club in a better position than when I arrived."
---
Manchester United then came calling for you. They had just formed their women's team and wanted you to assist Casey Stoney. Was there any apprehension from your side about becoming an assistant after so many years of being a head coach?
"A little bit. I left Bristol before having anything else lined up which was a risk. Manchester United are such a massive club and to be a part of something from the very start was an attractive prospect.
"I actually went for the managerial job but they called me to say that Casey was the preferred candidate but that they wanted me to come on board too.
"They had spoken to Casey who wanted to arrange a meeting with me. I wanted to find out what I was like being a number two because I had a strong assistant in Chris Roberts and I wanted to understand the role more. I believe it would help me when I returned to be a manager in my own right again in the future."
---
You were only at United for a short period of time before you were approached to become the manager of Everton. How did you feel when the approach came from the Goodison Park club?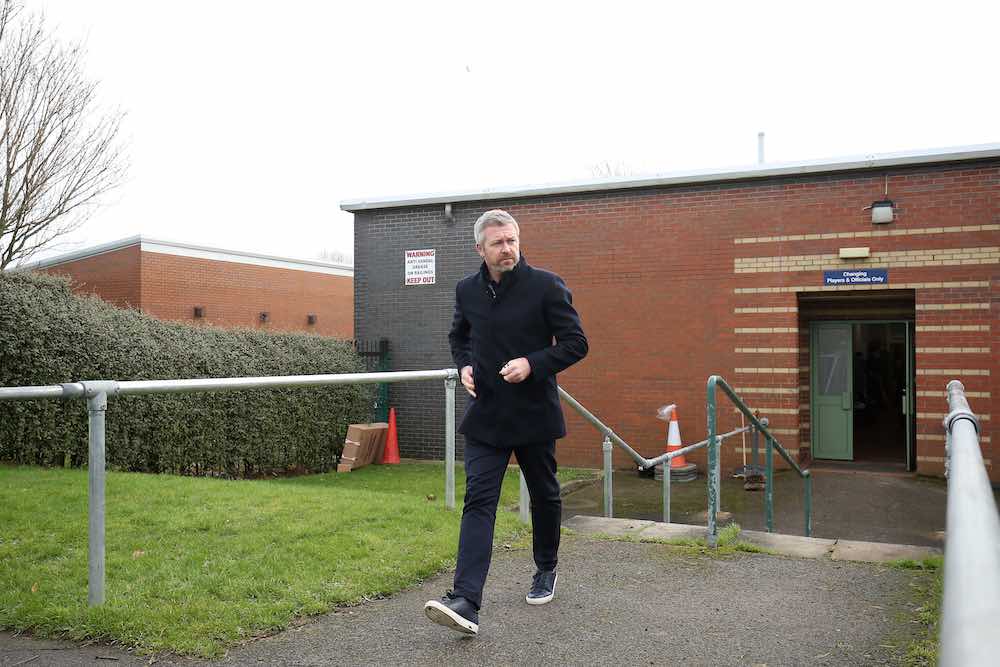 "I recommended someone else for the job but Everton came back to me and asked if I would consider taking the job.
"Casey and I knew that I would go and be a manager again. The plan was to help get them up to the WSL, do a year with the club there and then start looking to be a number one again.
"However, when Everton came calling, it felt like the right time. They had big ambitions as well as a rich history within the women's game.
"I enjoyed working with Casey and learned a lot from her but I did miss being the main coach. Everton felt like the right club at the right time."
---
Your first game was a Merseyside derby against Liverpool. How did you handle that pressure?
"You always want to win the first game and I always think that if you do then you can start making real demands of the players.
"They had been on a low at that point so the win was crucial. It actually had very little to do with me to be honest.
"I played a 4-4-2 which is not a formation I typically use and I played it because the players were used to it and I did not want to complicate things too early.
"The players responded well to me and I think sometimes a different voice is needed. After that, I implemented my style and we stayed up and progressed from there in the WSL."
---
You also reached the FA Cup final with the club in 2020 before departing the club in October 2021. How do you look back on your time at the club overall?
"I ended up being a victim of my own success and ambition in the end. We raised the expectations internally due to what we had achieved.
"My remit when I went in to Everton was to keep the club in the WSL. That was it. So to be sacked after losing three games to the top three sides in the league was tough. I suppose it shows that the expectations rose each year but it is a club that I enjoyed working for.
"I left the club in a much better place than where I found them. The staff at the club were great from the kitchen staff to the kit men to the CEO. It was a good club and with a better long term strategy, they can succeed going forward.
"The club have a lot to thank me for and I have a lot to thank the club for. The only disappointment for me was having the FA Cup without fans due to the Covid pandemic."
---
Sky and BBC have invested in the WSL which is further raising the profile of the women's game. Is the increased exposure leading to more pressure being placed on managers and players within the league compared to the past?
"I think so. Clubs are investing more and more. In the past, the big clubs would have a budget for the year of around £300,000 to £400,000. That is nothing for a big club.
"That has now changed to be in excess of £1m per year. That of course leads to more expectation on everyone involved because you are on Sky and BBC and there is a greater level of interest now.
"The scrutiny has increased and that has been shown by the turnover of managers in the last eighteen months. I think that it is a good thing in terms of processing the game as long as it does not go as crazy as the men's game in terms of managerial turnover."
---
Last but not least, Willie, what are your plans for the future. Do you want to remain in club management or would an international post interest you?
"I would like to manage an international team in future but I still have a lot to achieve in the club game at this moment in time. A return to Scotland in future. Never say never but not at this moment in time:
"The WSL has grown massively and I would want to stay here but I also have ambitions to work abroad. That may mean that I go abroad earlier than I thought but there is also the worry that if you leave, there could be a difficulty getting back in.
"There is so much competition for managerial jobs now. The WSL is becoming one of the best leagues in the world and it is a league that many coaches want to be in."