By Steve Johnson.
Parmalat's origins began in 1961 when Calisto Tanzi opened a humble dairy shop in Parma, a city in the north of Italy situated in the administrative region of Emilia – Romagna.  Over the next two decades, the business grew immensely and had an impressive global reach.
Parmalat first came to the attention of football when they sponsored Real Madrid for four seasons between 1985 and 1989. At the time Madrid were running rampant domestically thanks to Hugo Sanchez, Martín Vázquez, Manuel Sanchís, and a young José Antonio Camacho, et al; with four wins La Liga wins, and a UEFA Cup — their second in a row — as well as two Spanish Super Cups and a Copa del Rey.
The acquisition of local side AC Parma in 1991 not only kickstarted the rise of that particular club, but would be the foundation for the brand to spread its name around the stadia of world football.
As Parmalat started their second season sponsoring Real Madrid, Arrigo Sacchi had brought Parma to the cusp of Serie A, just failing to seal a promotion, before heading onto an impressive stint at Silvio Burlusconi's  A.C. Milan.
Parma then floundered in Serie B midtable obscurity for a couple of seasons under both Zdnekěk Zeman (briefly), and Giampieri Vitali.
It was the incoming Nevio Scala who galvanised the club and gained promotion to Serie A at the first time of asking. Now backed by the might of their Parmalat, the club in its inaugural top-flight season cemented their place in the top tier and showed the ambition of their new owners.
Scala is still Parma's longest-serving and most decorated manager in all iterations of the club.  His record speaks for itself — the club were never out of the top six in his six seasons in charge.  During that time they also collected a UEFA Cup, an Italian Super Cup, a Cup Winner's Cup and a Coppa Italia win, as well as runners-up medals in both the Club World Cup and Coppa Italia.
With the financial muscle bankrolling the club, the team assembled some stellar names over the years such as Italian internationals, Luca Bucci, Gianluigi Buffon, Gianfranco Zola, Fabio Cannavaro, Dino Baggio, Luigi Apolloni (later manager), and Lorenzo Minotti (later technical director). These players were joined by a host of overseas talent; Hristo Stoichov, Faustino Asprilla, Georges Grün, Tomas Brolin, Cláudio Taffarel, and Roberto Sensini.
Throughout the '90s, Parmalat were diversifying their portfolio and buying businesses abroad. This involved a glut of new sponsorship deals with a range of teams, most notably Boca Juniors, Benfica, Audax Italiano, Estudiantes, Olympique Marseilles, Juventude, LDU Quito, Penarol, Universidad Catolica, and Mol Fehevir FC (renamed Parmalat in various forms from 1993–1996).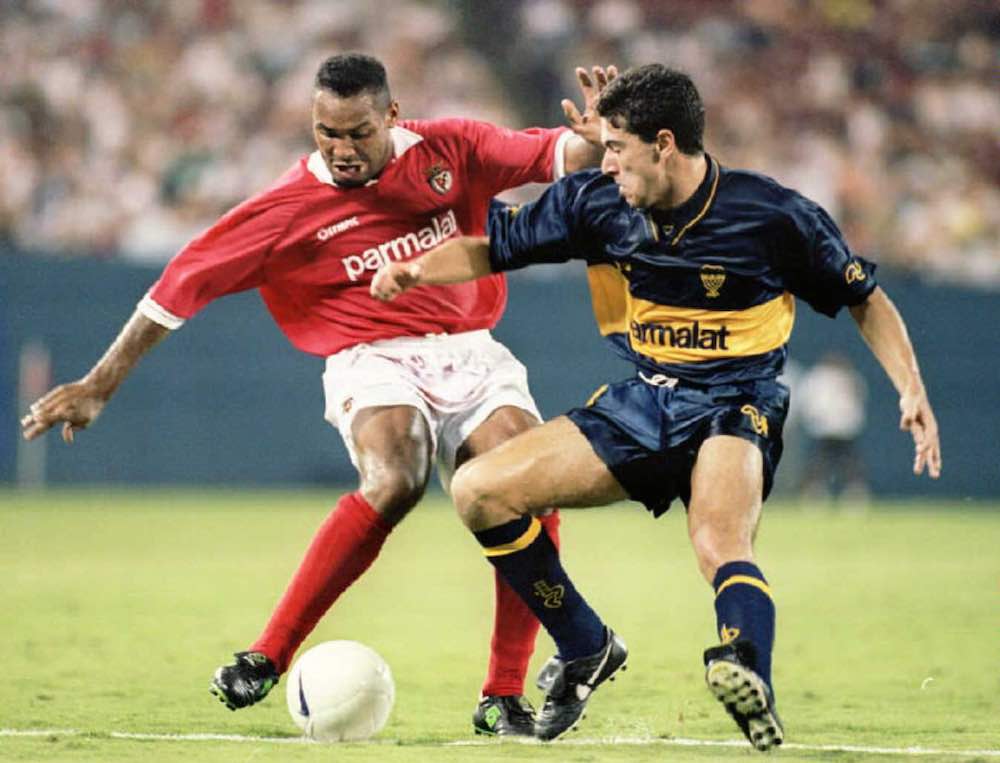 Most sponsorships lasted anywhere between one to four years. The longest-running was Brazil's Palmeiras, who had an eight-year sponsorship which ran from 1992 to 2000.  This was a period in which Palmeiras won the Copa Libertadores, two Brazilian Serie A titles, a Copa do Brasil, and three Campeonato Paulista trophies.
A whole host of famous players and coaches have gone through this particular revolving door of Brazilian football: managers Vanderlei Luxemburgo and Liuz Felipe Scolari who have both returned to the club numerous times since, and players of the calibre of Rivaldo, 'The Animal' Edmundo, Flávio Conceição, César Sampaio, Roberto Carlos, and Cafu.
The end of Palmeiras' sponsorship coincided with the biggest of Parma's transfer fees back in Italy as massive signings and sales were happening at a frightening rate. The 2000-01, and 2001-02 seasons saw the four biggest buys in the club's history, ranging from Hidetoshi Nakata's (€55 million), Márcio Amoroso, Savo Milošević, and Sébastien Frey's (€21 million) price tags.
The Eventual collapse of Parmalat due to endemic financial irregularities drew a line under the impulsive, astronomical spending as players were sold, and the squad weakened. The three biggest sales being all-time goalscorer Hernán Crespo (€55 million), Buffon (€54.8 million), and Lilian Thuram (€36.5 million).
Since their heyday, Parma have had an eventful time — administration, dropping to Serie B for a time, then a brief rise back to the midtable of top tier football once again, before further financial trouble saw the club demoted to Serie D and reformed for a third time.
The club, now known as Parma Calcio 1913, welcomed back Nevio Scala, who took up a brief stint as president, and Appolini also came back as manager and thus began the meteoric rise back through the leagues. It took the absolute minimum of three seasons to get back to Serie A.
This year the club — replete with the returning Buffon, and new signing veteran Goran Pandev — now currently languish where they began this article in midtable of Serie B, hoping for better days to come.