An interview with former Manchester United defender Jaap Stam, by Callum McFadden for WFi.
---
How excited are you to be back playing at Old Trafford in the Legends of the North match against Liverpool in May?
"I'm very excited because I always look forward to returning to Old Trafford and to seeing the fans again. They always supported me during my time at the club.
"It will also be great to see and play with some of my former teammates again as well as take to the pitch with some players that I have not yet played with.
"Manchester United is like a big family and it is always great to come back. To be facing Liverpool makes it even more special this time as that is a game that means a lot to the fans.
"Without doubt, the main objective is to bring in as much money as we can for the foundation and I hope that we can do, because the foundation is doing so much incredible work."
---
During your three seasons at Manchester United, you won the treble in 1999 among other major honours including three league titles in total in addition to the Intercontinental Cup. What was it like to play in that era under Sir Alex Ferguson?
"Moments like that are why you want to become a professional footballer. When I left PSV to come to Manchester United, I wanted to come to England to win trophies and establish myself on the world stage.
"I never thought about winning the treble or the Champions League in my first season at all. I wanted to settle in, do well individually and hopefully win the league title.
"However, to go to the end of the season and win all three major honours was a dream come true. We had a feeling that something special was happening as we approached the end of the season in two major finals while at the top of the league.
"We made history and no one else has done it since. Hopefully no one will do it anytime soon as well unless it is United again.
"I have special memories of that time in my career. It gives me a special feeling too."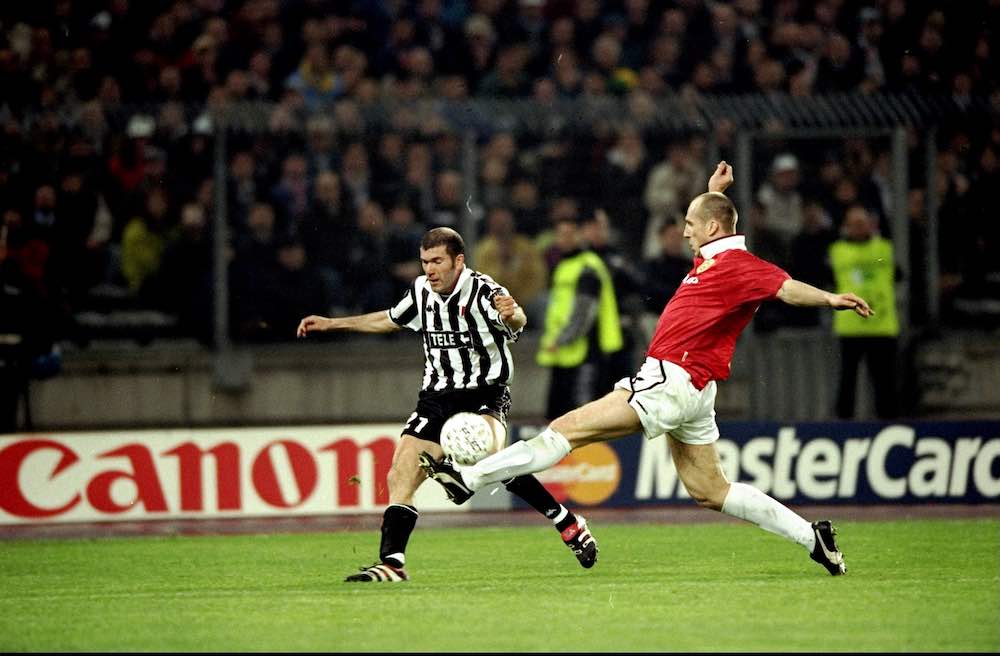 ---
What are your memories of the 1999 Champions League final itself? It was one of the most incredible comebacks in football history, wasn't it?
"If you look back at the game from a football perspective and ask who was the better team, then the answer is Bayern.
"However, we had an ability to come back in games as we had shown at different points in that season before the final. Look at the Juventus game as an example of that.
"We were behind and we came back against the odds to win so we had been there and won like that in a key game before so we never lacked belief.
"I know how the Bayern players must have felt after that game because I was on the other end of such a comeback in the 2005 Champions League final against Liverpool.
"We were 3-0 at half time and everyone thought that the trophy was ours and we ended up losing the game on penalties in the end.
"That is how top-level European football can go especially in finals. It may look like one team is on top but it can change very quickly."
"Mindset is important. How much do you want it as a team and are you willing to dig in when things do not go to way? That's how we viewed football under Sir Alex and that sums up the final of '99 against Bayern."
---
Your fellow Dutchman Erik ten Hag has just been announced as Manchester United's new manager starting next season. What is your opinion of Erik based on what you've seen of him during his coaching career so far?
"In Holland, he's been doing very well. He started his career at smaller clubs [such as Go Ahead Eagles and FC Utrecht] and worked his way up to Ajax.
"It also helped that he knew Marc Overmars from their time together at Go Ahead Eagles so when Overmars moved to Ajax then he gave Erik the opportunity to manage the club based on the success that he had up to that point.
"Some people were sceptical of him when he arrived at Ajax as people as are with any new manager but the partnership of Erik and Overmars was so important in taking the club forward.
"That will also be important going forward [at United] because the recruitment has to be right to ensure that the players are suited to his philosophy and his style of play.
"Ajax have done that and they've been rewarded with league titles under Erik and progress to the latter stages of the Champions League.
"Hopefully, when he arrives here, that will be the same and he can bring players in as well as work with the players that are here now to get the results that everyone is looking for."
---
You have played for both Ajax and Manchester United. Ajax are undoubtedly a massive club in their own right but Manchester United generate worldwide attention. How important is it that Erik gets used to the level of attention that will be on him and the club quickly?
"He is probably already looking at getting information from people who are close to United or know the club very well.
"Ajax is a big club as you've said but Manchester United is a much bigger club throughout the world. He needs to be ready for everything and he knows that everyone around the world will be looking closely at what Ten Hag is doing with his team.
"I do not know Erik that well but from what I do know, he likes to stick to his own philosophy. He has his own way of playing and he will stick to that.
"He needs to have good people around him."
---
At international level, you represented the Netherlands on 67 occasions. What are your favourite memories from your time with the national team and what is your opinion of the current national team under former United manager Louis van Gaal?
"My time with the national team was great. I enjoyed playing for my country anytime that I was asked to.
"It is always an honour to play for my country and that is the feeling that I had in every game for Holland. That is how it should be.
"The current team under Van Gaal are going well and they have qualified for the World Cup. Hopefully, they can do well when they get there.
"The squad has some very good players within it. If I compare them with the players of my era and ask, are they the same level? I would have to say that some are and some aren't but that is how football goes.
"Holland is a very small country but we are always looking to improve players and to develop our domestic game and our national team. I hope that they can do well under Van Gaal."
---
Since retiring, you have managed in the Netherlands, England and the United States. Do you want to get back into management or would you be happy to be an assistant manager or coach in future?
"I want to go back into management. I would not be against being an assistant manager but it would depend on who the manager is.
"It would need to be someone that I could learn from because I am quite stubborn in how I am and how I believe that football should be played.
"It would be nice to return to management because I enjoy working with a team and providing young players with opportunities to develop as first-team players. That is what I like doing and to return would be great but it is all about getting the right opportunity as well."
---
Finally, Jaap, you mentioned earlier that the fans will be excited to see the legends return to Old Trafford against Liverpool. Even though, it's a friendly for the foundation does the fact that it is against Liverpool add an extra level of pressure to the game for you?
"It is an important one for sure. I want to bring as much money for the foundation as we can. I hope that we can succeed in doing so.
"Playing against Liverpool adds to the game because that rivalry is always there. Even now. I am almost 50 years old but when I am out there, I want to do all that I can to win that game. Regardless though, it will be great to be back out on the pitch in front of the fans to support and wonderful cause in the Manchester United Foundation."
---
Tickets for the Manchester United vs Liverpool Legends of the North game on May 21 can be bought here.