An interview with Andy Bishop, by Callum McFadden for WFi.
---
You progressed through the system at Walsall, but you established yourself in the game through the loan system at Kidderminster Harriers. How important was that loan spell in your development?
"It was massively important because you can play as much youth team football as you want but it is nowhere near the same as playing proper competitive men's football.
"I was very lucky to join a Kidderminster side who were in League Two at the time at a young age and get a proper run of games. Without that, I wouldn't have had the career I've had since.
"When I joined the club, I initially didn't know what to expect but the group of players at the club were local lads and they took me under their wing immediately."
---
What do you remember about your debut for Kidderminster? Because it's fair to say it was a memorable debut.
"My first game with the club was away to Torquay and the whole experience was unreal. The journey there with the lads and the game itself was brilliant.
"I was on the bench, and we went 2-0 down. I then came on after 60 minutes and set the first goal up which was a great feeling.
"To make the day even better I went on to score the equaliser to cap an unbelievable debut. It's a day I'm very proud of and one I'll never forget."
---
You enjoyed your spell at the Harriers and also had loan spells at Rochdale and Yeovil. After a few loan spells, how important was it for you to find a permanent club?
"It was a strange situation, to be honest. I was at Walsall who were a Championship club at the time and had a great group of players such as Mark Robins, Darren Byfield and Don Goodman.
"They had a very experienced group of players and as such it was difficult to get a chance. Despite that, I was offered a new deal by the club but in the end I decided against it because I was desperate to play regular football."
---
What were those senior players like to train alongside as a young player?
"Unbelievable. I was very lucky at the time as Paul Merson was also at the club. Watching them play each day and studying how they trained was invaluable for me as a young kid. I was in awe of them.
"Merson was superb with me and everyone at the club. I actually played upfront with him in his first game for the club. It was a pre-season game and he talked me through the game. What an experience that was for me.
"He then became the manager of the club and had a lot of faith in younger players as a manager. He offered me a new deal and told me he wanted me to be at the club. Even when I told him I was leaving, he was great. He supported my decision to leave as he told me that he could understand it, stayed in touch with me and followed my career after I left too."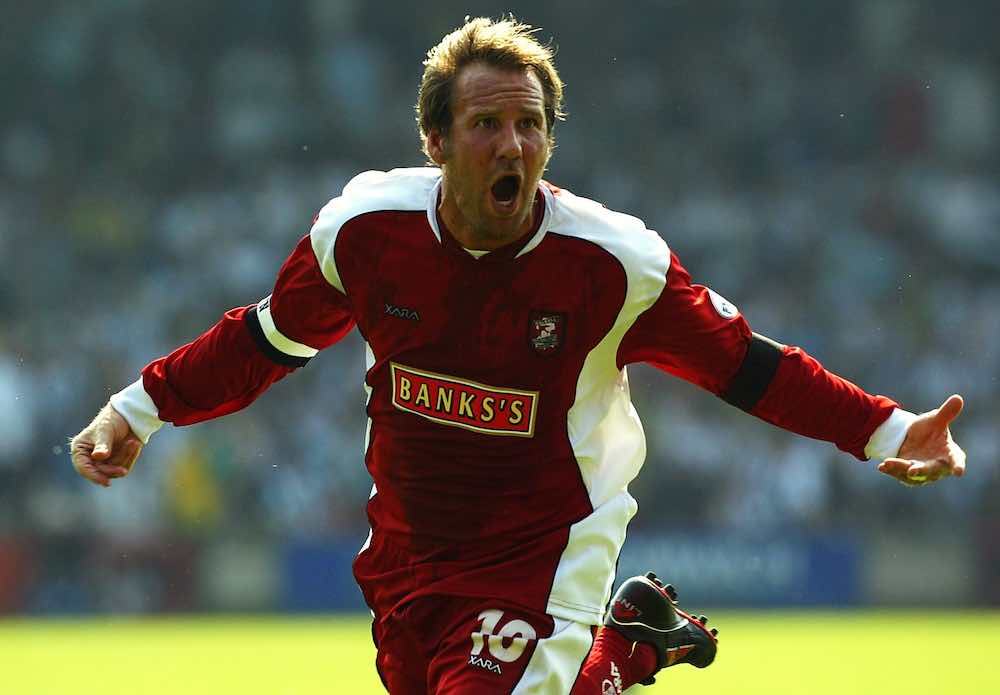 ---
Following your departure from Walsall, you joined York City. What are your memories of playing for the club at the iconic Bootham Crescent?
"Bootham Crescent is iconic as you say. It's a shame that they are moving now, in a way. Their new ground looks very nice and I'm sure they'll enjoy playing there but when you had 6,000 fans at Bootham Crescent, it was special.
"Living in the city was also a great experience for me. It's a great place to live. At the time, Scarborough were the club's biggest rivals and we used to play them every Boxing Day or new year.
"I remember scoring the winner in that game in front of around 8,000 at Scarborough and that feeling was just unreal. To have such a crowd at that level of football shows how big the club are."
---
During your time at the club, you were called up by England C. What is it like playing for England C?
"It's just like the full England set-up in the sense that you are treated like elite professionals. The set-up is the best of the best.
"I played in Belgium and Italy as well as playing against the Netherlands which was a truly great experience. Representing your country at any level is a dream come true.
"The team I played in had some top players who have had great careers in it. The likes of George Boyd, Aaron McLean and David Stockdale played in the side. They've all played in the Premier League which shows you just how important non-League football can be for helping players progress."
---
After a successful time at York, you moved on to Bury. How did the move materialise?
"One of the big factors that resulted in me signing for York was Chris Brass. He was the manager of York at the time and leaving the Championship (Walsall) for the Conference (York) is what many people would call a gamble.
"However, Chris was upfront with me from the start by saying that if I came to York and scored goals and a club higher up the leagues came in for me then I could leave for free.
"I was still under the age of 23 when I joined Bury so technically York were due a fee but the club were first class and honoured the promise that they made me.
"Chris had also moved to Bury which was a big pull. When I spoke to him, he made me the same promise that he gave me at York which was: come here and score goals and we will look after you."
---
Chris Brass is someone you clearly have a lot of respect for. What was he like as a coach?
"Chris was a superb manager to play for. I'd played under lots of top managers such as Colin Lee and Paul Merson so when I went to York, I was worried that it wouldn't be as professional in the Conference but it was incredibly professional. Chris is very good tactically and he loves the game.
"His work rate is immense as he works tirelessly to set everything up to the best of his ability. His man-management is also second to none."
---
What are your favourite memories from the Gigg Lane years?
"It was an incredible time for me. To move to the city and be a part of everything was superb.
"It's a local club and the fans are always involved. They made me feel so welcome from day one and in my eight years at the club, they were nothing short of brilliant.
"To score as many goals as I did for the club makes me very happy as Bury are now my team. I'm a supporter and the club will always have a massive place in my heart."
---
You were a member of the PFA Team of the Year in 2008/09. How special was that moment for you from a personal perspective?
"It was unbelievable for me. You find out the week before it is announced and then you are invited down to the ceremony were you are put up in an unbelievable hotel.
"At the ceremony, you are around true greats of the game. Obviously at Bury we had Jill Neville so I had spoken to Gary before but at the PFA awards I got to speak to and sit with Ryan Giggs and Sir Alex Ferguson. That for me as a lower league player was such an unforgettable experience."
---
You scored a lot of goals at Bury and were the first player at the club in a long time to score more than 20 goals in a single season. Do you have a particular favourite that you always like to reflect on?
"There are so many. I scored against Leeds United at Elland Road in the cup, I scored against Norwich – home and away – to knock them out of the cup and I scored an important winner against Sunderland in a cup game also.
"There are other memories though that I remember fondly as well as those big goals. In my first season, we were going through a tough time and it looked like we could be relegated.
"It came down to the last few games of the season and we had to play Boston who were in the relegation zone. We won 1-0 and I scored the winner.
"That day was so special to me as it meant so much to the club and the fans and I remember celebrating with them and taking the moment in as much as I could."
---
How much did it hurt you when the club were expelled from the EFL?
"It was very tough. To battle and fight with everything I had for the club to then see how it went was deflating.
"I could have left Bury on more than one occasion and earned more money at clubs such as Norwich or Ipswich but I turned them down and committed to the club as I love the club and it's the place I wanted to be.
"So when things happened as they did, I was angry as the fans give so much to the club and they don't deserve what's happened. It was devastating."
---
You played on loan and then permanently at Wrexham. How do you reflect on both spells at the club?
"It was very good. The loan was a mutual thing as I needed game time after a long injury. Andy Morrell was the manager at the club who I had played with at Bury. So I went there on loan and loved it under Andy and score a few goals but Bury called me back after four games so it worked out for both parties.
"The way things ultimately ended at Bury was very disappointing and happened due to the position the club were in. I didn't want to leave but you have to take it on the chin given the financial situation at the flub.
"A lot of people don't actually know this but I left for a lot less money than I should have. I gave money back to the club to help them out.
"It was gutting to move on permanently due to the passion I had for Bury but Wrexham is a massive club.
"The fanbase and the passion they have is second to none in many ways. To get the crowds that they do in non-League shows you that.
"When they finally get back into the football league anything is possible for them, especially with the news of the new takeover."
---
The club has a fierce rivalry with Chester, what was it like to play in those games?
"It was very good to play in them, of course it was, but if I'm honest, I look back on the Bury-Rochdale games as being the fiercest derby games that I played in. The atmosphere is those particular games was different to every other game that I had played in.
"The tension in those games was quite something and I was lucky enough to score in quite a few of them which made them every sweeter.
"They are games that you are desperate to score in even if it's a two-yard tap-in because as a striker I can assure you there's nothing wrong with a two-yard tap-in. They all count and they are all welcome as a striker."
---
You've also been a player-manager during your time with Southport, what is that experience like?
"It was very tough but I loved it to be honest. It was different to what I was used to and there were things going on in the background that were tough as well but I loved the experience of management.
"I would love to get back into management but it has to be at the right time with the right opportunity for me."
---
You've had a very successful career as a footballer as we've discussed, who are the best players you've played with?
"It has to be Paul Merson. Kasper Schmielcal would be up there as well as he was different class in training and games even at a young age."
---
Similarly, you've played against many tough opponents over the years. Who are the best players you played against in your career?
"I've played against the likes of Joe Cole who was class. However, I'd have to say the late Gary Speed. We played against Sheffield United in the cup and I ran into him and he literally made me feel like a little kid as I fell on my backside. He was brilliant!"
---
Last but not least, which coaches would you say had a big impact on you personally?
"From a young age it was Mick Halsall and Ray Graydon at Walsall. They grounded me and gave me that work ethic. Chris Brass and Alan Knill of course have to be mentioned as they were brilliant too.
"Football is a funny game as you sometimes have managers who you think are going to be great but turn out to have an adverse effect. But that's what makes it unique."