An interview with Nigel Quashie, by Callum McFadden for WFi.
---
You came through the youth system at QPR and made your debut at Old Trafford under the late Ray Wilkins. What are your memories of that special moment?
"I was on the old YTS scheme and as part of that scheme, you had to go on an away trip and work with the kit man.
"I was lucky enough to be told that I would doing my duty at Old Trafford, so I travelled with the first team and thought nothing else of it.
"I helped make the teas and coffees on the coach and helped make sure all the kit and boots were there at the hotel the night before the game.
"The following day, I was fully expecting to be putting out in the changing room pre-match but when the team was named, I was in it.
"I could not believe it. It was a surreal feeling, but Ray put me at ease and told me to go out and enjoy myself and treat the game as if I was playing at the park with my friends.
"I was grateful for the chance that he gave me, and he helped kickstart my career.
"To showcase the mark of the man, he made sure that my mum got to Old Trafford to watch my debut. He arranged all the travel and tickets to make sure she could watch my debut and he made sure that I was able to speak to her after the game.
"I was in shock at just how special he made what was already an incredible day for me. I will never forget Ray and how he treated me."
---
You established yourself in the first team at QPR over the next few seasons which leads to interest from Nottingham Forest. You signed for Forest in 1998 and were at the club for two seasons. How do you reflect on your time there? 
"A lot of people do not know what my circumstances were when I was at Nottingham Forest.
"Some people thought it may have been due to the managerial change that my game time decreased but it was nothing to do with that.
"I had to deal with a painful personal issue that was the death of my son.
"I got to the point where I never knew how to deal with such trauma at a young age myself. I had a big money move to Forest and people aren't aware that I was dealing with a situation that I would not wish on anybody.
"I had to try and overcome it, but I was in a really difficult situation and football was the last thing on my mind.
"The only reason that I kept going as a footballer was due to a call from Tony Pulis. He called me one day and I did not know Tony, so I did not know why he was calling me.
"I answered the phone, and he asked me to come down to Portsmouth – where he was the manager – for a chat. I thought it was a long way to go for a chat, but he insisted.
"He told me that he knew of my personal situation, that he wanted me to forget about football and that he had someone that he wanted me to talk to.
"I couldn't believe that someone who I did not know wanted to help me in such a way but having heard about my circumstances, his natural reaction was to try and help.
"He introduced me to a sports psychologist and encouraged me to fully open up about how I felt and what I was going through.
"I did and it was such a great help to me. If it wasn't for him then I wouldn't have played football again. It really was the last thing on my mind.
"He was key to me overcoming my situation and like Ray, I will never forget what he did for me."
---
You signed for Tony Pulis's Portsmouth in 2000 after meeting him and reaching out to the sports psychologist that he arranged for you. What was your time at Portsmouth like as a whole?
"I enjoyed my time at Portsmouth. Tony got me the help that I needed and told me that when I was ready that he wanted to help kickstart my career.
"He put no pressure on rushing me back into football but when I was ready to play again, he signed me and put his faith in me.
"He told me that he did not want me to worry about tactics or formations but to get back on the pitch and enjoy my football again without any unnecessary pressure.
"He gave me the freedom to be myself again and get my love for the game back, as well as get my life back on track too.
"Following on from Tony, Harry Redknapp came in as manager and he was clear from the outset that he wanted to get the club promoted to the Premier League.
"If you weren't with him on that then he would move you on and he did that to several players.
"He brought in some unbelievable players to stamp their mark at the club such as Paul Merson and Robert Prosinečki.
"They could have a massive impact on any game, and I was grateful to be able to play with such players and play under Harry in a successful team.
"We had high standards as a team and every player no matter of their stature pulled in the same direction. Portsmouth was full of great people and every player was willing to sacrifice themselves for the good of the team whenever required.
"Winning promotion to the Premier League by playing the attractive football that we did was amazing.
"It was an unbelievable achievement for the club, but Harry was a great man manager, and he was the perfect man to take the club forward because he was a players manager.
"The way that he was as a man made you want to play for him and do all that you possibly could to succeed for him and the club."
---
You had played in the Premier League in the 90s but by the time you got there again, with Portsmouth in the mid-2000s, high levels of finance were coming into the league. Was it even more of a challenge than previously for you, given the players that clubs could attract throughout the league? 
"Absolutely. I was fortunate to see the progression of the Premier League year on year throughout my time playing in the top flight.
"As you say, more money coming into the league attracted world-class players to the league which in turn improved the standard of the league as a whole.
"The games were quicker when I was at Portsmouth and the level of fitness that you needed was on another level to before.
"The league has continued to grow year on year since I retired and success breeds success and that is what we are seeing in the Premier League of today."
---
Harry Redknapp moved from Portsmouth to bitter rivals Southampton in 2004. You followed him by making the same move. It was a controversial move at the time for you and him. How did you handle such pressure?
"It was a strange situation for me because Portsmouth offered me a three-year contract to stay at the club which I accepted and was happy to sign.
"Then, Harry left suddenly, and my contract was withdrawn which I did not understand because I would have committed to Portsmouth regardless of Harry being the manager at the time.
"Velimir Zejec took over from Harry and made it clear to me that I wouldn't be involved under him which confused me as I was a regular at the club.
"He told me that he was instructed by the powers that be not to play me which was hard to take.
"Within days of Zejec taking over, I was told that I was being sold and that I would not play if I stayed but instead be left to rot in the reserves.
"A few clubs came in for me, but Southampton made the highest offer, and it was made clear to me that they were selling me to Southampton.
"It was a strange one, but I felt like I had no choice but to join Harry at Southampton."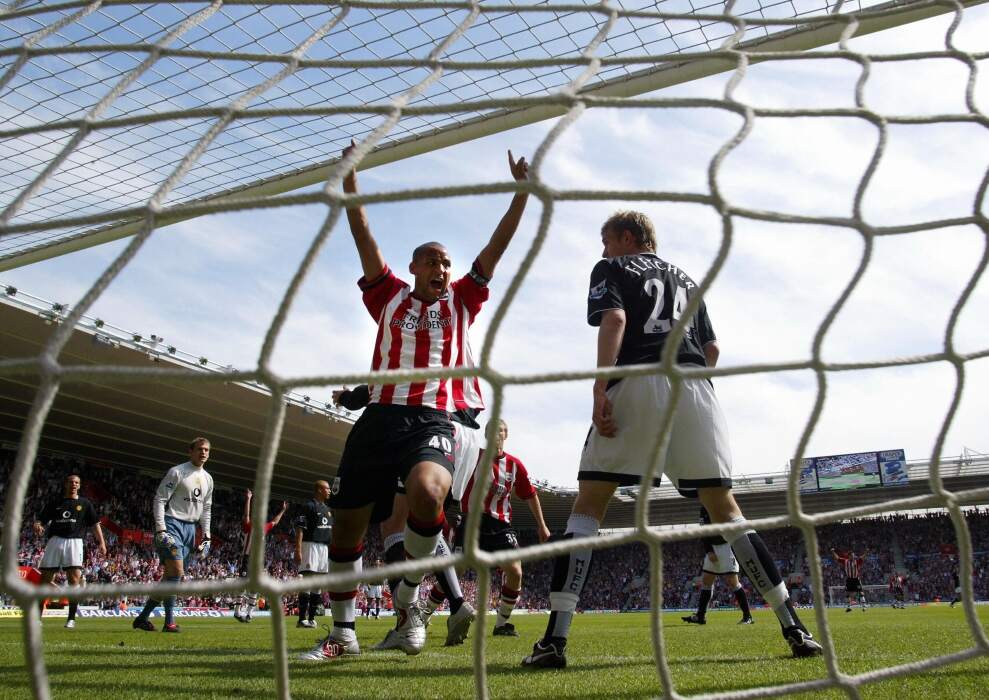 ---
You were at Southampton for 18 months before joining Bryan Robson at West Bromwich Albion. What was it like to work with such a legend of English football? 
"Bryan was another great human being. He was clear on what he wanted me to bring to the team, but he also emphasised that I had to look after my mental health given the trauma that I had been through earlier in my life.
"He was a family-oriented man, and he was always about the players. Looking after you and getting the best out of you was his priority.
"As soon as he called me, I knew I wanted to play for him.
"The supporters were great with me, and they still are to this day. I have a great connection with the club to this day and I have nothing but fond memories of the Albion."
---
You represented Scotland on fourteen occasions scoring one goal against Trinidad and Tobago. What did it mean to you to represent Scotland? 
"It was amazing for me and my family.
"My grandfather was Scottish, and my mum's side of the family are McFarlanes who are proud Scots.
"Berti Vogts was good with me, and the fans took to me too.
"I am devastated that injury prevented me from having the opportunity to earn more caps because it was such a source of pride to pull on the jersey.
"I was never the same after my ankle injury, but I am proud of what I achieved across my career and particularly with Scotland."
---
Finally, Nigel, you run your own football academy which has produced players for professional clubs in recent years. How proud are you to be able to give back to the game by developing young players?
"I finished my career over in Iceland where I was playing and leading the academy structure of the clubs that I was at.
"So, when I returned to the U.K. setting up my own academy was a priority for me.
"It is going really well, and I love being able to give opportunities to kids from my local community to thrive and enjoy their football.
"Many ex-players have academies that are in their name, but they do not do a lot of coaching.
"However, I never wanted that to be the case as I am proud to do a lot of the coaching with my young players.
"I have a passion for developing players and the academy has enabled twenty-one young players to date to go on and join a professional club academy full time which makes me very proud.
"We are building a new facility to take our work further, and I am delighted to be able to help local kids become the best that they can be because we all need an opportunity in life.
"I was fortunate to be supported by the likes of Ray Wilkins and Tony Pulis in my career and if I can do that for others then it would mean a lot to me and my family."