By Mike Rice.
Missing the playoffs is always tough, especially for teams with a rich history of competing in the postseason. Cascadia rivals Seattle Sounders and Portland Timbers both experience failure to reach the top seven in the Western Conference in 2022.
The Sounders had a record-breaking CONCACAF Champions League win, the first of any MLS side to do so, to fall back on, Portland didn't.
This was the first time under Giovanni Savarese that the Timbers had failed to reach the playoffs since he took over in December 2017. They missed out by just one point, finishing eighth in the table.
Decisions needed to be made about how to take the side forward so as not to miss out two years on the bounce. The squad has some ageing stars, Diego Chará turns 37 next year, and Sebastián Blanco will turn 35, while they already moved on from club legend Diego Valeri last season.
A new attack is being built which saw Santiago Moreno take a big step forward last season. The 22-year-old winger from Colombia really stood out in the front line and his pace and skill make him a very dangerous player in the final third. He is adding more quality to his end product, and 2023 should see a further jump.
The Timbers saw this improvement and have decided to add to the options with a club-record transfer signing of Evander from FC Midtjylland in Denmark.
Evander is a Brazilian attacking midfielder with a wealth of experience already at the age of 24.
A deal of around $10m has brought a player to Major League Soccer who was playing Europa League football earlier this season and was the tournament's leader in assists.
He had 50 goals and 38 assists in 167 appearances across all competitions with Midtjylland and will add to the attacking threat in the side.
Evander is a No.10, which signifies the passing of the torch from Blanco who has been struggling to deliver significant minutes for three seasons now — not surpassing 2,000 minutes since 2019.
"The biggest goal for us was to really start to get younger, to re-establish part of the core to hopefully keep some of these players together for three to five years and go again," technical director Ned Grabavoy told MLSsoccer.com.
Portland are doing just that with this signing, and also providing a boost to the reputation of the club and the league.
He rates in the top 83 percentile for dribbles completed as well as the top 81 in progressive passes received on FBref's scouting report, showing how he can create space to receive and run at defenders, something fans will be excited to see in 2023.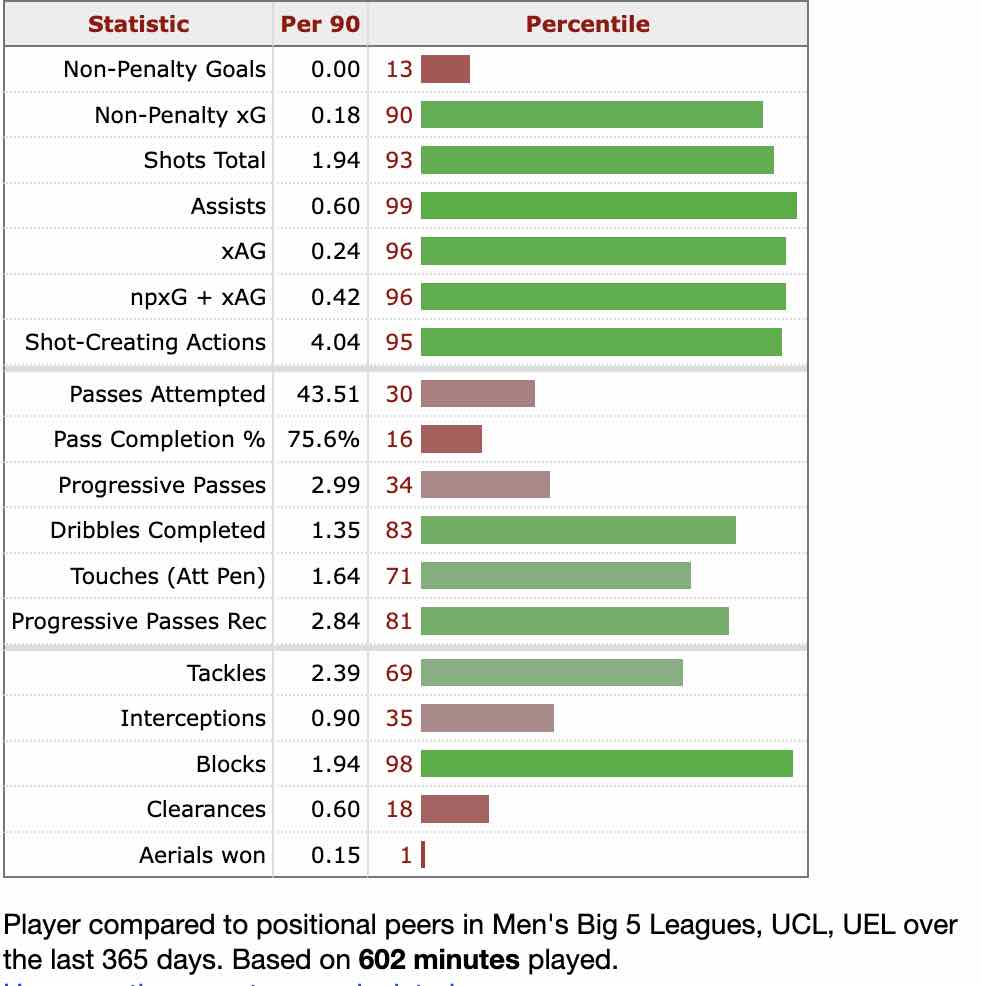 His pass completion is very low, as are his attempts, which highlights a couple of things.
A desire to carry the ball and shoot himself. Evander will likely look to receive the ball in dangerous areas of the pitch rather than drop deep and build slower attacks.
He has the confidence to try harder, more creative passes which come with big risk/reward connotations. This can make players frustrating to watch at times, but once they get in a rhythm with their teammates, it can excite and delight onlookers, especially fans.
When asked about his move from Europe to MLS, Evander said: "Of course the expectation from everybody was for me to stay in Europe, but it's not something that would take me down to go to MLS.
"It's something that will make me grow," Evander said. "MLS is growing. I have a lot of ambitions and dreams. I think I can realize that in MLS with Portland."
With such a marquee signing, the happiness of central midfielder Eryk Williams will need to be monitored since he had been rumoured to be searching for a new club.
Signing Evander, and showing intent on how Grabavoy sees the team moving forward, may be something which appeals to Williams who has been a top-level homegrown midfielder in the league.
A busy off-season is expected in Portland with a number of players already departed. Josecarlos Van Rankin saw his purchase options declined and returns to Chivas in Liga MX. It will be interesting to see if Colombian full-back Juan David Mosquera will make the step up in 2023 after being signed in the summer transfer window in 2022.
While Evander adds to an attack which still was the eighth best in MLS last season, attention will need to be directed towards the other end of the pitch before being prepared for kick-off in 2023.
Zac McGraw had his option picked up recently but there is a distinct lack of depth in the defensive end of the roster, and with more matches than ever in 2023 this will need to be addressed.