December 15th 2016 was a defining day in the history of the League of Ireland. It was the day that fans, the press, and clubs found out once and for all what John Delaney and the FAI really thought of their 'problem child' league.
It's long been suspected by fans that those in Adamstown didn't really care too much about the league, a fact shown by the €400,000 plus salary John Delaney earns as the head of the FAI, and that the prize money for winning the league is nearly €100,000 less than that.
No one really knows what he does to justify that salary, bar get drunk with Irish fans when the national team is abroad.
When was the last time you saw him at a match? Even Michael D Higgins attends more League of Ireland games than the head of the FAI.
The FAI commissioned Jonathan Gabay to prepare a brand report, a pro active step some might say, a step that might see the league get the backing it deserves. What it turned out to be was nothing short of comical and an insult to those who attend League of Ireland matches in a weekly basis.
The report was on the desk of John Delaney last month and he labelled it very impressive and a very good report. Sure why wouldn't he? According to the report he was the greatest man in League of Ireland history.
Gabay started of the report by listing out all the achievements that John Delaney has been responsible for when it comes to the League of Ireland brand.
Gabay said "I'm reading out this list because there are so many things to remember." So many things to remember me hole. Those comments set the tone for the entire presentation.
If club officials who attended the presentation thought the report would be one that could move the league forward, these expectations were out of the window with that one statement about Delaney. As I write this I'm still trying to get my head around it.
Gabay then went on to attack the league's fans, criticising the use of flares at games (especially the big games), criticising fans for their anti FAI chants, and calling those who part take in them empty vessels, way to go Jonathan.
Next up was an attack on the clubs. His take on the clubs was that they were greedy for looking for more money from the FAI, something he emphasised by use the euro sign at the end of the word more which appeared on the presentation screen.
I'm shocked that clubs want more money, it's not like they can run their clubs on fresh air and love. Shame on them. Don't they know that the FAI are hard up for money – we'll not mention the €5 million bribe paid of the Henry handball.
As surreal as all this sounds it went from bad to worse. One of the ideas that he came up with was clubs to paint the bus station poles outside individual stadia in the club colours – this one actually made me laugh out loud.
He didn't go in to the cost of this, who was going to maintain them and had any of the bus companies being approached about this idea?
He also seemed happy with the average amount of fans attending games on a weekly basis, just under 1500 for Premier Division games and just under 509 for First Division games.
I don't know what he was smoking but for me those figures are completely unacceptable for a league that he described as cool.
A lot needs to be done to promote the league itself and upgrade facilities round the country, just don't ask the FAI for help doing these thing, your club might be conceived as being greedy.
Here's a full list of the proposals from Gabay;
The creation of a specially designed League of Ireland bus that would travel up and down the country brandishing a new logo
Bank Holiday games with sides from America's MLS and NASL
A Hollywood walk of fame leading up to grounds commemorating star players
Uplifting pre- and post-match music
Local bus stops painted in club colours
Local bus stops offering live scores
Half-time EA Sports gaming tournaments on giant screens in the stadium
Managers encouraged to speak controversially in the media
Name change from SSE Airtricity League to the 'League of Ireland sponsored by the SSE'
Crackdown on use of flares and discouragement of anti-FAI chants at matches
Encourage managers to be more controversial when speaking – yeah to fine them so they can line their own coffers from already hard up clubs – again well done Jonathan.
Let's compare them to say a proposal from an actual match attending League of Ireland fan;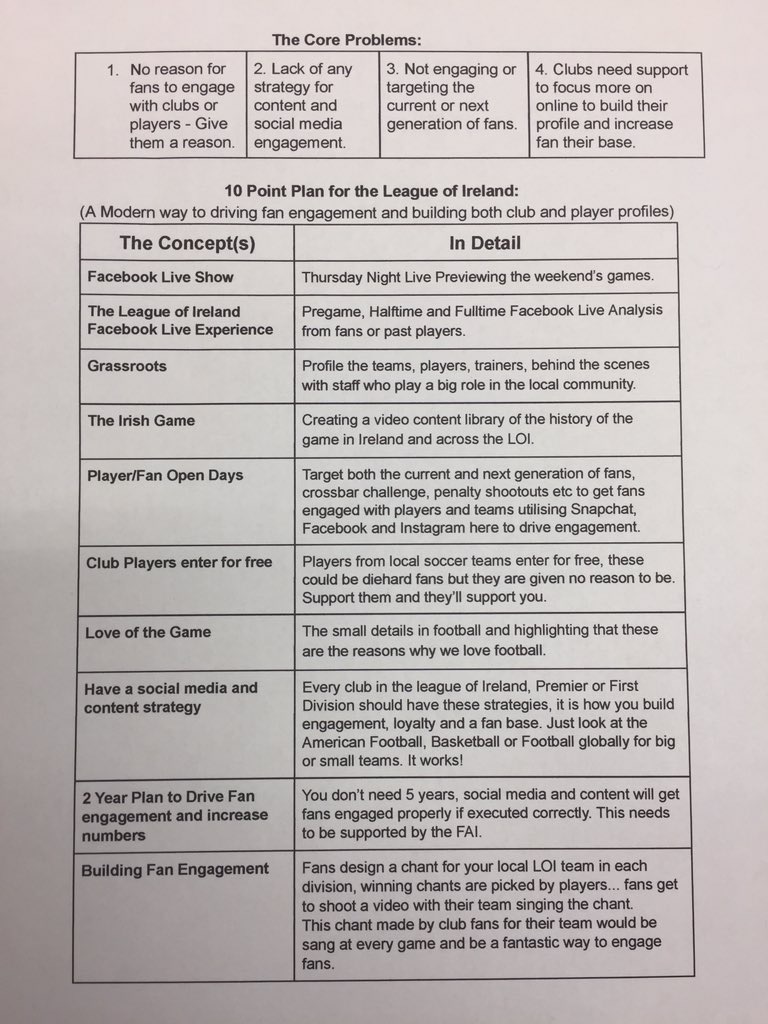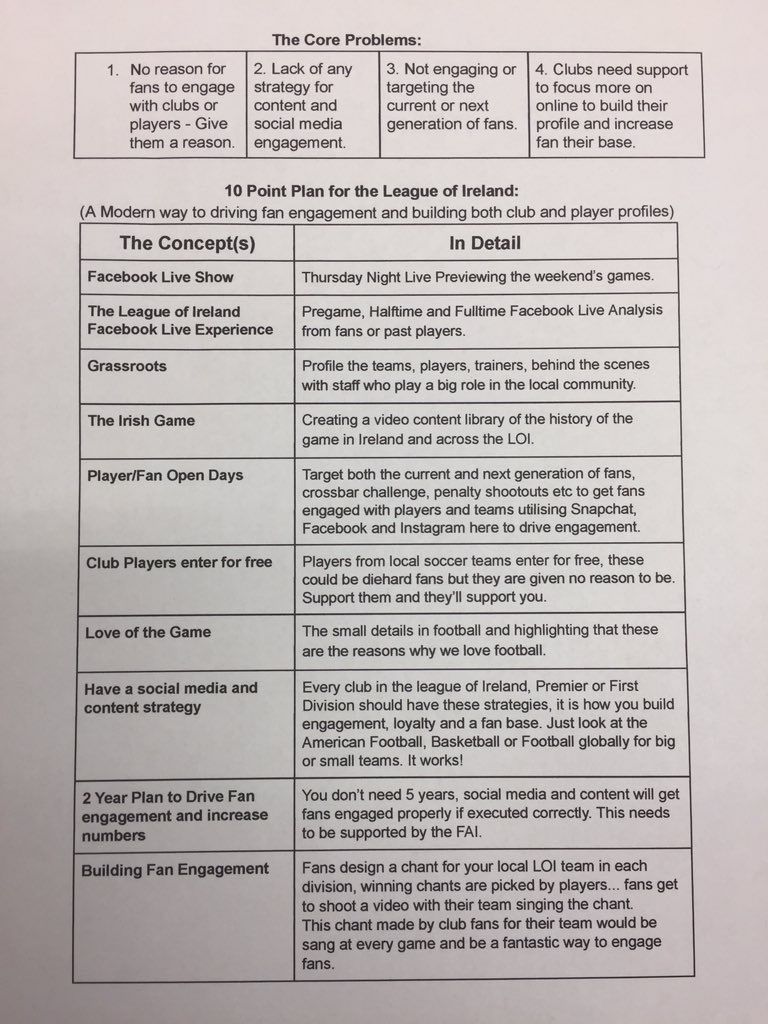 These were done by Shane McCarthy and apart from the singing one, these are a lot more realistic than those put forward by Jonathan Gabay.
We all know that the FAI stinks from the bottom to the top, that they have no interest in their 'problem child' unless it suits them.
They have sat back while clubs have gone out of business and have done nothing to try and improve the league to make it a more enjoyable experience on match days.
As someone put it to me, no one has the balls to go against Delaney so he'll be there until the day he has to retire, and at that stage I fear the league will be gone from a national league to more of a regional one.
Delaney needs to go it's as simple as that, some one needs to stand up to him and show the league that it's worth fighting for and embracing otherwise by the time I'm a grandfather the League of Ireland will be a distant memory.
By Aaron Cowley
---
---
The views expressed in all WFI articles are the author's own, and don't always reflect the views of WFI.