One day in the future, when extra terrestrials come to earth having analysed our species with a number of curious questions to ask in relation to how we function as race, they will most certainly want to know about our obsession with a game that originated from kicking a pig's bladder into a net — once we have explained Boris Johnson and Donald Trump, of course.
The best explanation can be found on the holiest of holy days for a football fan, Saturday, at one of many respective churches around 3pm, unless Sky have made a last minute fixture change, writes Tom Johnson.
The air of a football match is unlike any other: rich with expectancy, dread, false hope, determination, and so much more besides. The fact that it can only take a wild miss, an unpunished tackle or a wayward pass to spark a lifetime bond with the person next to you embodies the power of the beautiful game.
Football's answer to John Peel – the late, great Sir Bobby Robson – sums up rather succinctly how powerful the feeling for a team (and therefore the game) can be in his book Newcastle, My Kind of Toon: "It's a small boy clambering up stadium steps for the very first time, gripping his father's hand, gawping at that hallowed stretch of turf beneath him and, without being able to do a thing about it, falling in love."
Where there's love it, doesn't take too long to find hate. Psychologically speaking, the two are very close, and the old saying of Nothing unites like a common enemy is no better encapsulated than in the world of football. Towns and cities can be in flames and at each other's throats, but when the local rivals come to town, petrol bombs are replaced with beers, and the loud, incessant shouting transforms into unified chanting: "Who are ya?"
Derby day is a day like no other in sport, and it seems that football has taken derbies to another level of hatred, bitterness and sheer bloody-minded stubbornness. Sir Bobby was involved in many-a-derby, including the greatest derby of all, if you ask any of the TV broadcasters of Europe's major leagues: He won two out of four El Clasicos, and one of those was made sweeter by the lifting of the Copa del Rey after knocking Los Blancos out in their first round.
El Clasico is an example of how hate plays such a massive role in the power of football to encompass the soul of a fan. During a derby, the emotions one feels range from sheer delirium, akin to a chemically-induced high, to absolute dread and nausea, akin to too much of a chemically-induced high. So, apart from the similarities between supporting a team on derby day and taking a pill and going to the Hacienda in the early 90's, these emotions also help to explain why 650 million people worldwide watched the most recent domestic Clasico.
A long time ago, this rivalry didn't exist. Before General Franco, before Real Madrid's dominance in the European Cup, and before even La Liga, Barcelona were restricted to playing regionally like the rest of the then Republic of Spain. If they won their regional championship, which they did 23 times, they would go into the Copa del Rey, which was essentially the Champions League of Spain.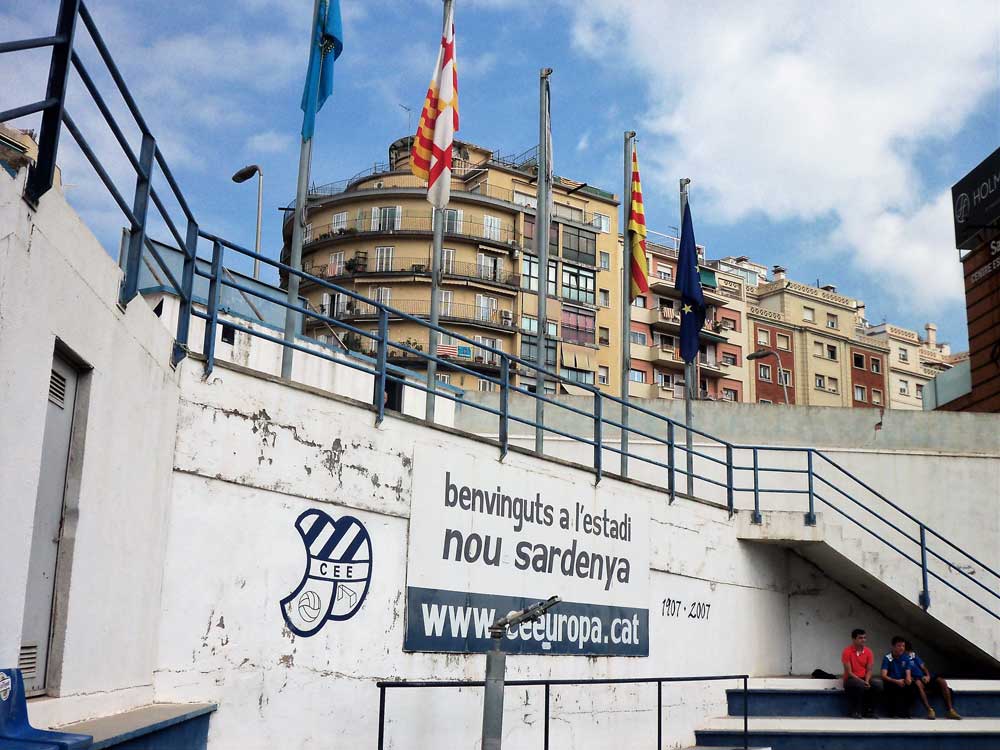 In those times another team in white emerged to become La Blaugrana's first rival, and although the later rivalry with Real Madrid has since overshadowed this, like a first girlfriend, nothing can take away the memories of a first rival.
During the 1920's, when football had evolved from a simple game that some English labourers introduced to a bunch of locals in the Basque country into a rudimentary version of what we know it as today, Club Esportiu Europa were the second team of Catalonia based in the then village (and now trendy neighbourhood) of Gracia.
CE Europa – or CD Europa as they were known in the 20's – formed in 1907 thanks to a merger between two clubs, La Provencal and Madrid de Barcelona. They chose the name Club Deportivo Europa as another club around at the time named FC Europa were about to go bust, and to save money on registration fees, they altered the name slightly.
They changed from the Castilian 'Club Deportivo Europa' to the more Catalan Club 'Esportiu Europa' in 1985 during the birth of a more democratic Spain a decade after the death of Franco. Rumour has it that, because CE Europa played on a field next to the construction site many tourists flock to these days known as Sagrada Familia, Antonio Gaudi was a fan. He was alleged to have been enjoyed the strip they sported and would watch them during breaks between building the now infamously unfinished church.
They also celebrated their centenary year a decade ago, and as part of this celebration, Ramon Vergés i Soler wrote a definitive guide of their history, Història d'un Històric. Packed with statistics, pictures and everything you could wish to know about the club, it has been tremendously useful for this article.
When discussing rivals to FC Barcelona, it must be noted that Espanyol were set up in direct opposition of them, specifying that only 'locals' could play for them, which goes against their intercity rival's mantra of allowing anyone to play if they were good enough. However, due to Espanyol's ground being one of the first to install ticket offices, making it impossible for any fans to sneak in, many were deterred from watching them, and went to watch one of the other Catalan teams instead.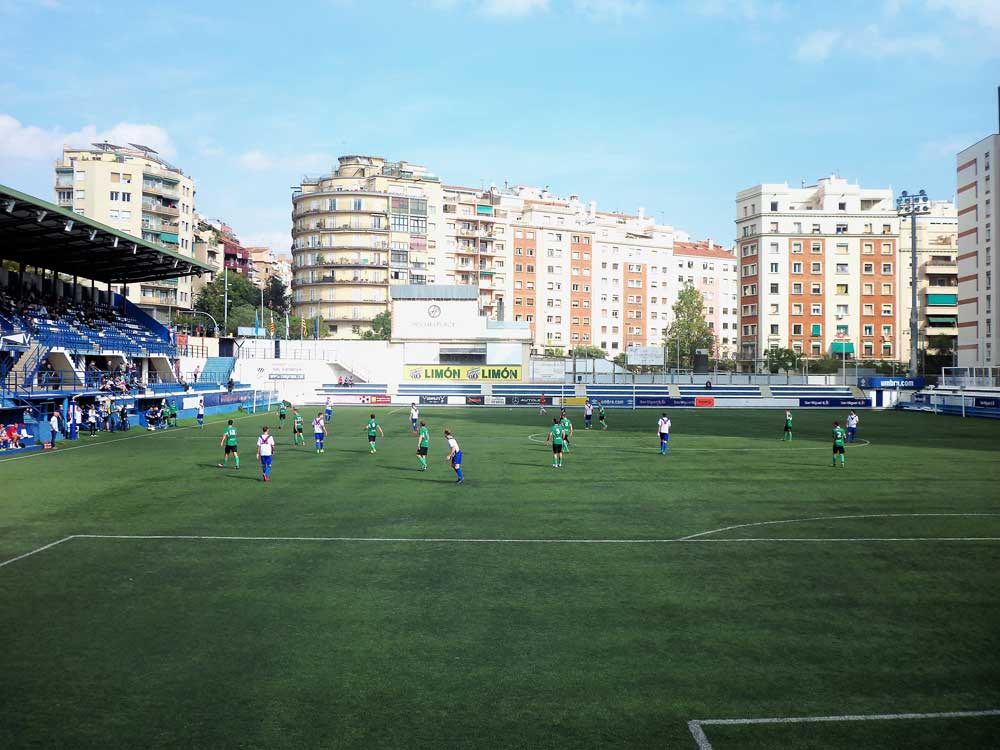 From their creation until their early adolescence, CE Europa scrapped around the lower echelons of the Catalan divisions until back-to-back promotions ended in an emphatic 16 – 0 aggregate score over the team bottom of their superior division, Atletico Sabadell, ensuring promotion to the promised land of the Campionat de Catalunya, 1a categoria, grup A for the 1919/20 season.
Whilst they found life in the top tier hard work at times, finishing joint second bottom was enough to avoid relegation, but the highlight of the season came away to eventual champions Barcelona. The home team managed to snatch a draw from the jaws of defeat thanks to a last-minute equaliser from Ramon Torralba at Camp de la Indústria (Barcelona's first home) to secure a 3-3 draw. This game was the last of the campaign, and it halted Barça's pursuit for a perfect season; it would prove to be a sign of things to come.
The following year, something revelatory occurred in the shape of CE Europa's first manager. Ralph Kirby was a retired professional footballer who made his name as an outside right attacker for the Royal Army Medical Corps before being picked up by Fulham and then his hometown club Birmingham. He retired in 1918 and felt a change in scenery was needed: that new scenery would be Spain, and in 1920 it became CE Europa.
He had an immediate impact on the club, with the team playing more friendly games locally as well as teams from further afield. Kirby took advantage of his English connections and set up friendlies against Middlesex, Tufnel Park, Durham City and his former side Birmingham. Not only did this expose them to many different styles, but it also kept their fitness at a high level, which made a huge difference in terms of performance.
This was an age alien to today's footballing elite, exemplified by the biggest and highest paid player in the country, Josep Samitier. He was often seen by the directors of his club FC Barcelona walking along Las Ramblas in the early hours, cigarette in mouth and a girl on each arm, hanging on his every word. Of course, the players of CE Europa enjoyed a night out too, but unlike the big wigs of Barcelona, they weren't as technically gifted, nor as financially supported by their profession. Therefore, fitness became one of their aces in the hole.
Kirby's first two seasons as manager led to consecutive second-place finishes. Whist this was a sign of great progress, the lack of silverware meant more onus was put upon defeating the great FC Barcelona side of the 20's. Lead in attack by goal-scoring machine Paulino Alcántara, the villain of the piece when the teams met in the 1921/22 season, equalising for Barcelona in the second half at CE Europa's Camp de Sicilia.
Alcántara was from the Phillipines and made his debut at 15, scoring a hat-trick, only to be sent to his native country to complete his medical studies. According to legend, he later returned to Catalonia when he contracted Malaria in 1917, and refused the medication until his parents agreed to let him return and play his beloved sport for his beloved team. He would go on to score 369 goals in 357 games, a record that stood until a nifty dribbler from Argentina beat it not so long ago.
With Alcántara up front, Samitier pulling the strings in a role never before seen in football – the pivote – and the legendary Ricardo Zamora in goal, Barça were one of the great forces in world football at the time, along with Athletic Bilbao, who had Rafael "Pichichi" Moreno, a player still regarded as one of the great centre forwards to play the game.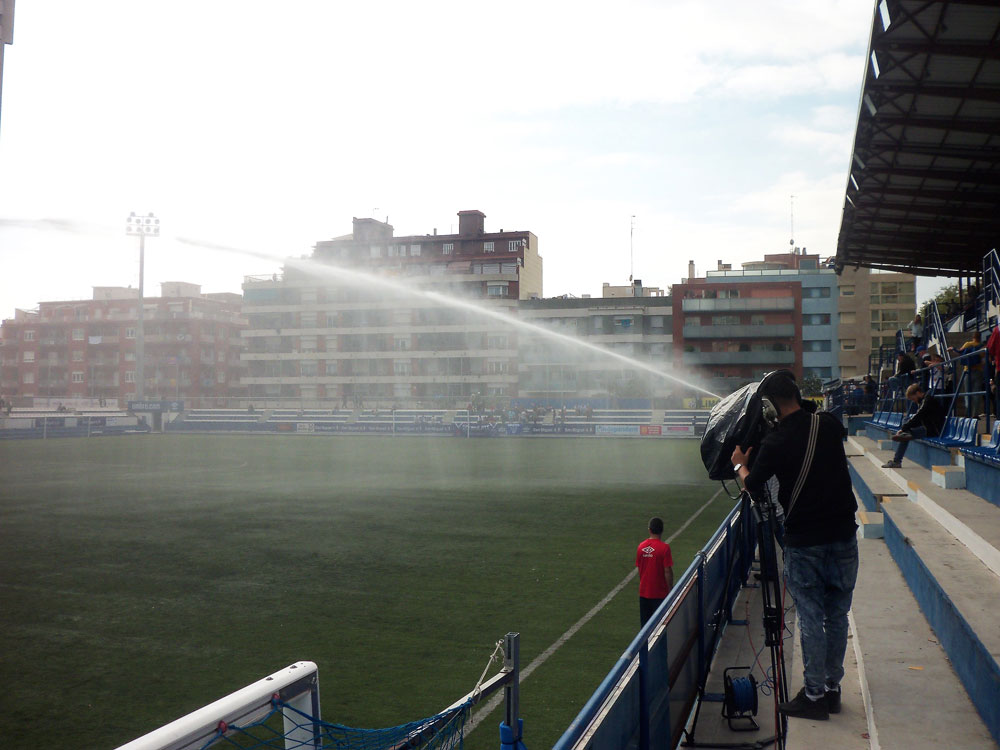 CE Europa had the right manager, and their devotion to fitness set them apart from the others; all they needed now was a genuine star to propel them towards winning a trophy. He arrived from FC Martinenc in 1922, in the form of a strong and powerful forward who would go on to score a total of 99 goals for the club in ten seasons – a record never bettered –  including the honour of being joint-top scorer in the debut season of La Liga. He was Manuel Cros i Grau, or simply Manuel Cros to his adoring fans. He was the perfect player for the time, with a strong and heavy frame defenders would hate to play against, and a fantastic heading ability due to his tree trunk-like neck.
He also managed one honour not bestowed on any other legend of Catalan football, and that was having his own haircut. Many locals could be heard telling their barber "talli'm el cabella l'estil Cros" meaning "cut my hair Cros style".
The introduction of Cros to the team was the last piece in the puzzle in what would turn the 1922/23 season into the most memorable in their 110-year history.
It started with a bang, as eventual third-place finishers Sabadell defeated Barcelona in their own backyard 2-0, showing the rest of the league that they weren't invincible. Lamentably, no one was taking notes, as they would embark on an unbeaten run that would see them to the end of the season. The only blotch on their record was a 2-2 draw away to CE Europa, whose stadium was fast becoming a place of frustration, as this was Barcelona's third draw in a row there. In short, being frustrated so often by Kirby's men began to eat away at them.
CE Europa were having their best season to date, with an identical record to their rivals. With Cros as the jewel of their attack, they were the division's top scorers, averaging more than three a game. A 7-1 destruction of Sabadell at home along with a 4-1 victory away to Espanyol were the season highlights, but the drama at the end of the season would be a first for Los Escapulados of Camp de Sicilia. The season ended with both teams unable to be separated with 17 points and +7 in terms of goal difference. Thankfully for CE Europa, the authorities hadn't discovered the head-to-head rule used today, which would have ruled in favour of the then-current champions due to their 2-0 victory at Les Corts.
A winner-takes-all playoff would be played at a neutral ground in Girona – Camp de Viste Alegre – in front of 5,000 eager supporters. For Kirby and co, it was the ultimate test; they would have to defeat the legendary and outstandingly gifted FC Barcelona team for the first time to be crowned champions of Catalonia, which in turn would allow them to play the crème de la crème of Spanish football in the Copa del Rey.
The opportunity for someone to write themselves into history was there for the taking, and one man stepped up and sparked wild celebrations in Gracia. The solitary goal came after 48 minutes from the left-sided striker Antonio Alcàzar, who would later go onto become CE Europa's first player for the Spanish national team in the 1928 Olympics. After the historic victory, the club's members increased to 5,600, putting them as close as they have ever been to Barça in terms of support. This was not only down to the glory hunters jumping on the bandwagon, but because of the likelihood of seeing Los Escapulados go up against the best of the rest.
After a valiant run to the final – defeating the champions of the south Sevilla 6-1 on aggregate, and then Asturian champions Sporting Gijon in what turned out to be a nail biting 5-3 aggregate result with Sporting missing a penalty with the game finely poised – they came up against one of the best teams in the world in Athletic Bilbao. Strong, hard-working and rough, this would prove to be one test too many for CE Europa.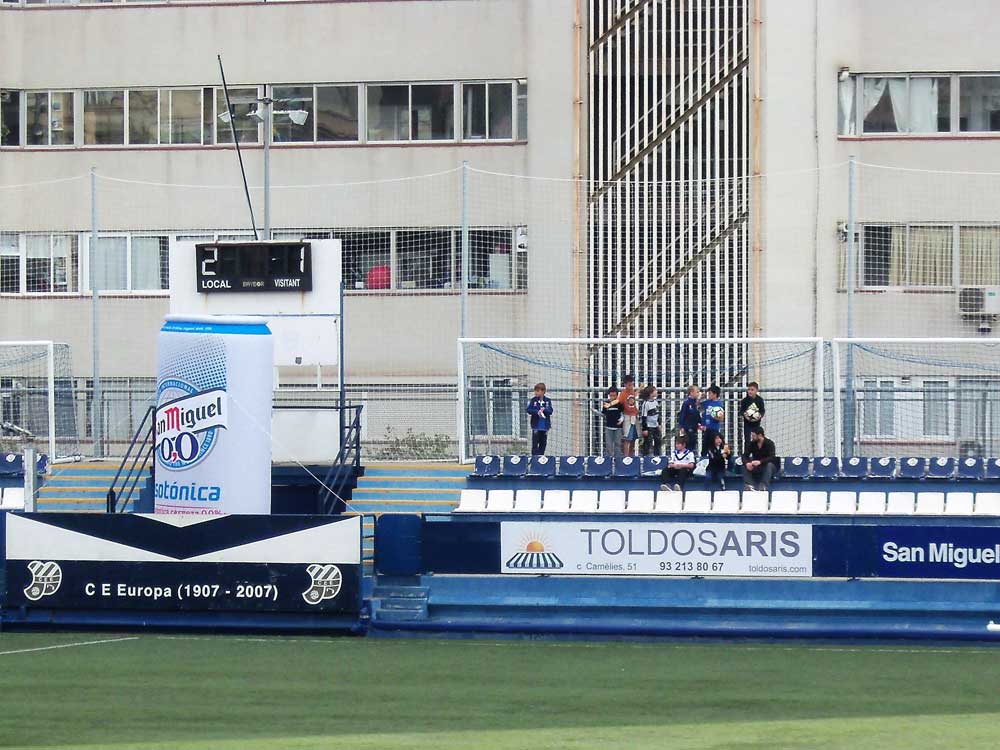 The game was played in Barcelona at Les Corts stadium, the home of FC Barcelona at the time. It was played on the 13th of May 1923 to a reported attendance of 30,000. Still feeling raw from the playoff defeat, many Barça fans and even some players turned up to the game in support of the Basques. This, on top of the weight of expectation that CE Europa felt in their first major final, meant the team were timid and meek in the first half. Halfway through, CE Europa midfielder Artisus gave the ball straight to Athletic forward Echevarria in his own half, who needed no better invitation to feed Travieso who scored the game's solitary goal.
According to reports, CE Europa peppered the Athletic goal in the second half with goalkeeper Vidal earning man of the match in the eyes of many newspapers. Europa hit the woodwork ten times, but simply could not find a way past the Basque giants. This delighted many of Blaugrana, and from then on, the game to watch in Catalonia (and later in La Liga) was CE Europa v FC Barcelona.
After their only year as Catalan Champions, CE Europa finished second again, as their now-bitter rivals finally managed a dramatic 5-4 win at CE Europa's new ground, El Guinardó. As the team drifted toward mid-table mediocrity, the next year Ralph Kirby moved on and became a figure of hatred, a kind of early Luis Figo, when he appeared in the dugout of Barça to save them from their own mediocrity and bring home the Campionat de Catalunya in the 1924/25 season.
He then retained the Catalan crown the following year before leaving due to his players not agreeing with his exotic methods. He would later return to El Guinardó when CE Europa needed him to save them from relegation from the newly founded La Liga in their third season, but it wasn't to be, and financial disarray came hand-in-hand with their exit due to a new stadium, expenses from travelling, and high wages forcing the club to plummet to the basement of the Catalan football pyramid, never to find their way back to La Liga again.
Fast forward sixty-odd years, and unlikely back-to-back victories in the newly structured knockout version of the Copa Catalunya against old enemies Barcelona happened to the surprise of many in the 1996/97 and 97/98 seasons. In the first of these two games, managed by Sir Bobby Robson, Barcelona were forced to turn to Ballon d'Or winner Hristo Stoichkov in order to try and save the day in the second half, but even when CE Europa had two players sent off in the last ten minutes, it wasn't enough to stop the 3-1 upset.
In a repeat the following season, when Louis Van Gaal had taken over and Robson moved upstairs, Barça lost on penalties after the game had finished 1-1, with the decisive penalty was missed by future superstar Xavi Hernandez. But unlike the old days, the grudge wasn't mutual, and the two teams met like old enemies embracing fondly, with glints in their eyes rekindled by what they experienced together.
Although many Graciens partied long into the night after each respective victory, nothing will eclipse the championship win of 1922/23, their run to the Copa del Rey final that followed, and their three seasons at the very top along with the country's best. It's fair to say they flew too close to the sun, but with a civil war around the corner that would swallow national resources, it's highly doubtful they would have been able to carry on.
For a time, CE Europa were seen as the clear opposition to FC Barcelona, and the fact they were so unlucky against Athletic Bilbao meant their name rang out further than Catalonia. Both Athletic and Barça went on to achieve great things, with the latter moving on from their first rivals thanks to Real Madrid's European dominance and the political undercurrent that bubbled away for so many hard years under Franco.
The fans of CE Europa felt those hardships too, but whereas Barça still take up the fight with their imperialistic enemies, today Los Escapulados battle it out with their modern rivals Sant Andreu, making sure to remind them of their illustrious past. With Catalan flags flying high like kites in the wind and banners saying 'Welcome Refugees', the ultras of CE Europa focus as much on the present as they do on their prior glory days.