The Naples Narrative says Maurizio Sarri should not have been allowed to leave. Or rather, he should have been given the incentive, the encouragement to stay and finish the job he had started.
There was no one more suited to the task of catching Juventus, tactically or emotionally, and he had narrowed the gap on the perennial champions during each of his three seasons in charge. Nine points, five points, four points… Chelsea.
Carlo Ancelotti's early contributions to this story, through his actions and words, indicate that he is aware of its arc. He is respecting and using the strengths instilled in this squad by his predecessor, but he faces a huge challenge if he is to close the gap further between Napoli and Juventus.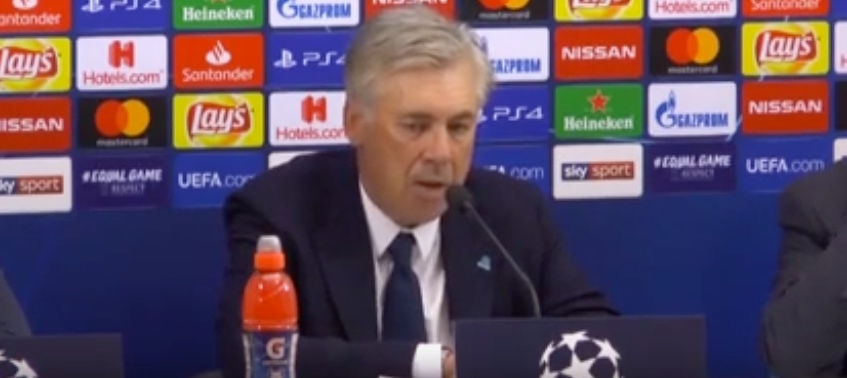 "Everyone did well in midfield, in particular they were quick to get the ball back."
"We recovered the ball very close to their goal, where we need to be."
Just two snippets from Ancelotti's post-match press conference after seeing his side defeat an out-of-sorts Liverpool in the Champions League thanks to Lorenzo Insigne's late winner.
These words could easily have come from Sarri himself.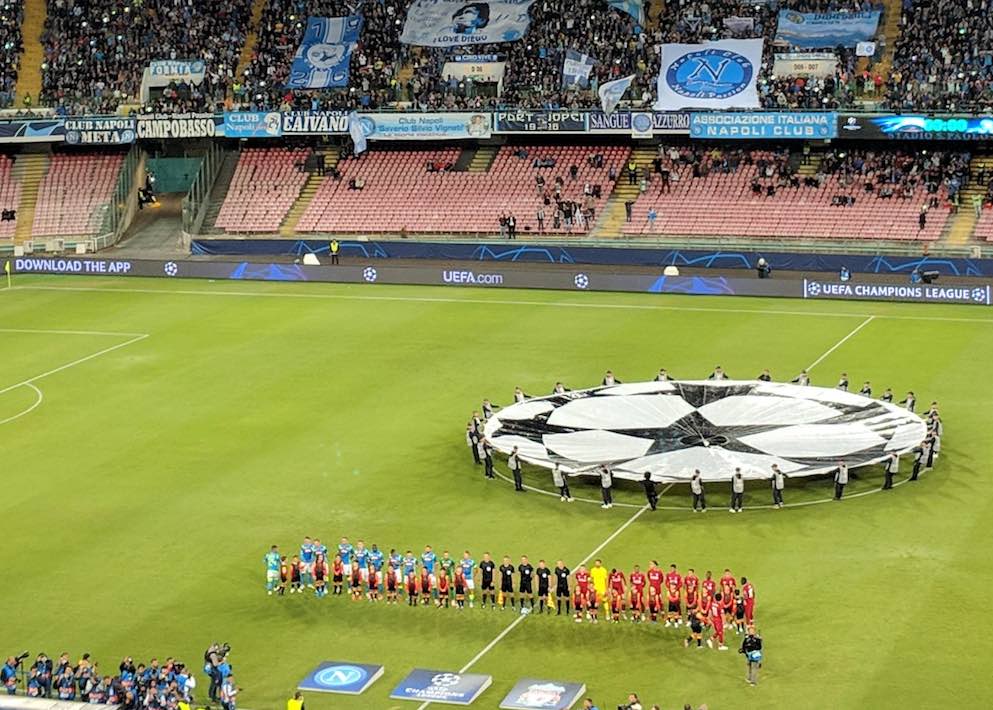 Jurgen Klopp, meanwhile, said Liverpool's problems were all of their own making, but Ancelotti believes they were forced into the these errors by his players' hunger and by the way he set up his team.
"I have a big part of that performance," said Klopp
"It was my fault for sure but I need at least one night to watch the game again to know exactly what the fault was. But it looked not like it should have looked."
Ancelotti's back line was a cross between a back three and a back four. He referred to it as three centre backs, which technically it was, with the imperious Kalidou Koulibaly being joined by fellow central stoppers Raúl Albiol and Nikola Maksimović.
However, Mário Rui played as a left winger in attack, but joined the back line in defence forming a back four. Maksimović was a right back when defending, but acted as a third centre back when the side were building their attacks. This helped prevent opposition counter-attacks but also allowed Napoli to build from the back.
On the right José Callejón was stuck to the touchline, supporting Maksimović as a conscientious winger tracking back to help rather than operating as a genuine wing-back.
The image below shows Napoli's formation in attack. Callejón is so tight to the touchline that he's almost stood on Jurgen Klopp's feet, while Rui can be seen stretching the play on the opposite wing.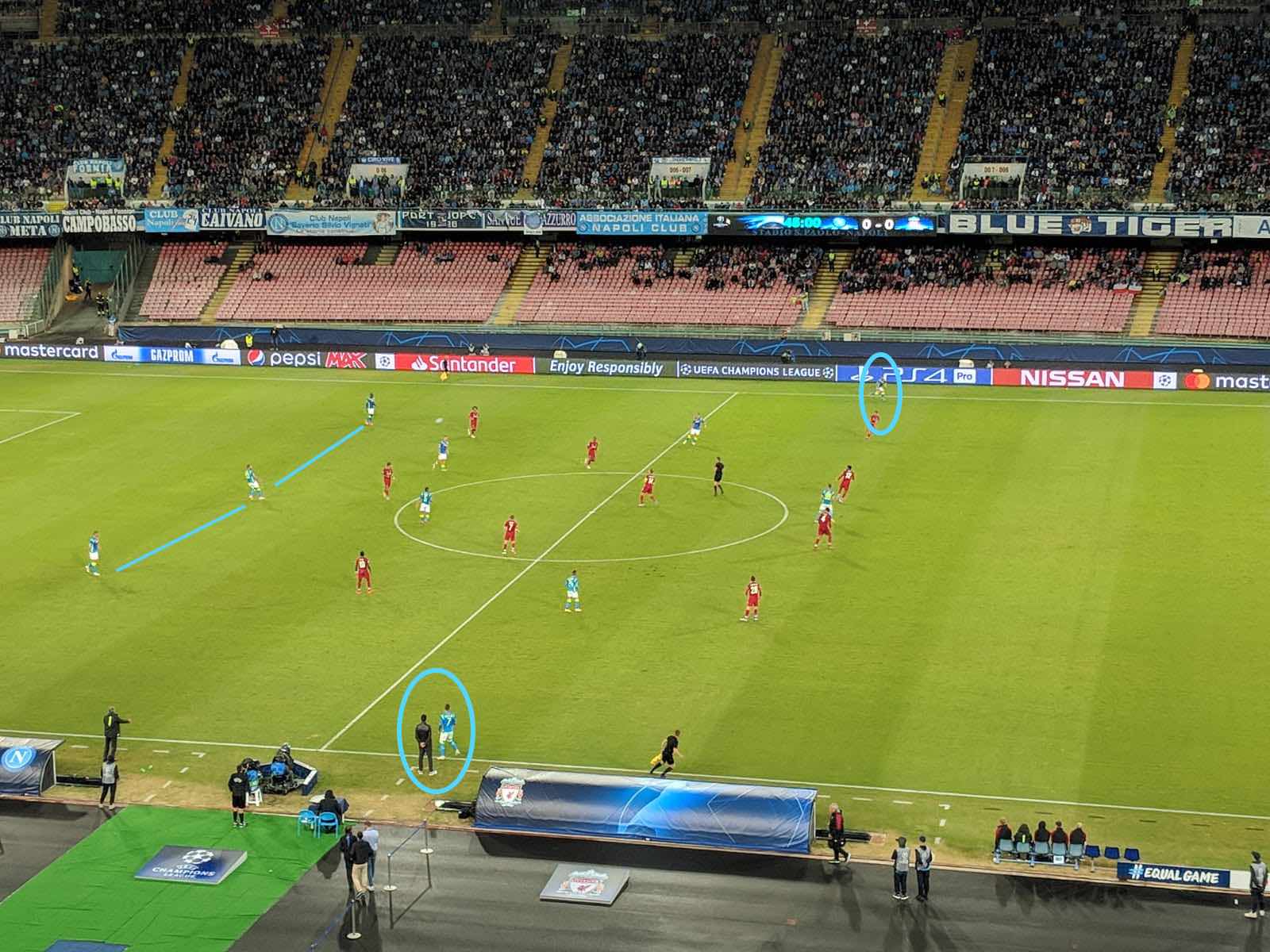 Ahead of the back three Marek Hamšík plays his new role deeper in the midfield, forming the more creative part of a double pivot with the excellent Allan, who is one of the best all-round box-to-box shuttlers going.
Fabián Ruiz's role is similar to that played by Hamšík last season, but he'll drop to the left in defence to form a midfield four.
Insigne can press from front and his more central role allows him to get in the faces of the players at the heart of the opposition's build-up play, while one of Arkadiusz Milik or Dries Mertens joins him up top.
The image is also a good example of Liverpool's 4-3-3, particularly when they are defending, and Klopp may realise when he watches the game that a tweak to the shape is needed for them to control the game against this type of formation.
"We interpreted the game really well," added Ancelotti.
"We studied Liverpool and changed a bit the way we play, with an extra central defender. We were able to build from the back, getting Hamšík and Allan doing that. Overall it's been a good approach from the team and a perfect balance at the same time to avoid the counter-attack and manage the strong strikers up front.
"The idea was to limit their pressure. we wanted to do something different from the friendly [defeat] in July when we played two centre backs. Mane was going on one and Salah on the other to make space for Firmino. That's what they do on the counter-attack and we wanted to limit that."
The former AC Milan boss was talking a good game and in terms of his knowledge and personality he seems suited to picking up where Sarri left off, adding the occasional extra dimension from his own playbook.
He'll never replace the Bagnoli-born Sarri in the hearts of Napoli fans (especially with his northern roots) and he knows this, but Naples is a city engrossed in football and they at least have that in common.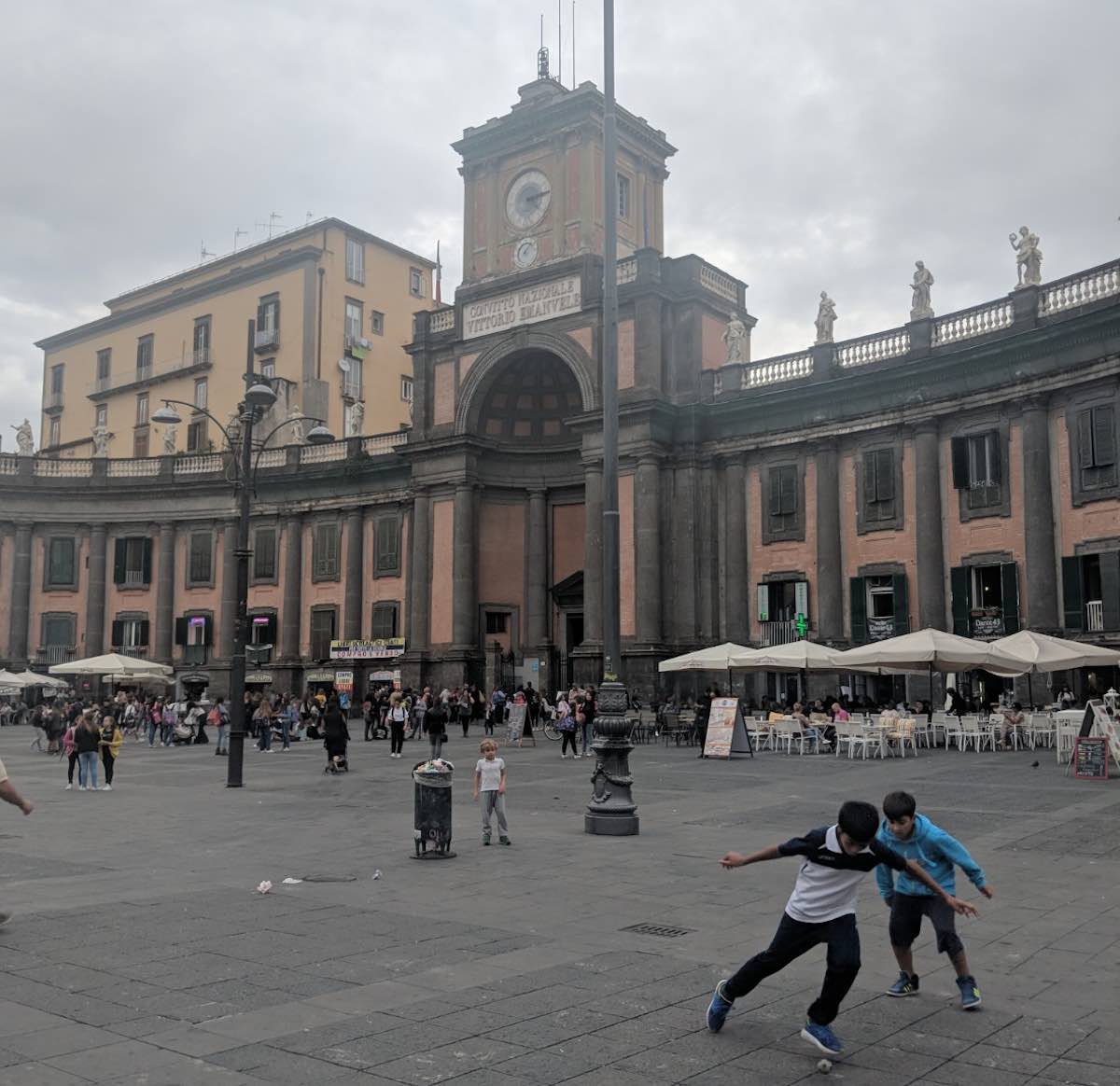 Whether this translates into results on the pitch remains to be seen, but Ancelotti is already improving on one of the few areas Sarri received criticism — rotation.
Sarri used 23 players in the whole of last season, Ancelotti has used 21 just nine games into the new one.
But there is already a gap between themselves and Juventus at the top of the table.
It appears unrealistic for anyone to challenge a team who, like Paris Saint-Germain in Ligue 1, are building to compete in Europe knowing that they already have their domestic league in the bag. But challenge them is something Napoli have done during the past two seasons, and will be expected, by their own fans at least, to do so again.
Sarri brought Napoli to within four points of Juventus last season, and there has been a realistic chance of them winning the league during those campaigns.
Under Sarri's management they posted record points totals, and managed to take the club beyond 80 points in each of his seasons there.
Their win percentage was at an all-time high, even when compared to those title winning seasons in the Maradona era.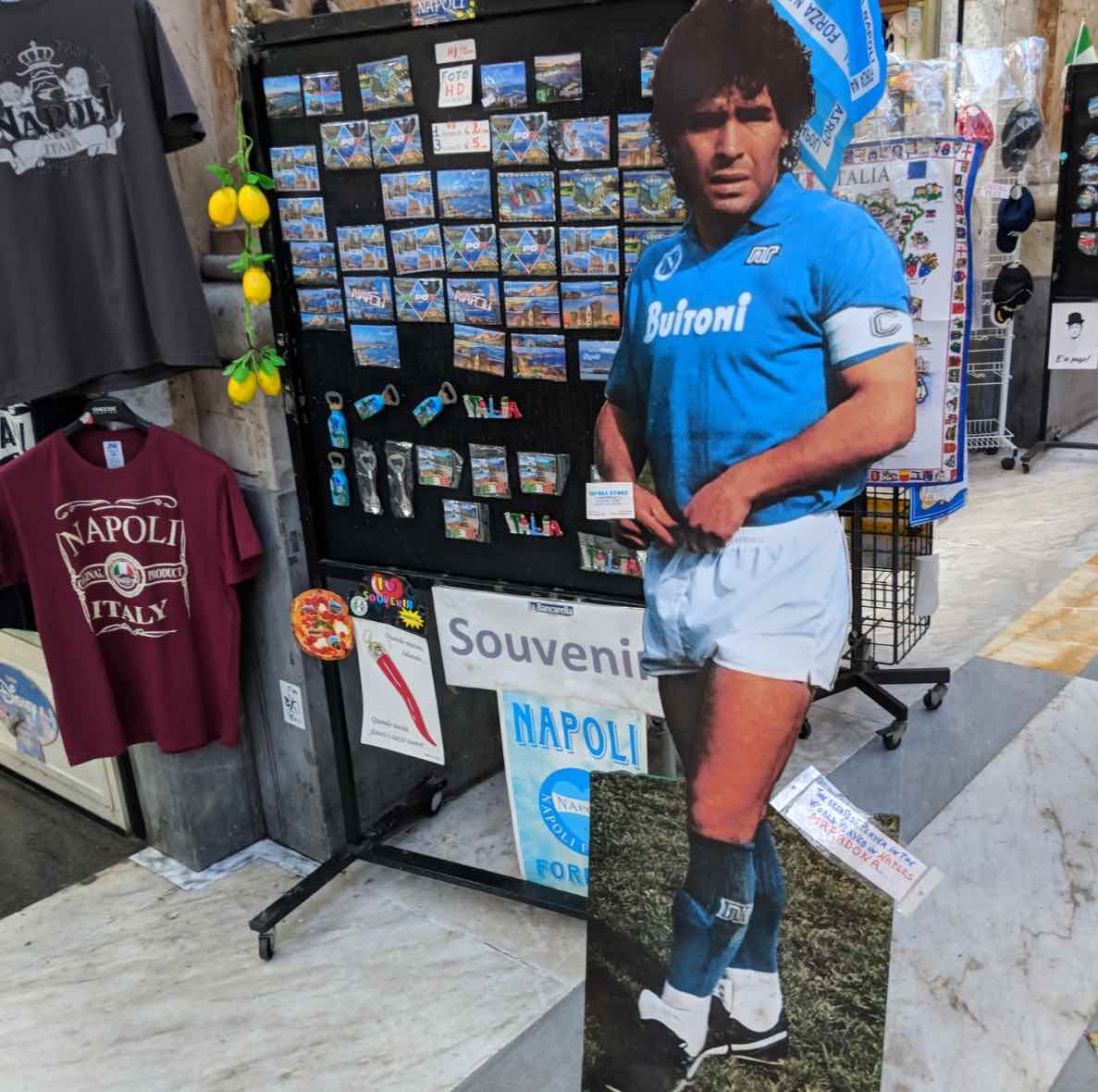 So Ancelotti has work to do. This isn't a season where rebuilding is an excuse for compromising the style of play, winning fewer points in Serie A, or the widening of the gap between themselves and Juventus.
One of the slogans Napoli fans use is "al di la del risultato" which translates roughly as 'beyond the result, or 'more than the result' indicating their support, win or lose, but also that style is as important as substance.
The game against Liverpool showed that Ancelotti has new ideas which can build on Sarrismo, but will they be enough to remain competitive in the league?