When Liverpool face Napoli in the Champions League it will be their third game in the space of a week. The first two were against Maurizio Sarri sides, and in some ways their third will be too.
That's not to diminish the impact of Carlo Ancelotti — the man who's replaced Sarri at the helm in Naples — but the outgoing manager's influence and style was such that it created a new identity for Napoli and one their fans will hope to hang on to, especially as it produced their most successful league seasons in modern times.
Sarri may have revolutionised the football on display at the San Paolo, but he wasn't able to win a trophy. This is where the club hope Ancelotti will come into his own.
Juventus have won the league for the past seven seasons, and It will be difficult for Ancelotti to stop them making it eight, but he might look to make more progress in cup competitions. He's already shown a willingness to rotate his squad — something Sarri was criticised for not doing enough — which should allow them to compete on more fronts.
The four-time European Cup winner has changed a few other things too.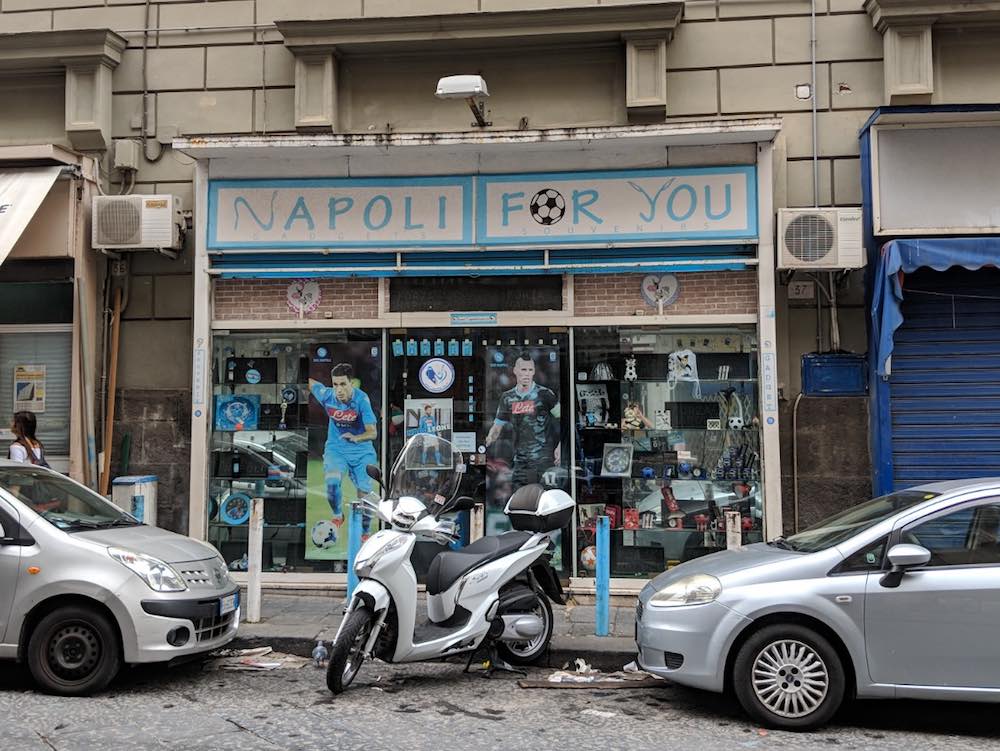 Before they met Juventus as the weekend, where they took the lead, showed encouraging signs, but eventually fell to a 3-1 defeat; opposition manager Massimiliano Allegri commented on the job Ancelotti is doing.
"I have no doubt that Carlo has been smart enough not to destroy the great things that Sarri has done in the past three seasons," said the Juventus boss.
"On top of that he's injected more of his personality into the side, rather than just his beliefs.
"Even when they lost in Genoa against Sampdoria, I watched his post-match interview and it was proof he is a great manager who knows best without giving way to fear."
But although Allegri speaks of a change in personality, Ancelotti has also change the tactics.
Home-grown Neapolitan star Lorenzo Insigne, and adopted Neapolitan Marek Hamsik have both found themselves in different positions.
Hamsik initially stepped into the role once occupied by Jorginho, who followed Sarri to Chelsea and was one of only two players to leave the club this summer — the other being Pepe Reina.
But the shape has slowly changed with Hamsik now playing more of a traditional central midfield role in a fluid formation somewhere between 4-2-3-1 or 4-4-2. He's still not as forward thinking as he was when operating as the most attacking midfielder in Sarri's 4-3-3, but he's not quite a regista.
The switch of formation has also seen Insigne operate more centrally, and he's often the player furthest forward regardless of whether this is as an out-and-out striker alongside Dries Mertens or Arkadiusz Milik, or buzzing around in support of them.
The image below shows Napoli's average positions in a 3-0 win against Shakhtar Donetsk in the Champions League last season. Insigne (24) is wide on the left in Sarri's trademark 4-3-3 which can now be seen at Chelsea.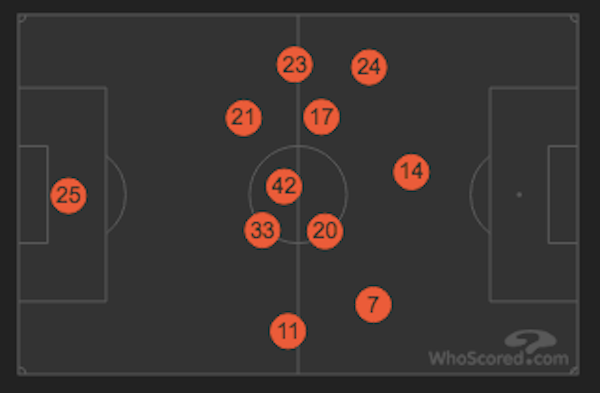 The next image shows Insigne's central role in Ancelotti's system.
In this lineup Amadou Diawara (42) has replaced Hamsik, and Piotr Zielinski (20) is now in an attacking midfield role on the left.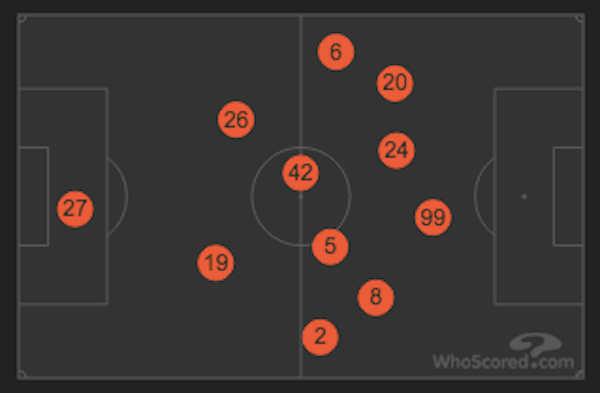 Naples isn't sure about Ancelotti — a man with northern roots who is more associated with teams in the north of Italy — but as is often the case in these scenarios, success and style on the pitch will go a long way to answering his critics.
Not a lot of love for Carlo Ancelotti amongst the people I've spoken to so far. Is there a direct translation in Italian for soft northerner?

— Simon Hughes (@Simon_Hughes__) October 2, 2018
Naples taxi driver not in confident mood: "The team is no good, the manager is no good. Liverpool will win 4-0."

— James Pearce (@JamesPearceEcho) October 2, 2018
Liverpool find themselves facing something approaching but not quite Sarrismo for the third game in a row as, by Sarri's own admission, his Chelsea side aren't quite immersed in his methods yet
In the opening two games Jürgen Klopp and his side haven't managed to defeat it, but they'll be hoping that what they face in the San Paolo is a watered down version rather than a souped-up one.
For Napoli it's a chance to show that they mean business in the cups after a disappointing exit at the Champions League group stage last season, which preceded an even more disappointing Europe League exit at the hands of RB Leipzig in the first knockout round.
They didn't get off to the best of starts this time around, only managing to draw at Crvena Zvezda, but they'll be hoping to turn things around with the help of home advantage against last season's runners-up.