Thilo Kehrer was one of the standout players for Paris Saint-Germain as they secured an important Champions League win against Liverpool.
The latest WFi Scouting Sketch takes a look at his performance in the context of the game, and where this could take him in the future.
---
Football isn't always the spectacle it's made out to be by the TV companies. There are plenty of matches each week which, on the face of them, are dull and boring, but there's almost always a player to look out for, an intriguing tactical switch, or a storyline away from the football to keep us entertained.
Paris Saint-Germain against Liverpool in Champions League Group C was a difficult one to take anything from. It was a game quelled by Liverpool's stodgy midfield selection, PSG's time-wasting antics, and a referee who lost control of the game making parts of it farcical.
Kylian Mbappé is always a pleasure to watch, but even he got caught up in some of the above. Marco Verratti showed glimpses of why he is, or at least could be, one of the best midfielders around, and some of Sadio Mané's solo efforts dazzled briefly.
There were some crunching tackles rarely seen in the Champions League, but the punishment of those which crossed the line was inconsistent to say the least.
While Thiago Silva and Marquinhos may take all the credit for limiting Liverpool to no shots on target in open play, primarily because they celebrated it maniacally, to the right of them was one of the game's quietly effective stand-out performers.
Among the histrionics and chest-bumping from the Brazilian duo, which will have raised their marks out of ten by at least two points, (even in the usually strict L'Equipe) was the solid, relatively unruffled presence of 22-year-old German defender, Thilo Kehrer.
The match ratings from PSG's 2-1 win over Liverpool.

Thiago Silva and Neymar with the highest mark of 8. Thilo Kehrer deserved more than a 6 though!

[L'Équipe] #PSGLFC #PSGLIV pic.twitter.com/Antjwm4iyq

— Taz (@TazPhalora) November 29, 2018
Taking Kehrer Things
Unlike some of his team-mates, right-back Kehrer actually had something to deal with in defence, and was up against Liverpool's most impressive attacker on the night, Mané.
Silva's last-ditch defending was highlight-reel stuff, but Kehrer was better at stopping attacks at source, and also contributed in build-up play.
He made more passes than left-back Juan Bernat, and was more involved in the game than left-sided centre-back Presnel Kimpembe.
His highlights include cutting out goalkeeper throws to wide areas, dangerous crosses, some neat passing when called upon.
Below are his actions from the Twelve dashboard, with his key defensive involvement shown in red.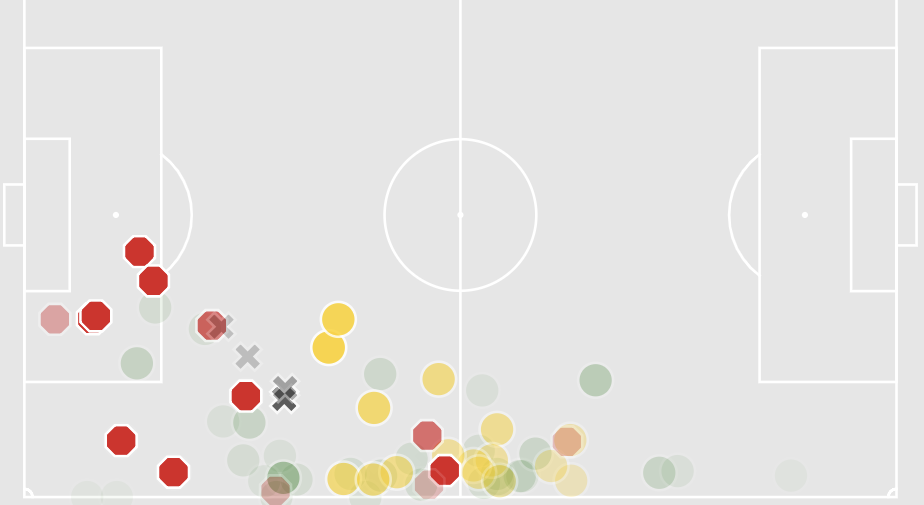 His passing under pressure was OK, even though he did succumb to the Liverpool press on a couple of occasions, but he wasn't alone in this regard.
Neither was he alone in getting beat in certain situations, and he was dribbled past twice, but he contributed with two tackles, two interceptions, and four clearances according to Opta.
In the build-up to the Liverpool penalty, won by Mané on Kehrer's side, he was bypassed by the winger but may have recovered had Angel Di Maria not taken things into his own hands and dived in on the Senegalese.
He played a couple of dangerous crosses, even though the statistics show them as incomplete due to the fact a team-mate didn't connect with the ball.
His actions are shown below courtesy of Stats Zone.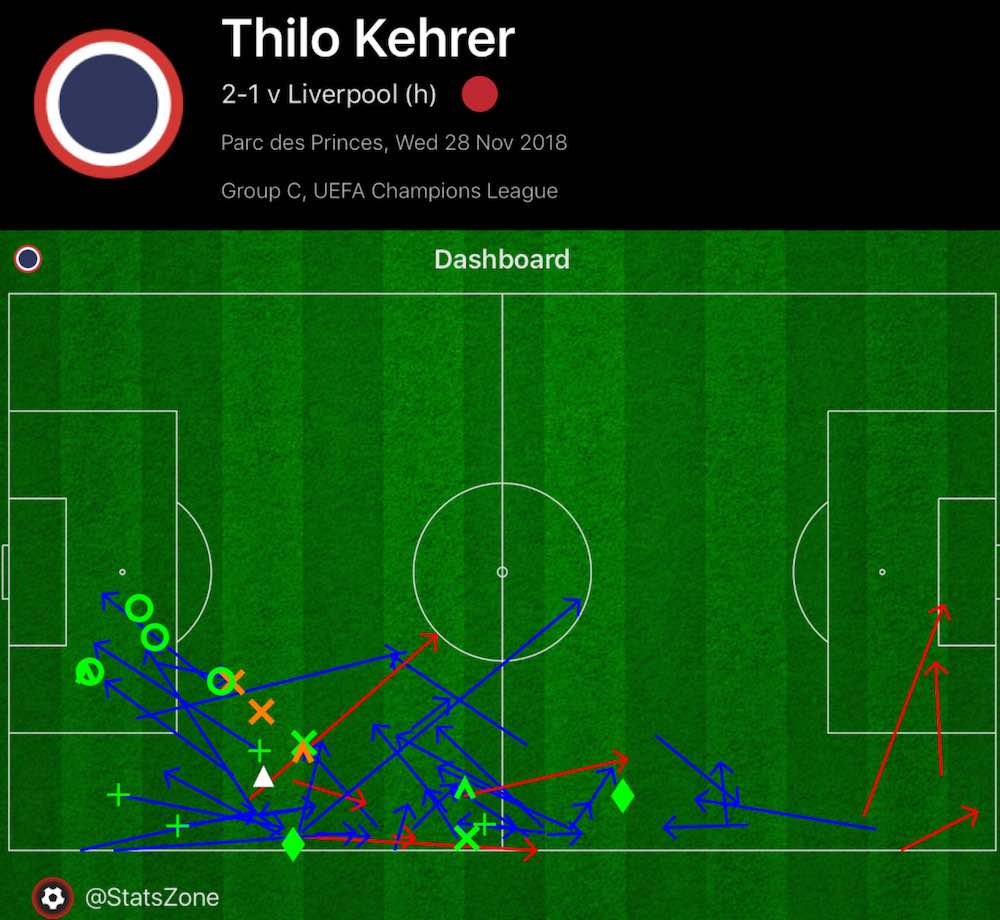 Kehrer has played across the back four, possessing the speed and technical ability to operate at right-back, but also the height and strength to be used as a central defender.
During his time in Schalke's youth sides he was also used as a defensive midfielder. All of this suggests he will develop into a ball-playing centre back.
Comparisons could be made to Liverpool's own Joe Gomez, or fellow German Jérôme Boateng.
---
Main game scouted: Paris Saint-Germain 2, Liverpool 1 – November 28, 2018
Birth date: 21/09/1996 (22 at time of report)
Birth country: Germany
Passport country: Burundi
Foot: Right
Height: 186cm / 6'1"
Weight: 76kg / 167lbs