In most of the areas football is played, it exists in a world dominated by capitalism, dictated by money, driven by money.
It's therefore no surprise that a national football team from a "Marxist–Leninist one-party socialist republic" faces many obstacles as it looks to progress while also retaining the values and ideals of its nation.
Not only are they competing against different teams, but also against different, more widespread, and more accepted political and economic systems. This is the conundrum facing the Cuban national football team.
Cuba & Politics at the 1938 World Cup
Cuba made it to the World Cup finals back in 1938 when the tournament was hosted by France. This was a competition which took place amid political tension on and off the pitch.
The 1934 World Cup had been held in Italy and used by fascist dictator Benito Mussolini as a propaganda tool.
Adolf Hitler had similarly used the 1936 Olympics as a propaganda tool for Nazi Germany, and this would go on to affect the 1938 World Cup. The Austrian Wunderteam of the 1930s disintegrated when their country became part of Nazi Germany under Anschluss, so were forced to withdraw from the tournament despite qualifying.
Their place was offered to England, but at this time British clubs were more concerned with the Home Championship tournament which they felt was superior to the World Cup.
England's air of superiority wasn't the only football related politics to affect which teams were present in France.
It had previously been agreed that World Cups would alternate between South America and Europe, with the first tournament held in Uruguay in 1930 and the second in Italy four years later.
But the decision to host the next tournament in France, in tribute to French President of FIFA, Jules Rimet, who had played a big part in the tournament's creation and after whom the trophy is now named, didn't go down well in the Americas.
All CONCACAF teams except Cuba withdrew, as did all South American teams except Brazil, with Argentina particularly aggrieved as they had expected to host the tournament.
Thus, Cuba qualified by default along with Brazil as they were the only teams from the Americas not to withdraw in protest.
Cuba did more than make up the numbers, defeating Romania 2-1 in a last-16 replay thanks to goals from Héctor Socorro and Tomás Fernández in Toulouse.
The first game had finished 3-3 with two of Cuba's goals coming from Socorro and another from José Magriñá. The three remain the only players to have scored for Cuba in the World Cup.
This high didn't last long and they lost 8-0 to Sweden in the quarter finals, but to this day their World Cup record is: P3 W1 D1 L1.
Regardless of the situation surrounding their qualification for the tournament, the fact remains that they were the first Caribbean nation to qualify for a World Cup, and their performance there remains the best performance at a World Cup by a Caribbean nation.
That it remains so is an indication of the performance of the Cuban national team since, but that World Cup was something of a one-off, aided by a unique set of circumstances on and off the pitch which saw them qualify, so their failure to qualify since should not be seen as a decline.
Football & Revolution
The Cuban Revolution began in July 1953 and ended on on 31 December 1958 when authoritarian leader Fulgencio Batista was overthrown by Fidel Castro and the 26th of July Movement.
It would go on to have a positive effect on sport in general in the country, but the football team remained in the shadows of their Caribbean and North American neighbours.
Cuba did enter the 1950 World Cup, but failed to qualify. They took part in the 1949 NAFC Championship along with the USA and Mexico — a tournament which doubled up as World Cup qualification for the region.
Despite earning a 1-1 draw in their first game against the US Cuba were defeated twice by Mexico and lost their second game against the Americans.
They were then refused entry to the 1954 World Cup while the revolution was ongoing, and didn't enter the 1958 or 1962 editions.
Their performances remained roughly on the same level pre and post revolution, but once Castro assumed power, the Cuban people generally had greater access and opportunity to play many sports, including football.
This was a much better situation for the sport to be in than it was under the Batista's rule when active participation sport was limited to rich minorities, and the poorer working class would spend what little money they had gambling on various sports and games in desperate attempts for extra income.
Batista made sure the profits from the country's produce remained in the hands of a select few, or went to the US who backed his rule. Meanwhile, the gambling industry in Havana which used sport as its vehicle, was under the control of the US mafia, so even that money was leaving the country.
Cuba may have had sports teams pre-revolution, but these sports weren't for the people.
Sport was nearly nonexistent in Cuba before the revolution of 1953.

Before 1959 the Cuban state made little contribution to the development of sport. In 1955 the Batista government would not fund the Cuban team's attendance at the Pan American Games, and in 1957 and 1958 only 1.75 million pesos, or 0.5% of the total budget, was spent on sport.

Sport in Cuba was characterised by limited facilities which were unavailable to most of the population.

Physical education and sport were almost unknown in schools, and there were few qualified physical education teachers.

Equality of opportunity in terms of participation did not exist, and participation tended to reflect the gender, racial, and class divisions that characterized Cuban society before 1959. Hence access to sport was almost exclusively restricted to wealthy, white males.

— Robert Chappel, citing Sport in Cuba: The Diamond in the Rough, by Paula J. Pettavino and Geralyn Pye.
After the revolution sport was one of the ways Cuba was able to display the values of socialism, but their primary sports at this time were still baseball and boxing which had been introduced by the US. The difference now was that everyone was able to participate.
Fidel Castro was himself a sports fan, and though he had an affinity to baseball he had been a basketball player in his youth and encouraged participation in all sports, looking to make them available to everyone.
While many political parties have used sport to demonstrate their nation's power, in Cuba under Fidel Castro it developed naturally due to an increase in the availability of facilities and equipment, and opportunities to participate as part of their political ideals.
Their sporting performance continued at a similar level. The football team remained competitive among Caribbean nations, but struggled to make an impact beyond this regional level.
The Cuban baseball team established itself as the best in the world, and even though it had won seven World Cups prior to and during the revolution, they went on to dominate the sport in the 70s, 80s and 90s, winning a further 18 World Cups.
Baseball is without doubt the Cuban national sport of the 20th century, but going into the 21st century, football could well overtake it.
The football team won their first and only Caribbean Cup in 2012, beating Trinidad and Tobago in the final thanks to a goal in extra time from Marcel Hernández.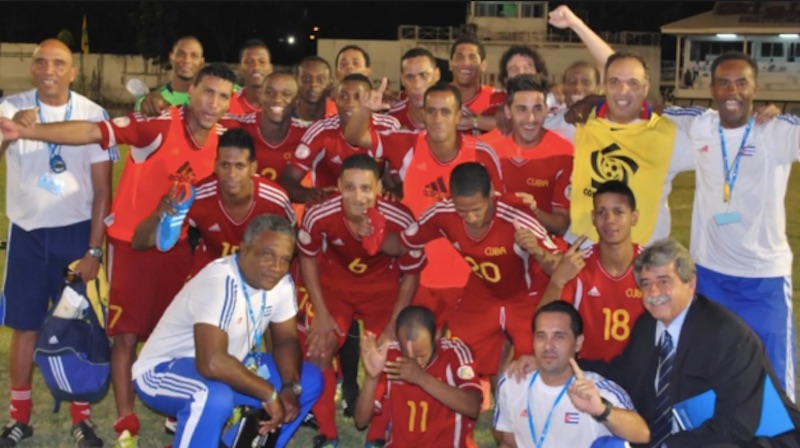 But the inconsistent nature of their results and performances is evident in the fact that they didn't even qualify for the 2017 edition of this tournament, finishing bottom of a qualification group containing Bermuda and French Guiana, albeit only on goal difference.
The fine lines between success and failure in this region mean that stability is key, but this is something Cuba struggle with, and it again comes back to politics.
Cuba has had trade embargoes placed upon it by its giant capitalist neighbours, the US, but in many ways socialism has thrived against the odds, even though the success stories are rarely reported in capitalist countries.
Regardless of political and economic systems, a trade embargo between Cuba and the huge land mass just over 100 miles (160km) away, is bound to have had a negative effect.
Cuba's decision to nationalise its sugar and coffee plantations, banks, land, and oil refineries after the revolution, rather than divert profits to the US as Batista had done, led to the embargo on exports to Cuba.
Another great land mass, thousands of miles away, the Soviet Union, had supported Cuba greatly during its existence, both ideologically and economically.
As a result Cuba played a part in the Cold War between the US and the Soviet Union, and the island was a thorn in America's side during this time. So much so that the US looked to overthrow the Castro government in the CIA-sponsored Bay of Pigs invasion, but failed.
The Cuban Missile Crisis further increased global tensions and almost led to the unthinkable.
The eventual dissolution of the Soviet Union in 1991 hit Cuba hard and meant the Caribbean nation was even more isolated politically.
This also had  knock-on effect on sport, and football.
Go Pro
Professional sports have been forbidden by the Cuban government since 1961, which has led to difficulties keeping players who believe they can earn money from playing sport in the US or Mexico.
Up until recently, political relations with the US have continued to affect their football team, leading to defections when players are on US soil. This in turn meant they were no longer eligible for the Cuba national team, and faced a wait of eight years before they would be allowed to return to Cuba at all.
These problems were more evident in baseball. Though Cuban baseball players were and are among the best in the world, the fact professional sport in Cuba was prohibited led to many defectors.
The "Wet feet, Dry feet" immigration policy implemented by the Clinton administration allowed Cubans who set foot on US soil to apply for citizenship after being there for a year, and prior to this even Cubans who made it to US waters, without touching terra firma, could gain US citizenship.
The Obama administration ended this policy in 2017 as part of the attempt to normalise the US relationship with Cuba, and treat the country as they would any other, releasing a statement which read:
Today, the United States is taking important steps forward to normalize relations with Cuba and to bring greater consistency to our immigration policy.

The Department of Homeland Security is ending the so-called "wet-foot/dry foot" policy, which was put in place more than twenty years ago and was designed for a different era.

Effective immediately, Cuban nationals who attempt to enter the United States illegally and do not qualify for humanitarian relief will be subject to removal, consistent with U.S. law and enforcement priorities.

By taking this step, we are treating Cuban migrants the same way we treat migrants from other countries. The Cuban government has agreed to accept the return of Cuban nationals who have been ordered removed, just as it has been accepting the return of migrants interdicted at sea.
In theory this should lead to fewer defectors, but even now the immigration policy between the two countries has been changed, it has not stopped players from going missing when the team plays games in the US.
As recently as November 2018 12 Cuban U20 players disappeared from the squad which had been participating in the CONCACAF U-20 Championship in Florida.
The Cuban youth side recorded some impressive victories, but lost half of their squad over a number of days.
A former Cuban sports official now living in Miami told the Around the Rings website.
"Having a US visa is very precious at this time. Some may think that if they do not succeed as footballers they will at least be able to get employment opportunities to break through and help their families on the island."
This happened despite the fact Cuba is opening up to the idea of giving their footballers more leeway when it comes to moving abroad to play professionally.
Some of the more notable Cuban footballers to defect include:
Osvaldo Alonso – Seattle Sounders
Maykel Galindo – Chivas USA, FC Dallas
Reynier Alcántara – Miami FC
Pedro Adriani Faife – Miami FC
Eduardo Sebrango – Vancouver Whitecaps, Montreal Impact
Rey Ángel Martínez – CF Ciudad La Habana, Colorado Rapids, Rochester Raging Rhinos, Carolina RailHawks, New Jersey Ironmen
Cuba Mario Inchausti (3 June 1915 – 2 May 2006) – a Cuban footballer who played in Spain for Real Zaragoza, Real Betis and Real Madrid, before retiring in 1942 due to injury.
A big breakthrough occurred in 2016 when Cuban footballer Maikel Reyes signed a professional contract with Mexican third-tier side Cruz Azul Premier, an affiliate to Apertura 2018 Copa MX champions Cruz Azul.
This was the first instance of a Cuban player signing professionally with a foreign team with the consent of the Cuban government, meaning that he could also play for the national team if selected.
Reyes has since returned to Cuba to play his football, but there are a number of Cubans playing professionally in neighbouring Caribbean countries, Antigua and Barbuda, Honduras, Costa Rica, and the Dominican Republic.
The Reyes deal signalled a way forward, allowing players to improve by playing in leagues abroad while also being able to play for their country. This would then improve the quality of the national team, and as a result generate more interest for the football in this baseball country — something which has already begun to happen.
Since the 1980s, aided by Fidel Castro's friendship with Deigo Maradona, the sport has been generating more and more interest in Cuba. At the same time, the country has not won a baseball World Cup, or its modern equivalent — World Baseball Classic — since 2005.
It is easier for children to start playing football than baseball, as all they need is a ball and somewhere to kick it, and the game is growing in popularity due to being shown on TV.
In many ways it may already be the new national sport, but while Cubans enjoy watching the likes of Real Madrid and Barcelona on television, their own nation needs to step up on the world stage as baseball once did before football becomes top of the ratings — not dissimilar to the problem soccer faces in the US.
Into Miami?
Another development over in the US may also provide a way forward for the best Cuban footballers and, as a result, Cuban football.
A Major League Soccer 2020 expansion club — Club Internacional de Fútbol Miami — could offer a further thawing in relations between Cuban footballers and professional football.
Inter clubs have been set up around the world throughout the history of the sport, with the most famous being Internacional in Porto Alegre, Brazil; and Internazionale in Milan, Italy.
These organisations are traditionally about inclusion, created for natives and foreigners to play on the same team. This latest 'international' team in the US follows these ideals, and even uses Spanish for its club name.
This could attract a number of fans from Miami's Cuban community, and Inter Miami's mantra of libertas, unitas, fortuna sounds like something Castro himself might well have come up with…
Though this community in Miami has historically opposed the regime back home, in recent years there has been more cooperation from both sides, with closer ties between those in Miami and Cuba.
Could the the thawing of international relations, a relaxing of the rules around professionalism, and this new internacional football team on American soil which promotes #FútbolForAll, all come together to help football become Cuba's national sport in the 21st century?
It's difficult to maintain socialist or communist beliefs in a world of capitalism, but Cuban football may be beginning to find a middle ground which allows for the progress of its national team, building on these socialist ideals rather than abandoning them.