Saturday's match between New York Red Bulls and Real Salt Lake ended in a comprehensive 4-0 victory for the home side.
An own goal from Marcelo Silva in the 58th minute began the avalanche of goals from Red Bulls.
Loud cheers that made ears ring, flags colored in red and white as well as red and yellow vigorously waved, red fire blasting out from behind the goal, and red smoke released into the air painted the picture of what the game would become — a red onslaught on Real Salt Lake's goal.
Just a minute later with the red smoke still filling the air from the first goal, Daniel Royer added another. Royer had missed the last game against Cincinnati and was listed as an injury concern prior to the match. Michael Murrilo scored his first goal of the season in the 64th minute.
New York Red Bulls were leading 3-0, with the goals coming in the span of eight minutes, before Omir Fernandez rounded off the game with a goal in the 83rd minute.

An ineffective Real Salt Lake and a Red Bulls side that made them pay
In the first half, Real Salt Lake had about 40% possession. When they did have the ball, the visiting team failed to create clear-cut chances with it. This was exemplified by the fact they had just one shot on target in the first half.
Meanwhile, New York Red Bulls used the spaces out wide well as they often do. Fullbacks Kemar Lawrence and Michael Murillo were threatening throughout as their positioning up the field contributed to three goals. They had four shots on target in the first half and were clearly the better team.
Often, when Real Salt Lake had the ball, the home side pressed them high and won possession back. When their opponents tried to beat the press by lobbing the ball to Sam Johnson, the striker had little success. This was thanks to close marking from center back Amro Tarek.
In the second half, once Red Bulls finally converted one of their chances, the flood gates opened. Real Salt Lake, seeking an equalizer, left themselves open which in turn led to the proceeding goals.
Returning for the first time to Red Bull Arena since his sacking in early 2015, Real Salt Lake manager Mike Petke felt the first goal was the turning point in the match.
"They got a goal, and then perhaps we left ourselves a bit too stretched too soon, not realizing and not accepting that we have a lot more minutes to play," Petke, who was cheered when his name was announced before the game started, said at the press conference after the match.
"Three of the four goals came down our left side due to either miscommunication or positioning of certain players, and against a team like this, if you're not structured right, they want to make you pay, and they did, three goals in seven minutes."
Kaku bounces back from Copa América disappointment
Although Daniel Royer's name roared around Red Bull Arena as he was named man of the match, Alejandro Romero Gamarra, better know as Kaku, was instrumental in the win.
Earlier in the week, the Paraguay international was left off the squad for this summer's Copa América.
Despite the news, Kaku performed well in the second half against Real Salt Lake. He created the most chances in the match with four, including an assist for the second goal.
Dangerous throughout, Kaku linked up well with Muyl, White, and Royer who scored off of his pass. Late in the match, Kaku had a chance to score for himself, but unfortunately the shot went wide.
"The work he put in tonight up the field for 90 minutes, he loves to create goals," Red Bulls coach Chris Armas said of Kaku.
"He can score but he loves that pass, the final pass. You can see that he sees things very early."
"He's really comfortable. You can see that he's growing with the team and in our league and we see the special qualities that he has."
Armas also added that Kaku is integral to the team's tempo when in possession. In addition, he added he's also important in winning the ball back through the counter-press.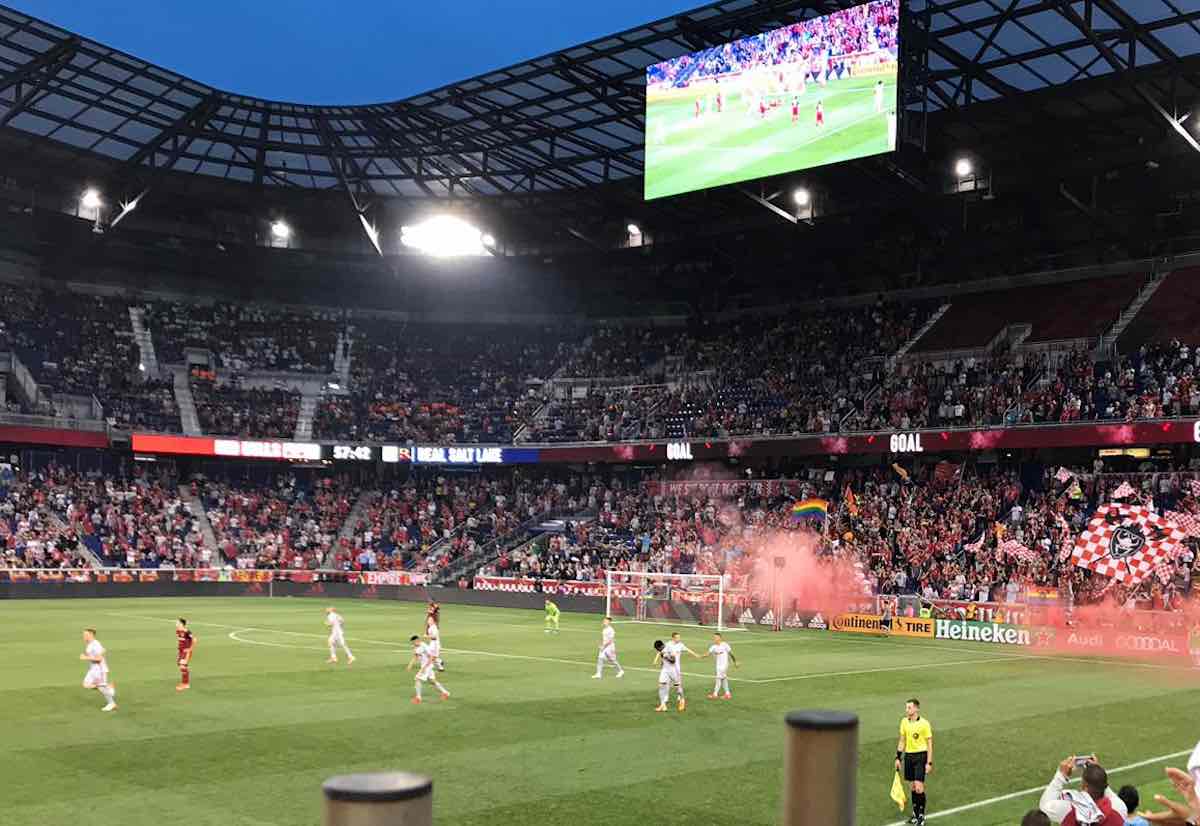 "Yes of course, I took the day off because when someone tells you that it's very sad, you know," Kaku said on not being included in Paraguay's Copa América squad.
Although he was disappointed not to have been selected, he remains optimistic of his future chances.
"Yeah, I have to keep working and showing that I can be there [with the national team]. Next year I think there's another Copa América and World Cup qualifying. We have turns in the team and when it's my turn, I have to take advantage of it."
Having played for Argentina at the youth level in the past, Kaku insisted his allegiance is now with Paraguay. The nations are set to face each other in the group stages of the Copa América.
"Paraguay. Paraguay. I would want Paraguay to win. But we know they have [Lionel] Messi, [Sergio] Agüero, [Angel] Di Maria, they have a great team, but I confide in my teammates."
Teammate Amro Tarek highly rates Kaku and was evidently supportive of him missing out on the recent squad selection.
"We are happy to have him, he's a very talented player. It's their loss not to have him so I hope he's not really sad about it. It's so important for us to keep him."
Tarek, who came off injured in the second half due to an apparent muscular problem, provided a reassuring statement when asked about how he was feeling.
"I'm feeling okay. My hamstring was bothering me the past week because I played three games in six days, so I think it was better for me to rest it to avoid injury and missing more minutes."
What's next
The win took Red Bulls to fourth in the Eastern Conference, two points behind defending MLS Cup champions Atlanta United.
Meanwhile the loss left Real Salt Lake in seventh place of the Western Conference. They are just a point ahead of San Jose Earthquakes who have a game at hand.
Up next for Red Bulls is a huge game against Eastern Conference leaders Philadelphia Union. Real Salt Lake, on the other hand, will host LAFC in the Open Cup.