A lighthearted look at the new Fantasy Premier League season.
Tips on who to buy, or based on recent FPL performances (below) who not to buy.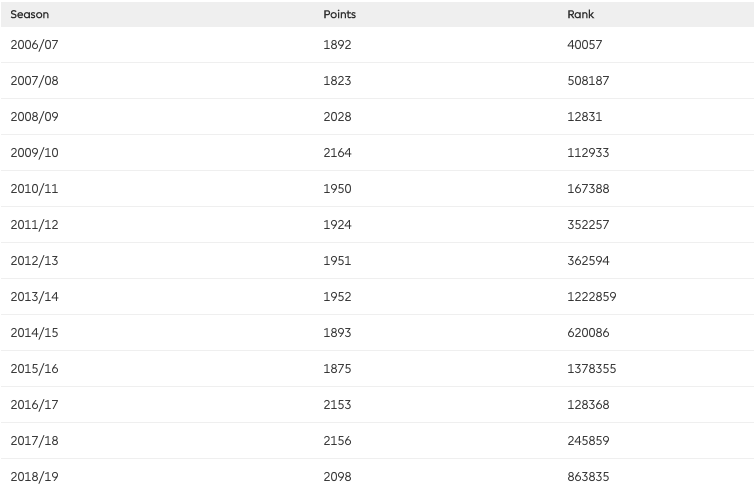 Huddle Formation
In theory, picking 11 great players and four of the cheapest for the bench should be the best route to points, but it doesn't always work out, especially when Captain Big Points gets injured in the warm-up and a hapless defender comes on to replace him. And you forgot to choose a vice-captain.
The highest scoring formations based on total points last season would have been 3-5-2 or 3-4-3, but this is another thing which can vary on a weekly basis depending on who is playing who.
Some might say there is no point spending big on bench players, but you're likely to need at least one of them at some point. Such as when Guardiola randomly decides to start Angelino in midfield ahead of Bernardo, or something.
Guardians of the Goal
Go big and clean sheets. Go small, regular games, and [hopefully penalty] saves. Cheap goalkeepers who play regularly usually have to make a lot of saves which make up for the fact they're letting in goals because their defence is rubbish.
While these cheaper options might not add points to your total, pick the right one and their value will rise, meaning you can cash in at a later date.
As with all players, when cashing in look for a player who might have come in for an injured goalkeeper, or a goalkeeper who may have fallen out of favour having been first choice earlier in the season — e.g. Wayne Hennessey last season post Nazi salute. This way you're always selling high and buying low.
Try: Ederson and Dean Henderson
SAME EDERSON SAME pic.twitter.com/AwBfNaNVLV

— j. (@marcelovieiraas) August 4, 2019
Defenders of the Realm
Less straightforward than the choice between the posts, as defenders come in all shapes and sizes.
Previous strategies include:
Picking all the tall players as they might score from corners — Wily Boly, Jannick Vestergard etc
Picking all the left backs because, why not? Andy Robertson, Lucas Digne, Ben Chilwell. These players are classed as defenders but are heavily involved in attacking areas.
Choosing the cheapest players who play regularly, and selecting three each week based on opposition.
None of these worked.
This season: pick a full-back, pick a really tall guy, pick a Manchester City player and a Liverpool player.
Oleksandr Zinchenko, and whichever of Joel Matip and Joe Gomez partners Virgil van Dijk look like the best value. But Andy Robertson and João Cancelo have the potential to rack up POINTS.
Van Dijk and Aymeric Laporte are the best defenders in the league and the ones almost guaranteed to start for last season's top two. A guaranteed starter for Man City is rare, so Laporte is good.
Try: Ben Chilwell, Oleksandr Zinchenko, Tyrone Mings, Virgil van Dijk, Big Willy Boly.
Harry Maguire worth 4x Tyrone Mings after £80m transfer 🤭 Mings has been colossal for #AVFC and continued fine form in pre-season, bullied Werner & didn't break sweat! Mings a touch of class with supporters as well. Love the bloke and a steal of a deal at £20m! @AVFC_News 👏 pic.twitter.com/C9zBYBvKxf

— Ashley Preece (@PreeceObserver) August 5, 2019
Middle of the Road
Look for the midfielders who are actually strikers, then look at their price and think about other options.
Mohamed Salah and Raheem Sterling are premium choices. Good luck fitting both in and still having money for other players who don't play for Sheffield United, Norwich, and Aston Villa.
Chief creators in terms of expected assists and big chances created include Sterling, Ryan Fraser, Kevin De Bruyne, ALEX IWOBI!!, Sead Kolasinac (wait, he's actually a defender!), ALEXIS SANCHEZ!!, Riyad Mahrez, Youri Tielemans and the Silvas.
Meanwhile, James Madison should be the key pass king, and creates more chances than any other player from set pieces. Robert Snodgrass and James Ward-Prowse aren't far behind.
De Bruyne is back in the game following a season of injury trouble, and is decent value at 9.5 and is likely to play regularly.
Try: De Bruyne, Salah, Fraser, Maddison, Iwobi.
¡Forward Line!
Liverpool's Roberto Firmino has looked sharp in pre-season, and is one of the only City/Liverpool forwards guaranteed to start most games.
Staying at Liverpool, Divock Origi might play a bit this season, but he's not very good. But at 5.5 and with Sadio Mane only just back in training, he might be worth a go in the opener against Norwich.
Sergio Aguero is one of the best strikers the English leagues have ever seen, but his price reflects that, and Guardiola will sometimes pick Gabriel Jesus or Sterling up front.
Outside of that there are the likes of Harry Kane and Pierre Emerick-Aubameyang who are always in the goals, but by now there is not enough money left.
So now it's time to go back through the previous picks and probably change your entire team to fit one of these premium forwards into the lineup.
If not…
Try: Firmino, Success, and (especially if Wilfried Zaha leaves) Jordan Ayew.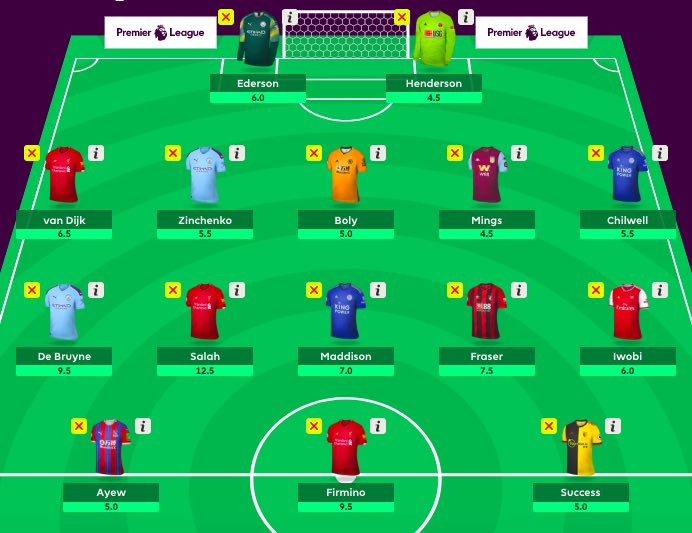 A team which looks fairly average on paper, and one which will probably reflect that in the points it accrues come the end of Gameweek one.