Outside the Liebelt Arena, I'm greeted with a smile and a handshake by the SV Lippstadt 08 club president, Thilo Altmann.
As we begin chatting, it quickly becomes apparent that he is as passionate about his club as the small group of ultras that sang relentlessly for 90 minutes the previous Saturday.
This was my look into life beyond the Bundesliga.
Below Germany's top two divisions is the 3. Liga, then come the regional leagues, or Regionalliga as they're known in Germany.
These are split into five regions: North, North East, West, South West and South. SV Lippstadt play in the Regionalliga West, which covers the state of Nordrhein-Westfalen (North Rhine-Westphalia).
This region of Germany is a hotbed of football and boasts clubs such as Borussia Dortmund, Schalke 04, Bayer Leverkusen, Borussia Mönchengladbach, FC Köln and Fortuna Düsseldorf amongst others.
Lippstadt itself is a working-class town approximately 65 kilometres east of Dortmund and just 20 kilometres west of Paderborn, who recently gained promotion to the Bundesliga.
With an estimated population of around 67,000, no history of having a professional top-flight team, and in the absence of a mega-rich owner willing to pump in the resources to fast-track success, progress for a modest local club like Lippstadt must be methodically hard-earned.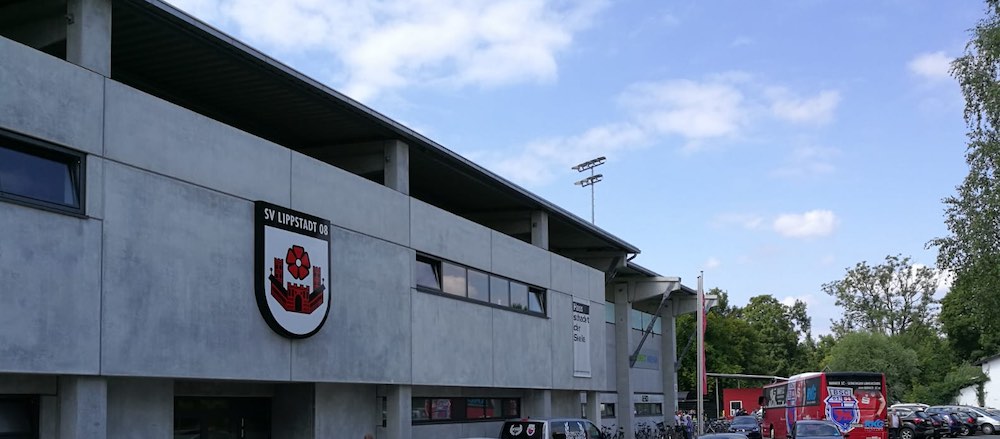 As Thilo Altmann makes very clear to me, finances are tight.
"This is not a professional club. You cannot live from the money here. You must also go to work."
As he also points out, it's an achievement for Lippstadt to even be playing in the Regionalliga West.
"If I compare the money in our league with our finances, normally you can't play with our money in this league."
The is a club already punching above its weight, so in terms of ambition Altmann says the goal for Lippstadt is to keep playing at this level and one day reach the first round of the DFB Pokal. To some that might sound modest, but any growth must be organic for what is described to me as an "education club."
It's a club built on a vibrant youth section that boasts impressive facilities, with 17 junior football teams given a clear message that the pathway to the senior team exists and young players will always be given an opportunity.
This is reflected in the average age of senior squad, which is just 22 years old. Opportunities are not only extended to players, but also to coaches.
Indeed, current head coach Felix Bechtold is only 28. Bechtold had played for Lippstadt but injuries meant he had to stop playing, and the belief within the club was that he had the mind for football and was brought into the coaching set-up.
Earlier this year, the club took the decision to change their head coach at the end of the season, and as Altmann tells me, Bechtold was the overwhelming choice to take over.
Giving such an opportunity to a relatively inexperienced coach is not a new thing for Lippstadt. The current Norwich City manager, Daniel Farke, used to play for Lippstadt, and was given his first chance to cut his teeth in coaching at the club.
His six years in charge were the most successful in the club's history, and the affection for him here is as strong as the pride in which the club holds for everything he has achieved.
Altmann laughs as he recants the infamous tale of Farke being forced to conduct a lap of honour on horseback after his final game with Lippstadt.
It was due to Farke's fear of horses, and the club's former President giving him the nickname 'Winnetou' — due to his resemblance to a fictional Native American hero from a series of books popular in Germany by author Karl May.
Although I stated earlier that Lippstadt has no history in the professional top-flight to call upon, it does have its recent history with Farke, and a proud history with the Rummenigge family.
The three Rummenigge brothers, Karl-Heinz, Michael and the lesser-known Wolfgang, all played for the club.
Altmann proudly shows me the many photos of all three on display in the club lounge, regaling tales of their charismatic father, as well as his own personal experiences with the family.
It is heart-warming to hear how the world-famous Karl-Heinz has never forgotten his roots despite being the chairman of FC Bayern München.
Bayern have played Lippstadt in pre-season friendlies a few times, including Carlo Ancelotti's first game in charge of the Bundesliga champions.
Altmann smiles as he speaks of his pride at only being defeated 4-3 by a team that fielded such names as Philipp Lahm, Franck Ribery and Arjen Robben.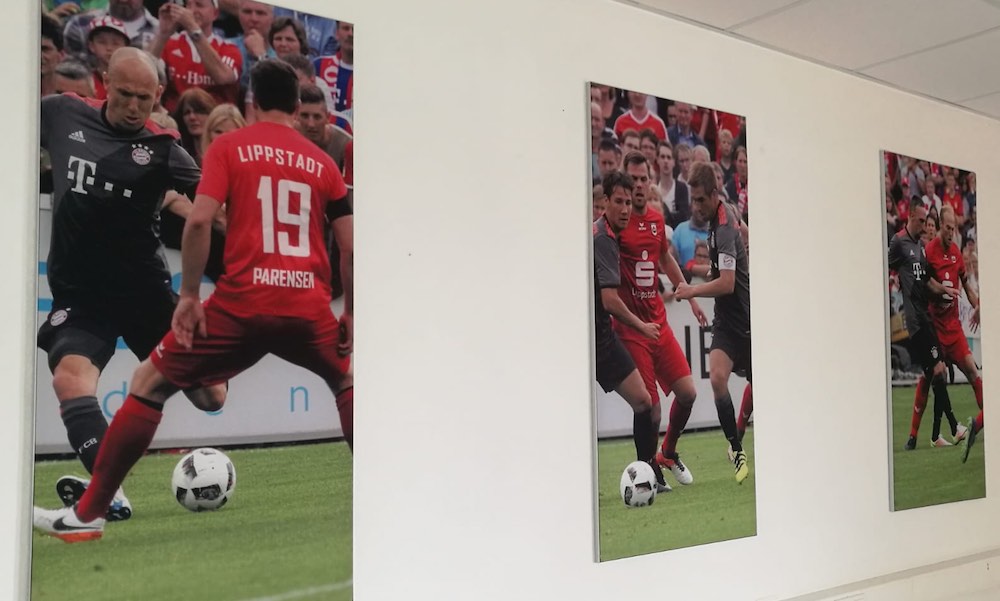 Into the present day it's evident that Lippstadt is every bit the "family club" that Altmann affectionately describes.
With members of junior teams helping out and supporters running a small fan shop that sells shirts, scarves and stickers, it really is a collaborative effort on match day.
On the pitch, a very young Lippstadt team faced Bonner SC for the opening home fixture of this Regionalliga West season.
Bonner prove to be a resolute and tough side to break down, but it should be said how impressive it was that such a young group of players were able to maintain their composure and keep playing their passing game.
Bonner were a sporadic threat on the counter, but it was Lippstadt who dominated possession and continued to press and probe for a breakthrough in very warm conditions.
They eventually got the goal they deserved via a Nils Köhler penalty in the 78th minute and went on to manage the game well for a 1-0 win.
The biggest impact of the afternoon for me though, was the Lippstadt supporters. A group of around 50 ultras have a section in the stand and were banging a drum and singing constantly from just before kick-off until after the final whistle.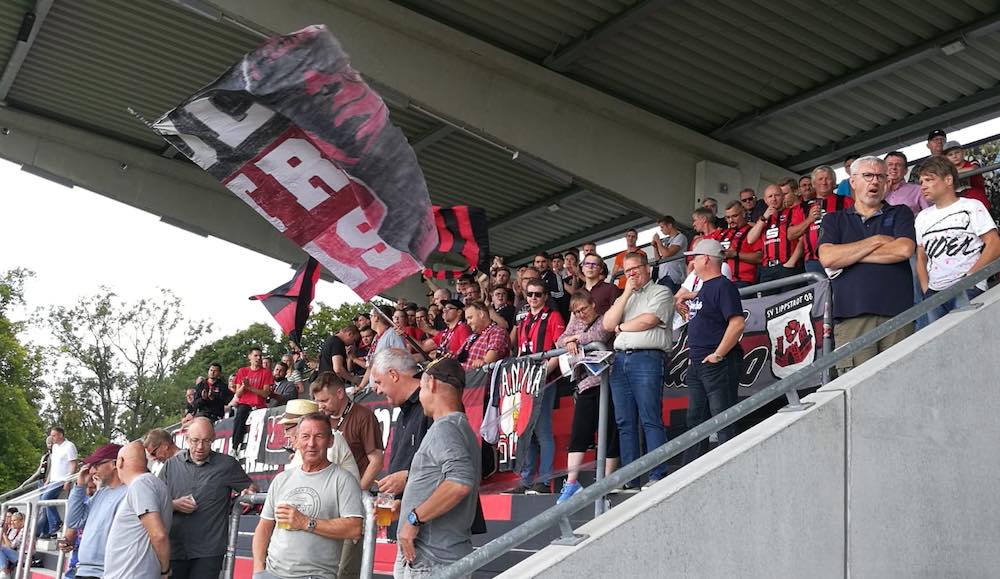 As Thilo Altmann told me of the club's fans:
"They create their own songs, they really are very special and we are proud that we have them."
After the game, the connection between fans and players was fully on display with their joint celebration choreography.
This was followed by the players and coaching staff coming over to give everyone a high-five, and chat with families at pitch-side.
Fan culture, the accessibility of players, and the opportunities given to young players and coaches in the Bundesliga are a driving force of what draws admiration for German football from fans around the world.
What is particularly encouraging for this writer is that these selling points are just as strong below its top divisions.
The financially responsible and fan-friendly environment synonymous with the Bundesliga is alive and well at regional level.
Obviously, without the same level of income and infrastructure — it is on a smaller scale but the passion from the fans, players and everyone involved in running a club is the same.
From a club President beaming with pride as he talks about his club, its history, its fans and the importance of young players and coaches getting their opportunities; right the way down to fans singing their hearts out and helping to sell club merchandise, Lippstadt really is a family club working together.
The club motto that greets you at the entrance to the Liebelt Arena is "Ehrliche Emotionen", which loosely translates as 'honest emotions' and it really is very accurate.
I went to Lippstadt wanting to get a flavour of German football at regional level, and left with the taste for more.
There is so much more on offer than just the Bundesliga, so if you get the chance, try it, and I promise you won't be disappointed.