By Cameron Mcalpin
We all hate Leeds scum.
LET'S GO AGAIN LEEDS, WE GO AGAIN… AGAIN LEEDS
In the final episode of Amazon's Take Us Home,which documented Leeds's 2018/19 Championship campaign, one thing that stood out in my mind was the passion of Bob Tappin.
The quote at the top of this article came from Bob after Derby had scored a third goal, making the score 3-2 on aggregate in the Championship play-offs semi-final. Leeds were on the ropes with not much sign of life.
Bob was one of the Leeds fans chosen to be present throughout the Take Us Home series. A passionate fan who followed Leeds no matter what, Bob was trying, maybe even pleading, for his team not to give up and keeping fighting no matter what.
The relationship between any team and it's fans is often complex and complicated, with many twists and turns that make you wonder why you don't just call it a day and find something a little more relaxing as a pastime.
There is something intriguing about being a fan of a football team that has put you through every emotion possible.
Being a Leeds fan I feel I qualify as someone who can speak with a bit of experience on what this feels like.
While I can't speak for every Leeds fan, I do feel like I have a good understanding of what Leeds fans normally think, feel, and say come 3pm on Saturday (as long as Sky haven't selected us for TV coverage).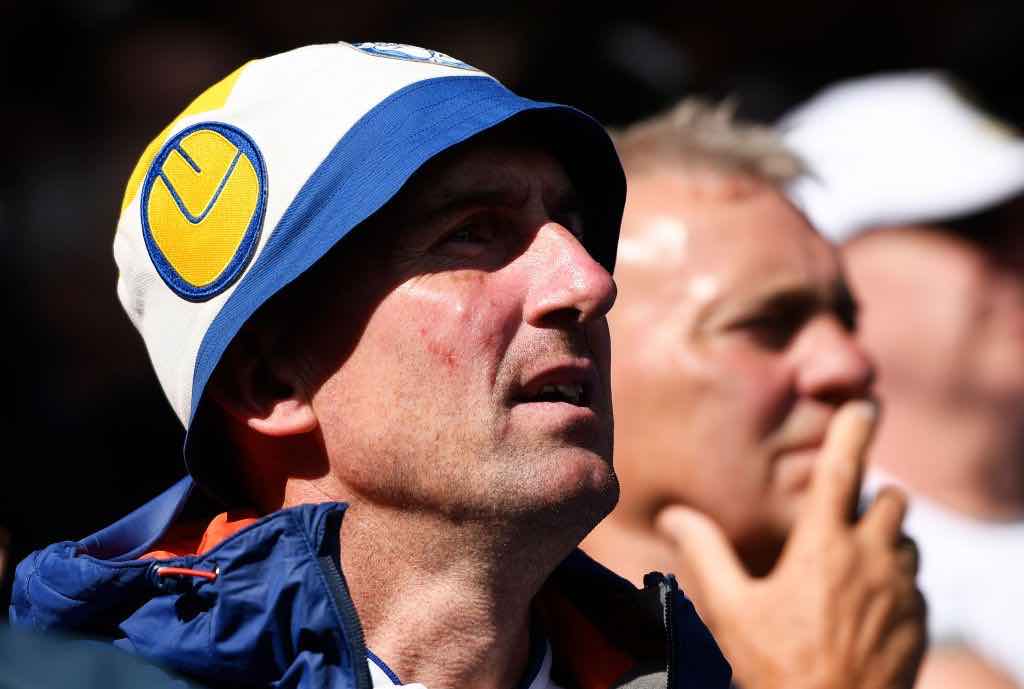 The last game Leeds played before the current international break was a clash between first and second —  Leeds vs Swansea.
I'd taken my seat in the family stand and looked forward to what could be an early contender for game of the season.
Many families were seated around me, fathers bringing their 6-year-old sons and daughters, hoping for them to be amazed by a sold-out Elland Road and the Kop in full voice singing "Marching On Together", bringing them the same joy it had brought them 30 plus years ago.
It filled me with pride that people of different ages, sexes and races could come together to cheer my team on and hopefully see them continue their unbeaten campaign.
Sixty minutes into the game, this had all changed. Though the score was still 0-0, as with most teams the fans became frustrated and angered. Shouts towards the players urged them to be better, play with more energy, and give everything they could for the shirt.
Cries towards the dugout asked for a sub. Changes in tactics were being discussed between frustrated fans, and there didn't seem to be much hope, even though the scoreline was still 0-0.
Come the 90th minute a scrambled clearance allowed Swansea to take advantage and guide the ball into the back of the Leeds's net. 0-1.
Fans started to pour out of the stadium, aiming angry words towards the pitch as they did so.
I understand fans have spent their money on the game, and as long as they don't cross a line then they are entitled to voice their opinions, but I've always failed to understand the sense of entitlement some fans feel they have.
The same fans that sang "Marching On Together" at the beginning of the game, that became naturally frustrated 60 minutes in, are then the fans that left with five minutes left after Swansea went 1-0 up.
This is something that does annoy me, I believe you should support your team until the final whistle and give them the support to keep pushing.
I think the rise of social media has had a massive impact on fans and how they broadcast their opinions on everything from the signings of 16-year-olds from South America, to what tactical changes a manager needs to make at half time.
This has had an affect on Leeds fans, and I don't think for the better. On the social media everyone (me included) can be an expert, interact with other Leeds fans, and most importantly share their frustrations over last week's game or the starting XI, but it seems to be creeping into the stands.
Doubts that have been talked about during the week are already in the back of the minds of some fans, and as soon as something isn't going to plan, doubts come into play and a sense of nervousness is felt inside Elland Road.
While I don't think this has affected anything this season so far, it could yet have an effect, as it did with Patrick Bamford last season.
As a 21-year-old I think it's fair to say that I missed out on the good days at Leeds united. While my dad has memories of Howard Wilkinson's 1992 First Division title-winning team, and Dominic Matteo's iconic header at the San Siro, I have memories of a 15 point deductions, years of mediocrity, unstable ownership groups, and Jimmy Kebe.
Maybe this is why I have a different view on what to expect when supporting Leeds United, but I've always tried to keep a positive outlook.
Leeds' attempts to get back to the Premier League have been a bit of a punchline with other teams and even media outlets, with many different supporters letting the Leeds faithful know that "Leeds, Leeds are falling apart again."
Leeds fans have taken this on with a smile. Maybe that smile is to hide the pain we have had to endure, but a smile we still have.
Throughout my teens, Leeds have been in League 1 and the Championship, and the mindset of the fans was very different than it is now.
We seemed to have more fun in the stands: the result didn't seem to matter as much.
My memories of the Leeds faithful singing: "We all hate Leeds scum" and "how s*** must you be, it's only 1-0," maybe explains why I have more of a positive outlook when watching Leeds, and why I appreciate what Marcelo Bielsa is doing at Leeds and the high level of football that we are playing under him.
Leeds fans have always been known as passionate bunch who demand everything from their team, and even though they aren't so delusional that they think we should win every game 6-0, they always demand that the players play for the shirt and leave absolutely everything on the pitch. This is a part of what makes Leeds fans special.
I wanted to talk about the unnecessary negativity within a small section of Leeds fans that could spread slowly to more fans.
I also wanted to show the majority. Leeds fans such as Bob Tappin who go to watch Leeds every week and support them through thick and thin, giving the players all the passion and commitment they could ask for.
Hopefully, the end of this season will be filled with joy and ecstasy, with Leeds United returning the Premier League.
But no matter what happens all the players and fans need to know is…
Let's go again Leeds
We go again Leeds
AGAIN LEEDS