By Andy Wales.
It's rare that Bayern München are not at the forefront of topical discussion in German football, but in the early stages of this Bundesliga campaign, attention has largely centred around Borussia Dortmund and RB Leipzig.
As was covered in the last edition of this column, Julian Nagelsmann's reign at Leipzig has got off to an impressive start. Sat on top of the Bundesliga, unbeaten, and an away win in their opening Champions League game all made for Leipzig to be rightly considered serious contenders for silverware this year.
On Saturday they played host to Schalke, who have improved and looked a better organised unit under David Wagner. On paper, though, those improvements should not have been enough to seriously trouble Leipzig.
Nagelsmann rang the changes, probably with midweek Champions League action in mind, but perhaps he might now have some regret because Schalke were good value for their surprise 3-0 win.
Nagelsmann cut an agitated figure on the side lines, clearly frustrated with the referee and some of the decisions he made, particularly a debatable penalty call for the second goal that involved a pitch-side video review.
In truth, the main source of his frustration was likely his team underperforming and his inability to rectify it.
Credit really should go to Wagner and his well-drilled Schalke team that had a plan and executed it perfectly. I'm sure I'll look at Schalke in more detail over the coming weeks, especially as there is a Revierderby on the horizon.
Despite this shock defeat, Leipzig and Nagelsmann were not the big talking point of the week in Germany.
Dortmund, who were many people's favourite for the title this season, are already showing some troubling signs for a team aspiring to be champions.
There are already murmurings of discontent in some sections of the fanbase. The failure to maintain their lead at the top of the Bundesliga table after the winter pause last season led to questions as to whether or not Lucien Favre and his team could handle the pressure.
The recent defeat away to Union Berlin, and failing to hold onto a lead against Eintracht Frankfurt, have raised similar questions. It was a subject that irked sporting director Michael Zorc when he spoke to the media during the week.
That pressure will only intensify after Dortmund again threw away a lead, this time at home to Werder Bremen. It should be pointed out that this was a beleaguered Bremen who had suffered so many injuries that they couldn't even fill their bench.
Favre's tactics and selections are what attract the most criticism. Although it's far too soon in the season for Favre's position to come under any scrutiny, Dortmund cannot afford to keep dropping points in this manner.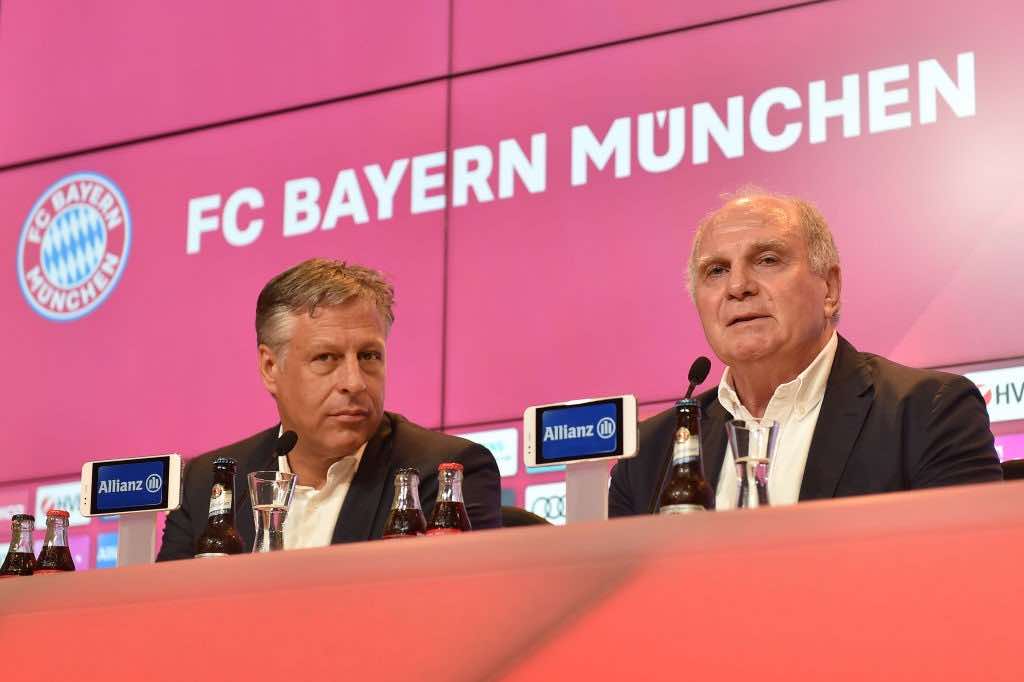 Still, Dortmund were not the biggest talking point. No, that honour went to Bayern courtesy of club president Uli Hoeness.
He threatened to withdraw the availability of Bayern players to the German national team if Marc-Andre Ter Stegen replaces Manuel Neuer.
FIFA rules mean that Hoeness cannot actually carry out the threat, but it still attracted a lot of attention.
It came on the back of Ter Stegen and Neuer exchanging words in the media. Hoeness was later forced to retract his threat via a Bayern spokesman, but it was still an example of how Hoeness will not shy-away from controversy.
It can be argued that the comments are unwelcome from a club president who will not be standing for re-election in November. Perhaps some within the club may feel that attention surrounding Hoeness is a welcome change from the focus being on the team failing to live up to expectations, and coach Niko Kovac's position being under threat.
Unusually, Bayern have been able to quietly go about their business in recent weeks. Loan signing Philippe Coutinho has settled in quickly and appears to be linking up well with Robert Lewandowski, who looks as good as ever.
That's not to say it's been plain sailing for Bayern. They still have an air of vulnerability about them, and conceding two goals against Paderborn is further testament to that. They did, however, score three and could have had more.
Ironically, it was Lewandowski who missed a couple of chances you'd usually expect him to finish with ease.
A wonderful pass from Coutinho set up Serge Gnabry, who finished very smartly to put Bayern ahead. I'm sure Kovac will have been encouraged to see Gnabry later return the favour for Coutinho as evidence of his attack clicking in more ways than one.
Their 3-2 victory means Bayern sit top of the pile, and crucially, at a time when the credentials of their two main challengers are being questioned and tested. Kovac will be pleased they have not been beaten since losing the Super Cup to Dortmund and heartened to see the goals flowing for his attack.
But Europe is where Kovac has a real point to prove. Bayern safely navigated their opening game against Red Star, but face a much tougher task this week against Tottenham Hotspur.
Spurs are experiencing a turbulent start to their season, so perhaps it's the ideal opportunity for Kovac to put a marker down and Bayern to continue the positive vibes. Maybe this Bayern team can now attract the attention of the media and be spoken about for all the right reasons.