By Adam Brandon in Santiago, Chile.
At 3pm Saturday local time, the 186th official Superclásico between Colo-Colo and Universidad de Chile will take place in the Estadio Monumental, Santiago, in front of 40,000 fans.
The two biggest clubs in the country, who between them have won almost half of the ninety-titles played out in the professional era since 1933, face off in a derby game that promises plenty of drama.
It is pretty much undeniable that Colo-Colo are the bigger of the two clubs — boasting more fans and more trophies. Colo-Colo are in fact the only Chilean club to win the Copa Libertadores (which they did in 1991), and have won the domestic title 32 times, almost double La U's 18 titles.
Not everybody would agree, but many feel the identities of the two clubs are wrapped up in the club's anthems.
Colo Colo are known as El Popular due to the fact they are traditionally supported by the huge swathes of working class Chileans across the country. Colo-Colo es Chile is a popular refrain.
The club's anthem talks about their support spreading the length of the country, as well as courage, tenacity, and bravery. It brings to mind the warrior spirit the club has often displayed over the years, and is of course symbolised by the Mapuche chieftain the club is named after and is pictured on the club's badge.
In contrast, Universidad de Chile's club anthem "El Romantico Viajero" (The Romantic Traveller) does not speak of football nor sport at all, but of the dreams of men heading on a bohemian journey together.
La U earned worldwide recognition in recent years thanks to Jorge Sampaoli's swashbuckling style that blew many of South America's best away. It was a dazzling two year spell that earned them comparisons with Guardiola's Barcelona.
Previous successful spells also coincided with an attractive style of football, and the club likes to position itself as one for dreamers and idealists.
While El Popular are disappointed to head into the fixture knowing their title challenge is effectively as good as over (the third biggest club in Santiago, Universidad Catolica, are running away with the title), Universidad de Chile have much greater concerns and are just dreaming of survival at present.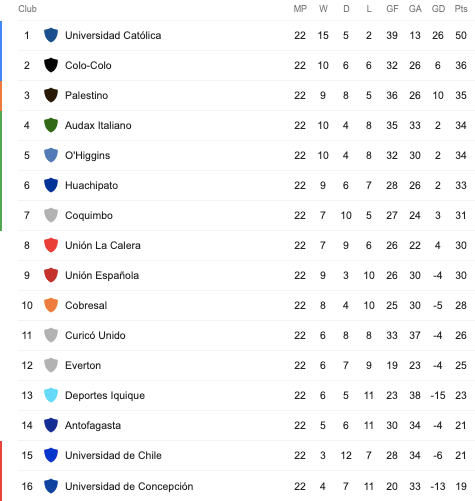 The blue side of Santiago is in the midst of one of its biggest ever crises, with the club sitting in the relegation zone with just eight matches to play.
They are currently on their third manager of the campaign, and recently revealed economic difficulties where they have cut the shampoo supply to players at the training complex — much to the mirth of rival fans.
Morale is low and, all things considered, playing their most fierce rivals away looks to be the worst possible fixture at this time as, historically, Colo-Colo have been dominant in this fixture, especially at home.
In fact, studies have shown this derby to be "the most one-sided in the world", although the rivalries chosen were somewhat cherry picked.
Nevertheless, the stats paint a dismal picture for La U fans. In the 185 previous meetings, Colo-Colo have won 84 of them, 36 more than Los Azules.
Even more bleak for La U fans is their record away from home in this derby. They haven't won in El Monumental since the 9th September 2001, a major talking point brought up in every press conference before this fixture every year.
Universidad de Chile forward Sebastian Ubilla this week stated: "I have nothing to do with the 18 year record," but we've heard similar statements before, with La U players always desperate to play it down.
Ubilla beat Colo-Colo full back and Chilean international Oscar Opazo 4-1 in a game of FIFA 20 to promote both the video game and the Superclasico during the week.
🎮 ¡LO GANÓ UBILLA! 🎮

El superclásico virtual fue para la U con un contundente 4-1 sobre el Colo Colo comandado por Óscar Opazo. ¿Qué pasará en el Monumental? pic.twitter.com/rRoYvZemkL

— FOX Sports Chile (@FOXSports_Chile) October 2, 2019
A repeat of such a scoreline is highly unlikely especially given the gap in the table between the two sides this year, but Los Azules will take any psychological boost where they can find it.
The away side however are just desperate to avoid the embarrassment of another relegation to Primera B. Their first humiliation of going down to the "B" came in 1988 under the guidance of current West Ham United boss, Manuel Pellegrini.
Meanwhile a win for the home side will increase their chances of finishing runners-up and grabbing an automatic spot in the Copa Libertadores group stages.
Colo-Colo fans are likely to head to Saturday's clash with plenty of reminders of La U's precarious  position in the table, so expect to see fans dressed up as ghosts with the letter "B" on them as they try to remind the opposition fans of that dark day in 1988, and the impending doom they currently face.
It is worth noting that not all is well in the Colo-Colo camp either, with plenty of fans wanting head coach Mario Salas sacked as they head towards another trophy-less year. A defeat here could actually prove to be the final straw given the expectation of a home victory in this fixture.
Los Albos will be without the playmaking genius of Jorge Valdivia, but they do welcome the return from injury of talismanic striker Esteban Paredes, who has been the thorn in the side of La U many times before.
Paredes is not only out to cause more pain to the supporters who dislike him most, but is also just one goal away from being the all-time Chilean league goalscorer. The stage seems perfectly set for the 39-year-old, who is possibly playing his last Superclásico, to score the winner and set the new record.
Meanwhile Universidad de Chile welcome their own club legend and right-back, Matias Rodriguez, back from injury, and he is set to captain the side for this one.
Defender Osvaldo Gonzalez and striker Angelo Henriquez were both part of Sampaoli's La U, and have returned to the club in the past year to give the club a hand. Fans await big performances from those two as the away side look to end a long winless streak in this fixture.
It is a derby that should give us goals given both sides have looked defensively frail of late. Neither side has managed a clean sheet in their last five matches, and there's enough attacking talent on the pitch for that trend to continue here.
With a sell out crowd and plenty on the line, this Chilean Superclasico is set to be one worth tuning in for.