By Louis Smith. 
An all-Brazilian Copa Libertadores semi-final is due to take place this week. The match will be the biggest game of the season for both Grêmio and Flamengo, with both sides keen on continental success.
Grêmio won the competition back in 2017 and this will be their third semi-final in a row, while Flamengo has not featured in a Libertadores semi-final for 35 years, which may mean Gremio has a psychological edge going into the game.
This is a game which both Flamengo and Grêmio are eagerly anticipating, and one where both sets of fans are aware of the dangers their opposition possess.
"The game against Flamengo is one of the most anticipated in recent years," Rafael Santos from Grêmio Future told WFi.
"Grêmio is the Brazilian club that has been playing the best football in recent years, while Flamengo is a club that has been playing the best football in recent months.
"It is a very difficult match, as Flamengo have signed many players who are a level above Brazilian football, but I trust that Grêmio will be able to make a great match in the first game, and produce a great result to the decisive game at Maracanã."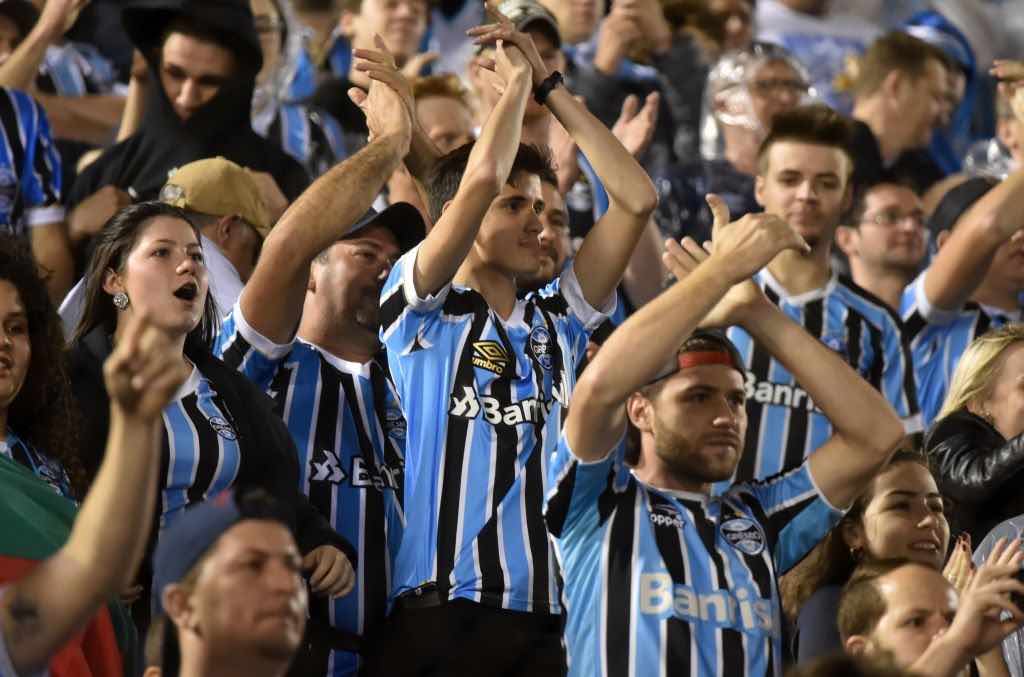 From the Rubro-Negro perspective, Gabriella, from Fla Galaxy, says: "The match against Grêmio is with no doubt the hardest game in the season until now. 
"Grêmio has an awesome team and they know how to play this game like no one."
So far this season Grêmio have been fairly poor in the league compared to Flamengo, with the club from Rio de Janeiro sitting 14 points above their opponents.
That said, Grêmio managed to put in one of their best league displays of the season in their last home game, as they triumphed with a 6-1 win over struggling Avai.
"Grêmio is a club that values ​​'kills kills' [knockout] tournaments more than 'leagues'," adds Santos.
"In many games in the national championship [the league], we play with a squad that is not the main one."
Another Grêmio fan, Amanda Urbano, gave her thoughts on both Flamengo and Grêmio going into the game. She believes both sides are ready to make the final in Santiago.
"I think both Gremio and Flamengo are strong enough to go to the finals and win," she said.
"Grêmio won Libertadores not long ago, and of course, it would be great to win against Flamengo and go to the finals.
"But both of them are also unpredictable, and it depends if the players have their heads in the game.
"I think it's part of the game, sometimes you win and sometimes you lose, and it depends not only on your team's effort, but also that of your opponents."
In recent years Flamengo has been splashing the cash, aiming to conquer South America as well as dominate Brazilian football.
If Flamengo was to beat Grêmio and earn a place in the final, it would almost justify the big spending they have done under president Rodolfo Landim. So far they have not lifted any major silverware since their Brazilian Cup triumph in 2013.
Flamengo also tops the Brazilian Championship, which is just past the halfway stage in the season, which shows the squad they're building is really close to achieving something the fans will cherish for many years to come.
"Flamengo has built up a dream team for the Brazilian fans," adds Gabriella.
"They are mostly young players with physical vigour and a desire to win. In addition, the team is united on and off the field.
"But I believe the main difference of all this change is the work of Jorge Jesus. He was able to mould this team, making players who were hated by the crowd find themselves, and make the Rubro-Negros love them again."
Jorge Jesus fez o gesto "eu te amo Flamengo" (em libras)

Jorge Jesus ama a torcida do Flamengo, ama o Flamengo, e a nação ama o Jorge Jesus, que treinador, que homem!! 🔴⚫️😍 pic.twitter.com/2cmHc1p8XE

— Atila Ribasᶠˡᵃ (@Atilafla) September 26, 2019

Another Flamengo fan, Atila Ribas, goes into further detail about the makeup of the squad.
"The Main players are all key, from goalkeeper to striker, the coach is also the key, but the Flamengo trio, Bruno Henrique, Gabriel Barbosa (Gabigol) and Giorgian De Arrascaeta are the main threat.
"We also have Gerson, who has been playing a lot, and of course the experienced full-back duo, Rafinha and Filipe Luis, as well as [central defensive pair] Rodrigo Caio and Pablo Mari."
Reaching the semi-finals of the Libertadores is something of which Flamengo fans can be proud, as they have done something no Flamengo team has done since way back in 1981.
Any Flamengo fan below the age of 35 will not have seen their side feature in a continental semi-final clash, which adds to what will be a very special tie.
"Arriving in a Libertadores semi-final is already something giant for Flamengo fans," adds Ribas.
"For the most passionate fans in the world, arriving in a final would be epic. Sensational. The streets of Rio de Janeiro in the final would be red and black.
"The Flamengo fans, especially the new generation, expects a lot, so it would be fantastic."
Gremio fan, Adriano, who runs the Seu Ourives Twitter account believes the game is between two sides with different ideas, which adds to the excitement.
One team is on a strict budget, while the other has a financial war chest. Adriano's believes the experience of the Immortal Tricolor in the Libertadores will prevail.
"I think it will be a very interesting moment in Brazilian football. On one hand, you have a long-term job made by Grêmio's President, Romildo Bolzan, and the manager, Renato Portaluppi: Low budget acquisitions, a very strict financial plan, and a lot of good young players coming though from Grêmio's youth team.
"On the other hand, you have the richest football team in South America — Flamengo — who has incredible financial power, allowing them to sign international players such Filipe Luis, Rafinha, Diego Alves, Gabriel Barbosa, and De Arrascaeta.
"Grêmio has a very experienced group of players. We're playing our third Libertadores semi-final in a row (2017, 2018 and now 2019).
"I really believe we have a chance to beat Flamengo, but it will be one of the most difficult games of our Libertadores history."
Flamengo will have to be very wary of Copa America star Everton Soares, also known as Cebolinha, or 'the little onion'. The reason he has been given this nickname is because of his onion-shaped head, similar to the Brazilian cartoon character Cebolinha.
On the football pitch, if Everton performs over the two legs, he could be the onion that reduces Flamengo fans to tears.
"In my opinion Everton is the best South American player currently playing in South America," adds Rafael Santos.
"He is a forward with great skill and speed, who is being called up to the Brazilian team consistently."
As well as the threat of Everton, the Grêmio faithful will be hoping that Luan Guilherme, who was instrumental in their Libertadores success in 2017, will be able to find a spark from somewhere and rediscover his form.
Since 2017 Luan's performances have declined, and his name is no longer being linked with top European clubs.
Despite this, he is still young and all it takes is one good game to raise confidence, which could see him perform consistently at the top level again.
"Luan is not having a good time, but is always decisive in games of this magnitude," says Santos.
"He is one of the top scorers in Grêmio history and helped the Brazilian team win the Olympic title in 2016. He was also elected the best player of Libertadores and South America in 2017."
Santos also believes that a victory for Grêmio would mean more than just winning a football match.
"Eliminating Flamengo and going to the Libertadores final in 2019 will show Brazil that it's not just money that makes football.
"For the last 3 years, Grêmio has been a Libertadores semi-finalist without the same financial conditions as Flamengo and Palmeiras.
"Passing Flamengo will be the consolidation of the great administrative work done by our board."
The atmosphere at the game will also play a part in who wins the tie, according to Gabriella, and if Flamengo fans can create a special atmosphere it can add to the performance levels of the players.
The first leg will be played in Grêmio's home in Porto Alegre, meaning the deciding leg will be in front of a partizan Flamengo crowd at the famous Maracana Stadium in Rio.
"I believe that deciding the match in the big stadium of Maracanã, filled with the awesome Flamengo crowd, will make the team stronger," she says.
"It is going to be an amazing game with two great teams. For the young fans, this is the best Flamengo they have ever seen play. It deserves to be marked in history.
"May the best team win!"
The winner of the tie will play either Boca Juniors or River Plate, who meet in the other semi-final.
The Final will be played in Santiago, Chile on the 23rd of November.