By Louis Smith.
After almost two years Paraguay returned to Europe for their recent international set of fixtures.
In their first game, La Albirroja took on Serbia. Despite creating several chances throughout the first half they were unable to find a way past the Serbians.
Then, early on in the second, Miguel Almirón was shown a second yellow card as the referee deemed that the Newcastle player had dived. There was contact, albeit not enough for a penalty, but not for it to be deemed a yellow card, either.
This was the second game in succession Almirón had been awarded a yellow card for diving, following a booking for his club side against Manchester United.
We spoke with Roberto Rojas, a Paraguayan-American football journalist for beIN Sports USA, to reflect on Paraguay's first trip to Europe for two years.
"It could be because Almiron doesn't have the physical strength to be able to fight them off but trying to use his lack of to find advantages for the opponents, which won't work in today's game and so he needs to forget about those childish type of challenges and improve on that," said Rojas.
"He's such an important player, and for him to act like that is not needed on the pitch."
The red card ruined the game and was the turning point in the match. Paraguay, despite the disadvantage, looked like they were going to earn a creditable draw on their return to Europe.
That was until a header in the dying embers of the game from Alexandar Mitrovic gave the Serbians the victory.
In their second match, La Albirojja faced another tricky tie away to Slovakia. The Paraguayans were on top for most of the first half, creating several chances, but once again were unable to capitalise on them.
As happens so often in football, if you don't take your chances you will get punished, and that is exactly what happened to Paraguay as the Slovakians took the lead following some sloppy defending.
Then came the Paraguayan response and after some beautiful build-up play, Oscar Romero found Alejandro Romero — "Kaku"  — who applied the finish to equalise with five minutes left to play.
That was the final score, meaning Paraguay ended the tour with one loss and one draw.
The Paraguayans can feel hard done to that they didn't manage to win at least one of the two games, but they will take plenty out of positives from this tour as it was an improvement on the performances seen against Jordan and Japan last month when they looked rudderless.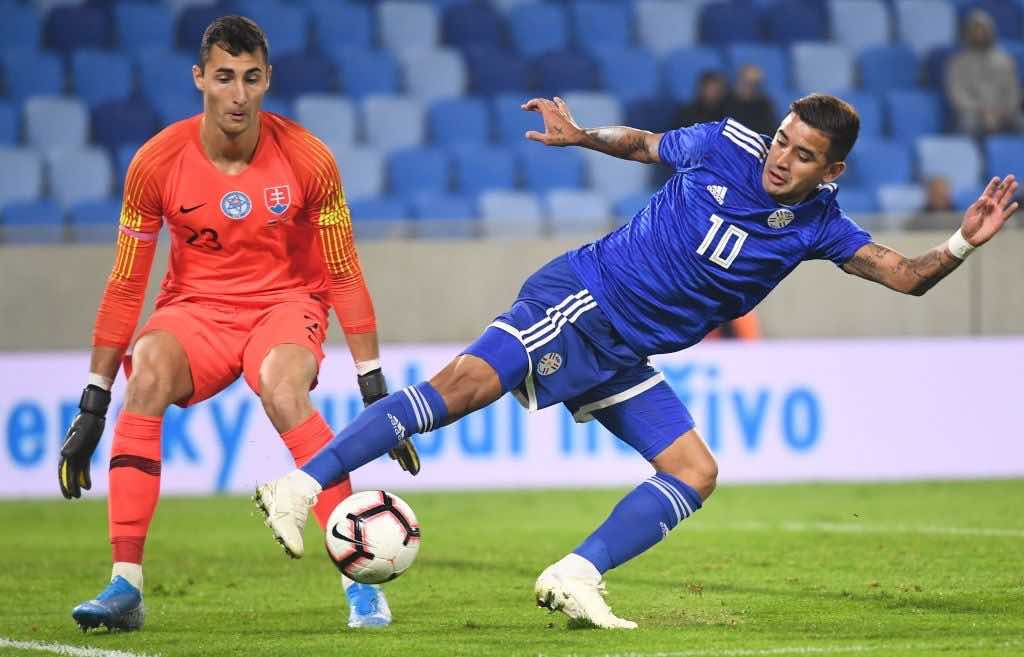 "I think in terms of positives, we are finally are starting to see more of a side that is able to demonstrate its talent," added Rojas.
"Being able to pressure the rival and go on the counter is still something I feel they have been able to improve on in comparison to what we saw in the last friendlies last month.
"In a way, perhaps the stronger rivals give more of a motivation for these players to perform better, but now you can see something being formed of what will hopefully be a team that won't be changed too much in 2020."
Along with the positives, there are also some negatives for manager Eduardo Berizzo to work on at both ends of the pitch.
"What Berizzo might need to work on is to try to address the issue of finding a striker to capitalize on finishing the chances they were able to create, as well as trying to fix the issue of conceding the easy goals seen against both Serbia and Slovakia," Rojas said.
Berizzo gave three full international caps to Mathias Villasanti, Jorge Morel, and Matías Espinoza all of whom featured in both of the games. Will all three players under 22 this will certainly not be the last time they represent the national team.
Rojas had this to say regarding the new boys:
"For me, they've passed the test in terms of their future on the national team.
"I think Villasanti is probably the one that impressed the most, being able to break through that midfield and help produce opportunities for Paraguay in attack.
"For him to get those opportunities to shine in his first two matches to make him the player that I believe will have many more opportunities in the future."
With World Cup qualification matches just around the corner, the stakes are getting higher and higher each week, meaning players are going to have to be on top of their game if they want to be considered for selection.
"Blas Riveros & Kaku were the ones that impressed me the most in these two matches," summarised Rojas.
"Riveros has been demonstrating he is the full-back the team needs to go on the attack in matches while also being capable defensively.
"From Kaku getting the goal off the bench proves he is that spark the team needs, and is definitely fighting for that starting spot with Almirón."
Finally, Rojas gave his thoughts on the tour as a whole
"It was a tour that they've should've gone unbeaten in. Nevertheless, I was impressed and I think they can leave Europe with their heads held high as they prepare for next month's friendlies against familiar foes in Argentina and Venezuela."
With World Cup qualifiers on the horizon in March 2020, Paraguay still has a lot of work to do going forward but compared to last month, things are certainly looking up.