By Louis Smith.
The October international break is over and club football has already begun. For the South American sides, it was the penultimate get together before important World Cup Qualifiers get underway in March. Here's a look at how the CONMEBOL teams fared in the latest round of fixtures.
Argentina
Argentina, once again without their talisman Lionel Messi, had one their best international breaks for some time. Last time out the Argentinians had a sense of direction — something they haven't had in years, and in this set of fixtures they carried on their recent upturn in form.
In their first game, they faced a difficult task playing away in Germany. After a bright start, Argentina were punished for not taking their chances when the Germans scored with their first sight on goal. They added a second before half-time and things looked bleak for the Argentines. 
But goals from Lucas Alario and Lucas Ocampos in the second half meant the friendly finished 2-2. An impressive fightback from Lionel Scaloni's men.
The confidence Argentina got from fighting back from two goals down in Germany carried on into their next game against an inexperienced Ecuador side.
It was a game where almost everything on target found the net. There were eight shots on target which led to seven goals — six of them coming from Argentina.
On an afternoon of clinical finishing, goals from Alario, Leandro Paredes, German Pezzella, Nicolas Dominguez, and Ocampos, as well as unfortunate own goal from Ecuadorian Jhon Espinoza helped Argentina to a 6-1 victory. 
No Messi, no problem.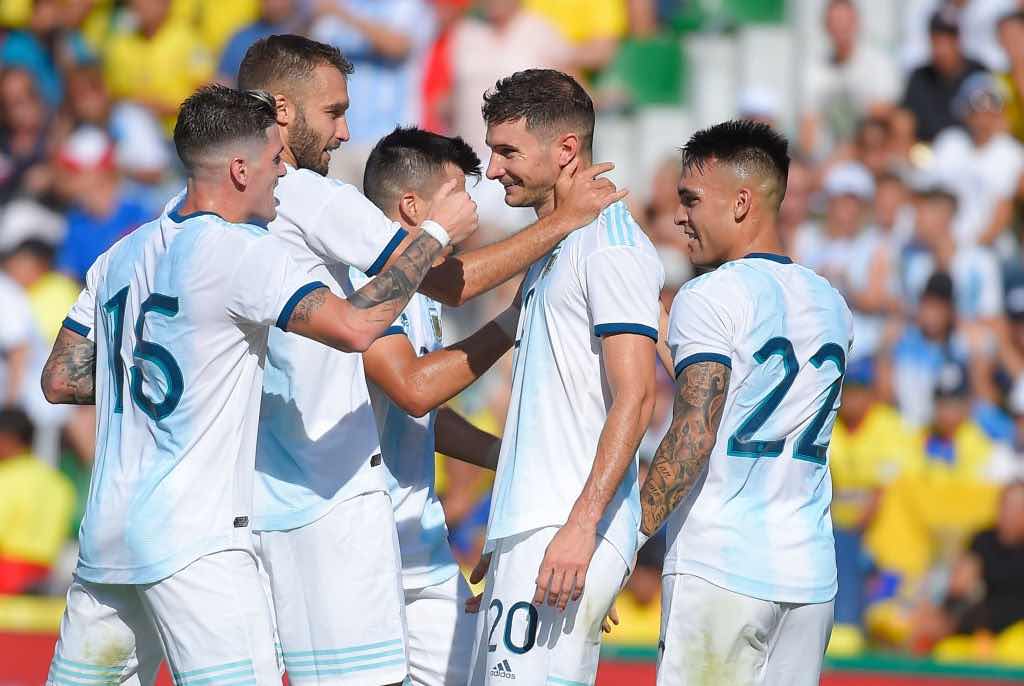 Bolivia
For the Bolivians, it was an October to remember as they earned their first win in 13 matches.
That didn't come straight away as in their first match they were comfortably put to the sword by Venezuela in a 4-1 defeat.  On the scoresheet for Bolivia was Gilbert Alvarez of Jose Wilstermann.
In the second game they took on Haiti and things looked desperate when Gilbert Alvarez put into his own net early on.
The own goal sparked the Bolivians on, though, and they replied with three unanswered goals. Erwin Saavedra grabbed a brace while Gilbert Alvarez also scored at the right end this time giving Bolivia that winning feeling for the first time in a year.
Brazil
Brazil were once again incredibly frustrating to watch and with most fans having to set their alarms early in the morning to watch the games, this only added to the disappointment.
First up the Seleção took on Senegal, and an early goal from Roberto Firmino with a wonderful chipped finish turned out to be the only highlight of the game for Brazil.
The Brazilians only managed two efforts on goal compared to Senegal's seven, and it was the West African side that also had the lion's share of the possession.
Senegal's dominance eventually paid off in added time in the first half when a clumsy foul by Marquinhos on Sadio Mane allowed the Senegalese to equalise from the spot.
In the second half, Brazil controlled the ball better and created more chances, however, they could not find a winner meaning they had to settle for a draw.
A game against another West African side, Nigeria, rounded off their trip to Singapore.
Both sides squandered good chances early on, but the Super Eagles eventually took the lead through Rangers midfielder Joe Aribo after the Brazilian back line switched off.
Whatever Tite said at half time worked, as moments into the second half Casemiro levelled the match up from close range.
Brazil continued to dominate and Richarlison missed a great chance, while Casemiro almost added a second but Nigeria were saved by the bar.
The game ended 1-1, which for Brazil means four games without a win and Tite is under pressure from the some of the Brazilian fans who took to social media to voice their opinion.
Despite Brazil winning the Copa America this year, it is no surprise that some fans are asking for Tite to be given the boot, given in domestic football there have been 24 managerial changes this season in the top flight… in a twenty team league.
Chile
Chile took on Colombia in their opener and were lucky to come away with a draw and a clean sheet given Colombia had a clear penalty turned down in the second half.
More worryingly for La Roja is that they did not manage a single effort on goal despite having the lion's share of possession.
Their second match against Guinea had way more action, and this time it was their defence who were in question. The first half was dominated by Chile but they could not find a way through. This was their downfall as Guniea scored with the only shot on goal they had, meaning they led at the break.
Then in the second half goals from Jean Meneses, Felipe Mora and Arturo Vidal in an impressive ten-minute spell were enough to save the Chile side from humiliation. Guinea scored again but Chile secured their first win since the group stage of the Copa America as they went home with a narrow 3-2 victory.
Colombia
Colombia had an October to forget as they didn't win any of the two matches meaning its five games without a win.
In the first game against Chile they created several chances but couldn't find the cutting edge as they drew 0-0 in a game they really should have won.
Then the Colombians travelled to France to take on the champions of Africa, Algeria, in front of a passionate crowd.
Despite being favourites they couldn't handle the counter-attacking ability of the Algerians and were embarrassed in a 3-0 loss, giving manager Carlos Queiroz plenty of thinking to do before their next set of matches.
Ecuador
Last time out Ecuador was the only team from South America with a 100% record in their fixtures with wins over Peru and Bolivia.
This time that wasn't the case as they took on Argentina – the biggest test so far for this young side, and found themselves out of their depth as they suffered a 6-1 defeat in Spain.  Angel Mena grabbed the consolation goal for the Ecuadorians.
Paraguay
La Albirroja travelled to Europe for the first time since 2017 to take on Serbia and Slovakia.
In the first game against Serbia, Paraguay showed some really good attacking intent but the turning point in the game came when Newcastle's Miguel Almirón was shown a second yellow card for an alleged dive.
After that Paraguay was left hanging on to defend and try to earn a draw. It was all going well until some sloppy defending allowed the Serbians to score late on as they suffered a 1-0 defeat.
The second match was much like the first match with Paraguay willing to show quality in attack but like many of the South American sides this week the Paraguayan's couldn't find the target and Slovakia capitalised on this and took the lead early in the second half.
Paraguay did not let this affect them as they managed to earn a respectful draw when Alejandro Romero finished off a lovely move by the Paraguayans.
Peru / Uruguay
The Peruvians and Uruguayans decided to do something a little bit different for their set of fixtures. They both decided to play a home and away leg in preparation for the World Cup qualifiers that begin next year.
The first match was played in Uruguay and it was the Uruguayans who dominated, but only managed to win  1-0 thanks to a first-half goal coming from Brian Rodriguez. They sould have won by a considerably bigger scoreline given the number of chances they created in comparison to Peru who didn't have a single effort on target.
In the return fixture in Lima, it was Peru's turn to feel frustrated in not doing more to win the game. Uruguay's Martin Caceres was shown two yellow cards in a matter on seconds. One for a foul and one for dissent leaving Uruguay playing the majority of the game with ten men, but Peru failed to take full advantage despite taking the lead through Christofer Gonzales.
The goal looked like it would be enough for Peru to win it but with ten minutes to play Darwin Nunez equalized meaning Uruguay remained unbeaten over Peru in the two games.
The aggregate score of the game was 2-1 in favour of the Uruguayans.
Venezuela
Venezuela was the only side to boast two wins from two matches this week. They also returned to Caracas for the first time since World Cup qualifiers in 2017.
In their first game, they brushed Bolivia aside easily by winning 4-1. Goals from Yangel Herrera, Darwin Machis and two from the main man Salomón Rondón gave Venezuela a convincing victory.
Trinidad and Tobago were next up for La Vinotinto, this would be the first time they had played each other since way back in 2003 and on that occasion, the sides drew 3-3.
This time it would be different as two early goals from Rondon and Machis were enough for Venezuela to win 2-0 as they continue to grow in confidence ahead of the Qatar 2022 qualifiers starting in March.