My Era, by Cameron McAlpin.
My Era is a look back through some of my favourite football players at Leeds United.
While My Era certainly wasn't considered the glory days for Leeds, they certainly produced unforgettable moments and iconic players (even if just in my eyes).
This won't be a look back at a player's career, it's more a look down memory lane with my favourite moments and the context of the situation through my biased blue eyes.
In the first of this miniseries, I'm going to look back at maybe my favourite footballer during My Era and that man is Jonny Howson.
For some context: Leeds had just been relegated to Division 1.
The club was in a shambolic state.
The fans were at a breaking point.
We had just been given a 15-point deduction before a single minute of football had been played and, to top it all off, we now had to play teams like Tranmere and Huddersfield.
Times were very bleak at Elland Road and this is the point where My Era really started. It's fair to say that it wasn't the best time to be a Leeds fan, but nevertheless, this is the time my Dad started to take me to games with the only reasoning I can imagine is that the tickets were now a lot cheaper.
Don't get me wrong, while I would have loved to be part of the "Dirty Leeds" era during the late 1960s and early '70s; or the title-winning side of '92 featuring names such as Rod Wallace, Gordon Strachan and the late, great, Gary Speed; or even apart of the Iconic Leeds team that made it to the champions league semi-final, it just wouldn't' have felt the same.
While I would suffer many heart-breaking moments, I would still pick My Era.
There is something about being part of a team where everything has gone wrong. You are then naturally a part of the rebuild no matter how long or how painstakingly difficult it may be.
Players like Jonny Howson helped with this as he was a local, home-grown talent who looked like he could really make a difference and help push Leeds back to where they belong.
My first memory of Howson wasn't him on the pitch, though. As Leeds won five out of their first five games to climb out of the 15-point deficit, Howson didn't have that big of an impact, but he was winning over the fans.
He has the added benefit of being born in Morley, and the Leeds fans love a local lad to cheer on, but he also fit a mould that Leeds had been craving.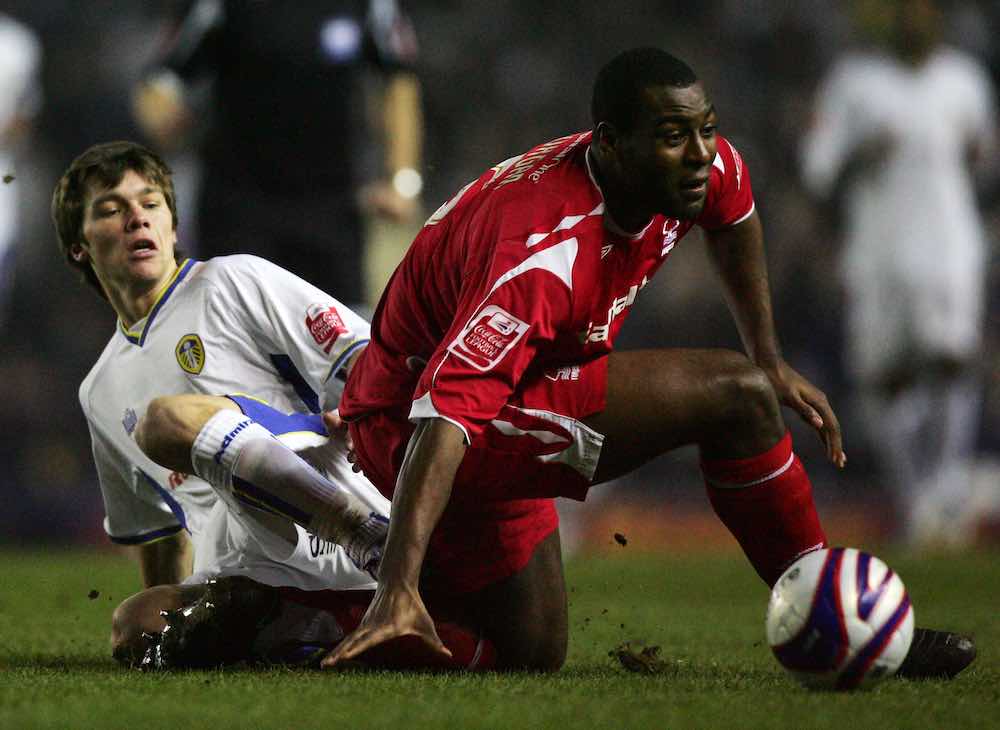 Howson was a hard-nosed but creative midfielder, and while he hadn't registered a goal early in the season the fans could tell that we had a local talent who in time would be integral in a promotion race.
Sat in the South Stand at Elland Road the atmosphere was starting to pick up and a bit more fun was creeping back into the ground.
Reading the matchday programme during the season it included the "actual" League 1 table, showed where Leeds would have been should they not have had a 15-point deduction.
It was a not only a sly dig towards the Football League but also Leeds' way of getting over what had happened.
Chants would be ringing around Elland Road in a way that would make Songs of Praise proud, with one of the most enjoyable being:
"You are my Howson, my Jonny Howson, you make us happy when skies are grey, so f*** your Lampards and Stevie Gerrards, just don't take my Howson away."
At nine years old that song would be stuck in my head for hours after the game. Maybe it was because of the inappropriate word, but mostly it's because I was starting to fully understand what it meant to be part of a club, and Howson was a big part of that.
Howson would give not just me but the entire crowd hope when he picked up the ball, drove forward, and look to open the game.
He seemed to have this magical ability to play the pass at the perfect time, and when nothing seemed to develop, he would simply pass to the open attacker, much like Paul Scholes. While I'd never imply that Howson was on the same level as Scholes, I just know who I'd rather have on my team.
Howson's play gave a free-roaming feel to the attack and gave opposing teams a difficult decision to press up to Howson and leave players like Beckford with more room to get into dangerous positions, or stand off him and allow him to play that killer ball.
The season had many more ups than downs, but I need to skip to near the very end to give you an iconic moment personally, but also one that, at the time, seemed like a genuine momentous moment in Leeds' history.
After a gruelling season, Leeds found themselves in the playoffs and just three games away from getting back into the Championship.
It was a very disappointing performance at home against Carlise, in which Leeds managed to get a last-minute goal to give themselves a fighting chance in the second-leg.
While Leeds were only in their first season in League 1 it already felt like a do or die situation. In what seemed like a given when the backs were to the wall, Howson stepped forward and left his stamp on the game to give Leeds hope.
He capitalised on a cross early on in the game and, on the half-volley, guided the ball into the back of the net.
The game was tied and extra time looked certain. I hadn't been lucky enough to get an away ticket for the second-leg and like most fans was instead watching in my front room. A very strange nervous tension filled the air and little did I know I was about to experience my first true great moment as a Leeds fan.
I still remember it clearly 11 years later.
The stadium announcer had just announced the added time as Howson picked up the ball. The 19-year-old drove forward and let loose into the far bottom corner.
Absolute ecstasy. That is the only way I can describe not only the faithful (and lucky) visiting crowd at the game but also the scene in my living room.
The pillows went flying and Howson had delivered that magical moment. Even the most delusional fan wouldn't have imagined that Howson would be the goal-scoring hero. He'd only scored three all season prior to that, yet here we were dreaming about a magical moment at Wembley because of of a local lad.
The final didn't go to plan. It wasn't just Howson, but the entire team looked like fish out of water. The occasion appeared too much for the players, and if you watch back the TV coverage at the point when the players are walking onto the pitch, the Leeds players simply look scared. It's as simple as that, and the 50,000 (trust me, we took that many) Leeds fans were sent home in tears.
Leeds fans in tears was my main memory from that game as I pretended to shed tears to see if the Sky cameras would zoom in on me and give me my 15 minutes of fame, unfortunately, it didn't happen, and we had another season in League 1.
It was another trying season in which Howson started slowly but, like the season before, grew into a key part of Leeds' push for promotion. He pushed the ball forward more and with players like Fabian Delph becoming top talents, Leeds had a foundation to build upon and look towards the future.
On paper Leeds had a great team and was one of the favourites to go up automatically but, as you can see, doing things the easy and simple way is not what Leeds United like to do.
In a second-leg playoff semi-final against Millwall at home, Leeds couldn't finish the job and the game finished 1-1 — 2-1 on aggerate to Millwall. It was another season of League 1 football, which is what no Leeds fan wanted, but this next season would showcase the skills of Howson and put him forward one of the best players outside of the Premier League. It was also my favourite season supporting Leeds United.
Howson, from the get-go of the 2009/10 season, showed massive improvement. Even though he was a young lad, he really led by example. He had improved dramatically as a footballer, and his confidence was sky-high. All of this led to a glorious and now infamous moment in Leeds's history.
Leeds had made a red hot to start to the season and looked destined for promotion. Maybe this was the season Leeds would do something special and, for once, not put the fans through heartbreak.
Then the FA Cup Third Round draw happened and Leeds got its dream draw — Manchester United at Old Trafford.
Leeds had a chance, albeit a small one, to make it up to the fans for the years of misery and if even for one day let the fans remember what it was like to be back at the top of English Football.
The date was January 3, 2010. It was a typical cold morning in Manchester. I had somehow got a ticket for this fixture and joined the 9,000 travelling fans to see if by some miracle we could not just put up a fight, but win against our bitter rivals.
We parked in the Kellogg's building and made the walk to Old Trafford. The atmosphere was special and I was just glad to be apart of the occasion.
Once the game started it was the familiar faces who looked like they could make a difference. Man United sent a free-kick into the Leeds half and after a little tussle for the ball, it landed at Howson's feet.
You wouldn't have guessed it at that moment, but he was about to make 9,000 Leeds fans put on their best impression of a rave.
He looks up, spots Beckford making a run off Wes Brown's shoulder and plays an awe-inspiring, perfectly weighted 50-yard pass.
It lands exactly where Beckford wants it and while he tried his best to make it as difficult a finish as possible, he still manages to slide it under the keeper and put Leeds 1-0 up inside the "Theatre of Dreams".
I'd love to describe the raw emotion that came from the stands when the ball hit the back of the net, and paint a picture of unison with 9,000 fans almost becoming one, but I can't.
In the madness of the celebration my dad turned to me and accidentally kneed me in the family jewels, but this didn't matter. Leeds had gone one up in a game in which they had been given no chance, and even though Beckford will go down in the history books, in folklore, as the goal-scorer at Old Trafford, it was Howson who, like in many key moments during My Era, had his fingerprints all over the game and the goal.
The full-time whistle blew and thanks to a local player, playing for his hometown team, for one magical day Leeds were back on the map and, even if only symbolically, at the top of English football.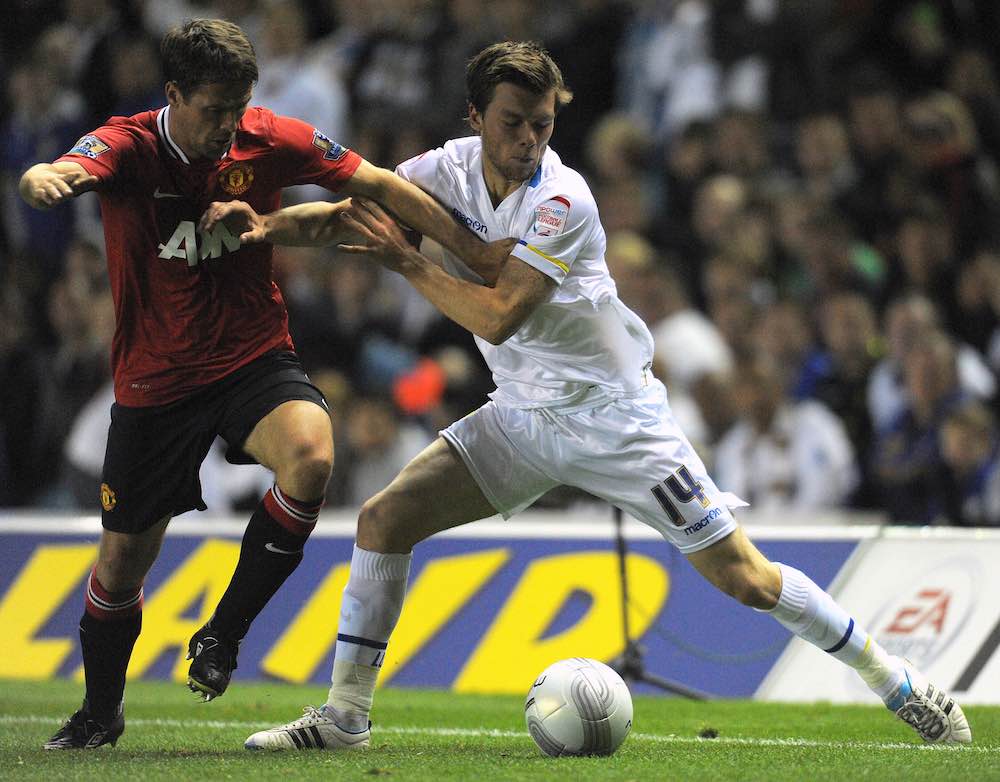 While this would be the iconic moment in Leeds 09/10 F.A. Cup run it wasn't his only moment against Premier League opposition.
In the next round, Leeds faced Spurs at White Hart Lane. Once again it was the connection between Howson and Beckford that proved crucial and the two players linked up in very similar circumstances.
I didn't manage to make my way down to London so, instead, I had to settle for ITV in my bedroom. If I'm honest Spurs were the better team, as they should be, and it took some last-ditch defending and top keeping to prevent them from running away with the game, but Leeds stood firm while fighting and scratching to keep the game alive.
2-1 down, with the final minutes of the game ticking away, Howson picked up the ball inside his own half and looked towards Beckford. As always, Howson put it on a sixpence and gave Beckford a chance to get a shot away. Instead, following a clumsy challenge on the striker, Leeds were awarded a penalty.
I distinctly remember the penalty being given as I went crazy for the decision more than the actual goal, much to my Mum's annoyance I ran down the stairs, kicked the bathroom door in excitement and rushed back upstairs so I didn't miss the penalty.
Howson had helped give another great moment in a season which was full of them, yet he was about to save his best and, in the grand scheme of things, most important performance for last.
Coming into the final game of the season four teams — Leeds, Millwall, Swindon and Charlton  — could all finish second and get automatic promotion.
Leeds, however, were the only team who didn't have to rely on other results. Win their final game and second would be theirs.
At home against Bristol City in front of the highest attendance that season (38,234, one of which was me) the stage was set for a great day and finally the sweet payoff to make the disappointment we'd suffered the prior two seasons worth it.
To the shock of absolutely no one, it didn't go exactly as planned. Around 30 minutes into the game with the score 0-0, Max Gradel had the fantastic idea of getting sent off and forcing Leeds to play for around 70 minutes with ten men in an absolute must-win game.
I can still hear today 36,000 Leeds fans telling Gradel to 'leave the pitch', but not in such kind words. To make things even worse Bristol City put themselves 1-0 up against the run of play just after half time.
I'd only really been a true fan of Leeds for a couple of seasons, but I felt like I'd been through enough and was devasted to see the same old story, but like a loyal sea captain, I was prepared to go down with the ship if it was meant to be.
By this point in the season, Howson had lost his form and was dropped from the starting lineup to the bench. Even though he'd been an important part of this season, his form at that time meant he wouldn't have a chance to make one last memory.
Simon Grayson, though, knew that even though Leeds were down to ten-men he had no option than to go for it. He looked along his bench and knew Howson could be the one to just create a magical moment when one didn't look possible.
Not long after the goal had gone in Howson was introduced. The Elland Road faithful roared into full voice and urged, if not begged, for Howson to make the difference.
As he always seemed to do when the backs were against the wall, Howson answered the call. A very poor cross from Bradley Johnson managed to find its way to Luciano Becchio who took a touch and gently laid it back to Howson.
There was a deafening silence as every eye fixated on Howson. He hits the ball first time and bends it straight into the corner.
The ball could not have been hit any sweeter and, once again, the local lad had created a magical moment. He had managed to bring belief back to Leeds when it looked like it wasn't possible.
A Beckford goal put Leeds 2-1 up and was eventually the goal that got Leeds promoted, and allowed me enjoy my first ever pitch invasion (below).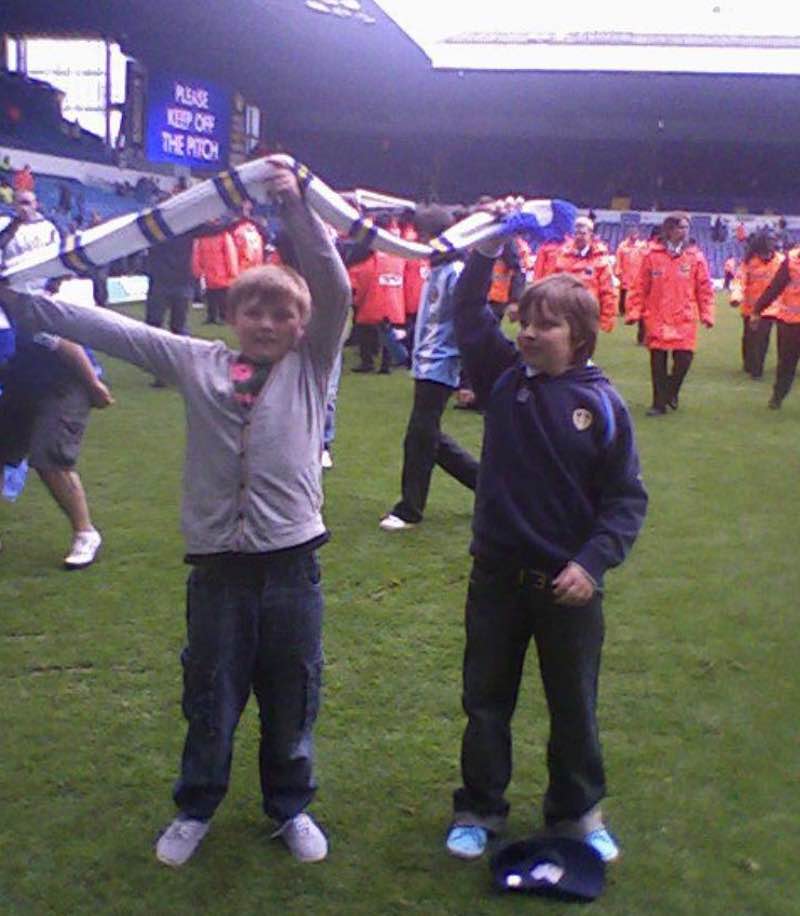 Without this promotion, Howson might not have had such an impact on My Era, but as fans who were there at the time will tell you, Howson was a player for the fans.
I've mentioned many times in this article that Howson was a local lad, but in a northern city, this just seems to have an extra edge as would a Geordie playing for Newcastle or a Scouser playing for Liverpool. He was one of our own.
Howson had a couple more seasons with Leeds in the Championship and, if I'm honest, he didn't have the impact he'd had before, but he didn't need to.
He was a driving force and the reason in why, even against my better judgment, I love Leeds United.
I'll always have great memories of Elland Road no matter what happens, thanks to Howson, and even almost a decade on I will still go back and listen to Howson's name being sung and cheered around Elland Road.