By Louis Smith.
Sunday December 8, 2019. A historic day for Cruzeiro but for all the wrong reasons, on and off the field.
Going into the final day of their season Cruzeiro needed a victory against Palmeiras and hope Ceara lost to Botafogo to enable them to remain in the top flight.
At 16:33 local time, Botafogo took the lead. The news broke among Cruzeiro fans who started to believe and roared their team on to try and force a goal of their own.
The hope of the fans would last only 45 minutes as Palmeiras took the lead and, moments later, to make matters worse for Raposa, Thiago Galhardo scored a penalty for Ceara.
With the mood at the Estádio Mineirão already at boiling point, Palmeiras made it 2-0, confirming Cruzeiro's first relegation in their 98-year history. It's the highest-profile demotion in South America since River Plate in 2011.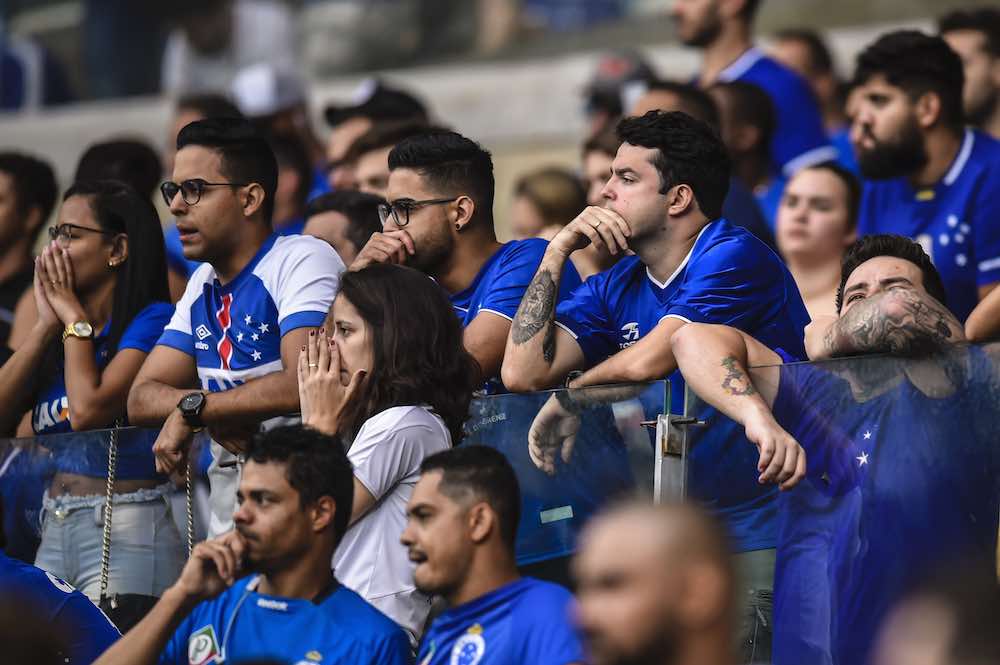 Things soon turned sour in the Mineirão, and the usually beautiful stadium resembled a warzone as fans ripped out seats in anger, throwing anything they could towards the pitch which meant the game finished prematurely.
This was expected, though, and the police ensured they had enough of a presence to monitor the problem, firing rubber bullets and tear gas in response to try and diffuse the situation.
The mass brawl saw many people injured — some of whom had to be carried out on stretchers.  40 TVs in the stadium were smashed, and two bathrooms were obliterated.
If you were to close your eyes and listen to the noise inside the stadium at that point you would think you were on the frontline rather than at a football match.
Once the stadium was evacuated, unsavoury scenes spilled on to the streets outside where the rioting continued, forcing riot police to get involved.
The stadium damage caused is likely to leave Cruzeiro with financial punishments, and they could also be forced to play matches behind closed doors.
When Cortibia were relegated in 2009 there were similar scenes which led to the club receiving a 30-match stadium ban, reduced to ten following an appeal.
It wasn't just around the ground where problems occurred. In a neighbourhood in Belo Horizonte, a family celebrating one of the goals of Palmeiras received death threats from a man from a house nearby, who hurled plant plots and bricks towards their house.
The angry scenes come after a build-up of rage towards the president, Wagner Pires de Sá. After taking over in 2017 Wagner promised Cruzeiro fans they will "fight for the Libertadores as it's the only trophy they are yet to win."
Instead, they are being investigated for money laundering, illegal underage player transactions and the club is in massive debt. He promised fans the Libertadores but instead has taken them the furthest away they have ever been.
Just when you're thinking it can't get any worse for Cruzeiro, unfortunately for them it looks likely to. The debts owed are likely to lead to a six-point deduction next season. On top of this, former player Bruno Silva has sued the club for late payments following a contract termination, meaning the debts could continue to grow.
For fans of other teams in Brazil, Cruzeiro's relegation gave them joy, and they are happy to see that their wrongdoings are having an effect on the field.
Despite losing their final game of the season, bitter rivals Atlético Mineiro laughed at Cruzeiro's demotion on their official Twitter page, while an unofficial Serie B account tweeted saying: "Cruzeiro, my love".
KKKKKKKKKKKKKKKKKKKKKKKKKKKKKKKKKKKKKKKKKKKKKKKKKKKKKKKKKKKKKKKKKKKKKKKKKKKKKKKKKKKKKKKKKKKKKKKKKKKKKKKKKKKKKKKKKKKKKKKKKKKKKKKKKKKKKKKKKKKKKKKKKKKKKKKKKKKKKKKKKKKKKKKKKKKKKKKKKKKKKKKKKKKKKKKKKKKKKKKKKKKKKKKKKKKKKKKKKKKKKKKKKKKKKKKKKKKKKKKKKKKKKKKKKKKKKKKKKKKKKAAAAAIIIIIIIUUUUUUU

— Atlético (@Atletico) December 8, 2019
The fans most pleased on Sunday were those of Ceará, who ensured they will be competing in the top flight for the third season in a row.
After months of being threatened with demotion, they could finally relax. Alexandre, a Ceará fan from Fortaleza, expressed his delight: "It's over! Vozão continues in Serie A for 2020, tonight we party."