Bundesliga Zeitung, by Andy Wales.
It was the famous 1980's wrestler 'Rowdy' Roddy Piper who said: "just when you think you have all the answers, I change the questions".
I know that's a very left-field reference for a football column, but it's very apt with this season's Bundesliga because just when you think the top or bottom is taking shape, it changes.
Three dramatic matchdays in the space of ten days brought the first half of the season (the Hinrunde as it's known in Germany) to its conclusion.
The Bundesliga now heads into a winter break with RB Leipzig at the top, making them Herbstmeister (autumn champion) in Julian Nagelsmann's first season in charge.
🐂🔴 New Herbstmeister 🔴🐂 @RBLeipzig_EN will spend Christmas at the top of the #Bundesliga 🎄 pic.twitter.com/87g4aPklpF

— Bundesliga English (@Bundesliga_EN) December 21, 2019

Over the past decade, the Herbstmeister usually goes on to win the title, but those statistics are perhaps skewed by the domination of Bayern Munich. Last season Borussia Dortmund were the Herbstmeister, but crumbled under the pressure and Bayern went on to record a seventh successive title.
Leipzig don't appear to be quite so brittle, but if this first half of the season has taught us anything, it's to try not to read too far ahead.
After some impressive summer transfer business and a resounding Super Cup win over Bayern, Dortmund were the title favourites and early pacesetters. However, the vulnerability that cost them so dearly last season soon returned and they were overtaken by a flying Leipzig side.
New boss Nagelsmann was understandably enjoying the plaudits, but pride comes before a fall and their form took a dip.
This allowed Bayern to go top and provide Niko Kovac with a temporary respite from the enduring speculation over his future. It only lasted a week as Borussia Mönchengladbach became the surprise leaders, something Marco Rose and his team managed to do until the beginning of the Englisch Woche we have just enjoyed.
This was when Leipzig re-took the lead and will remain so until the Bundesliga resumes in mid-January.
The lead changing hands and being hotly contested has been one of the highlights of this absorbing season. As well as the teams already mentioned, we've also had a much-improved Schalke 04 keeping pace, with Bayer Leverkusen, Hoffenheim and Freiburg not too far behind.
It's been the kind of competitiveness at the top that Bundesliga followers have long yearned for. Genuine competition between a number of different sides and for weeks, there was only a few points between them all.
This refreshing unpredictability has been enhanced by good football, exciting games and promising young managers testing their wits against one another.
Robert Lewandowski leading the goal-scoring charts is perhaps predictable, but to witness his finishing exploits has been an experience in itself. Another positive note is the fact that Timo Werner is right behind him as both are having incredible seasons.
Lewandowski's goals were not enough to save Kovac, but then again, his future always looked in doubt from the moment he was appointed.
Interim coach Hansi Flick has steadied the ship reunified the squad, but the waters continue to be choppy for a transitional Bayern side that can go from dominance to torn apart in the same game.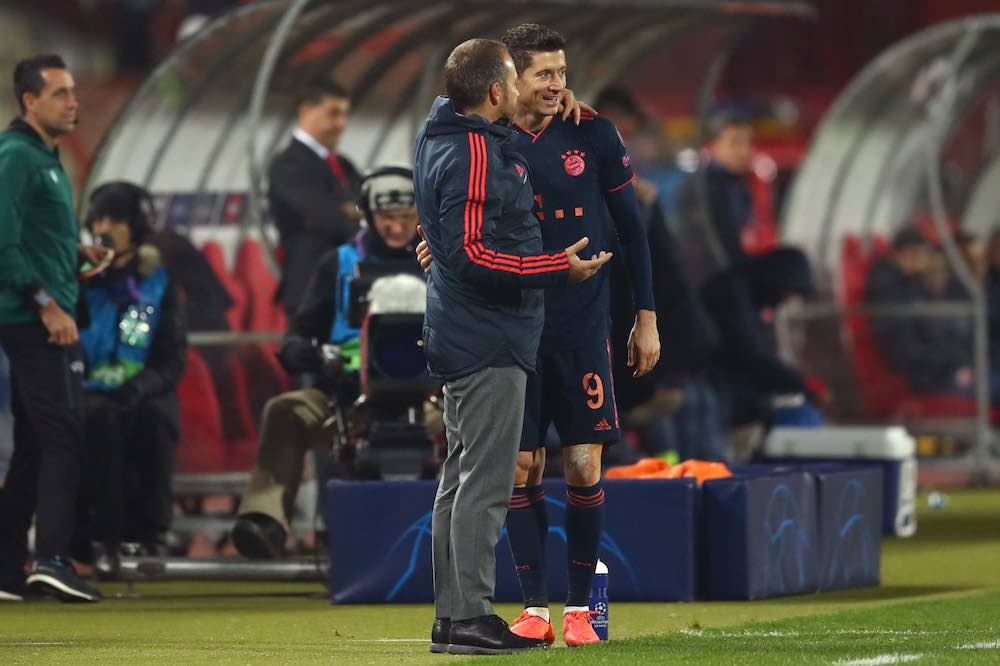 For Lucien Favre, it was a season that began with high expectations and quickly descended into scrutiny and pressure. The end seemed inevitable after a disastrous home draw with Paderborn, but a few improved performances led some to suggest that a corner might have been turned.
Rather than turn a corner, Dortmund keep going round in circles.
A week that saw a convincing win over Mainz, a two-goal lead over Leipzig end in a draw and then culminate in defeat to Hoffenheim was a microcosm of their season. Favre may well make it to the summer, but it seems unlikely he'll survive beyond that.
The intrigue and excitement has not been restricted to the top of the table. Just as the level of competitiveness in the title race has been refreshing, so has Union Berlin's debut season in the top flight.
Victory in the Berlin derby capped off an encouraging point haul that sees them currently in mid-table. The second half of the season may prove tougher, but they've rightfully enjoyed the journey up to now.
Christmas carols with @fcunion_en in Köpenick. Thousands of fans come here to do this every year since 89 broke in on Dec. 2003 to start the tradition. It's brilliant! #Eisern pic.twitter.com/zcUSJNHUfl

— Ciarán Fahey (@cfaheyAP) December 23, 2019
The same cannot be said for city rivals Hertha. A poor campaign saw coach Ante Covic lose his job and be replaced by Jürgen Klinsmann. As Hertha have begun to climb the table, another side failing to live up to expectations, Werder Bremen, have slipped further and further into the mire.
Indeed, Bremen are in big trouble. Their Englisch Woche began with a 6-1 thrashing at Bayern, before going down 5-0 at home to Mainz and ended with a 1-0 defeat in Köln. They may be a big club, but that didn't save near neighbours Hamburg and unless Bremen can turn things around quickly next month, they will suffer the same fate.
That win for Köln brings me right back to that Roddy Piper quote. The Billy Goats were looking down and out themselves a few weeks ago, but just when we thought we had the answers, Köln changed the question.
Unbelievably, three consecutive wins over Leverkusen, Eintracht Frankfurt and aforementioned Bremen lifted them out of the relegation zone.
The Rückrunde will have much to live up to, but the unpredictability and competitiveness so far provides plenty of hope. We also have the potential curveball of the January transfer window to spice things up further, so roll on the end of the winter break.