James Rowe spoke to Waldhof Mannheim striker Maurice Deville for WFi. They discussed what it's like to play football in Mannheim, representing Luxembourg at international level, and the luck needed to become a successful professional footballer.
---
You signed for Waldhof Mannheim in 2017. How are you enjoying your time there so far, and how would you describe the club?
"I have enjoyed pretty much all my time at the club up up to now. My first season was not the easiest for me, but now I am feeling very comfortable at the club and things are going well.
"We have been promoted to the 3. Bundesliga and the season in which we gained promotion was a spectacular one for us.
"We won many matches and had many spectators in the stadium. I hope my time at the club continues in this vein.
"Waldhof Mannheim are a club with a lot of potential and we get more spectators with every match we play.
"You can all feel the excitement about the club in the city, with people wearing Waldhof Mannheim shirts. For example, when I walk my dog people come to me to give encouragement and compliments regarding matches and it is great to see how the club has developed in recent seasons."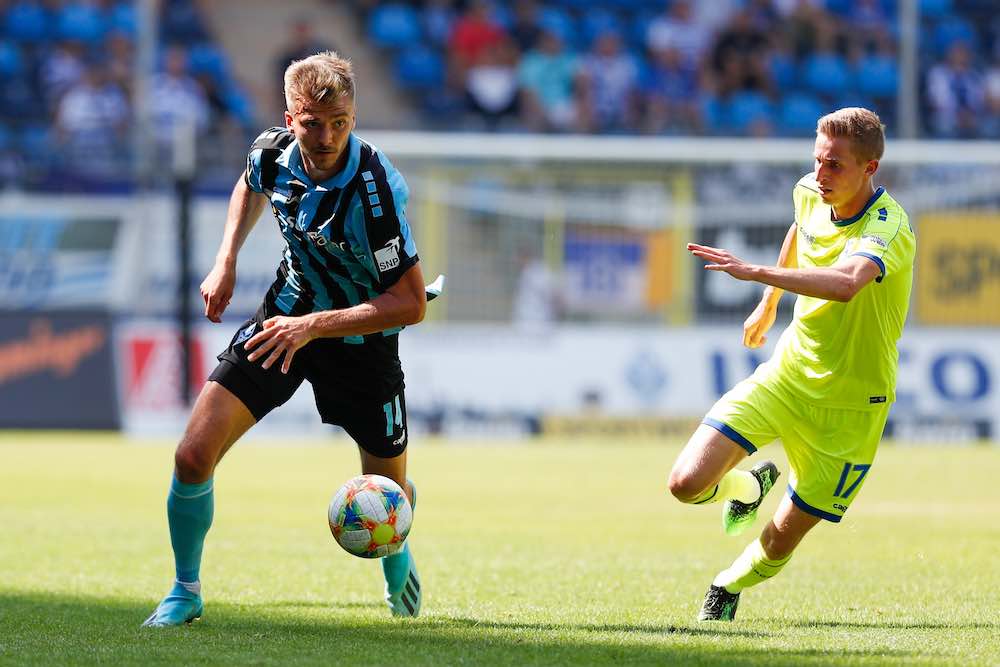 ---
You played three seasons for FC Kaiserslautern. How do you look back on your time at the club and do you have any highlights or special memories?
"My time at Kaiserslautern was pretty good. Waldhof Mannheim and Kaiserslautern have a big rivalry and before I did not know that.
"I started out playing for the second team [FC Kaiserslautern II] and after playing well I received the opportunity to play with the first team, due to the coach seeing my potential.
"In my second season I played in the first team and I had the opportunity to show my worth and I managed to play well. It was really a highlight of my career to play in the 2. Bundesliga.
"Everything was going well and then the club changed the manager and things go so fast in football, and due to the coach, Tayfun Korkut, not really liking my game I had to leave the club.
"Tayfun Korkut also managed Bayer Leverkusen. He was used to Bundesliga players and big-name players and at that point in my career I had a name but not a big, so he was not really enamored with me because he wanted very quick success so he trusted more in the players that have played in a bigger league.
"I can understand his point of view, but you always have to give everyone a chance. It resulted in me leaving the club and I took a step down to the 3. Bundesliga.
"This can happen sometimes in football. But I really enjoyed my time at the club, such an awesome time of my football career."
---
How do you look back on representing Luxembourg, and do you have any highlights or memories?
"When you play for your national team it is always a very big thing, and every time you go out on the pitch to represent your country it makes you very proud.
"Luxembourg is a small country but we have made tremendous progress in recent years. We are now winning more games than we lose. Ten years ago the country lost ten games in a calendar year and now we win six matches and only losing four.
"To play against countries such as Spain, Italy, and the Netherlands is amazing. I remember the time we played against Italy and drew 1-1 in Italy. Two weeks after they went on to the 2014 World Cup in Brazil. With it being their last warm-up match they played with Andrea Pirlo and Mario Balotelli. Many spectators in Verona that night were expecting them to win 5-0.
"Also, playing against Portugal and coming up against Cristiano Ronaldo in Euro 2016 qualifying, we lost 2-1 and he scored one of the goals. I managed to swap shirts with Pepe and these are the moments you remember at international level.
"A year and a half ago we also played against France in Toulouse and drew 0-0. This was historical coming up against the likes of Kylian Mbappe, Paul Pogba, and Antoine Griezmann, who went on to become World Champions in 2018.
"Although I did not play in that match I was in the squad and we managed to pick up an impressive point in qualifying."
---
With the experience you have accrued at club and international level, you have played alongside many good players. Could you say who are the best players that you have played with so far in your career?
"Yes of course, during my time at Kaiserslautern I played alongside Kerem Demirbay, who now plays for Bayer Leverkusen, Willi Orban who is now captain of RB Leipzig, and also Amin Younes who played for Ajax and now plays for Napoli. They have all represented the U21 national team of Germany too.
"They are all really big players, so these three players in particular really stood out for me. It was also a joy to train with them. An amazing experience because they were all so good."
---
I can imagine in your position as a striker, particularly at international level, you have come up against some very good opponents through the years. Are any that stand out for you?
"For me personally, and every knows it already, it has to be Cristiano Ronaldo. He is the most outstanding player that I played against.
"He was just so perfect on the pitch and every contact that he made was almost perfect. It was amazing to see how one of the best players ever is playing on the pitch.
"People may think that he is maybe a little arrogant or maybe he does not want to play against small countries, but he was just outstanding and for me without a doubt the best player that I played against for sure."
---
Finally, Maurice, could you say who are the coaches and managers that have played a key role in your development as a professional footballer?
"You always have to be very lucky with this because the manager is deciding who plays and who does not play. If the manager is not counting on you, you do not play and if you do not play, nobody cares about you in football and that is it.
"Sometimes I was lucky and others not, so if you have the luck to have a manager that counts on you throughout your whole career that is much better than changing club and then arrives a new manager that does not like you.
"There is always a lot of luck in the game of football. There are many players that go on to become world-class, but people always forget the players that are in the second or third league in different countries.
"But sometimes it is not only the quality; it also has to do with the way a manager wants you to play. Sometimes you have the luck in football and others not."