By Jerry Mancini.
Even though he has gone somewhat under the radar recently after his title-winning feats at Leicester in 2016, where he was named FWA Footballer of the Year, and the following season at Chelsea under Antonio Conte, Kante remains one of Chelsea's most important players and one of the best in the world in his position.
Kante was a vital part of the squad in the 2018/19 season, and when the midfielder missed games, this became even more evident.
While not known for scoring, his ability to assist the forwards on the attack and help during transitions from attack to defence and vice-versa, showed he is much more than the Claude Makelele style defensive midfielder he is often pigeonholed as.
When the 2019/20 season started with a relatively inexperienced side under new manager Frank Lampard, it was obvious that Kante was going to be really important to this team.
As well as Lampard's appointment as manager, many changes have happened at Chelsea ahead of this season.
With a transfer ban in place during the summer, Lampard elected to blood youth players from the academy, which is something Chelsea fans have long called for, and the transfer ban has actually helped in this regard.
Kante has been defined as a defensive midfielder, always coming back to help the defence and concentrating more on keeping goals out rather than help with the scoring of them.
But much of the best football Kante has played throughout his career has been further forward, and in recent seasons he has shown why he should be a box-to-box type player who can contribute to all aspects of midfield play.
He is more than just a defender. He has the ability to change the game, control the game, join the attack and even go out to the wing to take on defenders, while still having the engine which allows him to scamper back to help the defence.
He's a player that any team in world football would love to have thanks to his combination of skill, intelligence and tremendous work ethic. He is always committed to the play and never gives up.
Following Chelsea's European Super Cup meeting with Liverpool, Kante was struggling for fitness after a gruelling encounter but still managed to put a shift in.
"He said to me at half-time in extra-time that his legs were finished, his legs were dead, and then he's sprinting 50 yards to cover," said Lampard.
Even while struggling to keep pace in the game and feeling fatigue, Kante didn't give up on the play, making the effort to come back and help the defence.
The effort he displays is immense and shows he is always committed to the cause regardless of the situation and regardless of any tiredness he may be feeling.
This type of attitude will help young players such as Mason Mount and Tammy Abraham develop a good work ethic. In this sense, he is a leader.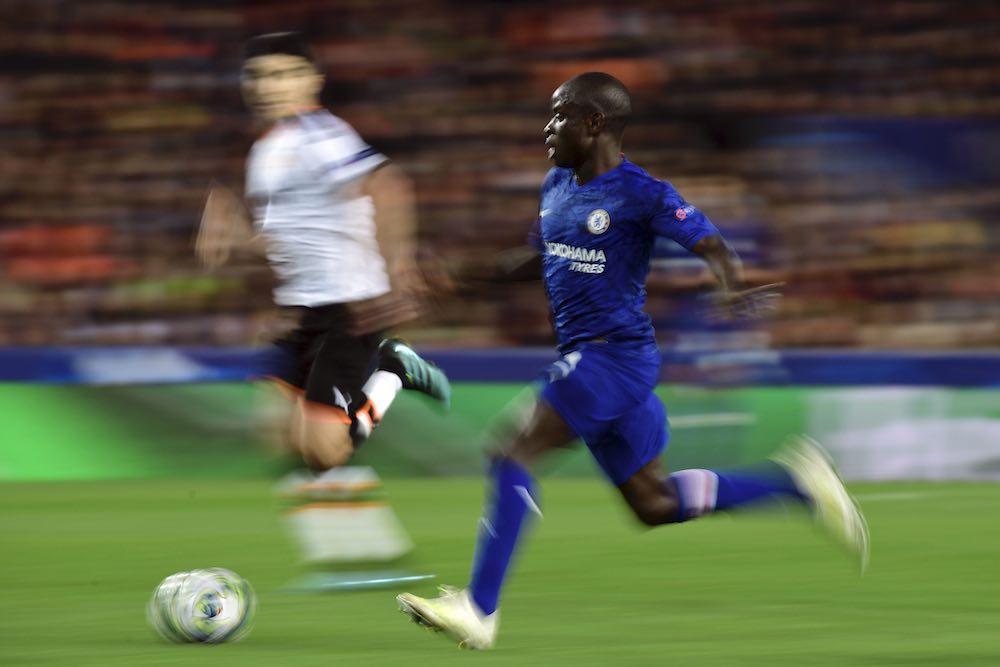 Lampard spoke to Kante ahead of this season, discussing how the midfielder fit his plans.
"Too much was made of N'Golo Kante's position in midfield last season," Lampard said ahead of the new campaign — a reference to previous manager Maurizio Sarri supposedly playing him out of position.
"Nobody is pinned down to an absolute structure. He doesn't just have to sit and defend; he can have the freedom to drive up the pitch too."
Kante himself added: "I like to play in this position, this where I played last year."
While he may be one of the best defensive midfielders in the game, being a box to box midfielder and playing freely is what Kante should always be doing.
Having the ability to join the attack and running back to defend not only helps the midfielder's own game, but also that of his teammates.
Lampard not tying him down to the defensive role many were calling for him to play in, is good news for all concerned.
Chelsea have gone through their transfer ban and come out the other side as a top-four Premier League side. Much of that is down to Kante and how his new manager has been able to get the most from him, continuing where Sarri left off.