James Rowe spoke to Brackley Town midfielder Shane Byrne for WFi. They discussed his current club Brackley Town, playing youth football for Leicester, representing the Republic of Ireland at youth level, and the influence of Steve Beaglehole and Richie Barker.
---
You signed for Brackley Town in 2016. How are you enjoying your time there so far and how would you describe the club?
"I am in my fourth year at Brackley Town. I was full time at Nuneaton Town before that and I wanted to go into part-time football, and working alongside that, and to be honest, I am really enjoying it.
"It is probably the most I have enjoyed my football since playing non-league really. I have made some great friends and we travel down to the matches together.
"It's important to have them lads there to car share and talk about the games with. I am really enjoying my time so far.
"We have had success in winning the FA Trophy and making the play-off semi-finals last year. We have come a long way as a club.
"A club like Brackley Town is quite a small club. The population of Brackley is about 15.000, so it has a small-town club feel to it, and when playing the likes of Stockport County we may get underestimated which suits us as we are an underdog team.
"You also tend to see the same people at the games, which is nice, having a drink in the bar with them afterwards too. So, all in all, it has been a really enjoyable time so far in my career and the club is going in the right direction with promotion being the main aim."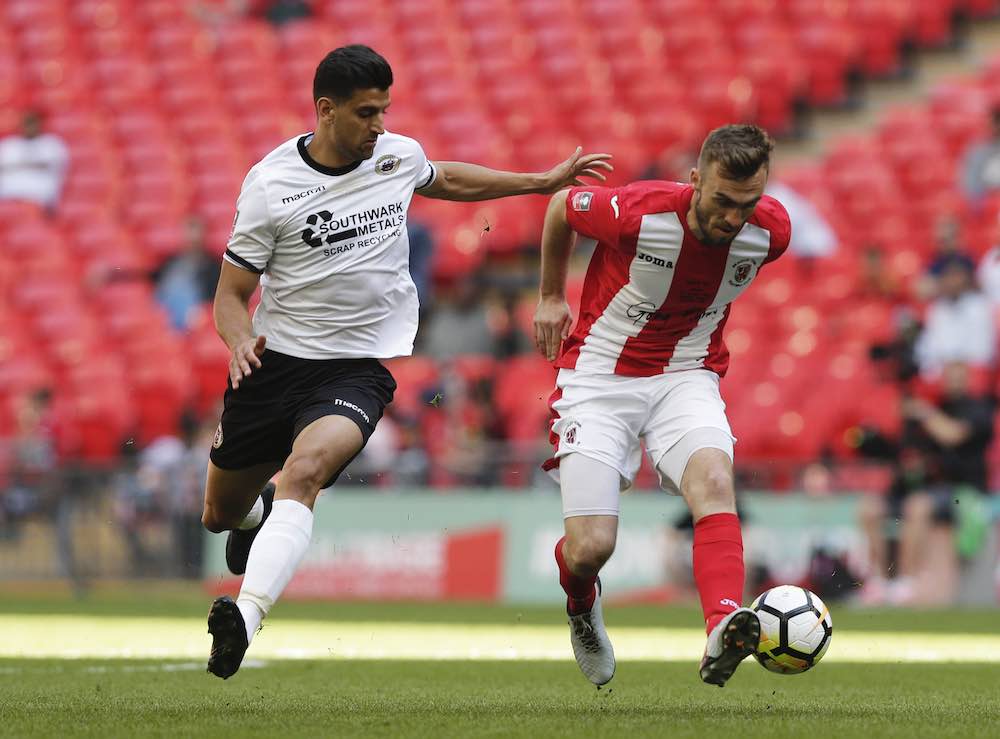 ---
You spent a part of your youth career at Leicester City. How do you look back on your time coming through the youth setup there? Did you learn anything in particular that stood you in good stead for your career?
"Yes, I signed for Leicester City when I was 15 years old and I moved over from Ireland. Normally you move over to England when you are 16 but I chose to move over 7 months before that in order to get a head start.
"I believe that helped me a lot because when I first went into full-time training I returned home and I would sleep the whole day.
"Going into my first year as a scholar helped me massively and we had a coach called Steve Beaglehole who is renowned for how tough he is on you as a manager, and to be honest I owe him a lot, becoming the player I am today.
"He taught me how to win games and how important winning is. I learned so much from him. He is a fantastic coach and I cannot speak highly enough of him.
"I was at Leicester City for four years and in that first year the youth team went unbeaten so it was difficult to get into the team. In my second year I played pretty much every game, winning Players Player of the Year too, which was a big achievement for me.
"Going into my third year I was in and around the first team and I went on loan to Bury which helped. Looking back on my time at Leicester, it is a place I love and it will always have a place in my heart.
"I have great memories of the people of Leicester, and the city and the club have a real family feel at that is the reason why I chose to sign there."
---
You have been capped by the Republic of Ireland at youth level. How do you look back on representing your country and do you have any highlights or special memories?
"Looking back on it. It was the proudest moment of my career playing for my country. It was a dream come true to play as many games as I did from U15 to U19 level. I could not ask for more really.
"There is a great sense of pride that comes with representing your country. I remember standing on the pitch singing the national anthem for the first time with my family in attendance.
"I used to love going away on international duty and I got to go to some amazing places such as Qatar, Italy, Greece, and Austria, so that aspect of it was fantastic because I like learning different cultures and playing in different types of weather conditions.
"Playing for the Republic of Ireland was special. I have framed shirts at home and it's great to be able to look back on with my Mum and Dad and my family. I am really very proud to have represented my country."
---
I can imagine with representing your country at youth international level, with your experience at Leicester, and playing at different levels, that you have played alongside some great players. Could you say who are the best players that you have played alongside so far in your career?
"Yes definitely. I remember the Republic of Ireland manager at the time, Sean McCaffrey, helped me step up into the under 19 squad, and we played a couple of home matches in which I played alongside Robbie Brady who is now at Burnley.
"He was outstanding. Even from a young age you could tell that he was going to be a great player. He had this quality and a certain nastiness about him, although in a good way, getting the best out of his fellow players and his ability to change a game just like that.
"In that same team were his Burnley teammate Jeff Hendrick, Matt Doherty now at Wolverhampton Wanderers, and Johnny Egan at Sheffield United — players that are now playing in the Premier League.
"You could tell that they all had a great chance of making it which a lot of players from Ireland struggle to do. I think it is 95% of the players that come over from Ireland return home within the first two years."
---
I can imagine as a midfielder that you have come across difficult opponents through the years. Are there any that stand out for you?
"I remember playing a tournament with the Republic of Ireland and we played against Latvia, Turkey, and Belgium.
"Turkey were outstanding. We were 3-0 down after 30 minutes. They just moved the ball around so quickly and were so sharp, even at youth level, and that being our first game of the tournament it was like — welcome to international football.
"We played Belgium a couple of days later and their team included Romelu Lukaku and we won 3-1."
---
Finally Shane, could you say who are the managers and coaches that have played a key role in your development as a professional footballer?
Yes, during my time at the Leicester City academy Steve Beaglehole played a massive part. He was my youth team manager when I moved over from Ireland for four years and training with him every day.
"He really pushed me to get the best out of myself and become the best player that I can be and at the time it was difficult thinking when will the man give me a break? But when you look back on it with an older head you start to think he has made me into the player I am today with his tough love.
"I must also give a special mention to Richie Barker, who was my manager at Bury. He gave me my professional debut and gave me a chance when I went on loan. I made my debut away at Sheffield United at Bramall Lane in front of 20,000 people.
"I remember standing in the tunnel thinking to myself this is what you moved over here for, to realize my dream.
"Richie Barker will be someone I will remember for the rest of my life. Those two managers who provided the background and put me in good stead to get to where I am now.
"My current manager Kevin Wilkin who has been my manager for the past four seasons is a really nice man and has the same mindset as me. He wants to win as much as he can."