By Daniel Lucci.
Table-toppers Juventus will have their hands full on Sunday as third-place Inter Milan travel to the Allianz Stadium with hopes of dethroning the reigning Serie A champions.
Inter are currently six points behind Juventus, but they do have a game in hand due to the cancellation of various Serie A matches last weekend as a result of the recent Coronavirus outbreak in Italy.
Nonetheless, this match between the two Serie A giants has plenty at stake for both clubs.
If Juve are able to emerge victorious, they would be able to separate themselves further from Inter and keep a slim lead over second-place Lazio. But if the Nerazzurri are able to beat the Bianconeri at home they would be able to close the gap and do Lazio a massive favour.
If Lazio are able to win their upcoming match against Bologna, and Inter beat or draw with Juventus, that would then push Lazio to the top of the table, somewhere where they have not been for many, many years.
It is clear this derby has major implications for both teams and their hopes for Serie A glory, meaning fans should expect a thrilling encounter.
Juve were able to steal a 2-1 victory in Milan in the first Derby d'Italia earlier this season. After going down 1-0 through an early Paulo Dybala goal, Inter stormed back to equalize from the penalty spot through their own Argentinian superstar, Lautaro Martinez.
In the 80th minute the veteran Gonzalo Higuain, who came on as a substitute, was able to coolly win it for the Bianconeri. Evidently, current Inter coach Antonio Conte, who was the former Juventus saviour, will want to go back to Turin and dismantle his former club.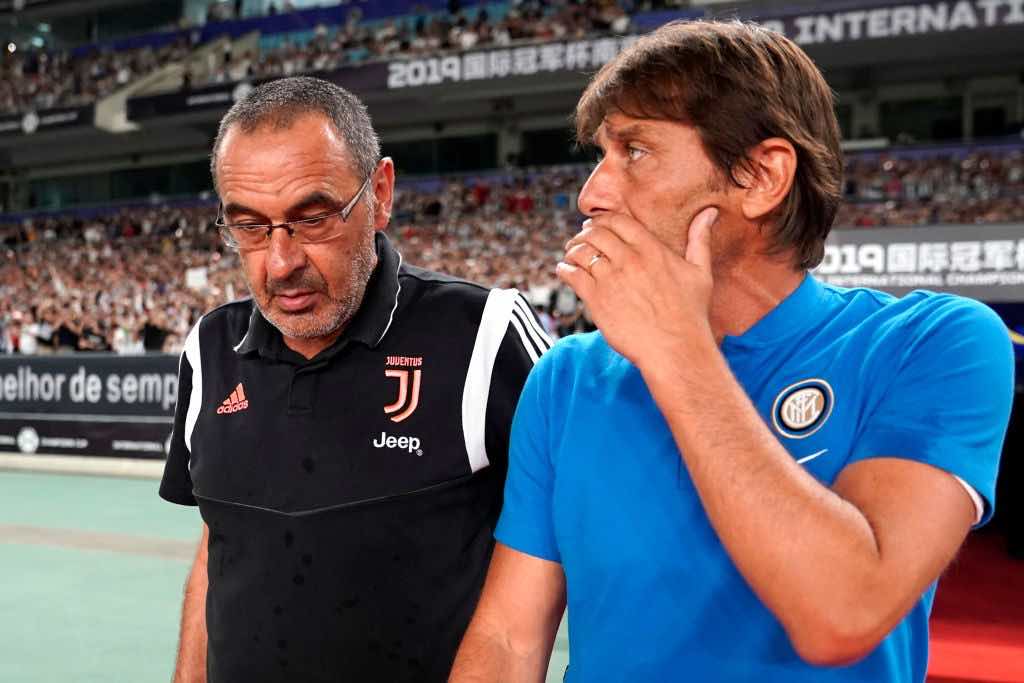 Juventus have struggled for large parts of this season and are still looking to find their consistency under coach Maurizio Sarri.
Following a sluggish, disappointing 1-0 loss in their midweek Champions League clash against Lyon, the Bianconeri will need to put together a much more impressive display if they hope to come away with a positive result against Inter.
With that disastrous Champions League match behind them, and hopefully fully focused on the Derby d'Italia, now would be the ideal time for Juventus to find their top form.
Captain and leader Giorgio Chiellini is back after missing most of the season, and along with Dybala and Cristiano Ronaldo, it seems like it is now or never for this team to finally play up to the quality many thought they were capable of going into the 2019/20 campaign.
On the other hand, their former hero Conte and his well-drilled team will be having other ideas come Sunday.
Inter have certainly been the more impressive team this season. Even though they currently sit in third place, they are not far behind and a win could prove monumental in their pursuit for the Serie A title.
After their 2-1 UEFA Europa League victory over Ludogorets on Thursday, Inter should have plenty of confidence heading into the weekend's derby.
Furthermore, their front duo of Martinez and Romelu Lukaku have been dominant this season scoring a combined 29 goals in Serie A. With the recent midfield addition of Christian Eriksen, Inter are not a team to be taken lightly as they possess the skill, determination, and killer instinct to punish any team.
Conte will be hoping his men can put in a strong effort against his former club.
This derby d'Italia will have a bit of a different atmosphere to it. Due to the Coronavirus that is rapidly spreading across Italy and Europe, the match will be held behind closed doors, meaning no fans will be allowed to enter the stadium for the derby.
This was recently confirmed by Minister of Sports, Vincenzo Spadafora. He stated that measures are already in force and some events will take place behind closed doors.
To date, six matches have been subject to such a measure, but the rest are seemingly going ahead as normal.
It will be a quiet and unique atmosphere come Sunday in Turin since there will not be thousands of fans yelling and screaming to support their team in one of the biggest matches of the season.
Though, the objective for both teams remains the same, as both hope to collect a much-needed victory to solidify their spots within the Serie A table.
If Juventus are not able to find their lost form and passion for winning, they could be picked apart by this much hungrier Inter team.
All the passion and fight Conte once brought to Juventus many years ago has now been instilled into his new team, making them a force to be reckoned with.
Unless Maurizio Sarri has some new tricks up his sleeve, a loss on Sunday could contribute to his overall downfall as Juventus coach.
Although this game is important for both, let's not forget that Lazio is lurking in the shadows, and this match does not necessarily crown the Serie A champion.
Both Juventus and Inter have dominated Serie A at some point, this clash between the two will show us if Juventus can continue their dominance or if it is finally Inter's time to return to the top. All in all, expect the two squads to bring out their best in Sunday nights battle.