By Daniel Lucci.
Over the past few weeks, there have been plenty of rumours circulating regarding Bologna star Riccardo Orsolini and his potential return to Juventus.
The winger has been phenomenal this season for Bologna and continues to impress many. A few seasons ago, in January of 2017 Juventus purchased the promising Italian from Ascoli for roughly €6m. Later, he joined Bologna on loan, and after an impressive loan spell the deal became a permanent one with Juventus receiving a fee of around €15m.
Juventus were rumoured to have a buyback option on the young star — something which Bologna sporting director Walter Sabatini has rubbished, instead insisting that the attacker is worth around €70m in today's market.
At this point, it is tough to say for sure if there is or is not a buyback option on Orsolini but the 23-year-old winger's performances have not gone unnoticed at Juventus.
He has arguably been Bologna's best player this season and has appeared in 24 Serie A matches, starting 22. During that spell he has collected seven goals and contributed five assists, helping Bologna reach 10th in the Serie A standings — one of their best seasons to date.
Not only can he put the ball in the back of the net, he is great with the ball in the buildup play, has wonderful pace and is not afraid to help out in defence. He is also versatile and able to play in more than one position if required. He's primarily a right-winger but has also featured on the left and as a right midfielder.
A wonderfully talented, versatile young player who has yet to hit his prime would be a huge boost to this Juventus squad for the foreseeable future. He would fit perfectly into Maurizio Sarri's favoured 4-3-3 formation or even a potential 4-2-3-1 formation.
Moreover, the lack of depth on the wing and the insane amount of injuries Juventus have had this season is concerning, meaning the purchase of Orsolini in the summer would be a smart move for the Bianconeri.
Juve's only true winger, Douglas Costa, has only featured in 13 Serie A matches for the Turin giants this season due to various injuries. After his latest injury kept him out for at least the next couple of weeks, it may be time for Juve to look past Costa to younger and more durable options.
Fortunately for Orsolini he has been fit throughout the 2019/2020 campaign and many will be hoping he can continue this in order to fight for a spot in Roberto Mancini's Italy Euro 2020 squad.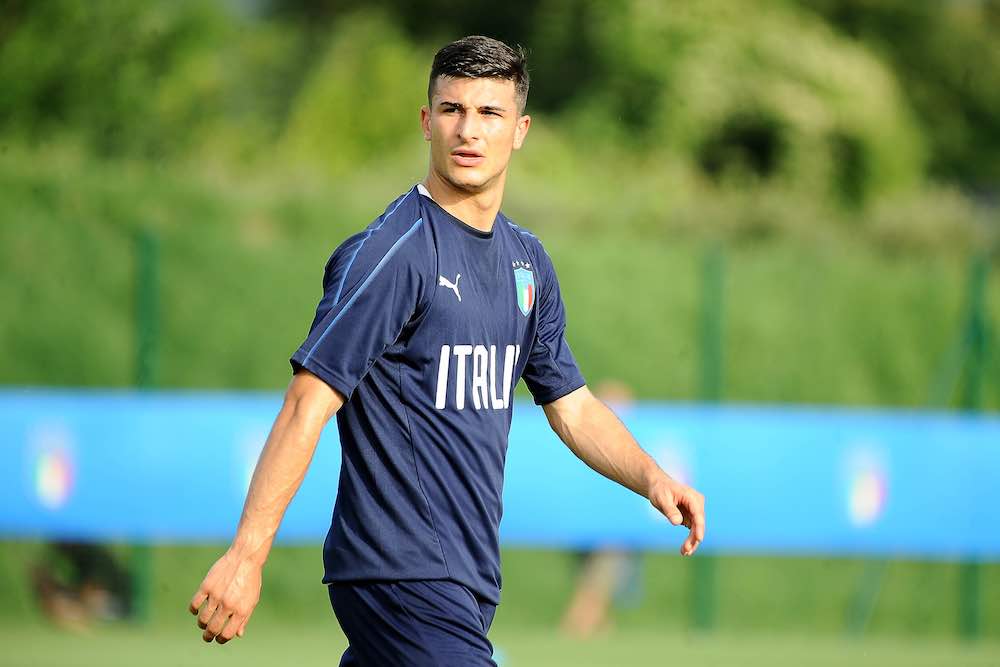 In his one and only cap for the senior Italy squad, Orsolini played 45 minutes, scoring one goal and collecting two assists, which is quite the first impression.
Coach Mancini has most of his squad for Euro 2020 selected already but now with the very unfortunate injury to Italian youngster Nicolo Zaniolo there will be at least one vacant spot. Orsolini can now try to convince Mancini he is ready to make the jump to the senior squad.
Domenico Berardi, who plays in similar positions to Orsolini, has also had a strong year with Sassuolo and new Napoli signing Matteo Politano will be hoping he can impress with a good second half of the season.
One of Orsolini, Berardi or Politano have a strong chance at making the team, with the potential for two out of the three making the squad if they impress.
After such an impressive start to the season, it is clear Orsolini would be a positive attribute to any team in Serie A. Whether there is a "verbal" buyback option for Juventus remains to be seen, but many teams will be keeping tabs on him this summer.
If Orsolini is able to finish his season off strong and get his much-deserved spot on the Euro team, it is essentially a no brainer for Juve to exercise a buyback option on the winger should one exist.
Even if it is only a verbal buyback option as Sabatini has stated, it would be a wise decision for him and Bologna to honor the verbal agreement, rather than beak a relationship which could affect future transfers between the two clubs.
Moving to Juventus and playing with some of the top talents in Europe, such as Cristiano Ronaldo and Paulo Dybala would help any player develop, but such a talented young player also needs to continue to play in order to get better.
If he continues his current form he would be good enough to feature in Juventus' starting XI. Regardless of where he ends up next season, hopefully Orsolini will be able to continue to develop his art and become a top talent.